When you need to keep your distance from people, but you also need some beauty and wide-open space, what better way to spend your day than with a long hike. Travelling to Provence-Alpes-Cote-d'Azur and walking the coastline could be the best decision you could make this autumn.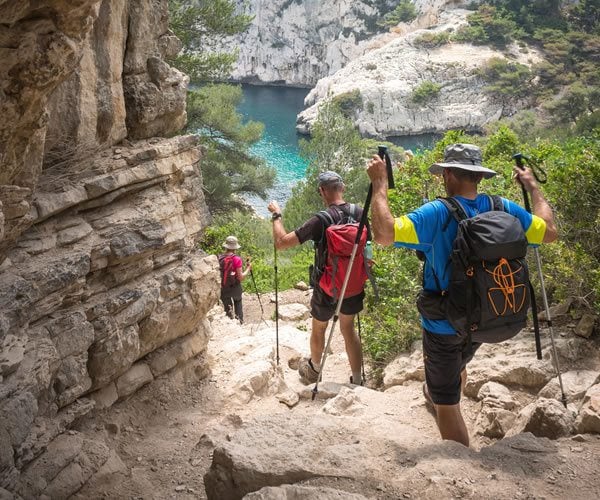 The Var region is an area of outstanding natural beauty. This wooded region is made up of 1.4 million hectares of forest, with 3600 vegetal species of which 720 are protected. It is an area where, if you are lucky, you could see the peregrine falcons' nests on the sea-cliffs between Bandol and Saint Cyr. And, if you are even more fortunate and arrive in Provence in September, you could be blessed with the songs of the cicadas as you hike.
If all this sounds as delicious to you as it does to me, let me recommend four of the best trails for hiking in the region.
Calanque du Port D'Alon and Pointe Engraviers
If you would prefer to start gently and work up to more vigorous walks, then this jaunt from Calanque du Port D'Alon to Pointe Engraviers is your perfect route. This is a 7km loop trail close to Bandol and is ideal for viewing the wildflowers. While it is a well-known trail used by local dog walkers and runners, it is accessible no matter the time of year and gets you close to nature without too much exertion. You also don't need to worry too much if there is some autumn sun, as the route is quite shady.
You could begin your day with a visit to Calanque du Port D'Alon, which is worth some time for a meander. Beware, it is something of a tourist attraction but still worth a mention. You will then ascend on what is a quite stunning coastal walk, allowing you to take in the beauty of the views of the sea as you travel. There are three places to stop along the way to take those postcard photographs of the scenery and you will spend some time walking along the beach. We would suggest using the beach as the perfect place for some wine and cheese.
Cap Canaille Trails
If this sounds far too leisurely to be consider hiking, then you are likely going to want to take the challenging route around the Cap Canaille Trail. This is an out and back route. It ascends to an elevation of 1252m, so not for the lightweights amongst us. In total, the hike is a manageable 14km and could be completed at a moderate pace in around four hours. Be aware though, it is for hikers and not casual walkers, as parts of this route are quite technical.
This trail allows you to explore the Cap Canaille massif and its nature. The Mediterranean is a constant companion, as you overlook some stunning bays and cliffs, including getting to look out over Eagle's Beak. Parts of the walk are designed to be climbed, but these can be avoided if you are not happy to scramble. Instead, you can use the large slabs that will lead you to lookout points.
The highest point of the hike is at Great Head Rock, and from here, you will gain some perspective on how small we all are and how beautiful this world is we live on. You are heading out to the Semaphore, where you will have the best view over La Ciotat. It is also a fantastic place to enjoy a picnic.
Calanques of Port Miou, Port Pin and d'En Vaut
If you are aching after all that trail hiking, then this loop near Cassis offers a gentler walk through Calanques National Park. It is a reasonable distance, at nearly 8km and the elevation is minor, just under 400m. Beware, this is known as the Hike of the Three Creeks, so you will be going up and down a lot!
While this walk is accessible and beautiful, with some breathtaking experiences with nature, it is much used. You will meet other people, and some will have dogs. While the dogs are expected to be on a lead, this is still a popular exercise spot for the locals and tourists alike.
While we all love to get away from it all, the good news about the number of people you will see is that you will never get lost. Just remember to arrive early in the morning if you want to park and wear hiking shoes, as there is one steep part down to the last Calanque. What is a must, however, is taking your swimsuit. You will want to pause to have a dip in the sea – and you will need to take a lot of water to keep rehydrated even in the colder autumn months.
Tour of Mont Puget and Aiguille du Sugiton via Chemin du Centaure
This hike is about 14km but is a well-used loop trail that is accessible for most. Consequently, even though the distance seems harsh, most of the walk itself should be considered moderate. Many people choose to go clockwise around the loop, so you get to see the sea as you come to the end of the trip. Indeed, there are some absolutely incredible views of the sea.
However, there are some steep descents when going this way that can feel more like climbing than hiking. Taking the clockwise route is worth it to get to this view, but will need proper footwear and a lot of water. But, once you have crested Mont Puget at an elevation of about 800m, you will be rewarded with the most stunning panorama.
So, if you are not feeling this ambitious, then taking the counter-clockwise route may be more comfortable.  Alternatively, look to modify the course to avoid Mont Puget; instead, you should skirt around it.
Why go walking?
While I would probably argue that walking during the summer months is more an ordeal than a holiday, taking a walking holiday in autumn is just perfect. The routes will still be richly filled with nature but with few other tourists and cooler weather conditions. Just perfect!
Su Stephens is Owner of Olives & Vines. Olives & Vines is a luxury holiday company based in the South of France offering stays at their beautifully designed holiday house and boutique hotel in Le Castellet.
If you would like to be a guest blogger on A Luxury Travel Blog in order to raise your profile, please contact us.