It would be an understatement to say that the pandemic has altered our travelling in 2020, but there are other opportunities that exist for those of us who suffer from wanderlust; my husband and I decided to do a road trip this past week in order to discover more of our own country's beauty, specifically in our home province of Ontario, Canada.
We are residents of the Niagara Region in Ontario, Canada and for those of you who are not familiar with this area it is a large wine country region, sporting over 100 wineries within about 30 minutes of one another and we are wine and winery lovers; one of our favourite leisure activities is to visit one or two of our preferred wineries and either sample some new wines or enjoy a glass in the vineyard, possibly along with a charcuterie board to accompany the wine. It is for this reason that we made our decision to go and discover another of Ontario's wine regions.
Off we went to spend a few days in Prince Edward County. A fairly short drive from Niagara, it took us just over 3 hours to reach our destination; Prince Edward County is very much a farm and country property community, we really enjoyed the vast fields of yellow and acres of grass and trees as we drove throughout the County.
Norman Hardie Estates Winery and Vineyard
Since it was around lunch time we decided to stop at one of the wineries we had chosen to explore and enjoy a wood oven pizza that they are known for along with a very lovely selection of wine; we had chosen Norman Hardie Winery and Vineyard as our first stop.  When we arrived we were instantly impressed with the property, it was very rustic and tastefully decorated with the focal point being the wood oven where you could smell the delicious fragrance of pizza cooking.  We started with a wine tasting experience and the wine that we enjoyed the most was the County Pinot Noir; the grapes for this wine are grown right on the property in the vineyard and we found that the taste differed considerably from the Pinot Noir wines we had tasted in Niagara.  The growing season in the county is about 2 weeks shorter than the growing season in Niagara and the winters are slightly colder so the wines that are made with grapes from Prince Edward County will have a different taste.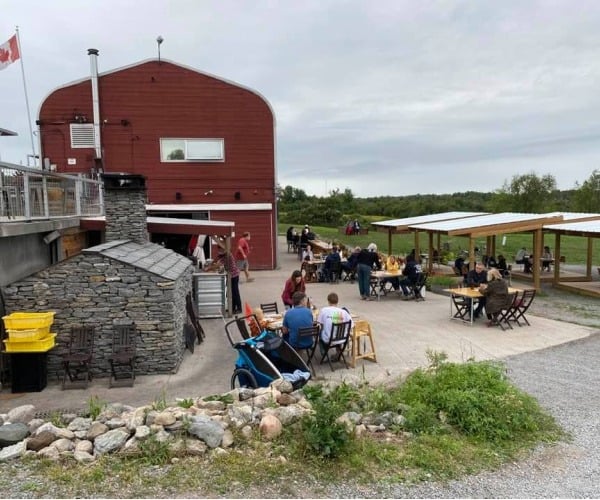 Casa-Dea Estates Winery
After leaving we proceeded to the next winery on our list, Casa-Dea Estates Winery; which is a pretty looking winery situated on a large property on which they produce grapes for Pinot Gris, Chardonnay, Reisling, Pinot Noir, and Cabernet Franc.  The focus of the winemaker at this winery is to make VQA wines from 100% County grapes. For those of you who do not know what VQA means; in Ontario this is a standard meaning the wines are made 100% from wines grown in Ontario.  A note of interest is that some wineries in this region purchase grapes from Niagara to make their wines, as opposed to using grapes grown in Prince Edward County.
Huff Estates Winery, Inn and Art Gallery
As we were now approaching check-in time we proceeded to our accommodation for this getaway; we had chosen to stay at Huff Estates Winery, Inn and Art Gallery. A grand entrance way with a long driveway greeted us as we turned into the Estate; we were impressed from the start by this property as it appeared to be very well maintained and as we got closer we could see glimpses of the art garden in behind the Inn. Huff Estates has a lovely Inn; each room is comfortably appointed with either 2 double or 1 king bed, a seating area with comfortable leather chairs and fireplace; and one of the most unique features is that each room has a private patio with table and chairs overlooking the estate.
Huff Estates Art Gallery and Sculpture Garden
Another unique feature to this Estate is the Oeno Art Gallery on property along with a beautiful Art Sculpture garden that guests can walk through at their leisure where many beautiful art sculptures are displayed.  We found this garden to be a lovely experience as we walked through admiring the different pieces of art displayed.
The Inn at Lake on the Mountain Resort
We had made reservations for dinner at a beautiful Inn, it was a part of a resort named Lake on the Mountain.  This Inn has a patio restaurant which overlooks the Bay of Quinte on one side and the beautiful Lake on the Mountain on the other.  The Inn itself is in a historic general store circa 1796.  The restaurant has a lovely food and drink menu featuring farm to table fresh ingredients and local wines and beer.  We greatly enjoyed our experience at this quaint restaurant.
Broken Stone Winery
The next morning we enjoyed a leisurely breakfast and coffee at the Inn and afterward made our way to the next winery on our agenda; this one was named Broken Stone Winery.  It was a chilly morning and one of my favourite features to this quaint country farmhouse style winery was the fire pit with a lovely wood burning fire and Muskoka chairs to sit in and enjoy our wine tastings.  We each tried 3 wines at this winery and both of us loved all of the wines we tried.
Closson Chase Vineyards
Next up to discover is Closson Chase Vineyards; and the first thing you notice is the large very purple barn that makes up most of the property, with pretty yellow doors leading into this lovely winery.  We decided to enjoy a glass of wine at this winery and we chose the 2018 Vineyard Pinot Noir and we both truly loved it!  We sat out back of the winery under lovely sunshades on comfortable chairs and enjoyed the lovely garden setting while we drank our wine.
Grange of Prince Edward
One of the most enjoyable features of the wineries of Prince Edward County is the rustic charm that they each display in their own way and Grange certainly did not disappoint in that aspect.  A large barn complete with chickens in the yard greeted us a we walked toward the winery; inside was a beautifully restored barn with a large stone fireplace and tables made with barrels displaying the wines.  We decided to share a tasting kit and head out back where the sausage food truck was preparing a delicious lunch that we partook at this location.
Gravel Hill
After enjoying a lovely lunch we headed toward our next winery but to our delight we came upon an unexpected find.  Gravel Hill Winery is a very small winery and the owner was manning the little bar that was right next door to his home.  He introduced us to his 2 pet hens and we sat under a tree on muskoka chairs enjoying our tastings. We tried 2 whites and 2 reds and were happy to report that we loved them all.
Alpaca Farm
After a lovely chat with the winery owner it was time to set out once again to our next destination.  This time we happened across an Alpaca Farm and we knew we needed to stop in to see these adorable animals.  We were not disappointed, there were several in a large area protected by a fence and a sign indicated to us not to touch the animals so we refrained and instead just enjoyed watching them.  There was also a small shop on the property that had beautiful Alpaca fibre products available to purchase; the owner was a very nice man whom I had a nice chat with before we once again set off.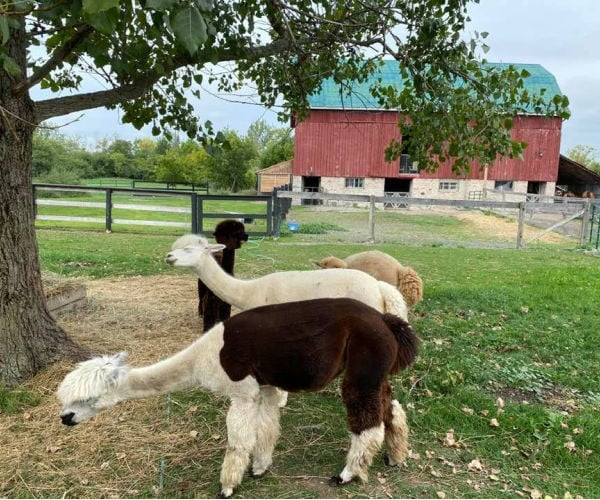 Sugarbush Vineyard
We finally made it to our final destination for the afternoon, Sugarbush Vineyard.  This winery is also located on the Farm property but was considerably larger than the one before.  We were greeted and seated and given the options which included a wine that had maple sugar added to it produced from the maples located on their farm so we were intrigued to try it.  I am happy to report that we thought it was quite delicious and unique and purchased a bottle to take home with us.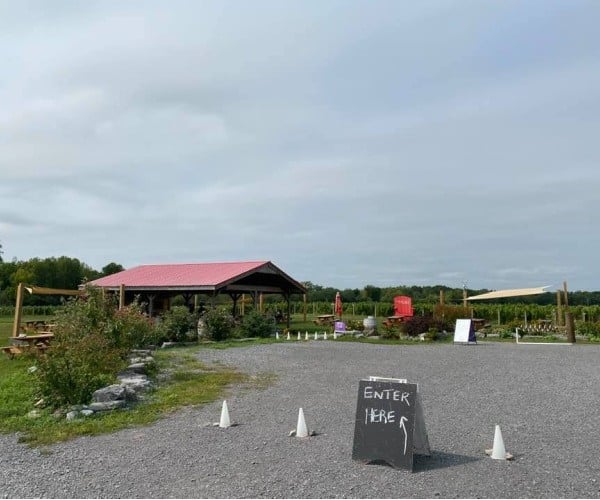 Restaurant on the Knoll
After a rest and freshening up back at the Inn, we headed out to our dinner choice for the second evening; due to COVID we wanted to do patio only restaurant options so we headed to Restaurant on the Knoll, which was part of a lovely beach resort.  The patio was located right on the beach and served pub style fare which was very good and we got to watch the sun starting to set over the lake which made it even better.
After dinner we headed back to the Inn to relax for the evening and get a good night's sleep so we could continue exploring the next day.
Sandbanks Winery
Our third and final day of discovering started with a visit to Sandbanks Winery; easily the largest and most modern winery we had visited up until this point they had a very large selection of wines to choose from, so it made the decision of which to taste a bit more trying.  However we managed to narrow it down and for myself one of the most unique wines they offer is their Apple wine, a light fruity wine that tastes very much like Apple Cider so I scooped up a couple bottles for home.  Many of their wines can be found at the LCBO, which is the Liquor Control Board of Ontario for those who are not familiar or just "The Liquor Store" as we Ontario residents refer to it.
Keint-He Winery & Vineyards
Next up is Keint-He Winery & Vineyards, a beautiful quaint Burgundian winery; this winery produces domestic wines that exhibit European minerality and acidity.  The winery focuses on region grown grapes and the result is award winning wines.  We were happy to give all the wines we tried here a big thumbs up and once again the rustic beauty of this winery did not disappoint!
Karlo Estates
Arriving at Karlo Estates for our next experience we were immediately delighted upon entry!  What appeared to be an old barn was completed renovated on the inside to give you the experience of an antique home; sporting seating areas of antique furniture it is definitely a site to behold.  We chose to order a glass of wine here along with a lovely cheese box for our lunch and sat outside enjoying the view.  Once again we decided on a Pinot Noir, a 2017 Estate Pinot Noir to be specific and it was delicious!
The Old Third Vineyard and Winery
Another location that was shockingly different on the inside is The Old Third Vineyard and Winery; walking in we were immediately fascinated at the modern design of the interior of this barn. Three levels that were redone so tastefully in a modern fashion but just the right balance of maintaining some of its rustic charm, we were a bit disappointed that this winery only had 1 wine choice and 1 cider but what we did taste was lovely and the views from the large windows definitely helped make it up!
We decided at this point to go back to our Inn to enjoy a simple wood oven pizza for dinner and shared a bottle of their delicious Cuvee' Jamine while reflecting on our visit to Prince Edward County.  It was our first time visiting but I do not think it will be our last.