Exciting news arrived last month as it was announced that Kenya was opening its doors to international travellers once again. So, in order to get you prepared for planning and booking your Kenyan safari experience in the world-famous Maasai Mara, we put together a guide to help you choose what luxury safari camp or lodge type is best for you.
The magical Mara awaits your arrival and in order to get you here safely and smoothly, we are updating you on what travelling to and within Kenya looks like currently. The travel process is a bit different now, of course, which is why staying informed is more important now than ever before. We believe it is still absolutely worth the trip, particularly since the herds of wildebeest and other game animals making their annual journey  across the plains are huge this year. You are in for an impressive wildlife spectacle this year if you come for a Great Migration safari in the Maasai Mara.
Kenya has been awarded the World Travel and Tourism Council 'Safe Travel Stamp' in recognition of the standardised global health and hygiene protocols that the government and private sectors have successfully put in place. To put your mind at ease, we would like to give you a 'heads up' on what to expect throughout your journey when you choose to visit our gem of a country in East Africa. Just remember though that a couple of things may have changed depending on when you are planning and taking your holiday in Kenya.
See you soon – arriving in Kenya safely and smoothly
The list of countries that Kenya is currently allowing travellers into the country from without requiring a quarantine period on arrival includes, among others, the United Kingdom, several European countries, the United States of America (except for California, Texas and Florida) and Australia. For travellers arriving in Kenya from non-exempted countries, you will have to quarantine for 14 days, which is important to consider when planning the length of your trip.
A negative COVID-19 test carried out within 96 hours before travel is a requirement for entry to Kenya by all travellers, regardless of the country you are travelling from. You will also need to check your airline's COVID-19 free certification requirements and follow their guidelines for outbound and return flights. All arriving passengers are required to complete an online Traveller's Health Surveillance Form from the Ministry of Health in Kenya and present it to the Port Health Official before proceeding through immigration.
To make the Kenyan visa process that much easier, you can apply for it using the online eVisa application ahead of time. You may still get a visa on arrival but be aware that you will be questioned about this during your check-in. Now more than ever, travel insurance is a necessary requirement for your safari and you need to check that your health provider covers you for any health-related hospital admission, including COVID-19, whilst in the country.
Out in the bush – exploring the Maasai Mara safely
Fortunately, being in the outdoors already means you are surrounded by the flow of fresh air and the warm African sun. There are, of course, important measures that still need to be taken even when you step out of your camp and into the game drive vehicle.
When out on a game drive, groups of people travelling together will be given exclusive vehicle use or, if it is people that are not in the same travel group, only four guests will be allowed per vehicle. Throughout your stay, each group will explore the bush – and encounter its wildest residents – with the same driver, spotter and vehicle, which will be fully disinfected after each use. Each vehicle will be kitted with its own sanitizer and you can choose to have the vehicle fitted with a perspex divider between you and the guide or spotter.
For the safety of both you and local people living in or near the Maasai Mara, all community visits will be suspended. You can still revel in amazing wildlife encounters in the Maasai Mara wilderness and fulfill your dream safari experience, it will just be that much more private with just you and your travel group. This is not necessarily a bad thing; in fact, most people prefer the intimacy and exclusivity of having a private game drive and safari experience.
Back at camp – experiencing luxury and hospitality privately
As with game drives, your tent or lodge suite will have the same room steward and cleaning staff assigned for the duration of your stay. The room will have a deep clean and full sanitization between every guest, with special focus on 'high touch' areas such as light switches, handles and torches. Of course, you can expect sanitizer in your room, which will be refilled between every guest.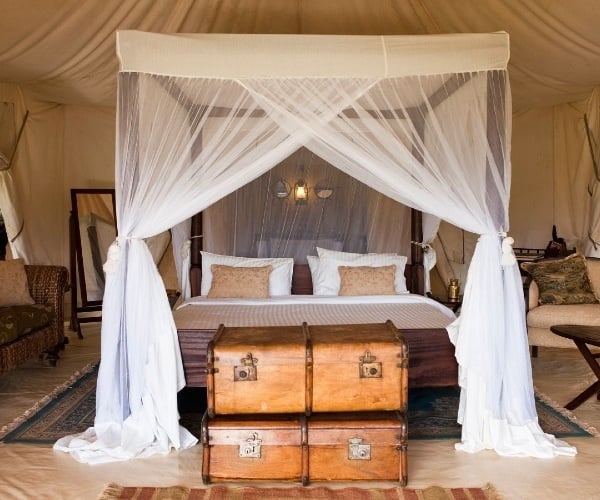 The beauty and tranquility of the wilderness has always been the best setting in which to enjoy a meal while on safari. So, for the time being, al fresco dining will be the go-to setting for all meals, with a focus on private dining in outdoor areas, like verandas, gardens and near to swimming pools. Communal tables and buffet-style dining will be replaced with meals served in secluded bush locations. A magical and romantic safari dining experience awaits you!
Your travel group will have your own dedicated and separate dining table and area, which will be setup at least two meters safe distance from other guests. No matter where you dine, thorough sanitization of the area will be taken before and after every meal, from seats and tables right down to salt and pepper shakers, and menus.
Across the globe, the pandemic situation is ever-changing, and we hope that these protocols will soon become less stringent, while still maintaining the health and safety of all. For now, there are government protocols in place that help ensure the safety of all in Kenya, both you as the visitor and those who call it their home. We all have a responsibility to ourselves and each other to follow these protocols.
Calvin Cottar is Director and Owner at Cottar's 1920s Safaris. Cottar's 1920s Safaris is an award-winning luxury 1920s safari camp and private bush villa located in the famous 'seventh' natural wonder of the world, the Maasai Mara in Kenya, and owned and managed by the oldest established and continuing safari family in Africa.
If you would like to be a guest blogger on A Luxury Travel Blog in order to raise your profile, please contact us.