Travellers are still having to play destination roulette in order to confidently get away on holiday whilst we are amidst the Covid-19 pandemic. Places are being constantly put on, or removed from, the list of countries considered safe to visit.  It may be a good time to look at some travel related games and crafts that you can do in the comfort of your own home, and remain an armchair traveller for the time being.
We've brought you just 8 of our favourite games, crafts, and puzzles.  They are, of course, no replacement for the real experience, but our adventures need to await the better times to come.
1. Azul board game
Taken from the word Azulejo – Spanish and Portuguese glazed ceramic tiles. The tiles can be found on the exterior and interior of homes and other places such as restaurants, palaces, churches, etc.  Originally blue and white tiles introduced by the Moors and were (and still are) in geometric shapes and when assembled form large geometric patterns.
With this particular version of Azul, 2-4 players compete to decorate the walls of the Royal Palace of Evora in Portugal.  Each player takes on the part of a tiler obtaining individual tiles from the factory in order to score points based on how tiles are placed to decorate the Palace.  The game lasts between 30-45 minutes and is recommended for ages of 8 years and upwards.  The game is available from multiple outlets, including John Lewis, and is priced at around £25-£30
2. Colouring books for adults
The Magical City
Designed by award winning illustrator, Lizzie Mary Cullen, this book is full of intricate designs inspired by cities such a Paris, London, and Luxor.  There are 96 excellent quality pages awaiting your artistic talents as you relax into the world of colouring.
Priced at around £9-£13 depending on where purchased, this book is available from various outlets such as Amazon and craft shops.  A beautifully illustrated colouring book suitable for people of all ages, but specifically designed with adults in mind.
Magical Jungle
Designed by the popular illustrator Joanne Basford, this stunning book will bring you plants and animals found in exotic rainforests. All 80 pages are crammed with intricate pen and ink drawings ready for you to add tropical colours throughout. Available from many outlets including WH Smith, prices can range from £9-£13.
If you find yourself wanting to take up this pastime, you will probably want to invest in a luxury set of pencils.  Probably the highest quality are the Faber-Castell Polychromos pencils which start from around £30 for a set of 24.  However, a set of 120 pencils in a wood case could set you back £260. Of course, coloured pencils are available at much cheaper prices to suit all budgets.
Why colouring? It is said that this pastime induces the same state as meditation by reducing a restless mind and helping us de-stress.  It was once a pastime many of us enjoyed as children, but has turned into an adult trend. With the introduction of higher quality paper, intricate designs and a huge variety of themes, you can take yourself off to different worlds. So unplug from the technology and get creative!
3. LEGO Architecture
We've all heard about LEGO, and here is your opportunity to re-create some of the famous architectural buildings found around the world.  Also available are various city scenes displaying a few of the buildings and monuments associated with that destination.  Below we've brought you an example of both.
Statue of Liberty
Comprising 1685 pieces, take time out to build this monument found on Liberty Island in New York Harbour in the United States.  The finished masterpiece stands 44cm/17inches tall and 14cm/5inches wide at the base. The set is complete with the statue's 7-ray crown, tablet and torch, shield-lined base, and much more.
Intended to commemorate the friendship between France and the United States, today this is one of the world's most recognisable landmarks. Located in the base of the monument are exhibits of the statue's history including the original 1886 torch.  Since 1916, visitors have been unable to access the torch balcony due to an explosion on nearby Black Tom peninsula during WW1.
Price for this set direct from LEGO is £90.  Other buildings and monuments available include the Empire State Building, Trafalgar Square, Burj Khalifa, and The White House.
Paris
This set comprises 649 pieces. When complete, measures 21cm/8inches high, and 29cm/11inches long, and 11cm/4inches wide.  Features include the Arc de Triomphe, Eiffel Tower, the Louvre, Champs-Elysees, Tour Montparnasse, and Grand Palais. Each individual building in the set is presented in scale to the other buildings giving you an idea, in particular, of the height of the Eiffel Tower and Montparnasse.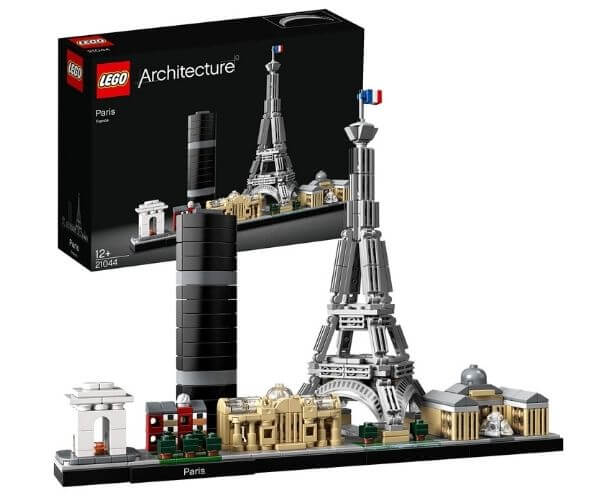 Price for this set direct from LEGO is £45. Other cities available include New York City, London, Tokyo, Dubai, San Francisco, Las Vegas, and Shanghai.
4. Destination cross stitch
Contemporary cross stitch
Cross stitch your way across Europe with these colourful and contemporary patterns from Stitchrovia as featured on Etsy.   Here are just 2 designs by Emma Congdon. One features the whitewashed buildings of the small Greek island of Santorini.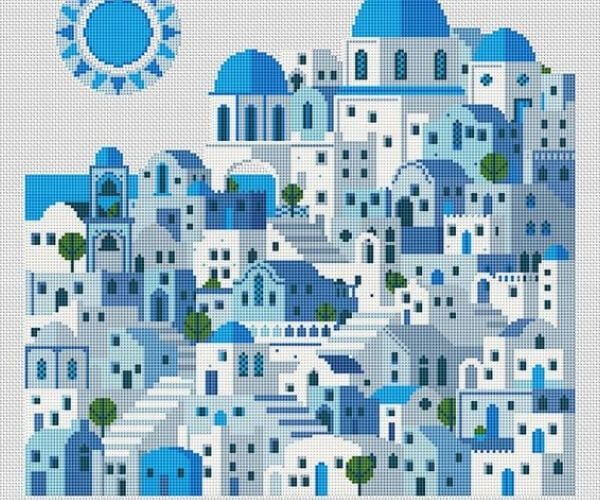 The other depicts the architecture found in the Italian city of Venice including the famous gondolas.  Both patterns can be downloaded from her shop on Etsy at just a little under £6.
All you need to do is then buy the cross stitch fabric (aida cloth) and threads.  Of course, all the colours required will be contained on the PDF document you download together with a colour chart. Using 14ct aida (14 holes per inch), the finished items will measure just under 33cm/13inches square (Santorini) and 27cm/10.5inches x 31cm/12 inches (Venice).
City cross stitch kit
There are so many stunning cross stitch kits depicting travel scenes, but one of our favourites can be found in Etsy shop – Yarn Stories.  Showing a pavement café scene in the Italian city of Verona, the finished item will measure 30cm/12inches x 40cm/16inches.  By purchasing the full kit, you will receive all you need, including the colour chart, fabric, colour threads (40 colours), and needle.
The price for the kit is around £47 and will provide many hours of relaxation whilst transporting you to the Verona.
5. Jigsaw puzzles
The World 3D jigsaw puzzle
Most people enjoy looking at and spinning a globe, so here is your opportunity to put your geography knowledge to the test and build your very own.  The kit comes with 540 curved jigsaw pieces that fit together to form a sturdy globe.
The completed item will measure 22cm/9inches in diameter, and can be displayed on the accompanying stand, and be rotated.  The ideal armchair puzzle for the globetrotter in your family that can be dismantled and use time and time again.
The price is around £25-£28 and can be purchased from various outlets including John Lewis and Hamleys.
For the executive desk, we'd suggest the magnetic stainless steel 3D globe which measures just under 7.5cm / 3inches in diameter. It does come completed so you will have the opportunity to study it before dismantling and spending time putting it back together.  The globe does come with its own stand and is priced around £24.
6. Create your own masterpiece
I'm sure we've all, in our childhood, had a painting by numbers set. Move onto the next level and unwind with a set designed for the adult market.  With so many stunning creations in their 'places and cities' category, Masterpiece By Numbers provides all you need to get started. Everything comes in a sturdy cardboard tube through the post.  Included in the pack will be a small colour photo of the finished paining, paper guide, acrylic paints, high quality linen canvas, brushes. You will have all the colours you need and there is no mixing involved.
We particularly liked this kit – Walk To The Sea – depicting a Mediterranean scene of a narrow, stepped street, running down to the palm lined sea front.
The canvas size is 40cm/16inches x 50cm/20inches and is currently priced at just £23.
7. Who Knows Where? family board game
This board game can be fun for the whole family, or just a couple. For 2-4 players, or teams, this game has over 1000 questions in categories such as cities, capitals, events, facts, and tourist sites. Build up your world knowledge by guessing the location asked in each question and placing your own pyramid on the area of the map that you believe is the answer. The rules are quite flexible which can make the game easier for younger players.
Be the first player (or team) to travel around the world. You may want to play again by flipping the board over to use the second map.
Priced at around £30, this can be purchased from stores such as John Lewis, and Waterstones.
8. Build the Taj Mahal
If you have plenty of time on your hands, bring a 3D Taj Mahal replica into your home by gluing together approximately 7500 matchsticks in this construction kit.  Brought to you by Matchitecture, this kit comprises matchsticks, cutter, pliers, glue, assembly board, clips, tweezers, and instruction guide.  You will spend hours cutting and assembling the matchsticks according to the plans.
The Taj Mahal is a mausoleum of white marble located in Agra, India. Built for the emperor between 1631 and 1648, in memory of his wife, this building is widely considered as one of the most stunning every created.
You will need plenty of room as the finished building measures approximately 60cm/24inches square and 38cm/15inches high.  This kit is available from a variety of outlets and is priced from around £92.
With so many options available, especially in the craft category, you may find yourself taking up a new hobby. Which travel related game or craft is your favourite?
Gail Hewitt is Owner and Director of Corona Holidays. Corona Holidays are specialists in tailor-made holidays to the Canary Islands, Balearic Islands, and European city breaks.
If you would like to be a guest blogger on A Luxury Travel Blog in order to raise your profile, please contact us.