Although it's not exactly re-inventing the wheel the current situation affords the opportunity to rethink the whole work/life balance experience. Currently offices and workspaces are being closed down, some temporarily, some for good. This has given rise to the opportunity for more and more people to be able to work from home. Not being tied to a workplace, or having to commute and being able to function at full efficiency from your own home environment has massive benefits. One of those benefits is the possibility of an extended stay in a luxury rental property in your favourite ski resort. If you can work online, the world is your oyster.
Chalet owners and operators are currently rethinking how to fill their properties now that people are reluctant to book holidays. Instead of booking week by week they are now willing to rent relatively long term. There are some great savings to be had. Now it's possible to book multiple weeks where for a lot of owners & operators the chalet staff is optional too. This cuts the price of the rental considerably. Here are five fantastic options you might consider to be your own personal office space for an extended stay.
Hidden Dragon, Veysonnaz
Nestled in a forest, Hidden Dragon could be the workspace/office of your dreams. Located along a private road and set within its own exclusive grounds, complete with panoramic views over the Rhone Valley and the true luxury of ski-in and ski-out access.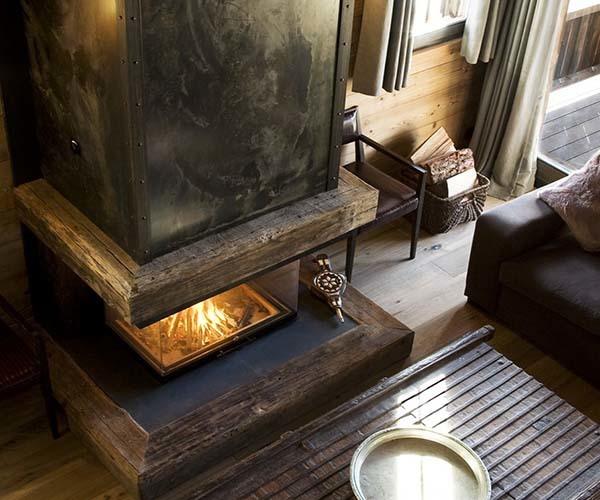 The 700m² of luxurious living space has been created with the ancient feng shui principles in mind. There's a hint of Asia, balanced by a healthy dose of Swiss charm. Exquisite antique pieces sit harmoniously alongside both the contemporary design of the chalet and the use of organic materials. When a chalet is designed to celebrate all of the best things in life, an exceptional spa comes guaranteed. If you can tear yourself away from your master suite's spectacular views, make your way down to the garden level. Here you will find complete and utter peace on Earth. Immerse yourself in the tranquillity of the hammam, sauna, hot tub and rain shower. The site of Hidden Dragon was prepared with Shinto rituals to cleanse the earth and appease the mountain spirits. Hidden Dragon is not your everyday wood clad mountain retreat.
When you are staying somewhere as fabulous as Hidden Dragon, staying in is the new going out. Every nurturing minute spent in the chalet is a chance to absorb the positive energy that flows around your surroundings. A day at work has never been this good.
Le T Chalet, Verbier
This chalet is a genuine stunner, the epitome of Alpine charm. Le Ti Chalet boasts stunning views with easy access to the town centre. A thing of beauty, Le Ti has been lovingly constructed from stone and hand cut old wood and is a real charmer. This traditional chocolate box chalet is charmingly rustic and luxuriously decorated with warm textiles, antiques and colourful kilims.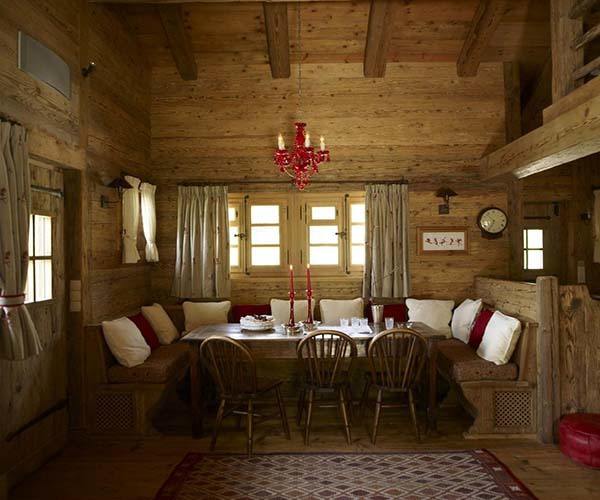 The chalet is a perfect family retreat and is equally suited to small groups of friends. The open plan living room, comprises a cosy sitting room with comfortable sofas, traditional open fireplace and fine dining area with a separate kitchen. The wooden doors open onto a spacious terrace and a delightful open tread staircase leads up to the cosy mezzanine floor which houses a twin bedroom.
The floor below has 2 charming double bedrooms and a triple bunk-room, each boasting an en suite bathroom. An additional bathroom serves the mezzanine bedroom above. Downstairs guests can enjoy the great den area which features a pool table, flat screen TV and bar area. This space is an ideal breakout area for the kids or big kids alike. It certainly would be no hardship to put in an 8 hour shift in this stunning property.
Sweet Little Home, St Anton
Logging on for a days work in this beautiful chalet would make at day a work a pleasure. The most photographed chalet in St Anton; Sweet Little Home is a unique and historic Alpine chalet that has undergone a complete modern refurbishment. Handily located, just 4-5 mins to the lifts and slopes and 30 seconds to the main street, this practical, cool, memorable and unique chalet blends history with modernity. Dating back to 1911 the house has undergone a few dramatic changes since. With an eye catching splash of colour on the facade, you are treated to an understated elegance inside. Beautiful interiors, stand out features and unique touches help make this chalet one of the simplest, yet most desirable properties in the whole resort.
The five ensuite double rooms allow for relaxation and a good nights sleep, all equipped with a walk in wardrobe and wet room showers.
The two master suites on the top floor enjoy elegant standalone bath tubs as well as the walk in shower for pure relaxation. These suites are joined by the chalets 2nd lounge, allowing some breakaway space for movie nights, children's story time or simply to sit back and unwind in peace and quiet.
The main lounge is well designed eclectic mix of comfy sofas, bespoke armchairs, and an open fire place to keep you glowing along with furs and throws to snuggle up with. For the ultimate in relaxation, you take but a few steps out of the back door, along the terrace and indulge yourself in the outdoor sauna and hot tub. Pure luxury to treat your limbs and relax the body and soul after a days work.
Cosy, homely, unique and luxurious in this fantastic home away from home. We would challenge anyone to not fall in love with their very own Sweet Little Home.
Montana-Val d'Isere
In a resort brimming with stunning luxury ski properties, Montana has a valid claim to being one of the finest. Chalet Montana was recently named ′The Best Chalet in The Alps′ by the Sunday Times. It was chosen for a reason. Offering extraordinary levels of luxury in the heart of Val d'Isere, the stunning Chalet Montana combines endless luxury features with a location that is hard to beat. A beautiful homely chalet where contemporary designs blend effortlessly with mellow timbers and antique furniture – a veritable temple to modern Alpine living.
Perched on the Face de Bellevarde piste in Les Carats, the resort's most exclusive zone, Montana is a beautifully traditional ski chalet in a class of its own. Occupying arguably the prime spot in Les Carats, the most exclusive enclave in Val d'Isére, the chalet is private, yet accessible. Chalet Montana is of course ski-in, ski-out, and only a short chauffeured drive or stroll from the village's shops, bars and restaurants and lively centre.
After another day at the grindstone, what better way to relax than in the fabulous indoor pool? Equipped with soothing jets to ease aching limbs, you can also swim against the pool's jet stream whilst admiring the views of snow-capped peaks. In addition to the pool, the spa area features a sauna and relaxation zone. Other highlights in the chalet include a beautiful drawing room, a snug with an impressive flat screen TV and a private study with computer and wireless broadband network where you could easily set up office.
Chalet Spa, Verbier
One of Verbier's leading chalets and one of the finest in our collection, Chalet Spa Verbier is a magnificent five bedroom chalet, located a short walk from the Savoleyres lift on a private path. The chalet architect has masterfully achieved his goal of combining the charm of a boutique hotel with limitless comfort in a magnificent private residence. Surely one of the most beautiful offices you will have ever worked in.
With no expense spared the chalet offers contemporary design, sophisticated spa areas and the very latest in technology. Chalet Spa Verbier offers 5 star luxury and comfort, combined with extraordinary views. Spread over 4 floors, 3 with delightful terraces offering exceptional views of the Alps. this chalet enables up to 10 adults or children and 2 infants to enjoy the beauty of the mountains and all that Verbier offers.
The living room is extremely spacious with materials and interior design offering the promise of complete relaxation. The central fireplace, an important architectural element underlining the rooms contemporary atmosphere, has a hearth level with the floor.
With a name like 'Chalet Spa Verbier' you would expect that the property would feature a state-of-the-art spa area, and you will not be disappointed. The unique 500m² area has a spectacular 10 metre swimming pool, a sauna, a hammam, a fitness room and a cosy healthcare corner. A bay window provides a breathtaking view of the Alps. The spa area extends to the outside, with a covered terrace housing a magnificent Jacuzzi. This is without doubt one of the finest spa areas in our collection. There is also a private separate treatment room where guests can enjoy any number of out-sourced treatments, from aromatherapy to chromatherapy and à la carte massages (from hot stone to Indian head), all using organic products.
In addition to all this, there is a Concept rowing machine on the terrace and a spinning bike, a traditional mountain cedar wood outdoor hot tub with just perfect views down the valley, and a covered jacuzzi outside the pool area with pop-up TV and music system. All essentials after a day's work.
There is a cinema with a programmed library of around 250 up to date movies plus around 10,000 albums loaded onto the state-of-the-art music centre. There is also wifi throughout, of course, plus Xbox 360, Playstation and Nintendo Wii gaming consoles. And they can arrange anything – they've even converted one of the bedrooms into a trading room with a bank of flatscreen TVs and a secure system set-up for one banking client. A workspace to compete with most dedicated office spaces.
There is also a beautiful sun drenched deck awash with designer teak furniture and rustic lounge chairs draped with snug Swiss made wooly blankets, and stunning rattan umbrella. With a complete full bbq set-up you could be forgiven for thinking your on an Ibiza terrace on a summers day! The chalet even has a ping pong table and games area out on another terrace.
All the chalets above come with service levels to match the best 5 star hotels, if required. Or, you can cater for yourself and treat them all as a home from home. I think a days work in any of these spectacular chalets would go with a swing.
Danny Frith is Director at SkiBoutique. SkiBoutique is a luxury ski chalet agency based in Switzerland.
If you would like to be a guest blogger on A Luxury Travel Blog in order to raise your profile, please contact us.