Straddling the border between Chile and Argentina, Patagonia has long been an outdoor adventurer's paradise. With towering snow-capped peaks, stunning mountain trails, and dramatic valley canyons etched by crystal clear rivers, there are few places as magnificent as this World UNESCO Biosphere.
People come to this pristine natural landscape on the southern tip of South America for many reasons. Hiking the famous Torres Del Payne trails, boating out towards calving glaciers, and tasting some of the region's fantastic cuisine.
But there's one outdoor activity that has drawn people here since the early 1900s and that's fly fishing.
An entire industry of guides, trails, and luxury resorts has blossomed around the sport over the past couple hundred years, and today, Patagonia is one of the world's premier fly fishing and luxury hotel destinations in Argentina.
I personally spent 3 months traveling around this region and during that time I had the opportunity to stay in some fantastic luxury fly fishing lodges, primarily on the Argentinian side of Patagonia.
In this post, I'm going to share with you my top 5 best luxury lodges in Argentina, so that if you're a fly fisherman or woman, hopefully, you can head to Patagonia one day, tick the fishing here off your bucket list and enjoy one of these fantastic lodges once South America starts fully opening to travel again.
First, what to pack
Of course, if you're heading out on a fly fishing trip, you're going to want to pack for the occasion. Obviously you'll want to bring your favorite fly rod. I recommend bringing a 3 weight, a 5 weight, and a 7 weight if you can fit it in your luggage.
Some of the rivers in Patagonia are quite wide and there's not always a lot of room for a backcast, so a good pair of waders is also essential.
If you're planning on hiring a guide for the trip (highly recommended), then they're likely going to supply you with all of the gear you need, but it's nice to have your own gear as well so you can go out on your own sometimes.
Aside from your regular fly fishing gear, you'll want to bring high-quality rain gear. Patagonia is a land of unpredictable weather and even in the summer months (which runs opposite to those in the northern hemisphere), it can be cold, windy, and rainy.
Patagonia is also a fantastic place for hiking, so bring along some good waterproof hiking boots. Whether you're hiking to secret fishing spots on the river, or you plan to do some of the more famous multi-day treks in the region, good boots are essential for any trip to the region.
The best luxury Patagonian fly fishing lodges
Now that you know what to pack, it's time to look at some of these incredible fly fishing lodges. Having a cozy place to stay after a long day out on the river is essential, and warming up near the fireplace or at the spa in some of these luxury lodges is simply the best way to relax.
Correntoso Lake & River Hotel
● Price From: $280/nt
● Location: Av 7 Lagos 7 Rio Correntoso
● Amenities: Spa, Restaurant, Cocktail Lounge, Indoor/Outdoor Heated Pool
A member of SLH (Small Luxury Hotels of the World), walking into Correntoso Lake and River Hotel feels a lot like walking into any luxury winter lodge. Beautiful wood grain and stone finishings give the place a cozy feel, but it's the little things that set this resort apart.
They sit on one of the premier fishing rivers in the region, the Correntoso, famous for incredible stocked brown and brook trout. The hotel also offers boat trips and can help organize fly fishing guided tours around the region.
The rooms themselves are beautifully decorated and almost all of them (aside from a couple of mountain apartments) have breathtaking views towards Correntoso Lake.
The pièce de résistance of Correntoso is the spa and indoor/outdoor heated pool. Have a treatment in the massage room, sit in the sauna and then hop in the large hot water pool. Swim from inside, under the large pane of glass, and into the outdoors where you have fantastic views of the lake and the surrounding mountains.
The water steams in the cool Patagonian air and you can sit here and relax after a long day of fishing out on the river.
When I visited here at the end of winter, there was still powdery white snow dusting the tops of the mountains and a light sprinkle of snowflakes was falling while I was in the pool each night. As the flakes met the steam from the pool they evaporated into mist. It was magic.
Alma del Lago Suites & Spa
● Price From: $137/nt
● Location: Av. Bustillo km 1,151 Bariloche
● Amenities: Spa, Restaurant, Indoor Pool, Conference Rooms & Event Planning
There are plenty of luxury hotels and lodges in Bariloche, with the relatively recent opening of a new Hyatt, this number still climbing. But Alma del Lago offers something unique and special to its guests.
I thought Correntoso was the nicest hotel pool in Argentina, and then we visited Alma del Lago. The view from this pool definitely rivals Correntoso (although it's only an indoor pool).
Alma Del Lago Suites & Spa isn't as much a fishing lodge as it is a beautiful lakeside resort, but they can help you hire guides from here. In fact, this is where I met my fly fishing guide from Wilderness Patagonia who took me out on an 8 hour trip on the nearby rivers (highly recommended).
The hotel itself is lovely. Perched high on a hill overlooking the glistening Nahuel Huapi Lake, the front-facing rooms here have stunning views over the water, as does the indoor pool.
What made Alma del Lago special was the overall vibe of the place. The main lobby was the perfect meeting place, with an indoor lounge area leading out to a beautiful large patio with chairs, umbrellas, and couches.
Here you can order cocktails, meet other travelers, and enjoy the spectacular views over the lake, all while being served delicious snacks from the friendly staff.
Don't only eat in the hotel though! You can't miss the fantastic nearby Alto el Fuego restaurant, which serves up perhaps the best ribeye south of Buenos Aires.
Rio Manso Lodge
● Price From: $495/nt
● Location: Lago Hess 8400, R8400 Bariloche, Río Negro
● Amenities: Restaurant, Bar, Fly Fishing Guide Service
Rio Manso Lodge is a proper Orvis-endorsed fly fishing lodge just outside of Bariloche in Argentinian Patagonia. Here they include fly fishing guide service in some of the package price deals for the hotel, so you know that the focus here is very much on the fly fishing in the region.
The rooms themselves are beautiful at Rio Manso. They all feature breathtaking views over Lago Hess and the Andes Mountains including the imposing Mount Trondor which is located on the border with Chile.
They also have a great selection of Argentinian wines and their in-house chef can cook up some fantastic local specialties like chorizos (sausages), morcillas (black pudding) chinchulines, and Asado, (slow fire-cooked lamb).
Río Hermoso Boutique Hotel
● Price From: $242/nt
● Location: Route 63 km 67, Paraje Río Hermoso. Lanín National Park, San Martín de los Andes Neuquén
● Amenities: Restaurant, Bar, Meeting Room, Library, Common Living Space
Río Hermoso Boutique Hotel feels not only like a proper luxury fly fishing lodge, but also a bit like your best friend's cozy cottage. When you enter the front door, you're immediately greeted by friendly staff, a large common living area complete with a fireplace, couches, tables and chairs, and a view out to the famous Río Hermoso (Hermoso River).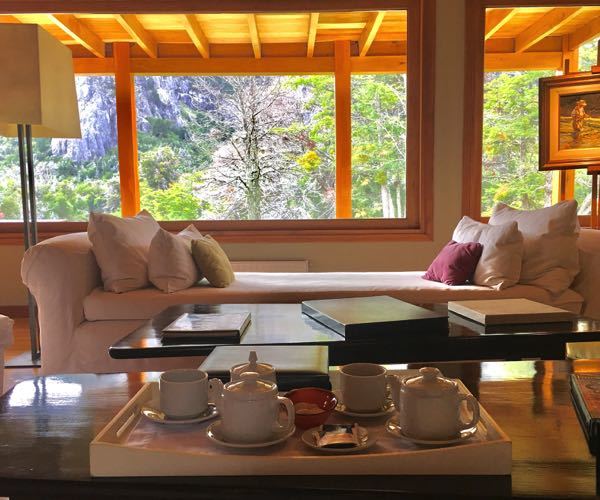 Like the other hotels on this list so far, the finishings are mostly wood and stone at Río Hermoso, but the couches and common seating are so inviting that it's really hard to leave the main area to actually go to your room.
But once you get to the rooms, you see why this hotel has won a 97% rating on Tripadvisor and been nominated for plenty of awards. A comfortable king-sized bed, a small couch, and a desk adorn the inside of the room, while a large outdoor patio overlooks the small Rio Hermoso River.
This hotel is set right on one of Patagonia's premier fly fishing rivers, so every morning when you wake up, you can simply put on your waders, pack up your rod and head out on the water. It's pure bliss.
Don Los Cerros Boutique Hotel
● Price From: $168/nt
● Location: San Martín 260, El Chaltén, Santa Cruz
● Amenities: Restaurant, Bar, Spa, Common Living Space
Don Los Cerros is a proper mountain lodge, perched high above the city of El Chalten amongst the towering Andean mountain range, it's hard to beat the views from this spectacular hotel.
The rooms here are a bit more basic than the others on the list, but many of them do feature their own jacuzzi, which is a great way to unwind after a full day of hiking and or fishing. You can sit and enjoy a coffee or work a bit on your laptop while enjoying views out over the Andes.
The fly fishing near El Chalten is great, but so is the hiking. I recommend you head to the Cerro Torre trail, or hike up Fitz Roy Mountain. You really can't visit El Chalten without doing a few long hikes!
In conclusion
The United States has some fantastic fishing lodges for sure, but very few places have such wonderful luxury options in a landscape as pristine as Patagonia. Argentina is home to some of the best fly fishing in the world, and arguably some of the best luxury lodges to go along with it.
If you're heading here, make sure you plan on more than just fly fishing. Sure, you can be on the water for 8 or 9 hours per day, but leave some time for other classic Patagonian experiences like trekking, eating, staying at luxury wine lodges and visiting glaciers. You won't be disappointed.
Nick Wharton is the Founder of Into Fly Fishing. Into Fly Fishing is a website dedicated to getting people into the sport of fly fishing and finding cool fly fishing destinations all around the world.
If you would like to be a guest blogger on A Luxury Travel Blog in order to raise your profile, please contact us.