Suite name: Villa Cielo Azul
Location: Casa de Campo Resort & Villas, La Romana, Dominican Republic
Size of accommodation: 2,740 sq m
Cost per night: $5,900 plus taxes
Who's stayed there? Maluma, Jbalvin, Gianluca Vacchi, Geraldine Bazan and Marlene Favela.
What makes it special: Cielo Azul sums up everything there is to love about Casa de Campo – the world-class golf, stunning views, tranquil setting and endless amenities make for a once in a lifetime trip.
Since opening in the mid-1970s, Casa de Campo has been a luxury retreat to help the mind, body and soul of our guests while here in paradise. The 7,000-acre oasis offers not only the No.1 golf course in the Caribbean, Teeth of the Dog, but also a plethora of activities and amenities few resorts can match.
The conception of the resort grew from the glamour of Hollywood as the property was first a sugar plantation owned by Gulf and Western, which also had Paramount Pictures listed among its silver screen assets. It soon became known as a playground for celebrities. The list of famous visitors over the years is a virtual "who's who" of the well-known: fashion icon Oscar de la Renta, Frank Sinatra, J-Lo and A-Rod, Jay-Z and Beyoncé, and even three golf loving U.S. Presidents (George H.W. Bush, George W. Bush and Bill Clinton).
Many of the notable guests listed have chosen one of Casa de Campo's exceptional villas for the seclusion and tranquil setting they offer. Now, more than ever, finding some sense of solitude is a necessity for everyone. Families, friends, golf groups and colleagues need to feel safe when traveling. Furthermore, there is an even higher premium on a comfortable stay when arriving at the destination. In the new reality, Casa de Campo has put an emphasis on privacy being the new luxury.
The best way to "create a world of your own" during a Casa de Campo vacation is by enjoying the magnificent Villa Cielo Azul. It is the most exclusive villa on property and situated right on the "World Top 100" golf course Teeth of the Dog, overlooking the Caribbean Sea. Ideal for large groups of up to 16 people, this incredible home features nine bedrooms, a basketball court, game room, a private pool, stylish living areas and unique contemporary decors. From secluded garden villas showcasing the island's abundant flora to the tranquil splendor of the Dominican coast in an oceanfront villa, Cielo Azul offers you a splendid "home away from home".
Additional amenities include multiple golf carts for transportation within the resort, daily breakfast prepared in the villa, private daily maid service, butler service (light cooking, bartender services, packing and unpacking), roundtrip private airport transfer to and from La Romana, Punta Cana or Santo Domingo Airports, unlimited access to the fitness center and group classes, amenities upon arrival (premium bar, deluxe assorted appetizers, tray of assorted seasonal fruits, etc.) and a personalized check-in at the convenience of Villa Cielo Azul.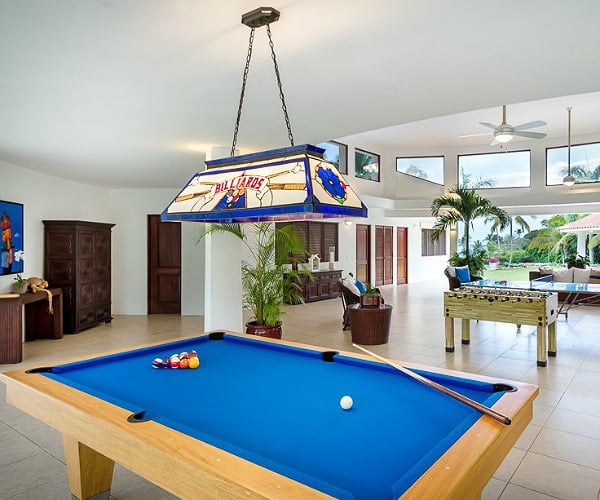 Before you even step foot on property, a dedicated concierge will help schedule any private excursions you might be interested in and even private VIP jet service in and out of La Romana International Airport just minutes from the property. Casa de Campo might be the only resort on the planet where groups can walk off their plane, stay together in an extravagant villa, and be just steps away from a "World Top 100" golf course within minutes.
Casa de Campo understands people have more reservations than ever before about traveling. To address them, it has initiated its new "Casa Cares" program touching virtually every area of the property including significant investment in new equipment and employee training. Developed with HS Consulting Group of Mallorca, Spain, the robust health and safety practices will continue to remain a top priority for the entire resort including its three celebrated Pete Dye-designed golf courses. A full list of the new measures may be found here.
After all the world has gone through recently, perhaps a dose of tropical sunshine and a change of scenery are just what the doctor ordered. The non-golf amenities are just as impressive. The Minitas Beach Club is the perfect spot for swimming, drinks, and dining. The property is additionally highlighted by a 370-slip Marina & Yacht Club, Polo & Equestrian Club, La Terraza Tennis Center with 13 immaculate Har-Tru courts (10 lighted), 245-acre Shooting Club, full-service spa, boutique shopping, food trucks and an ice cream shop. However, since "privacy is the new luxury," you also have the option of a personal trainer or spa specialist to visit for treatment in the comfort of Villa Cielo Azul.
Also, not to be missed while at Casa de Campo is Altos de Chavon – an artisan's village modeled after a 16th century Mediterranean city – featuring boutique shopping, restaurants, art galleries, artisan workshops, museums, and a magnificent Grecian-style amphitheater.
Casa de Campo offers a safe and healthy sanctuary for those needing a fun and thrilling getaway or perhaps just a change of scenery from the monotony of being at home. Once you enter the gated grounds, they take care of everything else. Just come relax in paradise and experience firsthand why "privacy is the new luxury".
If you would like to be featured as 'Suite of the week' on A Luxury Travel Blog, please contact us.