The ultimate metropolis, Tokyo is one of the world's most exciting and vibrant cities. High-tech modern living, urban design and cutting-edge architecture defines the world's largest city. But dig a little deeper below the contemporary veneer and you will find age-old temples, shrines and stone lanterns tucked amongst outlandish, cartoonish creations and the neon-lit nightlife. It is this contradictory nature that forms the beauty of this extraordinary city. Tokyo is the beating heart of Japan, here are our top recommendations to explore the capital of The Land of the Rising Sun…
1. Tokyo can be a destination just for the delicious and exciting food scene alone. Dive into a hearty bowl of tonkotsu (pork broth), and Ichiran, tucked behind the steam locomotive on display at Shinbashi station, is debatably the best place in town.
2. The world-famous sushi restaurant Sukiyabashi Jiro in Ginza is owned and operated by sushi master Jiro Ono and was the first sushi restaurant in the world to receive three stars from the Michelin Guide. It's well worth a visit but note that reservations can only be made through the concierge of a luxury hotel.
3. If you're up for an early start don't miss the bustle and drama of Toyosu Market (formerly held at Tsukiji which closed in 2018 after 83 years). The fish are sliced, diced and distributed at amazing speed – the epitome of Japanese efficiency. You can taste the freshest raw fish in a series of sushi bars and peek in on the auctions and live fish sales from a second storey viewing station.
4. 'Yakitori alley' leading from the Ginza area under the tracks at Yurakucho Station is where you will find izakaya (bars) and yakitori (grilled fast food) joints under the tracks of Tokyo Station. Here you can sit back and people-watch, as salarymen, students, shoppers and night-time revellers grab a pit-stop dinner.
5. For the best sushi in town, head to Ichibancho Teruya just by the Hanzomon Metro Station. Not only will you taste some of the finest sushi in the whole of Japan, but you will also have the unique experience of chatting with an English-speaking chef – and everything will be prepared right in front of you.
6. Shinjuku is the place to go for bustling, neon-lit streets and the astounding architecture, including the Prada building and the Dior building. This district is great for shopping, but there are also art galleries and museums to explore.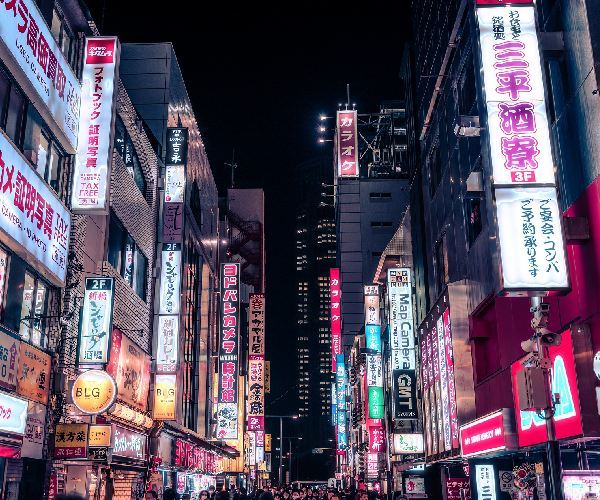 7. Akihabara in central Tokyo is the centre of gaming, manga and anime culture, which has a huge following in Japan. Many electronics shops, maid cafes and anime stores provide a paradise for any self-proclaimed otaku (diehard fan) or for those who are just curious to the weird and wonderful.
8. Cat Café MOCHA is one of Tokyo's bizarre but totally endearing concepts. The Cat Café in Harajuku is a stylish, light and airy nook for the ultimate kawaii (cute) experience. About twenty cats roam the light-flooded café and a wooden tree stands in the centre with seats built into the branches so the cats can perch in the canopy.<
9. The Yayoi Kusama museum in Shinjuku, is completely devoted to the works of the larger-than-life and avant-garde artist. The white building rises five stories and houses a bulk of Kusama's pieces, including a new installation of her 'infinity room' series (an Instagram sensation which has drawn giant crowds in global exhibitions) and her polka-dotted paintings and sculptures.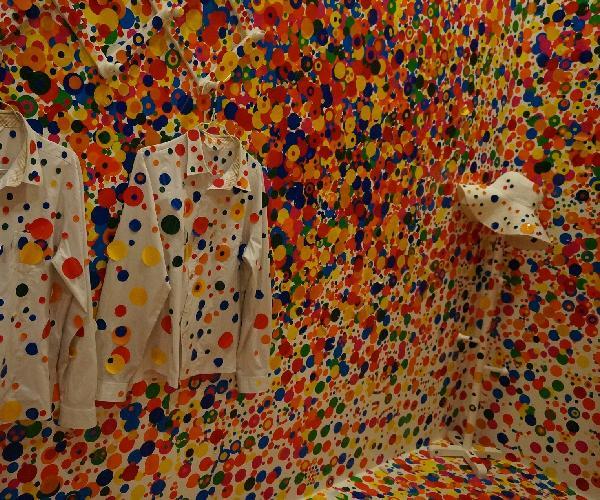 10. The heart of Tokyo's nightlife in Shinjuku, Shibuya and Kabukicho is a multi-level experience, with different restaurants, bars and clubs on each floor. Have fun riding tiny elevators and ducking through doorways to explore until you find what you're looking for.
11. There is no shortage of karaoke bars in Tokyo. Karaoke-kan is a typical karaoke bar, where the drinks are cheap and boozy, and the patrons are fun, boisterous and full of personality. This karaoke bar is familiar with international travellers, and is cheap, easy and right in the heart of Shibuya.
12. The famous 'scramble zebra crossing' in Shibuya demonstrates Tokyo's remarkably ordered energy; five intersections converge at the busiest road crossing in the world and bustling crowds move together to create 'ordered chaos'.
13. The famous Tokyo Skytree is Tokyo's tallest skyscraper building, dwarfing everything else in this low-rise area, but make sure you book ahead if you want to go up to the top. It has the highest viewing platform in the city and the panoramic sights are something out of science fiction.
14. Roppongi is not to be missed, a lively entertainment district popular with Westerners, featuring elegant shops, the most English-speaking restaurants and bars, as well as cultural sights. Explore the Art Triangle in the neighbourhood made up of the Mori Art Museum on the 53rd floor of Hills Mori Tower (take a lift to the observation deck on the 54th floor), the National Art Centre (Japan's largest and most prestigious art museum) and Suntory Museum of Art.
15. The Edo-Tokyo Museum traces the 400-year history of Edo-Tokyo by way of architectural models, woodblock prints and maps. The exhibition delves into touchstone literature, historical pleasure districts, traditional homes, the evolution of the ruling class' lifestyle, and much more. There is also a restaurant on the upper floor which has panoramic views of Tokyo.
16. Being Japan's oldest museum, the Tokyo National Museum is a national treasure in itself. It houses the world's most comprehensive collection of Japanese art, from samurai swords and fabulous kimonos to ancient Buddhist sculptures and woodblock prints. It also happens to be situated in one of Tokyo's oldest public parks, Ueno; a hundred acres dotted with ancient shrines, temples, ponds and thousands of cherry blossom trees.
17. Visit the mighty Senso-ji temple in the traditional district of Asakusa; with its giant red lantern at the gate and the buzzy Nakamise arcade with kimono fabrics amongst other traditional wares on display, it has a fabulous bustling vibe.
18. The Meiji Shrine is dedicated to Emperor Meiji and Empress Shōken, the first emperor of modern Japan and his wife, which was built shortly after their deaths and then rebuilt after WWII. The complex is surrounded by a lush green forest in the heart of the city, and is the perfect escape away from the busy metropolis.
19. For a museum or art gallery experience unlike any other, the teamLab Borderless Museum houses digital art installations and immersive experiences, offering a unique blend of art and technology in several different light and sound exhibits.
20. The Park Hyatt (made famous in the movie Lost in Translation) is the last word in sophistication and service standards in Tokyo, with an incredible complimentary rooftop pool and gym where you can see the city panorama at night. The bars are open into the early hours, then head to the rooftop to see Mt Fuji in the distance on a clear day at sunrise.
21. While the competition is tough between several top-tier hotels in Tokyo, the Aman Tokyo comes out on top for us. The absolute pinnacle of sophistication, this sleek property strikes the perfect balance between understated chic and sheer luxury, which is evident right upon arrival as you walk through the elegant yet inconspicuous entrance into the soaring atrium lobby, designed by the acclaimed Kerry Hill.
22. The ancient sport of sumo is a fascinating and entertaining spectacle that is steeped in tradition. Japan's national sport has professional tournaments that take place six times a year in different cities, and three of those are held at the Ryoguku Kokugikan (Sumo Hall) in Tokyo. It you're fortunate enough to be here when there is a sumo tournament it's well worth checking out.
23. On either your arrival or departure from Tokyo, the Naritasan Shinshoji Temple and the stunning Naritasan Park are situated close to Tokyo Airport. Take an hour to explore the temple and the incredible blossom tree lined gardens and tranquil temples.
24. If the bright lights and bustling streets get too overwhelming, bask in the quiet, magical groves of the Sagano bamboo forest outside of Tokyo. It's smaller and more secluded than Arashiyama, but just as beautiful.
25. Cherry blossom season isn't just about the blooms; although it's not an official Japanese national holiday, a festival atmosphere spreads through the country as the blossom opens a few days later in Tokyo. Japanese people of all ages gather in harmonious multi-generational groups for o-hanami picnics under the boughs of the trees in parks like Shinjuku Gyoen.
26. Formerly an imperial garden, Shinjuku Gyoen became a traditional Japanese garden after WWII. The 144-acre park comprises of pockets of French Formal and English Landscape gardens, and stunning and unforgettable landmarks are dotted throughout the beautifully maintained plot.
27. If Tokyo is going to be your only stop in Japan then visiting a traditional onsen hot springs bath should be on your list. Thermae-Yu in Shinjuku is a wonderful space open 24-hours, with a huge choice of spa experiences, including carbonated baths and outdoor stone baths.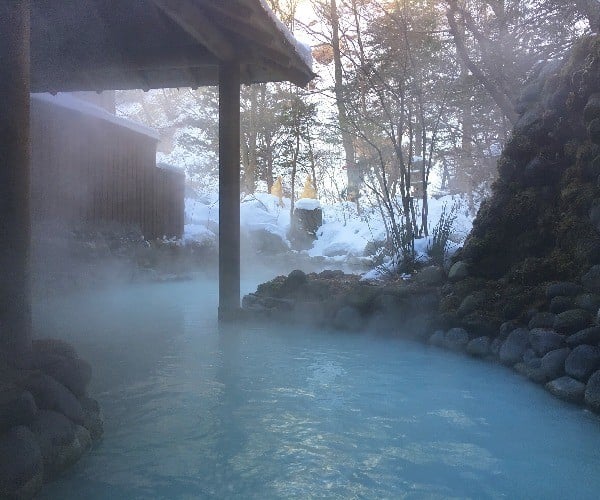 Here are just some of the fantastic things to do in Tokyo. Hopefully, this list will help you experience the best of Tokyo when taking on your next Japanese adventure.
James Jayasundera is Founder and Managing Director of Ampersand Travel. Ampersand Travel create bespoke and luxurious travel experiences to Asia, the British Isles and Southern Africa.
If you would like to be a guest blogger on A Luxury Travel Blog in order to raise your profile, please contact us.