By
Kristof Eyckmans
on Oct 04, 2020 in
Accommodation
,
Africa
,
Chile
,
Fiji
,
Hotels
,
Madagascar
,
North America
,
Oceania
,
Regions
,
South Africa
,
South America
,
USA
,
Utah
During these troubled times in which the world and especially the tourism industry is finding itself, we can't ignore the fact that the longer this crisis is taking, the more we are dreaming of those ultimate holidays. And who can blame us, I mean, how many regret not taking that extra trip earlier this year, or putting that long awaited dream holiday on the long run, only to realise now, that we need to tick off those boxes on our bucket list instead of just adding them.
But because I'm a nice guy (depending on who you ask in my family) I gladly show you a few more epic places which you should consider visiting as soon as you get a chance. Consider it as a premature reminder which you might want to put in your agenda. And no worries, I'll only highlight a few things of every property, as I know there's nothing better than to arrive in a place and realise it isn't just as good as they said, no… it's ten times better!
Time + Tide Miavana, Madagascar
Let's start with this luxurious gem, which is quite possibly the most exclusive hotel in Africa, if not beyond. Imagine a private island in northern Madagascar only accessible via helicopter. Add to that the fact there's only 14 villas (fair enough, there's more than one and they are massive but so far apart you don't really notice them) and you'll feel like you rented your own island paradise. Time + Tide Miavana is all about escaping the real world and let your mind be inspired by the rare wildlife, the sounds of the water and the amazing views which are found across the island. Coming over here means you'll forget everything you know about daily life, and stepping into a laid back fairytale where time is overrated and tide is what will decide your activity at that given moment.
The massive villas have everything you could wish for and then some. And while leaving them makes as much sense as watering your garden when it rains, you do want to get out and explore some of the amazing experiences on offer. The elusive and endemic lemurs on mainland Madagascar are just one of the incredible animal species that can be found over here and Miavana gladly flies you in their helicopter to go and look for them with their specialised guide. Depending on the time of the year you can see the humpback whale migration from the comfort of your villa. And be careful, the island is a favourite nesting spot for sea turtles so when the hatching starts you might need to share the endless beach for a very short while. One last thing you should certainly do here is sleeping under the stars. The spectacular night sky will easily top any season finale you've ever seen!
Amangiri, USA
Probably the most well known property in this list. And rightfully so, as it is a stunning oasis perched in the middle of the desert and canyon lands of the West. The contrast between the landscape surrounding the resort and the clean lines within it is just stunning. It's like seeing a mirage, but with the pleasant twist of it actually being real. This is a place to escape the hectic lifestyle we lead and wind down in one of the many spaces you'll find here. Were it started out with just suites, it moved forward and added a four bedroom home and even some tented pavilions to its inventory. All of which have beautiful views over the arid area which is all around, while the earthy colours seem to flow effortlessly from outside to the interiors of the property.
You wouldn't think there would be much of a pool or anything remotely similar due to it's location in this very dry environment. Yet, not only is there a pool area, it is without a doubt one of the most idyllic places to hang around as it is shaped around one of the many rocks, making it look like the landscape carved it out just for this sole purpose. But it doesn't stop there, as this is Amangiri. It has a floating pavilion and water pavilion (to name a few), not something you think about when going to a bone-dry and desolate area like this. But hey, this isn't just any resort either. This is Aman we're talking about, and their insane properties are like a cult which needs to be taken seriously.
andBeyond Vira Vira, Chile
Most of you will know the Lake District in the UK, however Chile has one too. And it is equally magical as the one you'll find on the other side of the pond. But what makes it even more special, is the fact that you can stay in one of the most amazing hotels which will make Davy Crockett's cabin look like the shed in the backyard. The brand andBeyond is mostly known for its superb lodges and camps in Southern Africa, yet, they also have the Vira Vira lodge in Chile, bringing the same warmth and hospitality which is found across their properties.
It offers some insane winter and summer activities, which means there is always something incredible to do for anyone who's staying here. For those who love being active in the outdoors, you really need to try some of the activities which often involve the helicopter, like heli-biking or skiing, In summer you can get their kicks during white-water rafting or horseback riding (just naming a few cause the list is endless). If you prefer the more relaxed way of spending your time, I suggest you visit the cheese factory which is on the property (I don't need to tell you that gourmet food is a standard at andBeyond Vira Vira) or plan a community visit to discover the local Mapuche culture which has some very ancient traditions. All in all, I guess you get an idea of what to expect over here and if people ask me to describe it I would say it's like the British Lake District but with a definite South American twist and flair.
La Residence, South Africa
Aaaah, the winelands in the western cape of South Africa… for those who've already been will gladly testify, it is pure heaven on earth. Beautiful scenery, perfect weather, happy and more importantly friendly people everywhere, what else would a mortal soul like us need? Well, I can think of a few things but a glorious place to spend your time in this wine paradise would surely be one. And La Residence doesn't only tick all the boxes, it surpasses them with an elegance and flair which can only be found in true luxury hotels. The 30 acre estate sits right in the middle of the vineyards, making sure the guests soak up the atmosphere of the winelands from the moment they wake up in the morning till they go to bed.
Besides the incredible interiors across the whole property which are all hand picked by the owner Liz Biden, it is the endless personal touches that make this place so unique. It is the possibility to provide something extraordinary before the guest even thinks of it. It's like coming home to your holiday home where the staf know exactly what to do in order to make you feel at home and more importantly incredibly relaxed. Of course, having one (or more) treatments at the spa enhances that feeling, not to mention the fact that the culinary journey you'll have over here is totally up to you and the chef as they will do anything to create dishes that you desire. All of these unique little touches are done in such an effortless way that it becomes natural, and when you scroll through the guestbook you'll find several A-listers that come over here to experience just that. Who am I kidding, when staying over here you'll all feel like an A-lister, irrelevant of how popular you are!
Laucala, Fiji
If the location of this tropical paradise doesn't speak to you, the endless amount of luxury you'll find in this amazing resort surely will. There's an array of different villas to choose from, it just depends on your personal taste. Do you like to feel like royalty and stay in your "castle" up the hilltop, not a problem? Rather prefer to play the luxury version of Castaway, then you might want to book yourself one of the seagrass villas. Of course being Laucala, a place where nothing is too much, there's a suitable villa for every desire.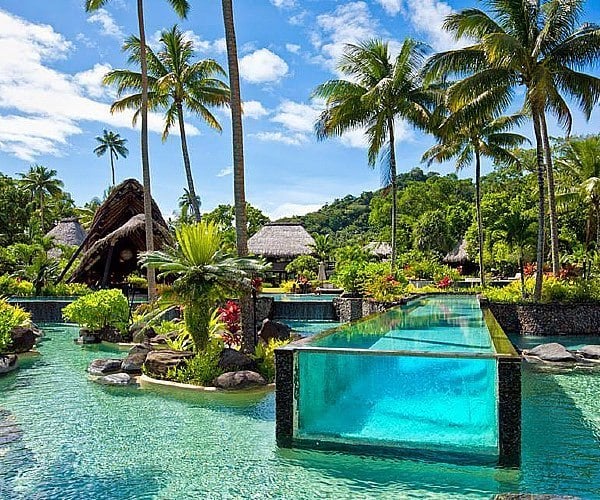 Being on a tropical island in the Pacific, one would think there's not much else to do but relax and listen to the sounds of the ocean. Not here, not at Laucala, they just couldn't let that happen. Hence why they have their own private 18-hole golf course, or a fleet of 14 boats to take you out for a cruise, or game fishing, or whatever reason you can find to be on the water. These are just a few options, but my favourite one is the submarine. Yes, you did read it right (I know you had to read that twice). Laucala is just one of those rare gems where nothing is too much, and discovering the underwater world in a fancy submarine is just part of that idea. This place is perfect for that island getaway, where you don't need to think about anything cause the resort already did it for you. And to be fair…who are we to judge them.
There you have it, 5 extra boxes to add to your list. Or do you have other places in mind which need to be included in everyones list? Let me know, I would love to find out.