American businessman and real estate magnate, Zaya Younan always dreamed of owning a chateau in the French countryside. In 2015, not only did Younan fulfill his dream, he did it on a broad scale by buying four chateaux and converting them into luxury hotels and resorts. Expanding further, he acquired another chateau with a golf course, a cigar company, and a winery, and created a lifestyle brand La Grande Maison Younan Collection, which emphasizes European style luxury. The motto of the brand is "Everyone deserves a night in a castle".
Here's a list of the La Grande Maison Younan Collection properties in France.
Chateau de Beauvois
Located in the heart of the Loire Valley, the tower of Château de Beauvois, a former 15th century, Renaissance chateau was a favorite of King Louis XIII when he went hunting in the region. Now a four-star hotel, Chateau de Beauvois goes all out on the luxuriousness, with 35 rooms and suites decorated in 17th century style antiques with Royal blue satin and brocade, gilded gold, and flower print fabrics. Amenities include a Nespresso machine, bathtubs and independent showers, mini-bar, and a flat screen TV.
The formal restaurant, Louis XIII (who frequently dined at the chateau after hunting), is in a beautiful setting with marble floors, a stone fireplace, regal artworks, and crystal chandeliers, plus an outdoor terrace. Chef Régis Guilpain uses local produce and ingredients to execute his imaginative menu. The current menu "sensation" is a four- course extravaganza, starting with house-made duck foie-gras with pears, two main courses of lobster and sea bass soup with lentils and veal fondant and sautéed foie gras, and the piece de resistance, a reinvented Saint Honoré cake with fresh rhubarb and yogurt sorbet.
Opulent and rugged at the same time, the wine cellar is 59 feet deep and stores over 50,000 bottles of world class and rare wines. The cellar is large enough to accommodate groups of up to eight people for exclusive wine tastings and classes.
Cigar aficionados will luxuriate in the Riad Cigar Lounge, in a cavern with stone walls, Oriental carpets, candlelight, and plush banquettes. The lounge offers premium El Septimo cigars accompanied by a fine collection of liqueurs and digestifs.
Chateau de Beauvois also has an outdoor swimming pool and lounge area, outside spa services, tennis and basketball courts, hiking trails on their multi-acre forest, and an area and equipment to play petanque, the traditional French game played with metal balls.
Château Le Prieuré
Perched high on a grassy hill, Château Le Prieuré commands unparalleled views of the green Loire Valley and its majestic river. The history of this little gem, with just 21 rooms, goes back to the 10thcentury when Benedictine monks settled their commune on the forest grounds to make a place of serene worship. In the 19th century, the Count of Aupébin changed the architecture to create a Renaissance style chateau.
The opulently decorated rooms have accents of silk and cotton in hues of royal blue, gold, and deep red, plus canopy beds and restored vintage furniture. The deluxe rooms and suites, measuring 300 to 500 square feet, have unobstructed views of the Loire Valley and marble bathrooms.
Le Castellane Bar & Lounge is a relaxing place to enjoy a drink or cocktail in a plush setting of marble floors, mustard and black pattern carpeting, ornate crystal chandeliers, and mahogany accented furniture.
An elegant dining room of tufted chairs, portrait paintings, grand chandeliers, and wood panel walls house Le Castellane Restaurant. Executive Chef Richard Prouteau,has an impressive resume, training and teaching at some of the best restaurant schools in Europe. He brings his culinary expertise by fusing traditional French dishes with new techniques and ingredients. Menu specialties with a focus on seafood include local snails stuffed with bacon, steamed John Dory fish with fennel and lemon jelly, and chicken breast with Chanterelle mushrooms and fig pulp.
The wine list includes selections Saint-Emilion Cru from 2014, a Bordeaux rosé, and a Saint Emilion Blanc, from the Younan wine label.
Miniature golf, a wooded park to stroll in, and a basketball and tennis court are also available on the hotel grounds.
Hotel Alexandra Palace
A formal chateau from the 1600s built with a handsome brick and limestone façade has now become the five-star Alexandra Palace Hotel. In close proximity to the town of Niort, historic Poitiers, and the port of La Rochelle, Hotel Alexandra Palace is the most expansive of the La Grande Maison Younan Collection in France, sitting on 160 acres of pristine woodland and ponds.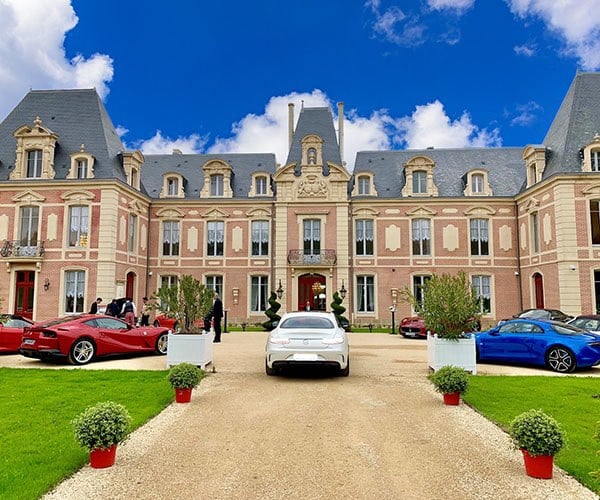 An 18-hole golf course sets the hotel apart as more of a resort. The multi-faceted golf facility includes a driving range with 30 covered stations, putting and chipping greens, pitch and putt with 6 Holes (Over 400 Yards), a pro-shop and private locker rooms.
The décor of the deluxe rooms is a blend of classic, French design in some and contemporary and sophisticated in others. All rooms have Italian marble appointed bathrooms with Lanvin bath and beauty products. The presidential suite has over 5,000 feet of unbridled luxury with stunning, French antique furniture and a private sauna and steam bath. A 323-foot stone terrace with a view of the golf course is the icing on the cake of this special suite
Dining and drinking al fresco on the terrace under white canvas umbrellas looking on to the lawns and lush trees in the warmer months is a special treat. Chef Ludovic Dumont, who won first place on the French version of the Masterchef reality show, invites you to his chef's table at Le Daniels Restaurant. He can prepare a five-course tasting menu paired with matching wines and can also customize a menu if you have special requests or food allergies.
The indoor dining room has a tasteful décor with chairs upholstered in blue brocade and toile de Jouy fabric, and the tables are set with fine white china, fine crystal stemware, and crisp white tablecloths.
The Cognac Room is a small, cozy space dedicated to the eponymous drink cognac and cigars. Private cognac tastings can be arranged.
Domaine de Vaugouard
A castle built in 1750 for Colonel de Salis Samad was handed down to his nephew Baron Henri de Triqueti, who was close to the King Philippe's family. He later offered the estate to the king's son, the Duke of Orleans, to use as a hunting ground.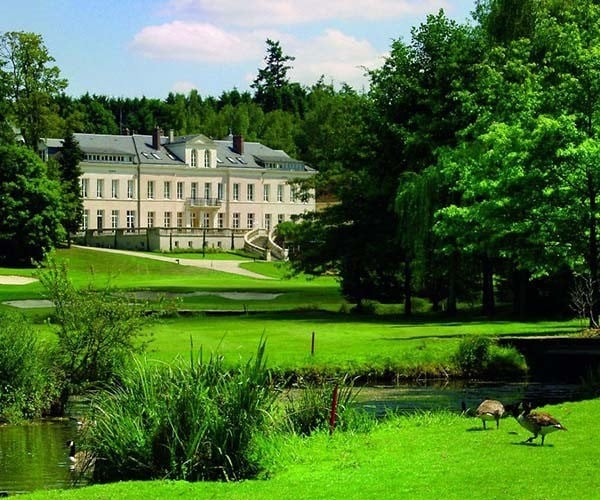 Today Domaine de Vaugouard is a four-star hotel with an outdoor swimming pool, spa, and golf course surrounded by a vast forest.
Domaine de Vaugouard is only an hour away from Paris and from the city of Orleans, so it's perfect for a weekend or overnight getaway.
Chef Laurent Legivre, worked at the Ritz Hotel in Paris, is now putting his creative energy into the seafood driven menu at Les Saules. Lobster and coriander gratin, pan-fried sole, and carpaccio with giant, roasted prawns and a citrus dressing, are just a few of the delectable dishes on the menu.
Superior, deluxe, and standard rooms are available in the main chateau and the outer wings, plus there's a selection of duplex rooms. All rooms have a bathtub, mini-bar, flat screen TV, and free Wi-Fi.
Spa treatments include a traditional Thai massage with essential oils, reflexology, and facials. The spa also contains a gym.
The heated pool (a rarity in France) is lined with chaises and offers a full restaurant and drink menu.
A 18-hole golf course covering four miles, has a driving range, a putting green and pitching green, a training bunker, and a pitch and putt.
Other hotel amenities include a tennis court and bicycle rentals.
Hotel Saint Martin
The smallest of the La Grande Maison Younan Collection properties, Hotel Saint Martin has just 13 rooms and suites. Halfway between Poitiers and La Rochelle, Hotel Saint Martin was once a stop on the Santiago de Compostela spiritual pilgrimage, going through France and on to Spain.
Architecturally, Hotel Saint Martin resembles a manor house among 100 acres of woods and bordering the Sèvre Niortaise River.
The Superior rooms are done in a palate of dark blue and chocolate and have views of the river and garden. Exposed stone walls and wood beams on the ceiling give extra charm to the duplex suite, which has a living room area and a bedroom upstairs.
Les Logis Restaurant has an inviting atmosphere along with a substantial, stone fireplace. Local born chef Charlotte Barreteau prepares a smart and savory menu combining French comfort food and inventive gourmet dishes. Her signature dishes include a tartare made with Brittany oysters, roasted Camembert cheese with apples and hazelnuts, quail foie-gras with raisins, a shoulder of lamb with coriander, and hummus, and for dessert an irresistible crème brulée with roasted peaches and thyme. Lunch and dinner are also served on the outdoor terrace overlooking the woods.
An outdoor, heated swimming pool with restaurant and drink service and bicycle rentals are also part of the amenities.
Other guest services and offerings at La Grande Maison Younan Collection properties in France include accommodations and services for weddings, business meetings (some of the hotels have seminar rooms), corporate retreats and private bookings. Reception catering is also available.
La Grande Maison Younan Collection has expanded outside of France with a resort hotel, Malibu Foz, in the beach town of Figueira da Foz, Portugal, near Lisbon and is planning other hotels in Europe in the near future.