Travelling along the north-western edge of Australia offers an introduction to a raw, wild coastline dotted with some 2,600 beautiful islands. The isolated and rugged Kimberley coast is often referred to as one of Australia's great natural wonders; this never-ending natural haven of crystalline waters, white sands, pounding waterfalls, and sandstone gorges is guaranteed to take your breath away. In one of the most pristine regions in the world, incredible landscapes have been carved out over billions of years and mind-blowing geology delivers twisted rock formations with Aboriginal rock art hidden in dark crevices. Brimming with Australia's best outback scenery and wildlife, inhabited by only 50,000 people over 400,000 square km, this is one of the most secluded and scarcely populated places in the world.
With predominantly two seasons – the dry and the wet – the Kimberley is hot most of the year and average temperatures are generally above 30°C. The stable and generally predictable dry season is from May to September, bringing clear skies, warm days, the occasional cool night and low chance of rain. From November to April the more unpredictable wet season delivers 90% of the region's rainfall with monsoons that inundate the region, flooding rivers that replenish the waterfalls and waterways. The Kimberley experiences some of the highest tides in the world, which can be up to 10m on a single tide in some areas and to be there, just at the right time of day, can make for an even more inspiring visit.
Broome is a popular starting point for yacht charters, filled with colour and natural phenomena. This beach resort is also a pearling town, where thousands of South Sea pearls are hatched each year. In late August/September, the Shinju Matsuri festival celebrates Broome's pearl heritage. Drop anchor at the iconic 22km stretch of dazzling white sand at Cable Beach, gateway to the Kimberley region, where sunset camel rides along the beach are a must. At Gantheaume Point, marvel at the unforgettable red and ochre hued cliffs and discover dinosaur footprints at low tide, estimated to be up to 130 million years old. Stop at the headland viewpoint of Gantheaume Lighthouse where you can watch dolphins and migrating whales below. Bird enthusiasts will not be disappointed as the Broome Bird Observatory at Roebuck Bay is the ultimate ornithological paradise dedicated to migratory shorebird activities.
If you are interested in finding out more out about local enterprises, look no further. North of Broome, on the tip of the Dampier Peninsula, take a fascinating tour of the remote Cygnet Bay Pearl Farm, one of Australia's oldest working pearl farms. Close by, at One Arm Point, the Trochus Shell Hatchery offers a great family outing, where visitors can learn about the aquatic life local to the Ardyaloon area, view the mangrove and reef habitats and discover the rich saltwater heritage of the Bardi Jawi people. Beautiful Lombardina is blessed with white sandy beaches and turquoise waters, offering great fishing and whale watching opportunities. This is an ideal spot to use your yacht's water sports equipment: launch the kayaks, snorkel at leisure, or catch a feast of mud crab for lunch. To discover an untouched wilderness, unwind in the natural beauty of Mercedes Cove, where adventurers can head ashore for bush walks and bird watching in this unique eco retreat. From July to October, watch humpback whales pass directly by the coastline.
Cruise through the breath-taking islands of King Sound, expanding from the mouth of the Fitzroy River and opening into the Indian Ocean. Home to stretches of rainforest, deserted beaches and patches of mangroves, more than 800 islets make up the Buccaneer Archipelago, a pristine region offering a yachting and fishing paradise. Take a tender excursion to witness the iconic giant tides; this area has huge tidal ranges up to 12m, where the tide flow between narrow island gaps creates spectacular whirlpools and falls. These caused havoc with the pearling fleets of the last century, and isolated graves of lost sailors are found on numerous islands providing testimony to the potentially dangerous conditions.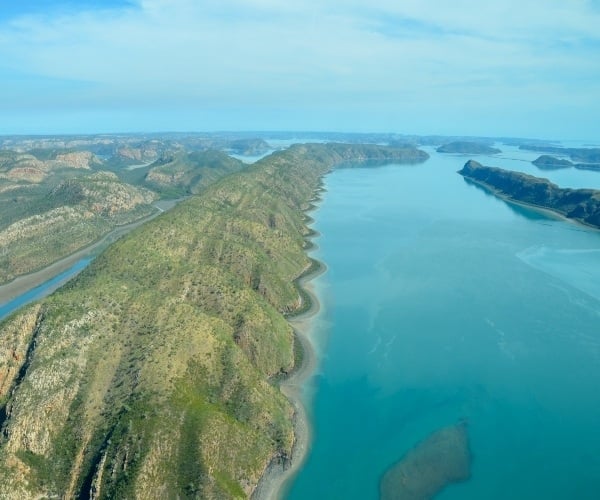 Make way to uninhabited Hidden Island and anchor off Silica Beach. One of a kind in the Kimberley, this beach is made from pure white silica sand making it powder-soft. This is a great spot to relax on deck, enjoy time swimming in the turquoise waters and explore the stunning coastline. For an overnight anchorage, the tranquil and remote Silver Gull Creek is idyllic; this is a top spot for dinner on deck as shooting stars travel across the vast open sky.
Travel past Cockatoo and Koolan Islands, both famed for their rich, high grade iron ore and clearly marked by mining operations that have been established here for decades. Continue to the Horizontal Falls in Talbot Bay, one of the most breath-taking natural wonders in the Kimberley and not to be missed. Millions of litres of ocean are sucked through a narrow sea gorge at the mouth, where tides as high as 13m push through the two rusty red craggy walls. Affectionately named "horries", this natural phenomenon is unlike any other waterfall, as here the water passes horizontally through the narrow gorges. This is a thrilling ride in a fast tender and helicopter flights can be arranged in advance for a birds-eye view. At Talbot Bay, experience an even more powerful natural creation at Cyclone Creek. Here you can see how the rocks are twisted and buckled, displaying spectacular geology in warped horizontal layers from years of weathering. Despite areas of swirling water, the coral reefs abound with marine life – look out for the ghostly-pale tawny nurse sharks who regularly pay a visit.
Montgomery Reef, part of the Lalang-garram/Camden Sound Marine Park, is a dramatic sight covering around 300km2. Watch as the 'invisible' reef slowly emerges from the ocean on the falling tide with octopus, turtles and reef sharks making a swift exit! There is often 8m difference on a single tide, so this large reef is gradually exposed within about two hours, with waterfalls and rivers cutting through. Explore up close and watch sea snakes and dolphins playing in the reef or head to the several small islands nearby which are filled with mangroves, crocodiles and bird life. The incredible formation of ochre sandstone close to the mouth of Doubtful Bay at Raft Point also provides a perfect overnight anchorage. Head ashore at Raft Point to visit the cave gallery of spectacular Wandjinas, an array of amazing indigenous rock art created thousands of years ago – be sure to listen to the local Aboriginal guide sharing intriguing stories. From here take the yacht's tender to Scotties Creek and head ashore for a walk through the lush rainforest or enjoy swimming in one of the beautiful lagoons.
Further north, on the southern side of the widespread Bonaparte Archipelago, anchor off uninhabited Augustus Island to snorkel, scuba dive and observe wildlife in complete tranquillity. Another must-see northern Kimberley destination is Bigge Island, located between York Sound and Montague Sound and home to the smallest of the kangaroo group, the adorable Monion Rock Wallaby. Famous for the oldest known Aboriginal rock art found in the coastal caves at Wary Bay, dating back some 50,000 years, there are many sites here where both Gwion Gwion and Wandjina Indigenous cave art is in evidence. Anchorages are plentiful around the heavily indented coastline surrounded by shallow reef-strewn bays on all sides. The most popular is rugged Boomerang Bay, spectacularly carved from ancient weathered red quartz sandstone.
If you are looking for activity and adventure, plan a guided tour taking in some of Australia's most dazzling waterfalls. Start at Mitchell Falls, within the Mitchell River National Park, home to a diverse array of birds and marine life. Supplied by wet season rain, this iconic four-tiered waterfall embodies the often-surprising beauty of the outback, a perfect blend of picturesque oasis nestled within a rocky red wilderness. Take a walk along the 8km Punamii-unpuu trail to enjoy different views, plunge pools and swimming holes. Amazing aerial views can be captured by planning a helicopter flight. Nearby on the Mitchell Plateau are the Little Mertens Falls, with rocky ledges, rapids, natural spas and a fern-lined cave to explore. A site of spiritual importance to the Wunambal Aboriginal people, the Little Merten features a track behind the falls to view the landscape through a beautiful curtain of water.
An even more remote scene, the dual King George Falls on the King George River feature an astonishing uninterrupted drop of over 80m and rely heavily on the flow of wet season rains. Bull and tiger sharks are often spotted in the gorge, so this is not a place to swim! Thrill-seekers may like to climb the steep track marked with rock piles up the majestic red rocks to the top – keep an eye out for the treasure chest half way up full of knick-knacks and letters – and don't forget to leave something to say you've been there. At 90m up, soak up the breath-taking views then take a refreshing dip in some of the natural pools next to the falls.
This provides just a small snapshot of the fabulous Kimberley coastline where tranquillity and startling scenic beauty are infused with an abundance of native wildlife. Despite the remoteness, this is also a place to discover great activities, friendly locals, and romantic beach walks at sunset. Relax on board as your yachting journey makes it possible to discover an exclusive way to relish the unique sights and rich treasures that abound in this amazing part of the world. Yacht charter itineraries in the Kimberley are carefully designed with seasonal and tidal variations at the fore to ensure maximum freedom and flexibility for guests to fully experience this unique region.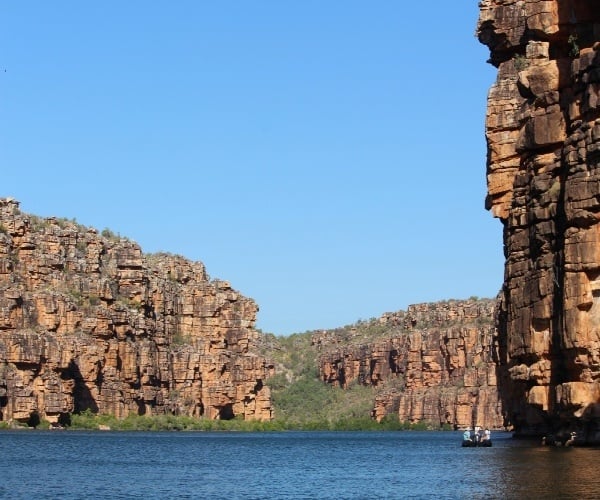 Nicholas Dean is Managing Partner of Ocean Independence. Ocean Independence is a global leader in luxury yachting, providing a bespoke experience across yacht charter, sales and management.
If you would like to be a guest blogger on A Luxury Travel Blog in order to raise your profile, please contact us.