Santa Fe, New Mexico, is an artist mecca. Creativity is supported by an incredible number of art studios and galleries. While that scene is well documented, it may be the food artistry where Santa Fe really shines. Per capita, Santa Fe is definitely the best dining in the U.S. and maybe the world. These dining experiences are sure to provide a unique set of southwestern and palate-pleasing experiences.
Terra at the Four Seasons
Resort dining is not always up to standard compared to independent restaurants. Yet, Terra at the Four Seasons could stand on any corner and be successful with their twists on cuisine, which has local roots. The set includes both inside and outside seating that has a view into the valley and mountains to the west. Chef Autenrieth's Chile Relleno is both vegetarian and exceptional with hints of world spices. Local beef and bison round out the extensive menu. You can also have a private cooking and dining experience within the Terra garden.
Sassella Italian
Northern Italian food choices are in perfect pairing at Sassella, just a four-minute walk from the downtown plaza. Here traditional fare combines with some things from the southwest, like the rattlesnake and the Prosciutto Melon Caprese Salad. And the extensive Italian wine list means you will get the perfect complementary libation no matter what the dish. Any steak or risotto dishes are exceptional and might want to make you drive an Alpha Romeo back to your lodging.
Historic dining at La Plazuela
La Plazuela at the Hotel La Fonda features dining with New Mexican Cuisine that has roots in local history. The space was built as an indoor patio in 1922, then roofed over in 1968, and retains its original decorations and sense of place. Dine under the wrought iron chandelier and unique foliage, plus hand-painted windows and murals, you get everything from pan-fried Rainbow Trout to new twists on enchiladas.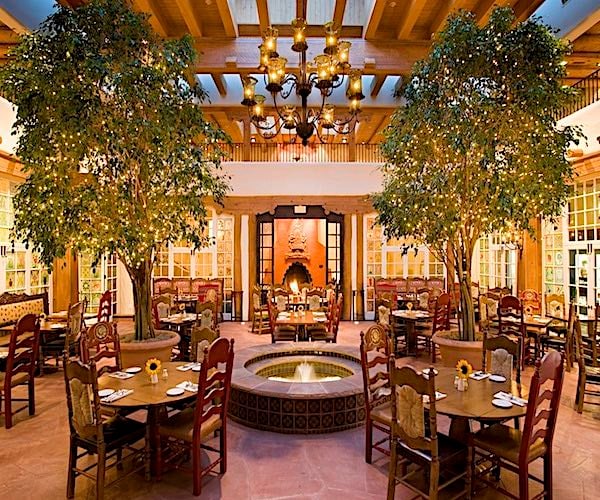 Take a Parisian detour
Clafoutis is the French breakfast and lunch solution to one too many burritos. Expect a real French baker to zip up meals that revolve around bread and pastry. Ample indoor and outdoor seating options, or you can just choose from the enormous pastry and pre-made to-go options, which change a bit from day to day. Dine in for breakfast, with a soufflé or coconut French toast with berries as sure hits.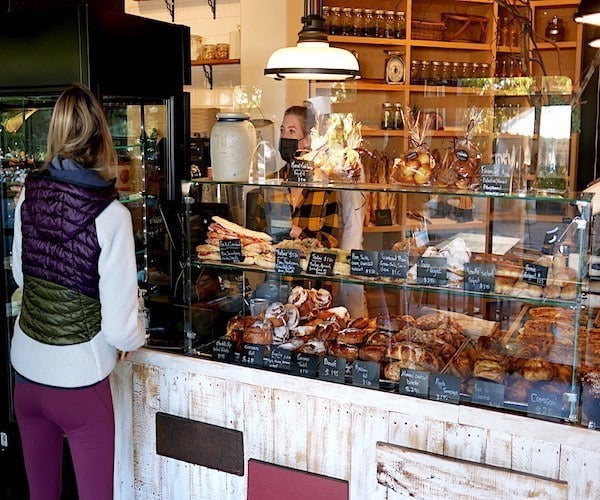 The Mexican food re-birth
Real Mexican food has been undergoing a creative renaissance, and nowhere outside of Mexico City is the creativity in full bloom more than Sazon. Chef Fernando starts the adventure with four kinds of mole' samplings, then you pick the protein, and he matches the mole' and vegetables to your taste. Sazon is a 3-D dining experience as each dish has unexpected layers and even different temperatures. This is a full-on taste bud assault, exemplified by his signature Soupa de Amor. It descends from Nutmeg/amaretto foam on top, to hot lump crab in the middle to a savory avocado broth at the bottom.
Head 'em up, move 'em out…
Whether you are riding into the sunrise or sunset, The Cowgirl Cafe goes all the way from breakfast to dinner in a fun, cowboy-inspired motif. For breakfast, the local favorite, Migas, or the breakfast burrito is ample fuel for any day. For lunch or dinner, the Buffalo burger with green Chile or the BBQ brisket will get your thoughts of the range.
Restaurant Martin: where food is art
If you want food that looks as good as it tastes, then Restaurant Martin is the epitome of food that is also art. Since it opened, this has consistently been in the top 10 dining options in Santa Fe, a testament to Martin's unique combined excellence in creativity, presentation, and taste. Each menu item in his Progressive American Cuisine line up is better than described. From salads using herbs from their garden to deserts that blend continents, flavors, and themes, Restaurant Martin is like a culinary racecar with gears and speeds perfectly matched.
New Mexican food: comfort & authentic
Get a great New Mexican meal that hits all the comfort-food notes at Tomasita's next to the Railyard complex. Everything has been made on the premises from scratch for almost 60 years. They have one cook specializing in the sopapillas. The hot flour fried pastry that runs from breakfast to dinner. The Atrisco Plate gives you an authentic Relleno, blue-corn enchilada, and a beef taco.