Do you love wine and wineries?  You will want to check this out if you are planning an escape to Niagara Wine Country!
You may or may not be aware that Niagara has 2 distinct winery regions located approximately 30 minutes apart.  In a previous post I gave  you my recommendations for luxury wineries in the Niagara-on-the-Lake area and in this post I intend to share my picks for the top 5 Luxury Wineries in the Beamsville Bench area.
As a local of Niagara and a wine and winery lover myself, I have certainly visited my share of our beautiful wineries.  While all of the wineries in the Beamsville Bench area do have their own special charm there are a few that stand out as more of a luxury experience.  I am a luxury traveller myself so my favourites are wineries that I would want to include on my own itinerary if I was travelling to Niagara as a visitor.
Without further delay let's get started on the list.
Vineland Estates Winery and Restaurant
There is so much for me to say about Vineland Estates Winery.  This luxurious Estate not only has a fabulous winery, it also includes a 5 star restaurant with available wine pairing, and 2 options right on the estate for accommodations.
I will start with the winery itself; when you enter the doors you will be greeted almost immediately with a beautiful bar for wine tasting along with a cheese bar and quaint little shop, all inside what I will describe as a "country chic" style of decor that gives you an immediate sense of coziness mixed with elegance.  Be sure to take your time and do try tastings of amazing and award winning wines; the staff is well versed and happy to help you choose which ones to sample.
Next in line is the restaurant, housed inside one of the original farmhouse buildings on this property since 1845; it is a stunning sight to behold.  Make reservations for your dinner here and I promise you will not be disappointed!  Dining at Vineland Estates is an experience; you will enjoy ambiance including a piano playing soft music while you dine, white glove service and make sure you choose the wine pairing option for dinner.
Can you imagine how wonderful it would be to enjoy wine sampling during the afternoon; wine pairing at dinner, and not have to worry about driving?  Here you can experience just that as Vineland Estates also offers 2 different options for accommodation.  You can choose from either the cozy Bed and Breakfast Cottage or the 3 bedroom Estate Guest House; both of which are located right on the estate; so go ahead and enjoy your wine!
Sue Ann Staff Estate Winery
Sue Ann Staff is a winery that is close to my heart. My husband and I enjoy visiting this winery often; it is the only winery I visit and immediately have a sense of  hominess.  The owner and winemaker, Sue Ann Staff is almost always present and the tastings are done in the kitchen of her 200 + year old Estate home.  It is not unusual in the warm months to find her sitting outside at one of her outdoor seating areas enjoying a glass of wine and chatting with the visitors; I have actually witnessed her offering a ride to a couple who had emerged from the Bruce Trail unsure of their whereabouts!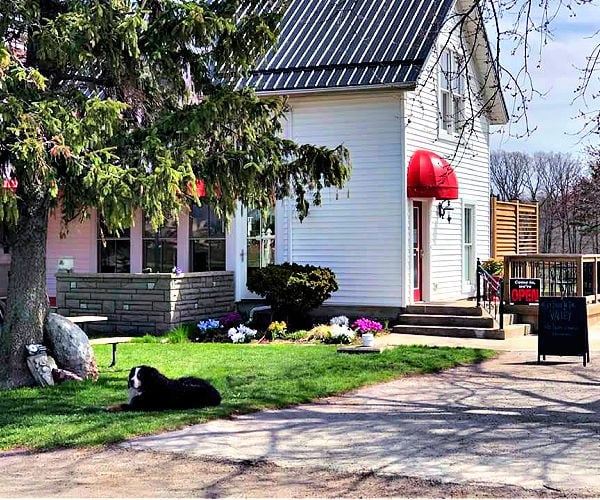 The property itself is a sight to behold; acres of beauty surround this Farmhouse Winery and in the summer months you may want to wander over to the gazebo in front of the pond for a picturesque view while you sip away on one of her award winning wines.
Although this winery does not have a restaurant, on weekends you can find options to enjoy a bite along with your wine; be sure to include this winery as a must visit on your itinerary.
Megalomaniac Winery
When I hear the words "Megalomaniac Winery", the first thought that enters my mind is "incredible view"!  If you love elegance combined with outstanding views this is the place for you.
Megalomaniac is very well known for it's cheeky labels, a few of my favourites are "Narcissist Riesling Reserve", "Pompous Reserve" and "Selfie"; so you get the picture I am sure.  The wines are fabulous and award winning but what stands out for me most is the incredible views!  This winery is located atop a hillside on the Niagara Escarpment in Twenty Valley, and as you drive the climbing road to the top you will notice the magnificent building housing this gem, be sure to step outside to the balcony and admire the view stretching all the way to the Skyline of Toronto; if you do get invited by a member or happen to be a member yourself you can go up the stairs to the private viewing balcony which awards even more of those magnificent views!
Honsberger Estate
A few years ago my husband and I stumbled upon this hidden gem; we were out for a drive and saw the sign but could not see the winery from the road.  We turned in and found a beautiful rustic winery that also contains an outdoor patio with a wood oven pizza bistro. Recently the winery has renovated their indoor restaurant named Small Barn into a fabulous cozy retreat for the off season so you can dine year round.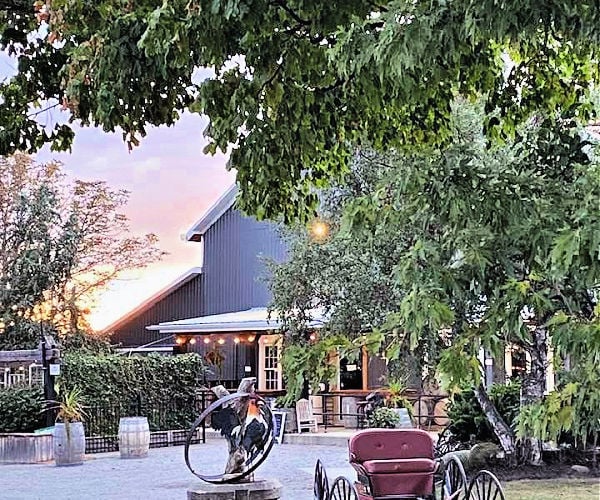 This beautiful property has been owned by the Honsberger family since 1811 and is operating currently by the sixth generation.  In 2002, the previous cherry and apple trees were removed and replaced by Cabernet Franc and Riesling grapes. At first some of this fruit was sold to other wineries but eventually the family took it to the next step and started their own label.  While it is a small boutique in nature, in recent times the portfolio has been expanded somewhat; make sure you stop in so you can try them for yourself!
Westcott Vineyards
Last but certainly not least on the list is another family owned winery, Westcott Vineyards.  In 2012 the first vintage was created under the Westcott Vineyards label. This winery evolved from the dream of a couple who decided they were not quite ready to "retire" and instead pursued their passion to make their vision a reality.  Along the way 2 of their children joined in, a reclaimed 200 year old barn frame and foundation from a few kilometers away was brought to the property and restored, and today this property is a very popular stop along the wine route.
This winery likes to stay on the quaint and cozy, they make small quantities of handcrafted wines and their focus is to grow and make the best pinot noir and chardonnay wines possible.  They do not allow buses but love to focus on small groups of people; including well behaved children and of course our 4 legged dog friends are welcome as well.
In season you may wish to enjoy lunch on the outdoor patio; furnished with antiques and facing the vineyards on one side and garden on another it is truly a treat to dine at. Maybe you prefer to sit and sip instead; Westcott has you covered by offering sets of muskoka chairs facing the vineyard for your viewing and sipping pleasure.
This sums up my list for now, I am always seeking new wineries to try so you never know I may find more to add in down the road!