Whilst most of the world remains shut for tourism, Tanzania have adopted another approach. With open borders and open arms, Tanzania is actively encouraging tourism which is a breath of fresh air in this world that is filled with so much doom and gloom.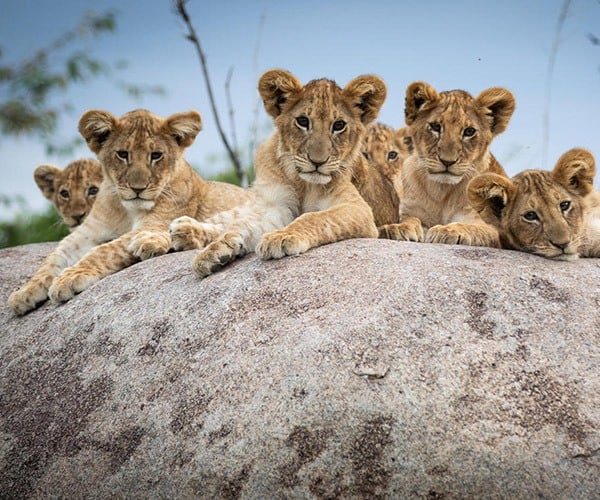 I flew off to Tanzania at the start of October for a two week fact-finding mission and investigated how the safari camps and lodges have been affected by the coronavirus, what protocols are being implemented to ensure the safety of guests and how the game viewing experience may have changed.
I visited a number of different areas across the Northern part of Tanzania and stayed at a number of different lodges whilst doing so.
International flights and airports
Understandably, many people worry about the safety of international airports and flights, yet whilst I travelled, I could not have felt safer. Flying from Heathrow, I had a connection in Amsterdam which flew directly into Kilimanjaro. All airports had automated hand sanitizer stations, enforced mask wearing at all times and social distancing measures were adhered to.
All the staff wore masks and gloves where appropriate and due to the lack of travellers, I had never seen the airports so empty. Heathrow was like a ghost town and although Amsterdam was slightly busier, it certainly did not have the same number of people as would normally be expected. During the flights, masks had to be worn at all times, and this was strictly enforced by the flight attendants.
Arrival
As with most Tanzanian itineraries, a night in Arusha is needed as a quick stopover, and my trip was no different.
Upon arrival into Kilimanjaro airport, my temperature was checked, which was mandatory before Covid when arriving into the country, and my hands sanitised. Other than these two precautions, Tanzania has no entry requirements, making it the perfect destination right now. With its incredible wildlife and open arms policy, travelling here could not be easier or so stress free.
My transfer to Airport Planet Lodge was in a freshly sanitized vehicle and my driver wore gloves and a mask throughout the journey. Upon arrival to the lodge, all staff wore masks and ensured social distancing measures were followed. The process was smooth and safe.
Tarangire National Park
Tarangire is the quietest park in the North of Tanzania, most people head straight for the Ngorongoro Crater and the Serengeti and miss this beautiful park. With the meandering Tarangire River running throughout, the park is famous for its exceptionally large elephant population that increases as the dry season progresses. With water sources drying up and vegetation becoming limited, huge herds of buffalo and elephant congregate in the South of the park and are accompanied by other wildlife like lions, cheetah and so much more.
One of the bonuses of Tarangire is the option to night drive. Here you can explore the park under the cover of darkness and witness some of the lesser seen creatures like serval, aardwolf and genet.
During my visit here I stayed at Nomad's Kuro. With Tarangire situated about half an hour by plane from Kilimanjaro Airport and the camp only a few kilometres from the airstrip, your journey could not be easier.  On the internal flights, all passengers and staff wore face masks and social distancing was enforced.
Nomad's Kuro is a beautiful camp and they have strict Covid protocols in place. Hand washing stations are scattered throughout the lodge and upon arrival you must undergo a hand washing and sanitising ritual. The staff all wear masks and keep their distance from you. Yet their friendliness and hospitality has not changed and remains of the highest quality.
In a normal year Tarangire sees only a fraction of vehicles compared to the Serengeti or the Crater, yet during my stay we only saw one other. There was a real feeling of tranquillity and exclusivity that made the game drives even more special. Sightings were not rushed, and we spent up to and over an hour in the special sightings.
The Serengeti
I spent an extended period of time in the Serengeti and visited two main areas: the Grumeti Private Reserve and Kogatende.
The Grumeti Private Reserve is run solely by Singita who have a number of different lodges located here. As with all Singita properties, the service was first class and the lodges were opulent and lavish. From the stunning views from Sasakwa Lodge and Faru Faru to the newly refurbished Sabora, no matter where you choose, Singita promise an experience like no other.
Upon arrival at Singita's airstrip you and your luggage are walked through a sanitising machine where a sanitising mist is sprayed over you. As well as this, your temperature is taken after every game drive and hand washing rituals are enforced. All staff wear masks and you are assigned your own waiter so that you only come into contact with as few people as possible.
The game viewing experience is exceptional as well. With it being a private concession, Singita have sole use of the 350,000 acre area and off-roading is permitted which allows you to follow the wildlife through its natural habitat whilst giving you some of the best photographic opportunities you could wish for. Their strong conservation ethos has also created a haven for the critically endangered black rhino which is a success story in itself.
In the Kogatende region I stayed at Nomad's Lamai, Asilia's Sayari and Lemala's Kuria Hills. Whilst all three camps were beautiful, they all shared a common goal of ensuring the guests safety. At all camps, communal dining and buffet style dinners have been abandoned so you are secure in your 'bubble'.
In the past you may have had up to six guests on a vehicle but now only a maximum of four people are allowed (unless they are part of the same group). If there are four people on the vehicle, social distancing is enforced and there will be two seated on the front row and two on the back row. However, due to the lack of visitors, I had a private vehicle to myself for the majority of the time, something that often comes at an extra cost!
Whilst game drives in the Serengeti are never a dull moment, with a private vehicle and so few other cars in the area, the experience at the moment is unprecedented. During my time what surprised me most was the lack of cars at river crossings.
The wildebeest crossing the Mara River is one of the most spectacular wildlife spectacles on the planet and each year millions of the creatures do so between July and October in search of pastures greener. During my time in the North of the Serengeti I was lucky enough to see five crossings, ranging from two hundred wildebeest up to five thousand. From speaking to my guides, you can expect anywhere between thirty to fifty vehicles at a river crossing during a normal year, and even more (over one hundred sometimes) in the Masai Mara. We however, had a maximum of three others with us. Apart from the sighting being incredible, witnessing such an event with very few other people made the experience all the more special and far more intimate.
Regrettably I did have to leave, but on reflection, travelling to Tanzania was one of the most stress-free experiences I have ever had and the safari experience was second to none. Escaping the negativity of the UK was a relief and I could not have felt safer whilst travelling or when staying at the camps. The safari experience has not changed apart from a few extra safety protocols in place and the game viewing has become even better for those that are willing to travel.
If you can travel to Tanzania, you will not regret it!
Marc Harris is Managing Director of Tanzania Odyssey. Tanzania Odyssey is a leading tour operator that has specialised in Tanzania since 1998.
If you would like to be a guest blogger on A Luxury Travel Blog in order to raise your profile, please contact us.