Suite of the week: Casa Ventanas, Cayo Espanto, San Pedro, Belize
Suite name:
 Casa Ventanas
Location:
Cayo Espanto
, San Pedro, Belize
Size of accommodation:
 1,100 square feet
Cost per night:
 starting from $1,795
What makes it special:
 Casa Ventanas is the private island resort's exclusive over-the-water bungalow, allowing for an intimate and unique way to soak up the Belizean sun and explore the vast underwater life below.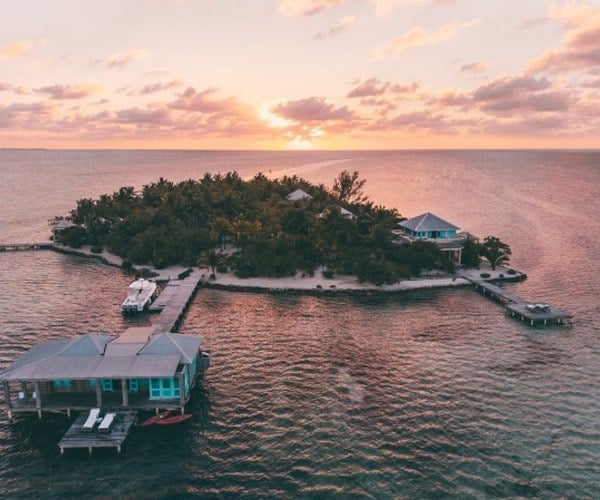 Perfectly positioned three miles off the coast of San Pedro, Belize, sits Cayo Espanto, the private island resort that offers an array of personalized experiences (i.e., snorkeling, tailored meals, exploring the Mayan ruins, private helicopter or yacht excursions, and more) and lush landscape while allowing guests to remain socially distant from those they are not traveling alongside. The secluded island escape molds to the ideal active and/or relaxing itinerary each visitor prefers for an exclusive getaway.
Casa Ventanas is the private island resort's one-bedroom villa, and most requested, accommodation that quite literally sits a bit above the rest of the villas available for stays at Cayo Espanto. Personalized service, via a butler and concierge, combined with custom-crafted furnishings – not to mention Egyptian Yves De Lormes linens – and amenities to the backdrop of clear Belizean waters sets the tone for the most relaxing stay a guest can experience. Casa Ventana's glass window, featuring a light that can be changed to different colors, provides a unique glimpse into the underwater world teeming with various species of local marine life. The overwater villa provides a secluded way for guests to soak in the Belizean sun and experience an exclusive viewpoint of the clear ocean waters.
With Belize being home to the world's largest living coral reef system, many different kinds of fishes, rays, turtles and more can all be found through snorkel or scuba excursions, all set up as private adventures by the resort, or even swimming around or below the overwater villa. When guests of Casa Ventanas aren't swimming, snorkeling or diving the crystal-clear waters, they are able to relax in unbelievable comfort from their own private dock. Meals, drinks, snacks and even massages are all brought directly to the villa. For the fitness enthusiasts, workout machines, yoga mats, weights and more can also be set up on the dock at the villa prior to their arrival or even during their stay should they decide last minute they'd prefer to get a quick workout in.
In place of a restaurant, the private island is home to a resident award-winning chef who handcrafts each meal to meet the specific preferences, dietary restrictions and any allergies of each guest throughout their stay. The chef works alongside each personal butler to customize daily meals down to every delicious detail. This extra feature allows for an out of this world culinary experience during each visitor's time spent at the villa. Customizable dishes are created to highlight culinary influences of the surrounding Belizean culture while using fresh and locally sourced ingredients. Staff on the island is happy to set up dining along Casa Ventana's private dock, to eat within the villa as room service or even enjoy on a neighboring island's exclusive beach (via a private yacht experience). Some of the guests' favorited dishes include herb-crusted fillet of snapper, vine-ripened tomato bisque and more. Refreshing cocktails, mocktails and healthier versions of each drink are consistently available and are best enjoyed while lounging on the private dock. Sip on the island's signature Espanto Wave or cool down with a local brew. The private island resort understands that vacations are not complete without exemplary culinary experiences.
For visitors to the private island resort and staying at Casa Ventanas who are looking to enjoy an extra dose of pampering, everything from a full-body Swedish massage to a coconut ginger body polish to a hydrating pumpkin facial can all be enjoyed under a secluded and shaded spot on the beach or from the comfort of their villa. The feel of the warm ocean breeze while melting into the deepest of relaxation modes during an incredible spa service redefines the meaning of a perfect getaway.
With many looking for a much-needed change of scenery, the unique activities available at Cayo Espanto take exploring tropical paradise to a new and luxurious level. Imagine enjoying a private yacht day with an afternoon picnic on an exclusive beach, then taking a helicopter tour for two over the natural world wonder that is the Great Blue Hole the next day, followed by a snorkel tour set up for you – and your travel companion(s) – to explore the surrounding coral reef system. Casa Ventanas visitors who are looking for a more exciting and active adventure during their stay will find plenty available for them to enjoy. The concierge is able to schedule excursions such as exploring the Mayan ruins on mainland Belize, going deep-sea fishing, snorkeling the blue hole and more. Paradise simply has no limits.
If you would like to be featured as 'Suite of the week' on A Luxury Travel Blog, please contact us.
Did you enjoy this article?
Receive similar content direct to your inbox.