For those residing in Japan the prospect of travelling overseas this winter season is increasingly less likely. In the spirit of making the best out of a tough situation, let us instead focus on maximising our enjoyment within Japan and rediscovering some of the magic that is here. As Japan boasts the most ski resorts in the world, hitting the slopes is an obvious and easy way to do that. With so many destinations to choose from though, it can be hard to know where to start. As residents of the Hakuba Valley, we are well positioned to make a case for a visit here – and more specifically, Hakuba47. Here are 10 reasons to ski at Hakuba47 Winter Sports Park this winter.
1.Longest season for top to bottom skiing
Thank goodness for north facing slopes! It is no secret that much of Japan has suffered a few sub-par winters in terms of snowfall over recent years, and that has really emphasised the differences between the resorts and the experiences that you get from each; thus placing a greater need to be sure we are making the right choices for the right days. North facing slopes mean that they typically receive less direct sunlight, which will in turn keep the temperatures cooler. The cooler temperatures will then better preserve the snow, allowing for a longer season of skiing all the way to the valley floor. This is especially relevant for early and late season visits and you find yourselves itching for some ski turns. If anywhere in Hakuba is open for skiing, the chances are that Hakuba47 will be top to bottom skiing for longer than other resorts within the valley.
2. Better snow
While we are talking of the benefits of being a north facing resort, the snow quality itself is another area where credit is due. Cooler temperatures make for lighter, dryer snow, that does not succumb to same level of solar radiation melting during the day and refreezing at night as the temperature drop. A milder climate can allow for temperatures to creep safely into the pluses during the day, and even in January some resorts can capitulate to slush on their south and east facing slopes, which then promptly refreezes at night creating icy conditions the next morning. As Hakuba47 is able to largely avoid this cycle by preserving its slopes in cooler conditions, the chances of having improved snow quality there are greater. And when Japan's famous powder snow does grace the valley, we know it will be light and dry at Hakuba47.
3. Less downloading
Due to the fact that the snow stays for longer and we can ski to the valley floor for longer, it reduces the time that the uploading and downloading of lifts is required. In a season such as this, with a yet to be defeated pandemic and therefore a time when we should avoid confined spaces as much as possible – this is no small thing. In years gone by, early season has seen the valley lining up in droves to get down the mountain at the end of the day, something that we will all feel less comfortable about this year. With that in mind, skiing at a resort that will let us ski down – not download in the gondola – will be in our best interest. Do be sure to check where you are able to ski down Vs download if you are visiting early or late season.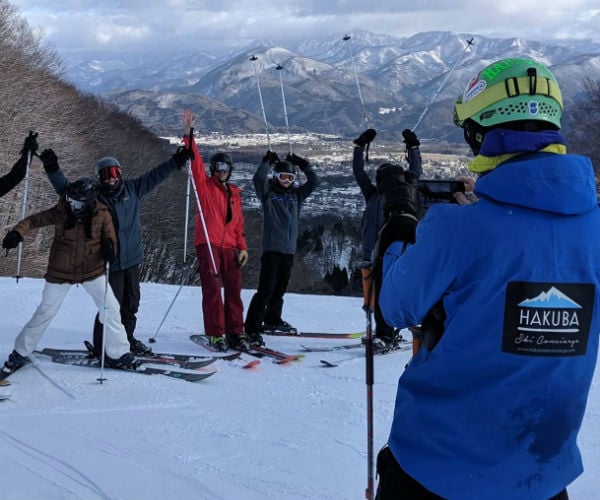 4. Mid-mountain beginner area
When we consider the slopes themselves and positioning of different areas, Hakuba47 is fortunate enough to have its best beginner terrain mid-mountain, with an excellent natural progression. This means that even first timers are able to enjoy a full mountain experience with incredible views to boot. When snow was more reliable, many resorts positioned their beginner terrain at the base area for ease of access and facilities. Unfortunately, less consistent snowfall has challenged this design and caused these areas to open far later into the season – or not at all. In the absence of beginner terrain low down on these resorts, beginners are forced up the mountain where more snow is available, but the terrain is not as suitable. The mid-mountain beginner area at Hakuba47 has several beginner slopes that naturally increase in pitch as skills are honed; there are two chairlifts servicing these runs and a restaurant, coffee shop and washroom facilities
5. Progressive ski school centre
Along the thread of beginner skiers and snowboarders, Hakuba47 is ahead in it`s snow sports offerings for both Japanese and non-Japanese speaking visitors by providing more than one option for ski and snowboard lessons. This ensures that there is something for every style, ability level, budget and interest -whilst remaining under the security and assurance of booking with an official resort ski school. Guests are able to choose how they want to experience the mountain, and who they experience it with. Excellent guests service is maintained across the board through healthy competition between providers, allowing the consumer to book with reputable schools. Hakuba47 is very unique in this way, as this structure is truly guest experience focused.
6. The only Hakuba resort with a ski school lift line
Another huge selling point for making Hakuba47 your destination this winter is that it is the only one in the valley to provide a dedicated lift line for those taking lessons with a Hakuba47 Ski School. Once again, during Covid, this has huge gravity to it as it allows us physically distance more easily whilst waiting to get on the lifts, as well as saving us valuable minutes of our time on the slopes. When more time is spent on skiing down and less time waiting in line, we get maximum return on our investment in our lift ticket, lesson and all other associated costs with skiing.
7. Diverse terrain and excellent off piste riding
Once it comes to riding on the mountain, this resort is hugely diverse. As well as the already mentioned beginner area, the slopes gradually increase as your skills improve. There are then intermediate runs from the top to the bottom, allowing you to clock the milage for as long as your legs can sustain you. For those looking for more of a challenge there are double black diamond mogul runs and even a technical tree skiing area within the resort boundaries. This area offers some of the most challenging and interesting off piste terrain in Hakuba, that can be enjoyed without the need for specialist avalanche equipment such as transceivers. Thanks to the patrol, the area is controlled, and easily accessed by a high speed quad – allowing for it to be quickly lapped and giving more turns for your time. This often makes it the local`s choice for a quick morning sessions; while the masses may head towards the better know powder stashes at Cortina, these areas can be quickly lapped, easily enjoyed and without the crowds.
8. 3 resorts for the price of 1
Hakuba47 is physically connected to Goryu and Iimori, two other excellent resorts that have many merits of their own. Not only are you then able to enjoy what Hakuba47 has to offer, but the offerings of these as well. No need for extra transportation, costs or lift tickets – you can just take a chairlift over to Goryu and ski back to `47 at a whim. This gives a huge amount of combined terrain, views, restaurants and experience options.
9. Less likely to close when windy
This resort was well thought out when designed as its gondola is tucked away, taking a conservative route up the mountain, before reaching its destination mid-way up. The benefit to this is that it is rather sheltered from averse weather – specifically wind – and will often keep running while other resorts in the valley are forced to close. In the event that the wind is so extreme and the gondola must close, there is an even more `tucked away` two pair lift that can often continue getting people up the mountain even when very windy. So, if the weather is looking poor and you are anxious about going somewhere and then having it close halfway through the day (not to mention losing your money on the lift ticket), heading to Hakuba47 would be the best way to play your odds, as It is perhaps the least likely to close due to poor weather.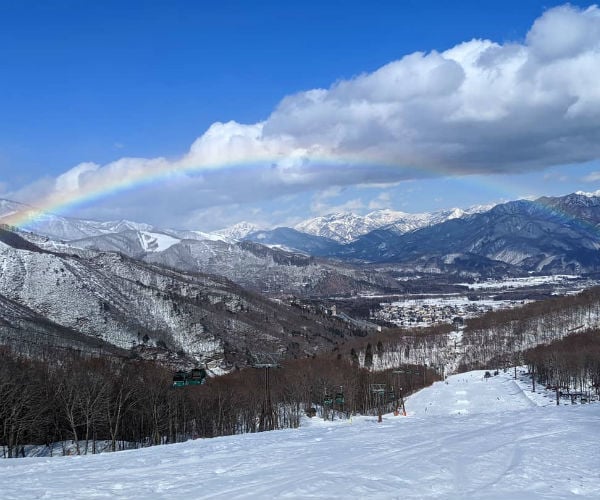 10. Terrain park
Long has it been known that Hakuba47 has an excellent terrain park – that is often one of the first to open. Lapped by a pair lift and well located mid mountain, the designers create an impressive area suitable for every riding level – from entry level to professional. It`s full sized half pipe is often a big draw for experienced riders, and even spectators enjoy watching the level of skill that is often displayed in the park.
Every resort in Hakuba does have it`s own unique selling points, but when it comes to deciding where to ski this winter – especially in the midst of a pandemic and the uncertainty surrounding snow conditions – Hakuba47 Winter Sports Park may just be your best bet.
Nadine Robb is Owner and Instructor at Hakuba Ski Concierge. Hakuba Ski Concierge is a boutique ski school in Hakuba, Japan.
If you would like to be a guest blogger on A Luxury Travel Blog in order to raise your profile, please contact us.