6 luxury vacation ideas to quell your wanderlust right now
If quarantine has you itching to leave your four walls, we can relate. The truth is, the only cure for wanderlust is travel, but that can feel like a daunting feat right now. The good news is, with approved vaccines being distributed and as borders, businesses, and accommodations begin to re-open, our options are broadening, little by little. However, even as the world begins to unlock its doors, you still may (understandably) be concerned about safety.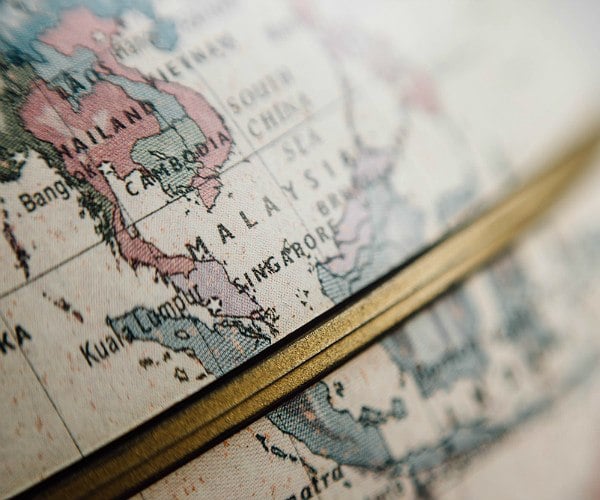 The solution? Change your mindset from social distancing to voluntary seclusion by planning an exclusive stay away from the crowds. Below, we've shared some safe luxury travel ideas, whether you're seeking solace, family fun, or a getaway fit for a rock star.
Book a luxury villa, near or far
As seclusion is synonymous with relaxation and high-end travel, now is the perfect time to book a private villa for some family time and R & R. Choose from properties with sprawling lawns, water views, exciting game rooms, or a private pool that's just for you. And the best part? You don't even have to leave the country — or, board a plane, for that matter — depending on where you book.
Of course, the first step is to rent your villa through a stellar company with a trustworthy reputation. As a travel professional, one of my most-trusted partners in this space is Steve Lassman, Vice President of Villa Product and Agency Relations for Villas of Distinction. I reached out to Steve, a travel industry nominee for Virtuoso's Best Ambassador for their "Best of the Best" awards in 2019, to ask how Villas of Distinction is ensuring safety amidst the pandemic. "We have always ensured our luxury villas were deep-cleaned inside and out, following strict sanitization policies, in between guest stays," Steve explains. "The Vacation Rental Management Association (VRMA) released their COVID-19 cleaning guidelines, to which we and the villas' owners adhere. Guests can rest assured that their villa staff now wear gloves and masks while they are in the villa, and more antibacterial lotions are available throughout the villa for guests' convenience and safety. We are recommending owners leave days open in between reservations for precautions." We asked Lassman to share some of his favorite destinations for villa stays, which you can book today.
Steve's top picks
A place to unplug: Westhampton Waterfront Home – Westhampton, New York
Artists and music lovers will appreciate that this gorgeous estate formerly belonged to the world-renowned composer, Marvin Hamlish. But even if you're not a music aficionado, you'll be swept away by the property's sprawling grounds and proximity to Westhampton's quaint downtown, if you feel like venturing out. It's the ideal place to unplug and "detox" from the stresses of daily life — you may even find creative inspiration in this peaceful sanctuary.
Steve, a native New Yorker, says "The Westhampton Waterfront Home has all the accessories of a private beach estate: its own private dock with ocean access, immaculately kept grounds, separate staff quarters, seven bedrooms and 4.5 baths to accommodate up to 20 guests — plus a pool, spa, and sauna. It's idyllic, private, and a true retreat."
A family-friendly getaway: Nona at Reunion Resort – Orlando, Florida
Steve says that Orlando, Florida is his favorite destination for families. It's especially convenient if you're feeling adventurous enough to venture to Disney, which re-opened in July under a strict set of safety protocols. But even if you don't head to the parks, you'll feel like you're staying in a royal palace at his favorite property, Nona at Reunion Resort. The mansion has 9 bedrooms and 12.5 bathrooms, and there are plenty of entertainment features for "kids" of all ages: a massive pool, bowling alley, racquetball court, private gymnasium, game room, home theatre, and Turkish bath.
For young vacationers who are set on experiencing some Disney magic, Steve says Villas of Distinction can bring it right to you. "Booking with Villas of Distinction brings personalized experiences unavailable on a Disney property," he explains. "We can arrange a character breakfast at your villa, so the children have time to really interact, not just pose for a photo with their favorite character. Our staff has access to a Disney yacht, so you can watch the nightly fireworks on the lake."
A taste of the good life: Celebrity Oceanfront Estate – La Jolla, California
Live like a rockstar (at least, for a little while) in this stunning 9,100-square foot paradise. "For those close to the West Coast, the Celebrity Oceanfront Estate in La Jolla is more like a resort than a home," says Steve. "This house is truly spectacular."
Despite the lavish interior, vast ocean views through floor-to-ceiling windows are the star of this mansion's two living rooms. It also includes two fully furnished kitchens (including one with access to the estate's spacious pool area), a billiard room with a ping pong table, a rooftop pickleball court overlooking the ocean, a movie theater, a gym equipped with a sauna and steam room, and more. You'll also have access to a street-legal, 4-passenger golf cart, on which you can cruise to the lovely Tourmaline Beach, just a short ride away.
If you're dreaming of a European escape…
If a European escape is what you're after, let me introduce you to Andy Swann Voyage, a French destination management company that offers bespoke luxury vacations in France. While your trip is completely customizable (and you can choose from à la carte experiences), Andy, the company's founder and director, offers collections with mapped-out itineraries if you don't want to start from scratch.
Although Andy Swann Voyage is not currently booking trips for Americans due to travel bans amidst COVID-19 restrictions, "We are preparing actively for the return of Americans, hopefully in 2021," he assures. In fact, the company is working on designing some new health and wellness-focused itineraries for the new year. Andy shares a sneak peek: "The program for the week will vary according to the region and season, but might include, for example, yoga,
cycling
, hiking, healthy food (and cooking classes), private tastings of wine and other local / bio products, etc., all set in spacious and peaceful surroundings 'far from the madding crowd.'" In terms of planning your next dream trip, now is the perfect time to start looking ahead. Below are two more of Andy's unique offerings.
Voyage into the World of Perfume
If you're captivated by fragrance and wouldn't leave home without a few dabs of your "signature scent," this once-in-a-lifetime trip, which is part of Andy's Voyage Collection, will help you indulge in the world of perfume. This itinerary, which is mostly focused on the Riviera, from the coast to the hinterlands (exact locations vary depending on the season), includes VIP workshops, visits with artisans, and intriguing exploration into the connection between scent, emotions, and memory. Andy describes this enchanting getaway as "a real 'wow.'"
A Taste of Burgundy
Lovers of wine and history will savor the best of Burgundy in this Classic Collection trip. Featuring tours to historic sites and vineyards, A Taste of Burgundy is a feast for all the senses and is an unforgettable introduction to this famous wine region in France. Adds Andy, "October and November are great months to be there with the grape picking harvest".
Making the most of traveling today
While options for safe travel may be limited for the time being, they're still plentiful if you know where to look. If a case of cabin fever has your wanderlust piqued, consider it an opportunity to plan a getaway you may not have considered before. But if you're still dreaming of faraway lands that aren't accessible quite yet, remember: Now is the time to start planning, and once the world is settled, your dream vacation will await.
Eric Hrubant is Owner and President of CIRE Travel. CIRE Travel is a concierge style travel agency specializing in luxury vacations and honeymoons, once-in-a-lifetime bucket-list journeys as well as group and corporate travel.
If you would like to be a guest blogger on A Luxury Travel Blog in order to raise your profile, please contact us.
Did you enjoy this article?
Receive similar content direct to your inbox.