By
Deirdre O'Connor
on Dec 18, 2020 in
Accommodation
,
Europe
,
Featured
,
Food and Drink
,
Going Out
,
Hotels
,
Regions
,
Restaurants
,
Spain
,
Travel Miscellany
,
Western Europe
The real Mallorca has some enchanting hideaways and rural retreats set in rolling countryside, some with the World Heritage Tramuntana Mountains as their backdrop and others just a cycle ride away from the coast. There is a great choice!
A love of food is synonymous with Mallorca and there are few places in Spain where can you find so many flavours and such incredible variety of local produce in such a small area. The hotels we have selected showcase this local cuisine and local produce as well as being fabulous places to stay.
Son Brull Rural Retreat
With impeccable credentials in the hospitality sector, the Mallorcan Suau family had owned several hotels previously but Son Brull Hotel and Spa was always going to be `the one´. Housed in a restored 18th-century monastery, the Son Brull Hotel and Spa combines historic architecture with sleek modern design. The rural setting is breathtaking as you spy its ochre grandeur nestled in the landscape just minutes from Pollensa. Restaurant ´365´ headed up by Chef Andreu Segura and his team offers a local menu for lunch and dinner served either outside on the terrace or inside where you will be seated amidst it´s centuries – old olive press which has been lovingly restored.
The Son Brull team has taken on the challenge to grow as much of their own fruit and vegetables as possible to supply Rafels´s kitchen. There is even a vineyard on site supplying guests with Son Brull wine.
Predi Son Jaumell Hotel Rural
Located in the countryside in the North East of Mallorca, Predi Son Jaumell Hotel Rural is a true haven of peace and tranquility. The estate, dating back to the 17th century, has been lovingly restored and enhanced to create a stunning rural idyll. Just north of the historic hilltop town of Arta and minutes from some of Mallorca´s stunning sandy beaches, its location is hard to beat.
From hiking to horse riding around the picturesque countryside or taking one of the hotel´s bicycles to the beach for a picnic, you are spoiled for choice.
And the chef knows a thing or two about food ! Michelin starred chef Andreu Genestra is passionate about Mallorcan food and has his signature restaurant at the hotel. Cuisine of the calibre of Restaurant Andreu Genestra would normally be associated with big city locations but not so in Mallorca. A truly memorable gastronomic experience awaits you just a few steps from your hotel bedroom.
Hotel Pleta de Mar Luxury Hotel by Nature
Pleta de Mar Luxury Hotel (`pleta´meaning walled shelter for sheep) is the affectionate name given to this luxury property nestled along the shores in the tranquil northeastern corner of Mallorca. On property which has been in the same family for some 800 years, the construction of this luxury hotel has been sympathetic to its location in every conceivable detail even ensuring the original walls of the sheepfold were kept intact and preserved.
This hotel seamlessly blends luxury with nature. The standalone suites are hidden amidst the natural foliage. Mature olive trees have been incorporated into the design and meadows of flowers and long grasses are the backdrop to the pool area.
Lets talk about the food. "Sa Pleta by Marc Fosh" gives rural dining a whole new meaning. Marc Fosh, the only British Michelin starred chef in Spain, offers a menu from the wood-burning grill, using local Mallorcan and Mediterranean produce bringing his own personal touch to offer a unique dining experience in this very special setting. The restaurant will be open to non – residents for the first time in 2021.
Castell Son Claret
This luxury hotel, or should I say castle, is set deep in the countryside just minutes from the historic village of Calvia. Centred around a renovated 14th-century sandstone castellated farmhouse, the hotel is offering is truly romantic. This is a place where you will find the time to enjoy the tranquility of the countryside, broken only with the occasional sheep's bell tinkling in the distance.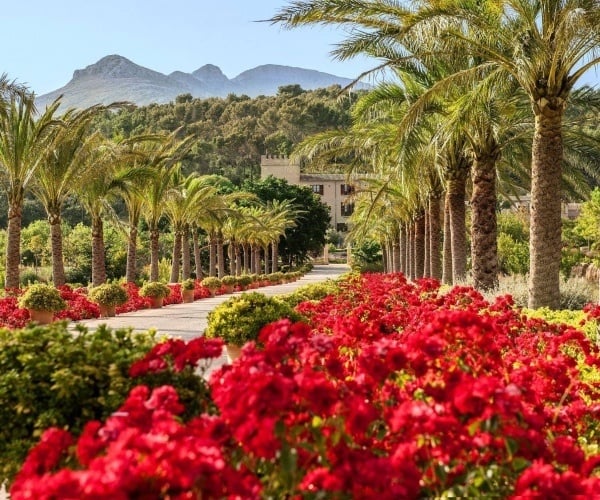 The hotel's kitchen team were trained by Fernando Pérez Arellano (previous head Chef and holder of two Michelin stars) and offer an outstanding culinary experience. The restaurant is in a magical setting in the central courtyard of the hotel where the tables are laid in the warmer months. The kitchen draws on the gastronomic richness and bounty of the Balearic Islands and presents a culinary menu which is inspired and exciting.
Fontsanta Hotel and Spa
Close to the Es Trenc salt flats in southeast Mallorca, Fontsanta Hotel and Spa offers contemporary chic with minimalist decor and a very friendly welcome. The natural thermal spa is a huge draw as well as its location offering outstanding views of the countryside.
The Restaurant with vaulted ceilings and complete with open fireplace for the cooler months and extensive terrace for the warmer months offers a locally inspired traditional Mediterranean and Mallorcan menu and is headed up by Chef Jhonatan Maldonado.
He says "The kitchen offers the possibility to brighten a person's day. For me that is something incredible. Sit down and try the menu and something magical happens which lifts your spirits, cheers you up; for that reason I am a cook." Its dishes are full of colour, a fusion of cultural dishes and seasoned with Flor de Sal, sea salt from the neighbouring salt flats. What could be more local.
So when the time comes to choose your hotel for your next visit to Mallorca, why not head to the real Mallorcan countryside and let the island´s best chefs look after your appetite!
Deirdre O'Connor is the Managing Director of MallorcanTonic. MallorcanTonic is a luxury hotel and information booking portal, offering expert knowledge about the island of Mallorca.
If you would like to be a guest blogger on A Luxury Travel Blog in order to raise your profile, please contact us.