By
Christopher Hill
on Dec 23, 2020 in
Africa
,
Asia
,
Cambodia
,
Europe
,
Health & Safety
,
Iceland
,
Maldives
,
Namibia
,
Regions
,
Rwanda
,
Travel Miscellany
,
Western Europe
Pfizer's COVID-19 vaccine is rolling out in the UK, which is positive, and good news for those eager to travel. In the meantime, there are still restrictions on where Brits can travel to in January.  But with January having some of the lowest temperatures in the UK, you may have a hankering to get out and explore our wonderful planet.
What's more, your New Year's resolutions for 2021 may include being kinder, more compassionate, and mindful of those in greater need than you, so this summary includes ways that you can make a difference as part of your holiday.
But before you head off, it is important to ask if you should travel. This is a personal judgment call, and some factors to take into account are:
your age (if you are over 70, reconsider travel right now)
your immunity levels and overall health
the prevalence of COVID-19 in the areas you are traveling to
the availability of travel insurance to cover you if you require hospitalisation
Naturally, if you have COVID-19 you should not travel.
Before making any plans, check the FCO Travel Advice, which has links to country pages that explain restrictions. The countries below do not necessarily have low rates of COVID-19. The situation for each country can change rapidly, so always check for updates before you travel.
As you probably know, the UK has a system of "travel corridors" from which you do not need to self-isolate upon return to the UK. Also, different rules apply across England, Wales, Scotland and Northern Ireland. Apologies in advance that what follows applies to those in England. The countries below allow Brits to visit in January with no testing or quarantine, along with ways you can fulfill your New Year's Resolutions and make a difference whilst there, in sustainable luxury:
The Maldives
Brits can travel to the Maldives and get a visa on arrival – all that is required is a negative PCR test result (sample taken 96 hours prior to departure to the Maldives, counting from the first port of embarkation en-route to the Maldives).
In addition to having arguably the world's finest beaches, the Maldives has a rich culture that is often overlooked on a trip here, and you can get immersed in the culture by helping build a classroom in the local village. This is also a fantastic way to bond closer with your kids, and inspire them to be world changers.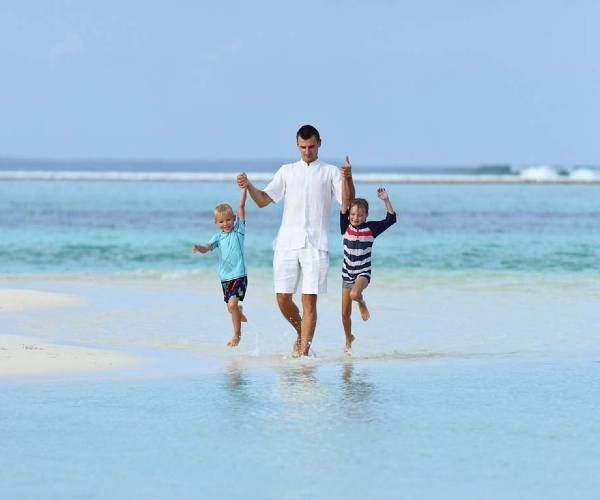 Namibia
Any person entering Namibia must present proof of a negative COVID-19 test on arrival in Namibia.
If the negative result is less than 72 hours old, there is no quarantine requirement. If the negative result is older than 72 hours but less than 7 days, then you will need to quarantine for 7 days – quarantine may be at home or in an approved tourist facility.
You should not use the NHS testing service to get a test in order to facilitate your travel to another country. You should arrange to take a private test.
Namibia is a safe destination that nevertheless retains its adventurous edge. There's sublime wildlife watching to be had in its National Parks, staggering sand dunes, unique tribal cultures, and desert elephants and rhino roaming in the remote northwest. Swakopmond is a traditional German town, with fabulous seal and other marine life attractions, and Windhoek has a sleepy charm. And to top it all off, a flight over the Skeleton Coast is a bucket-list experience.
You can make your trip meaningful by reducing farmer-elephant conflict, teaching to San people, or assisting at a wildlife rescue center.
The following destinations allow Brits to enter, with some restrictions:
Rwanda
You need a negative COVID-19 test to enter Rwanda. Travellers to Rwanda must present a negative PCR COVID-19 test certificate for a test taken no more than 120 hours before their initial flight. Best practice is to carry a printed copy of your negative test results during all legs of your flights to Rwanda.
One of the world's most beautiful countries, with its mountains and lakes, its harrowing recent past should not be ignored, and the genocide museum and memorials are excellent and challenging. And of course, no trip to Rwanda is complete without encountering the Mountain Gorillas (minimum age to hike to them is 15) – the hour you spend with them is unforgettable.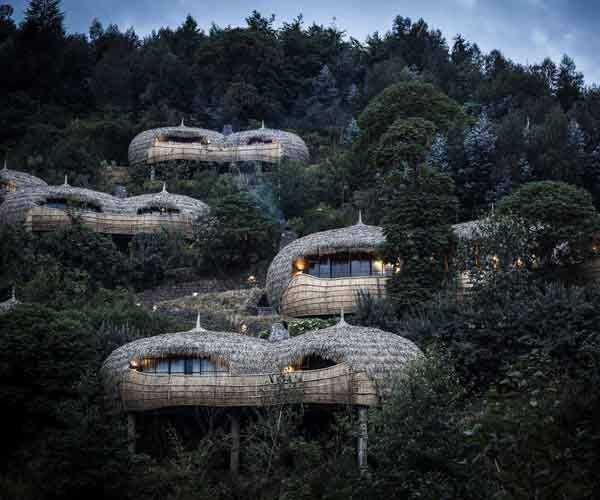 You can bond closer with your kids and help build a home for former street-kids in Kigali, Rwanda's capital.
Whilst not a winter-sun destination, Iceland is a perfectly proportioned island lost in the icy Atlantic that can make any traveller's dream come true. Maybe it's chasing the Northern Lights in dreamlike, volcanic scenery with no light or air pollution? Or driving across centuries-old glaciers and majestic volcanoes in robust super jeeps and stopping for a sensational photographic moment next to thundering waterfalls or steaming geysers?
Or why not explore the extra-terrestrial topography of Iceland on board a private helicopter and land next to a remote local restaurant where humar, the local lobster, is served in abundance?
From design hotels in eclectic Reykjavik where you will fast experience the fine and fashionable Nordic life style to luxury expeditions and mobile-tented camps built on ice blue glaciers. Iceland has it all.
Here you can make your trip meaningful and track the endangered Arctic Fox.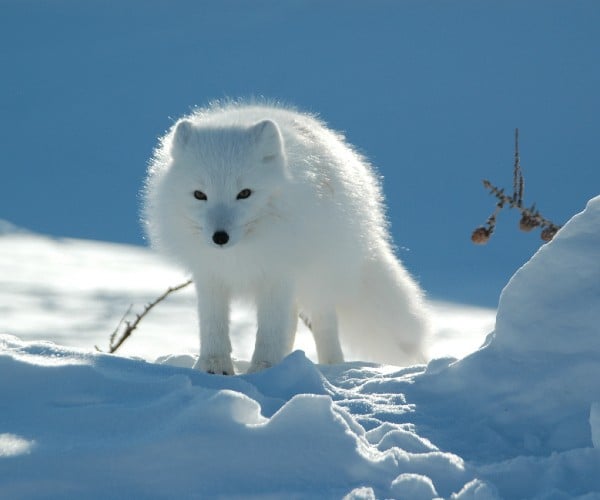 All passengers arriving in Iceland can choose to self-isolate for 14 days upon arrival or take two COVID-19 tests, one on arrival and another 5-6 days later. The test can be booked in advance . Children born in 2005 or later will be exempt from both testing and self-isolation. You should not use the NHS testing service to get a test in order to facilitate your travel to another country. You should arrange to take a private test.
Those opting to test instead of the 14 day self-isolation period must now follow quarantine measures until the result of the second test is known. This will significantly affect what you can and cannot do on arrival. If you have booked a trip to Iceland you should contact your tour operator and travel insurer about what this means for you and your plans.
The Icelandic Authorities are now accepting certain certificates regarding previous COVID-19 infection at the border. If you hold one of these you will be exempted from testing or quarantine requirements. However, Border control will evaluate whether the certificate is valid and correct. If you present a document that is deemed invalid then you must choose between 14 days quarantine, or double testing with shorter quarantine.
You must also fill in a pre-registration form before departure. You can find further information, including exemptions, and a video walk through of the process from the Icelandic authorities at Covid.is (available in English).
Data collection
Upon arrival you will be encouraged to sign up to the contact tracing app Rakning C-19. Further information, including how to download it, data usage, privacy and scope is available on the Rakning C-19 website.
Testing / screening on arrival
If you test positive on arrival you will be required to enter self-isolation (at your hotel or government-provided accommodation) unless further tests determine the infection is inactive.
You may also need to be tested again or enter self-isolation if you are exposed to a possible infection during your trip eg during the flight to Iceland.
Cambodia
A newly-stable economy with attractions along the road less traveled in this fascinating east Asian country. Outside the buzzing capital of Phnom Penh, there are incredible sights to be seen, especially the overwhelmingly beautiful royal city of Angkor Wat. One of a kind wildlife experiences – such as the River Dolphins of Kratie – make this a very desirable stop. Better yet, you can give meaning to your trip and help impoverished families build a decent place to live.
If you wish to enter Cambodia you will need to:
get a visa before arrival — the visa exemption policy, visa on arrival and e-visa arrangements are suspended indefinitely
get a medical certificate, no longer than 72 hours prior to the date of travel, from a competent health authority stating you do not have COVID-19. This certificate should bear the stamp of the facility issuing it and be signed by a qualified medical practitioner to certify the test result. You should not use the NHS testing service to get a test in order to facilitate your travel to another country. You should arrange to take a private test
have proof of insurance that includes a minimum of US$50,000 for medical cover
All foreigners arriving in Cambodia will now be subject to a COVID-19 test on arrival (as well as requiring a COVID negative test before flying). You will need to remain at a hotel or government facility until the results are known, which may include an overnight stay.
The government is now imposing charges on foreign arrivals for lab testing, medical treatment and accommodation under health measures to prevent a second wave of COVID-19 transmission in Cambodia.
All foreign passengers need to deposit US$2000 for the COVID-19 service charges at the airport upon their arrival. Once deductions for services have been made, the remainder of the deposit will be returned. This can be paid either by cash or credit card.
The service fees are listed as below:
US$5 for transport from the airport to waiting centre, US$100 for one COVID-19 test, US$30 for overnight stay at hotel or waiting centre and US$30 for 3 meals a day while waiting for test result.
If one passenger tests positive for COVID-19, all those on the same flight will be quarantined for 14 days. Each passenger will have to pay US$100 for a COVID-19 test and US$84 a day to pay for the stay in a hotel or quarantine facility, (the charge includes meals, laundry, sanitary services, doctors and security services).
For a COVID-19 positive patient, they will be charged US$100 per COVID-19 test (maximum four tests), and US$225 a day for hospital room, medical treatment service, meals, laundry and sanitary services. In addition, in case of death the cremation service charge is US$1,500.
If issuance of a COVID-19 health certificate is needed, for example for future travel, foreign nationals will need to pay US$100 for a lab test and US$30 for the certificate.
Quarantine requirements
From 12 December 2020, the implementation of the sponsorship scheme for foreign travellers will be temporarily suspended. All travellers to Cambodia will be tested on arrival and then required to quarantine for 14 days at a facility designated by the Cambodian government. This may be at a hotel (at your own expense) or at a government facility. The conditions at government facilities are very basic and it is not guaranteed that families will be kept together.
You will be expected to comply with these requirements regardless of any existing medical needs you may have. If you're not able to submit to these requirements, you should think carefully about whether to travel to Cambodia at this time.
All travellers are required to take a COVID-19 test on the 13th day of quarantine at either the Khmer-Soviet Friendship Hospital in Phnom Penh or the Chak Angre Clinic in Phnom Penh.
Anyone testing positive for COVID-19 will be admitted to the Khmer-Soviet Friendship Hospital for monitoring and treatment. Their identity will also be publicly disclosed to facilitate track and trace mechanisms.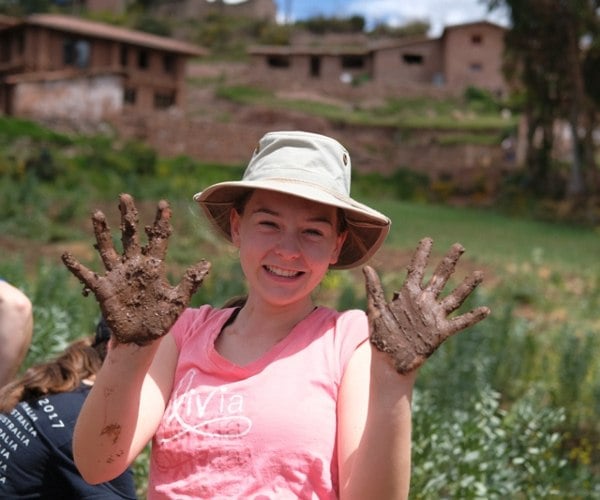 Whatever you end up doing in 2021, be safe and make it meaningful!
NB: this is a fluid situation so the status of the destination you are interested in may have changed by the time you read this.
Christopher Hill is Founder and CEO at Hands Up Holidays. Hands Up Holidays is an award-winning travel company specialising in tailor-made luxury family trips that combine sightseeing with hands-on service projects.
If you would like to be a guest blogger on A Luxury Travel Blog in order to raise your profile, please contact us.