As 2020 draws to an end and we continue to explore Cambodia from our Siem Reap home, we travel a little further afield this month to feature 3 hotels and resorts that are currently open in Cambodia for a staycation. Each of them are unique in their own way, as are their locations, but they all present an excellent staycation option just a few hours from either Siem Reap or Phnom Penh. They have all worked hard to open for guests, despite the current (ever changing) restrictions and lack of tourists in Cambodia, and are striving to provide expats and locals alike the chance to escape for a few days and enjoy what they each have to offer.
Our first suggestion is the historic restored mansion, Le Relais de Chhlong in Kratie.
Chhlong, is a sleepy riverside town in Kratie province. Situated on the banks of the mighty Mekong river (which is the longest river in Southeast Asia) it makes for the perfect weekend escape from either Phnom Penh or Siem Reap. Many people choose to visit Kratie for the chance to catch a glimpse of the Irawaddy dolphins, an endangered species that is found in the Mekong. Cycling in the area is popular too, with a series of paths on both sides of the river that allow even novice 'weekend' cyclists the chance to enjoy the countryside due to the forgiving terrain. Le Relais de Chhlong is a delightfully restored family mansion that is now living a new life as a boutique hotel. With just 8 spacious suites to choose from, each with balconies and roll top baths this is a wonderful place to relax and soak up some of that yesteryear charm. Mountain bikes are available for guests to borrow and even a gentle cycle to explore the market and old town with the yet to be renovated colonial buildings will provide a unique experience. Nearby, you can also visit the unique 'House of 100 Pillars' which has recently been purchased by the Ministry of Culture and Fine Arts meaning it will be moved to a new location and fully restored. After exploring local riverside life, meander your way back to Le Relais de Chhlong where you can relax by the pool with your favourite book before enjoying a glass of wine and a game or billiards before dinner. All the time, try to use your wildest imagination to think just what it must have been like to call this beautiful building home, more than 100 years ago.
Next up, is the simply stunning and unique Amber Kampot in Kampot Province.
With Kampot being less than 4 hours drive from the bustling capital of Phnom Penh, it has for a long time offered an excellent option for a weekend escape from the city. And where better to enjoy your time in Kampot that at the peerless Amber Kampot which is truly the perfect place to escape from it all. This brand new riverside resort offers guests a selection of beautifully appointed, one and two bedroom pool villas that make for an idyllic luxury staycation. Be welcomed by a staff team who will make your stay memorable, experience refined fine dining at Arvi whilst enjoying unrivalled Kampot river views before treating your body, mind, and soul to an invigorating spa treatment. Amber Kampot is perfectly located to explore the area, with Bokor Mountain National Park being just a few km away, and the seaside town of Kep also a short drive from town. Or you can choose to visit the nearby salt fields or one of the local Kampot pepper farms to gain an understanding of how these seasoning staples begin their lives. But in reality, despite having these options within easy reach, once you check in to Amber Kampot, one of the finest luxury resorts in Southern Cambodia, you will probably never want to leave…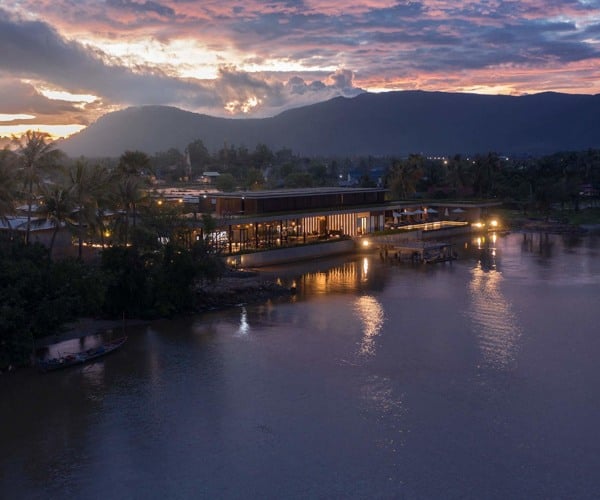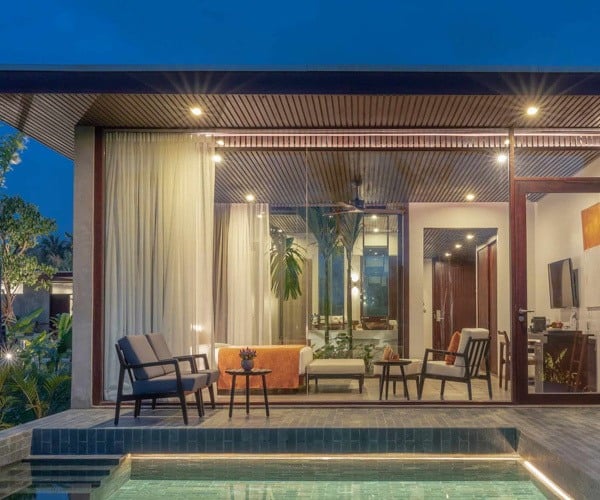 Finally, we feature the former stately home to US ambassadors, White Mansion in Phnom Penh.
Phnom Penh is the bustling, sometimes chaotic capital city located at the confluence of the Mekong River and Tonlé Sap lake. Home to the Royal Palace, Silver Pagoda and the National Museum, there are also a vast array of restaurants, cafes and bars that cater to all tastes and shopping opportunites that include boutique designers, local markets and international malls. On leafy street 240 in the heart of Phnom Penh, just a few blocks from the iconic Independance Monument, is White Mansion. The choice of name becomes clear when you enter the gated courtyard and first view the grand pillared facade and enter the spacious yet welcoming lobby. If you look closely you will see the United States of America residence plaque next to the entrance gate and above the door as this grand building once housed American ambassadors and their guests prior to it's reinvention as a boutique hotel. Rooms and suites are elegant, with many boasting a balcony or terrace, and the 20m lap pool offers guests the chance to revitalise themselves after an exhausting day exploring Phnom Penh.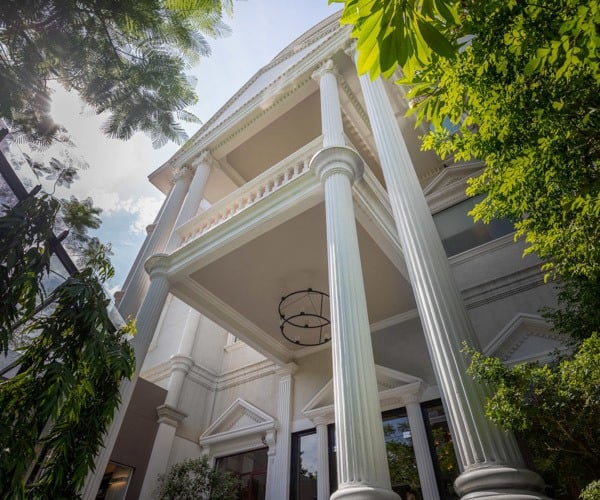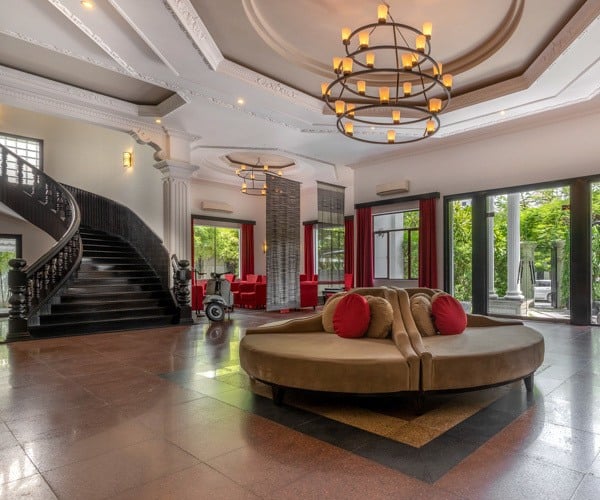 We hope you enjoyed our suggestions and whilst overseas travel remains impossible for many, now is the time to support local hotels and resorts wherever you live, and for us that means Cambodia. Making the effort to stay local and buy local during these challenging times will help them to survive, whilst at the same time providing us all with that wanderlust fix that we desire. In addition, when the borders open those hotels and resorts that have remained open in Cambodia will be waiting with open arms, their teams happy and excited to welcome overseas guests once again.
Paul Eyers is Founder of Vegan Food Quest. Vegan Food Quest have become luxury vegan travel specialists as they continue to find, eat and write about the best vegan food in the world.
If you would like to be a guest blogger on A Luxury Travel Blog in order to raise your profile, please contact us.