Escape to the Bahamas on a yacht charter
An unsurpassed destination south of Florida, the beautiful islands of the
Bahamas
are easily accessed and perfect for a yachting voyage of discovery. It is surprising how truly uncrowded and unspoiled these islands are, considering how close they are to the mainland. A yachting haven offering sheltered harbours, diverse sailing grounds and deserted islands, this archipelago also has many protected territories where flora, fauna and marine life flourish. Boasting almost a quarter of the earth's coral, this is a diving and snorkelling destination with an underwater world like no other. Sprinkled like jewels across the ocean, the plethora of islands and cays deliver endless possibilities for relaxed navigation, with gentle trade winds and year-round summery temperatures. It is no wonder that seeing the world from your own private yacht in the Bahamas is an extraordinary experience.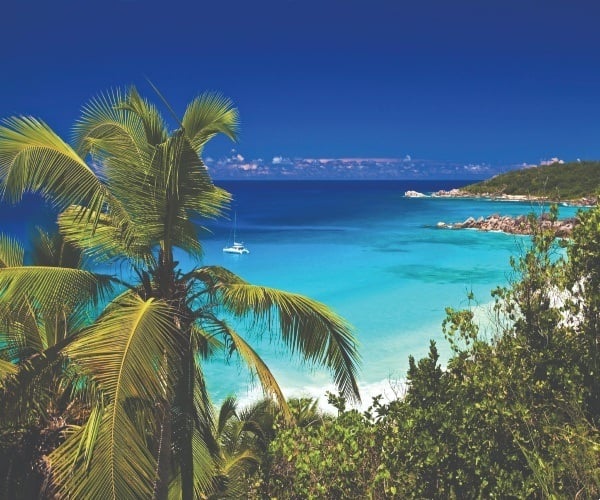 Andros
Andros is the largest island of the Bahamas chain. Lush and green, there are numerous adventures for outdoor lovers with excellent dive sites, plus deep-sea and fly-fishing opportunities. Divided into North, Central, South Andros and Mangrove Cay, the island's vast landmass is intersected by creeks, making travel from one end to the other only achievable by yacht, or air. The National Park system in Andros makes this an
ecotourism
hotspot, with both pristine beauty and endangered species protected by the Bahamas National Trust.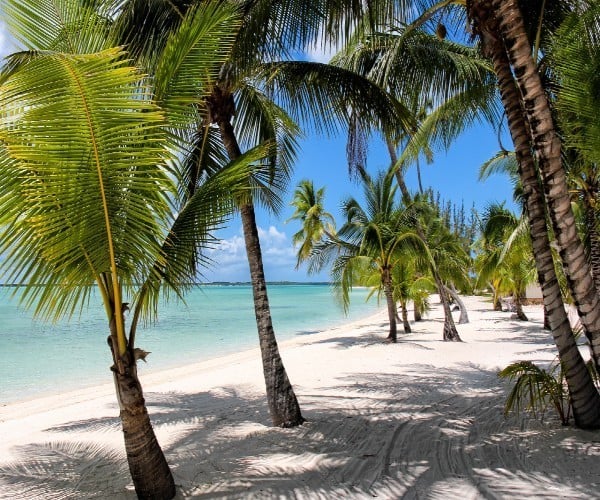 The Bahamas are blessed with a record number of blue holes, both ocean and inland, and many of these mysterious and enchanting geological wonders are located in the waters around Andros. Of great interest due to their uniqueness, it is thought that only 1% have been fully explored. Scuba divers can sink through vertical caverns and be led into underwater passageways meandering through caves hundreds of feet below the ocean's surface. Legends say that a sea monster called the Lusca dwells in the dark blue holes – so divers beware! As well as these rare underwater opportunities, there is also a multitude of marine life to be found in numerous sites across the island, especially as it hosts the second-largest coral barrier reef in the western hemisphere.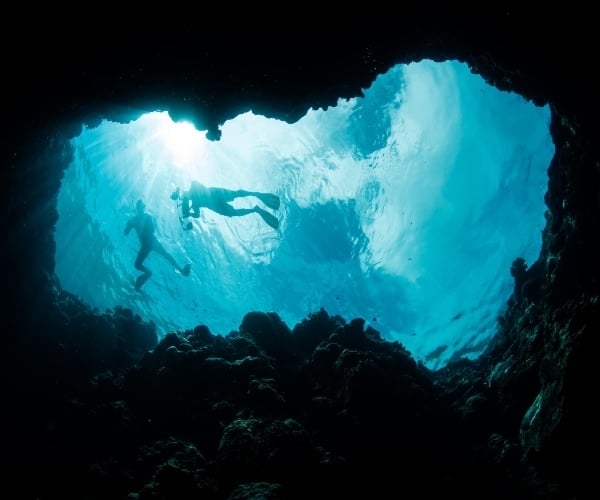 Andros specialises in producing the nation's traditional, colourful fabric called Androsia. It is created in the Androsia Batik Factory in Fresh Creek and the island is extremely proud of this delicately handmade craft. The shades and design of the fabric are based on the beautiful Bahamian land and typically boast lush hot pinks and purples, decorated with pretty white prints. You can purchase these goods at a variety of shops and markets across the island, however if you purchase them directly from the Androsia Batik Factory, visitors can receive a free tour which is well worth doing. Another interesting craft to look out for are waterproof straw baskets which are also constructed by the locals. Eating out means traditional Bahamian dishes, specifically the must-try land crabs that are prepared to perfection in Andros. Referred to as the 'land of crabs' due to the island's harvesting success, the Bahamas National Trust have established a 4,000-acre land crab reserve in Andros to ensure populations continue to thrive while meeting demand. With great importance bestowed on this national dish, Crab Fest is celebrated annually and attracts thousands of visitors who come to the island to enjoy festivities centred around the heritage and culture of the crabbing industry together with a fabulous culinary experience.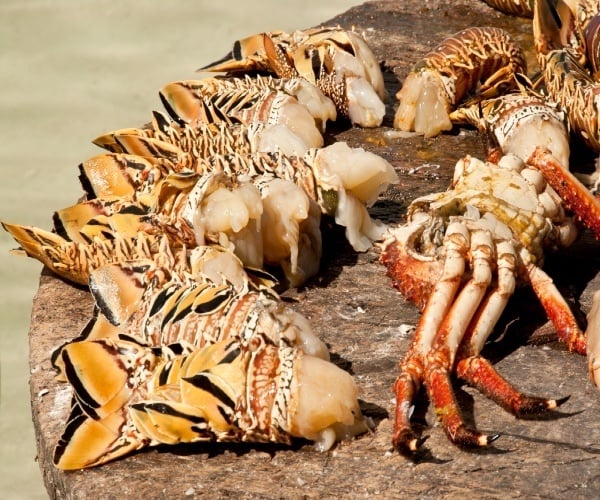 Eleuthera and Harbour Island
A tale of two islands, Eleuthera and Harbour Island are surrounded by clusters of gorgeous cays and sandbars. While once the capital of the Bahamas, Harbour Island is now home to a tranquil seaside town dotted with new-
England
-style architecture and 3 miles of stunning powdery pink sand beaches. Attracting a list of sophisticated visitors, Harbour Island has earned the title of 'St Barts of the Bahamas' with celebrities and fashionistas making this their chosen getaway. Known by locals as 'Briland', the lush palm trees and flower lined streets together with exhilarating high current dives and pink flamingos just add to the appeal. Offering small town charm set against a stunning oceanscape, take a fascinating tour around the narrow streets of Dunmore, originally created as the first capital town by Lord Dunmore in the 18th century.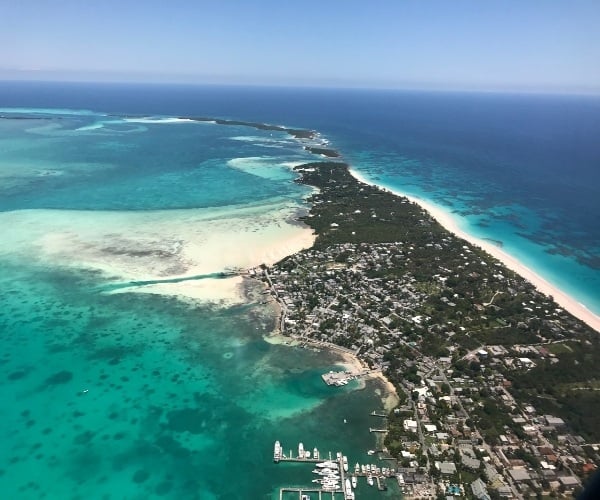 In contrast, Eleuthera is a pencil thin island with 210 miles of coast. Thanks to three airports serving this rambling stretch of natural beauty, it offers a gateway for travellers to the islands beyond. Just a short sail to St George's Cay takes you to the quiet town of Spanish Wells with the charming vibe of a New England fishing village. On the busy dockside watch resident fishermen haul in the daily catch of lobster, known locally as crawfish. Visit the Glass Window Bridge where blue fluorescent Atlantic waves roll into the opening underneath the Queen's Highway and magically become crystal clear as they appear on the Caribbean side. Climb up the coral rocks to get a view of both sides, taking in both power and calm, plus the sporadic blowhole spout at the south end of the bridge is quite spectacular.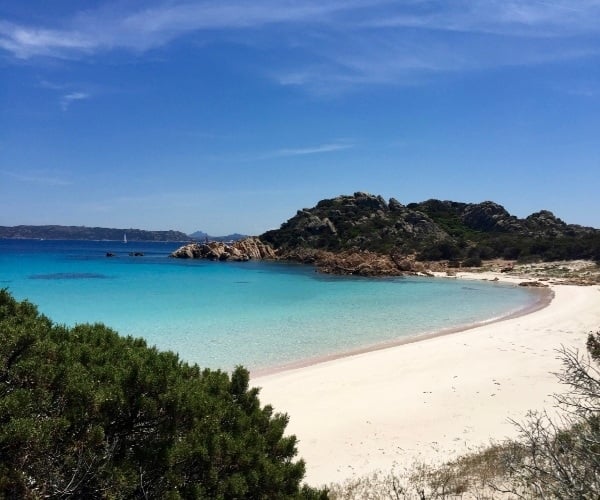 The Exumas
The picture-perfect Exumas are ideal for those seeking secluded tranquillity, where pristine beaches are the order of the day, and not a beach bar in sight. This is certainly not an area for anyone looking for nightlife ashore, as only a handful of bars are found within the whole 95-mile-long chain and the pace is delightfully slow. The Bahamian government has created a large National Park in the centre of the Exumas, covering 176 square miles, and so the incredible scenery above and below the water remains untouched.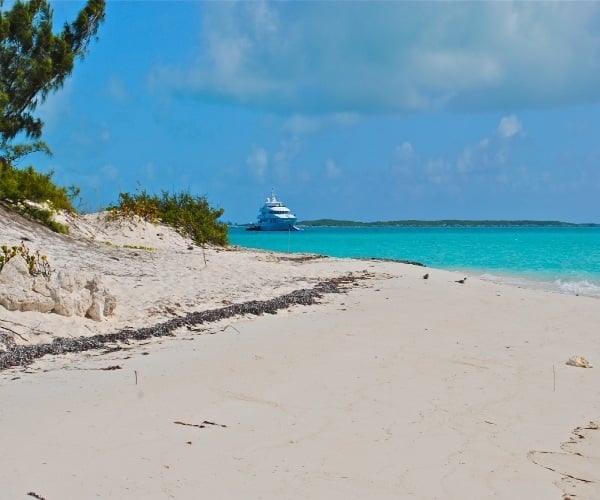 A must-see is Thunderball Grotto, an underground cave where the James Bond movie 'Thunderball' was filmed. At high tide the entrance to the cave is underwater, but snorkel through the opening during low tide, and the cave opens up dramatically, with a myriad of light shafts entering from the roof and a welcome in the water from hundreds of colourful fish. This is a truly unparalleled experience. Another natural wonder awaits at Blow Hole Beach where an amazing phenomenon can be seen from the calm lagoon. Hidden by the limestone hills, on the other side of the island, a stream of seawater rises up created by the wave energy from a hidden blowhole.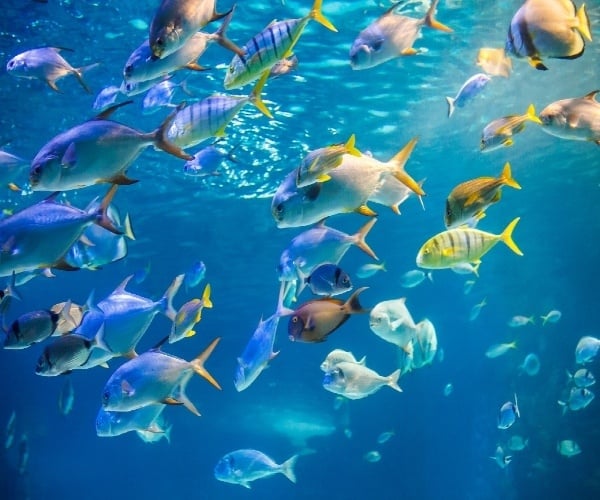 Norman Island is a gem; avoid the bustle of the main harbour and instead opt for an anchorage on the east side where the beaches are out of this world and snorkelling for sand dollars is a perfect pastime. At the southern tip of the island an airplane wreck makes for an exciting diving adventure where corals and marine life thrive. Sail to nearby Shroud Cay, home to a huge expanse of mangroves, that can be explored at high tide alongside two superb white sandy beaches that are often deserted.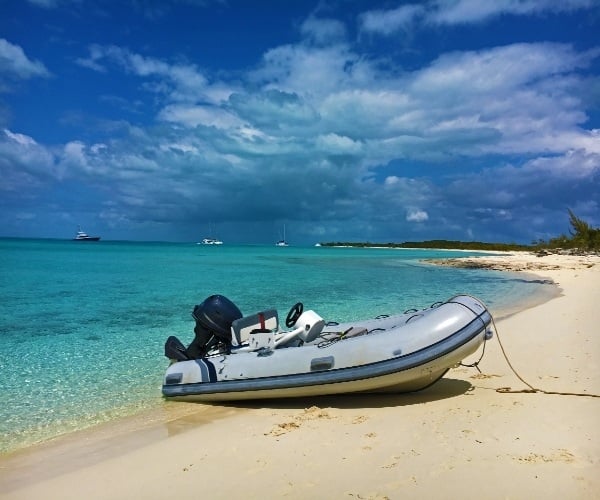 Warderick Wells Cay, home to the Exuma Land and Sea Park HQ, is an ideal place for children to chat to the onsite warden who has some fascinating stories to tell. See a real whale skeleton on the beach, enjoy the walking trails, feed local birds or launch the water sports toys from your yacht to while away the hours in the picture-perfect bay. Snorkelling along the reef here is sublime.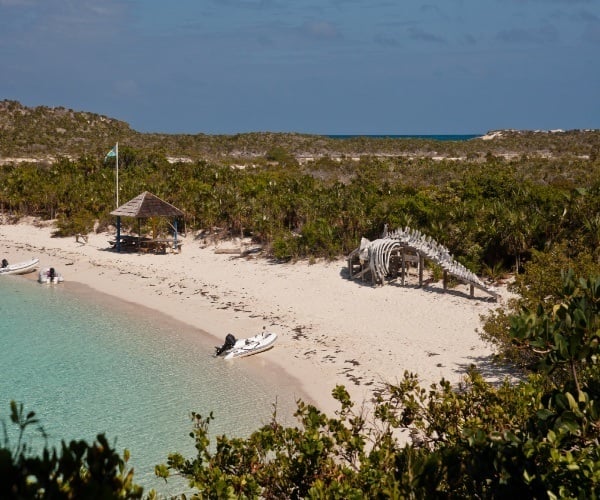 The Exumas are home to a variety of wildlife, offering the chance to get up close and personal. Pet the docile nurse sharks who swim up to the dock during high tide at Compass Cay, and make friends with the endangered and friendly Bahamian Rock Iguanas at Allen Cays. Small and narrow Stocking Island is a great spot to swim with wild, gentle stingrays and, at the aptly named Starfish Beach, you can snorkel above an abundance of colourful starfish on the sandy floor.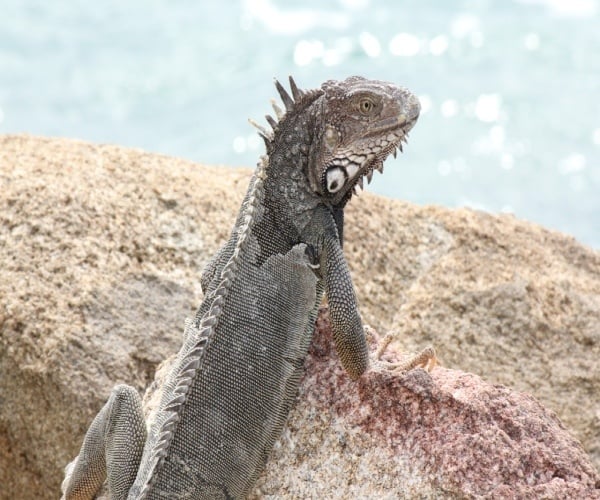 The swimming pigs at Big Major Cay have become an iconic Bahamian emblem, however it is true to say that seeing these creatures in the crystalline waters is quite a spectacle! How they arrived is still a mystery; some think sailors in the past dropped them with the intention of returning and eating them and some believe they survived a shipwreck many years ago and swam to shore. No matter their origin, the friendly pigs are now considered island inhabitants, enjoying being fed by locals and visitors whilst always seeming comfortable to pose for photos!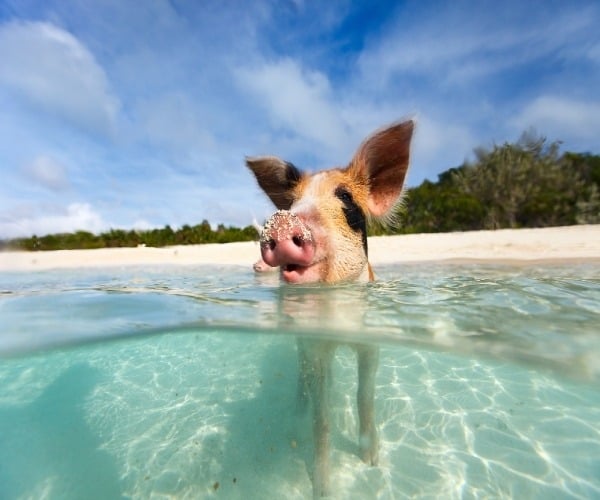 A visit to the Exumas would not be complete without a stop at the boutique resort of Staniel Cay Yacht Club, where their conch fritters, rum punch and cay lime pie are renowned. Anchor in the lee of Big Majors between Sampson Cay and Staniel Cay to soak up the scenery in paradise. The small uninhabited island at the edge of the Great Bahama Bank is Soldier Cay where you can enjoy the comfort of your own private sandbar. Take time to explore the little rock pools, snorkel one of the most beautiful coral gardens in this archipelago and then enjoy a rum punch while watching the fabulous sunset.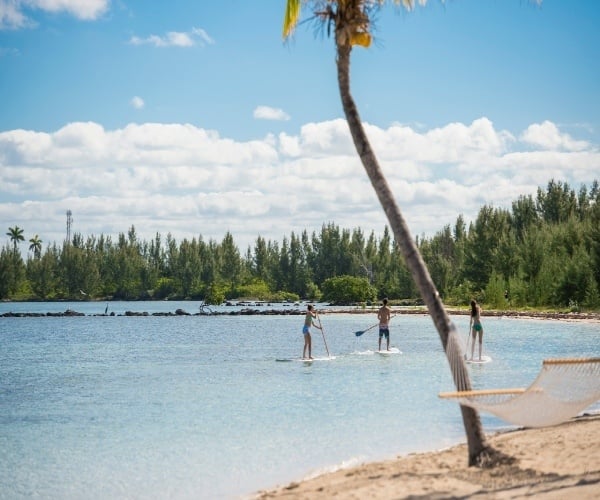 A small and tempting taste of the blissed-out experiences that can be enjoyed when on a yacht charter in the Bahamas, it is no surprise that this destination is a popular hideaway. Whether you are looking to soak up the charm of seaside towns or unwind on heavenly beaches in seclusion, the Bahamas deliver an idyllic getaway. Relaxation comes easy on board a superyacht, island-hopping amidst spectacular scenery on crystal clear water – it's time to drop anchor and embrace island time.
Nicholas Dean is Managing Partner of Ocean Independence. Ocean Independence is a global leader in luxury yachting, providing a bespoke experience across yacht charter, sales and management.
If you would like to be a guest blogger on A Luxury Travel Blog in order to raise your profile, please contact us.
Did you enjoy this article?
Receive similar content direct to your inbox.