Scotland is a land of enchantment and mystery. With an ancient aura, and history to match, Scotland has some of the world's best known and most cherished landscapes. The terrain, hills, lochs and valleys all over Scotland somehow feel scared, as the topography changes like the weather as you pass from highland to glen.
Edinburgh, a capital city for the ages, with its bulking goliath of a castle that stands proud looking over the marquee town, is truly a jewel in the Scottish crown, and a must-see destination for any intrepid explorer. Here are some things you can do in and around the Scotch capital, with a mix of tourist flavour and some more off the beaten path.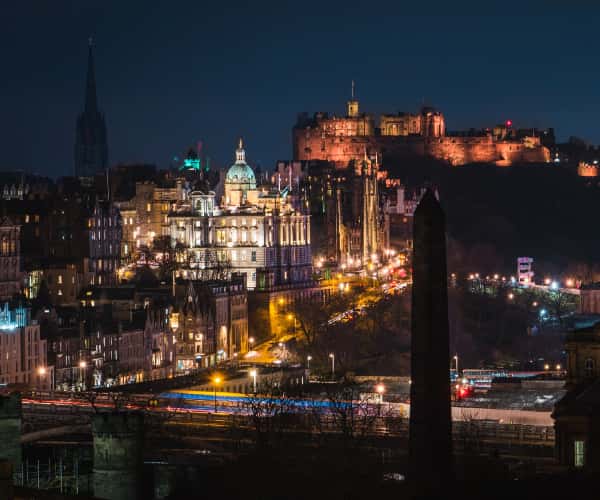 Edinburgh Castle
A must-see and a busy attraction, but nonetheless, something you cannot and should not avoid doing. Part of Edinburgh's UNESCO World Heritage Site the castle is one of Western Europe's most fascinating and iconic historic sites. From its superior position on Castle Rock, this magnificent fortress dominates the Edinburgh skyline, keeping a watchful eye over the city below. Parts of the castle date back to the 12th century, while human occupation of the rock has been established since at least the Iron Age. Guided tours are provided by the castle stewards or take your own audio tour, which lets you discover the dramatic history and architecture of the castle at your own pace.
The Five Sisters Zoo
We're not normally one for championing the existence of zoos, yet Five Sisters is one with conservation at its heart, with an array of both native and non-native mammals, birds and reptiles. Unlike the larger Edinburgh Zoo, formerly the Scottish National Zoological Park, it also doubles as a rescue centre with a number of bears and lions rehomed after years of performing in travelling circuses. There are around 200 hundred species to see, including Arctic wolves, Scottish wildcats and prairie dogs, to name just a few, and plenty of other attractions and activities to get involved in. Don't forget to see the lemurs, who are kind of a mascot for the whole place! There are lots of things to learn with talks and feeds throughout the day, or even try your hand at zookeeping.
Midlothian Snowsports Centre
If you're looking for an exhilarating family day out, a trip to the Midlothian Snowsports Centre in the Pentlands might be just the ticket. Offering the UK's largest dry slope centre, which can even be seen from parts of the city, this is a great place to learn how to ski with a well-run programme of lessons and experienced teachers. Almost all equipment can be hired at the centre, while there's a variety of options from beginners to competent skiers and snowboarders. Or, if you're after a somewhat easier activity, try your hand at tubing, and zoom down the slopes in a large doughnut!
Craigies Farm
Located in South Queensferry, Craigies Farm is a fun and informative day out for all the family with a variety of farm-based activities and delicious homegrown produce to get your teeth stuck into. Visitors can pick their own fruit and veg depending on the season, including strawberries, raspberries and a huge variety of others. There's also a Nature Detective Trail and a chance to meet and feed the animals from goats and lambs to lovely little hens. However, the best bit is undoubtedly chowing down on the farm-grown produce, with sumptuous meals and delicacies in the all-day cafe and deli – yum!
Holy Island and Alnwick Castle
Probably the furthest attraction out, so much so, it's not even in Scotland, but well-worth it and not too far away at all. Located just over the border in Northumberland, a trip to mystical Holy Island and nearby Alnwick Castle makes a glorious day out from the bustle of the city. Holy Island can only be reached at low tide across a narrow sandbank, while visitors can explore the enigmatic ruins of Lindisfarne Castle, which sits majestically at its helm. Close by, the opulent Alnwick Castle, known as the "Windsor of the North" offers stunning interiors and magnificent gardens; it's easy to see why it has featured so often in tv and film, from Harry Potter to Downton Abbey.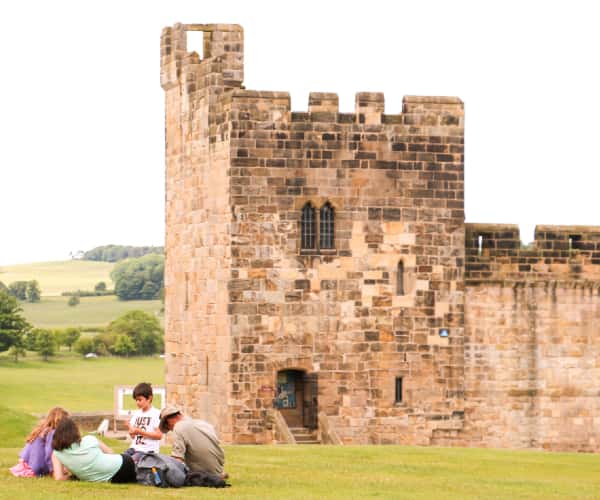 St Andrews and Fife
Visit the old university town of Fife and the legendary St Andrews – a place of homage for golfers the world over. "The home of golf" is Europe's largest public golf complex, including the famous Old Course, considered the oldest course in the world. Along with 7 courses to play and the British Golf Museum, there are enchanting ruins of the 12th-century cathedral and the majestic St. Andrews Castle overlooking the North Sea. This is far more than just a place for golfers with stunning scenery, ancient architecture and plenty of history to discover.
Melrose Abbey and Rosslyn Chapel
Built for the Cistercian monks in 1136, Melrose Abbey is undoubtedly the finest of Borders region's four famous abbeys. Despite being desecrated on several occasions the eye-catching red sandstone construction is still an impressive spectacle, while the ornate stoneworks and carvings of gargoyles encapsulate its gothic roots. An outing to Melrose Abbey is best combined with a visit to the ethereal Rosslyn Chapel, recently brought to wider public attention by the hit film, The Da Vinci Code. This 15th-century chapel offers yet more majestic stonework and unusual stone carvings, the origins of which are still shrouded in mystery.
Loch Lomond and the Trossachs National Park
No trip to Scotland is complete without a foray to one of its famous Lochs. Luckily Loch Lomond is one of the very best and is easily reachable on a day trip from Edinburgh. Nestled in the south of the magnificent Trossachs National Park, Loch Lomond is Britain's largest freshwater lake and offers phenomenal views and a flourishing array of animals and plant life. It's also a centre for boating and other watersports, and the gateway to the gorgeous West Highlands. These rugged hills and mountains offer stunning photo opportunities and a real taste of Scotland's enchanting beauty.
Tim Rees is Founder and CEO at Quality Unearthed. Quality Unearthed is a world-leading glamping and alternative accommodation agency providing 'forward to nature' holidays, established in 2010.
If you would like to be a guest blogger on A Luxury Travel Blog in order to raise your profile, please contact us.