In time, lockdowns will come to an end and the pandemic will be under control. However, some trends we adapted as 'the new normal' in the past year may be here to stay, such as remote working. For those who can work from home, some may consider travelling to different locations and enjoying a "workoliday".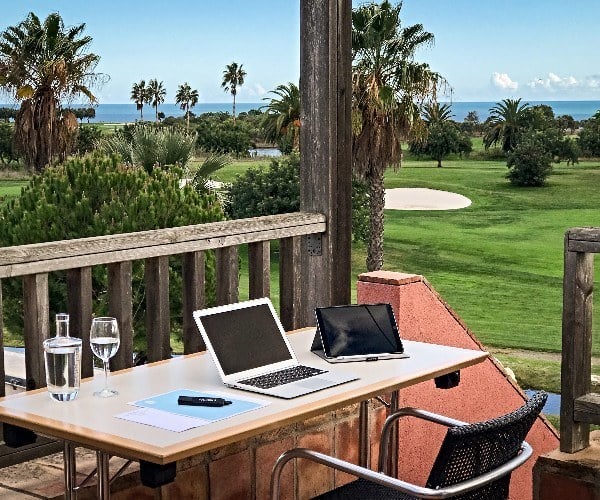 Portugal is the ideal destination for remote working. Digital nomads can enjoy 300 days of sunshine a year, good value for money, delicious food and wine, great golf courses, over 3800km of certified walking and hiking trails and much more. Read on to learn more about working remotely from Portugal.
Working from Madeira
The Madeira Islands have the perfect conditions to attract digital nomads, from its natural beauty and endless activities, to it's culture and year-round great weather.
Due to the increase in demand for remote working in Portugal, the Madeira Digital Nomads program was launched. This initiative was developed by the Regional Government of Madeira, through Startup Madeira, and aims to attract digital nomads from all over the world to come to work from Madeira.
The Madeira Digital Nomads program allows professionals from major companies and digital entrepreneurs to make Madeira their home for periods between 1 and 6 months, living as locals in communities around the island. The initiative's pilot program will run February 1st – June 30th, 2021.
Workation packages in the Algarve
Home to incredible landscapes, beautiful beaches and fantastic weather conditions, it easy to see why Portugal's Algarve region is quickly is attracting more and more remote workers from all over the world.
Once work is finished, visitors can enjoy a walk on the beach, a bike ride along the coast, or a round of golf. And at weekends, discover the beautiful towns of the Algarve. Explore authentic fishing villages like Olhão, historic towns such as Silves, or panoramic views from the mountains of Monchique.
João Fernandes, President of Algarve Tourism said "With first class healthcare and with English widely spoken, it is a perfect place to work from for an extended period".
There are a diverse selection of long stay rental accommodation options available to guests, ranging from serviced apartments, vineyards, homes on golf resorts to boutique hotels and resorts. Read on to learn more…
Hotel Faro, a four-star property overlooking the Ria Formossa natural park in Faro, is offering special rates for extended stays for digital nomads. Their remote working package includes high speed wi-fi, TV in the room with HDMI connection, second monitor and laptop support option, private meeting room options as well as access to the hotel's coworking space.
Visitors can relax after work at the hotel's rooftop bar and restaurant, boasting panoramic views over the nature reserve, or unwind in the heated outdoor pool, gym, sauna and Turkish bath. Long stays will also benefit from a 15% discount on food and drinks. Rates are €825 for 15 nights and €1500 for 30 nights Valid between October 2020 and May 2021.
Four Seasons Fairways, situated in Quinta do Lago and close to the Ria Formosa nature reserve is the ideal setting for a workation – combining blue skies, peaceful and private villa accommodation with hotel style facilities to cover everything you need for remote working and play. Between work commitments, the Clubhouse awaits – home to stunning heated indoor & outdoor pools, Kids' Club, wine cellar, fully equipped gym and cleverly designed indoor-outdoor bar. Winter Offer: Four Seasons Fairways offer 7 nights in a two or three bed apartment with pool or jacuzzi on a self-catering basis from €600 travelling December 2020/January 2021
For a more rustic and countryside environment, one of the oldest vineyards in the Algarve, Morgado do Quintão, is offering extended farm stays for remote workers. The property has various houses to rent on the estate, each with its own swimming pool and outside area. The homes are centred around a large family property restored in the early 1800s. The vineyard is located between Silves, Monchique and Lagoa. They offer special rates for longer stays and provide artists and those working in the creative fields with special terms on bookings until May 2021.
ROBINSON, TUI's premium club provider is also offering digital nomads the opportunity to work and live in paradise. The Workation @ ROBINSON is available at the ROBINSON Club Quinta da Ria from January 2021.
Workers are given rooms in a quiet location that are fully equipped to all their working needs, whether that's fast and stable internet connection for video conferences or an ergonomic desk chair in a separate office. After work, visitors can enjoy the golf course, a relaxing massage or a tennis or a bike tour in the surrounding nature reserve. Prices start at €67 per person/night in a double room. For stays of over 15 nights a 30-minute spa treatment is included, and over 29 nights an additional private transfer from and to Faro is included.
Wyndham Grand Algarve has just released a unique and personalized package for 'Digital Nomads' for stays from 1st February until 1st April 2021, with bookings available until 15th March 2021. This package includes a very advantageous discounted rate for stays of 14 nights or more in a One Bedroom Suite, buffet breakfast, a daily late evening drink in the Lobby Bar, a complimentary nature experience in Ria Formosa Natural Park and transfers from/to Faro Airport. During the stay, guests will also have free access to the SPA, stay active in the state-of-the-art gym or swim in the indoor or outdoor swimming pools.
The five star Hilton Vilamoura is offering two new programs to facilitate remote workers:
HOMEinALGARVE is an extended stay package applicable to free upgraded suites and one- or two-bedroom, fully equipped apartments. Each comes with a comfortable well-lit work area with a desk and chair set in a spacious lounge, plus extras such as free tea & coffee. Rates for extended stays are from 90€/night for a minimum 15 consecutive nights booked.
Hilton Vilamoura Home Office offers additional ready-to use solutions in a private Business Floor where guests can work alone or opt for co-working. All options have access to free high-speed Wi-Fi, office support services plus the extensive resort facilities of swimming pools, gym, kids club, beach, golf and spa. Home Office rentals from 50€ /3 hours use.
Other workation packages are available from Cascade Wellness Resort, Cardeal Suites & Apartments, Portobay Falesia, Agua Hotels Alvor Jardim, Holiday Inn Algarve, Vidamar Hotel Resort, Monte Santo Resort, MGM Muthu Hotels Albufeira, Hotel Quinta do Marco, Burro Ville and Rocha Brava.
For further details on all these hotels visit www.algarvepromotion.pt
Work remotely in Lisbon
Lisbon, the capital of Portugal, is an authentic Portuguese city, where old meets new, known for its combination of ancient history, cultural entertainment and hi-tech innovation. The seaside capital is a great destination for remote workers interested in soaking in all the colour, culture and sunny weather that Portugal has to offer.
Hotel Roma has a great offer for remote workers visiting Lisbon. From €55/night, digital nomads will receive a free executive room upgrade, breakfast every morning, 15% discount in the hotel's restaurant and wine bar, Wi-Fi and necessary cables as well as tea, coffee and water in your room each day.
The Corinthia Lisbon are dedicated to taking your work as seriously as they take your comfort. So, where better to work from when you need a change of scenery. Achieve your best working day yet, in a safe, flexible environment, with access to business facilities, a meeting room, refreshments, gym time and more, all included from €110/night.
If you're longing for a luxurious work space in Lisbon, then the five-star Palácio Estoril Hotel Golf & Spa is the perfect option for you. The hotel's long stay packages are designed so that you can work and live in Lisbon in comfort, security and with great service. Prices start from €1000/pp for 30 days and include your accommodation with breakfast, daily room cleaning, free parking, access to the Banyan Tree Spa, dynamic pool, jacuzzi, Turkish bath, sauna and gym. Guests will recieve a 25% discount on massages, 10% discount on Food & Beverages, free Wifi and 24h security.
The Corpo Santo Lisbon Historical Hotel is located in the historic district of Cais do Sodré, in the heart of the city of Lisbon and on the banks of the Tagus River. This hotel is offering long stay options for remote workers of up to 12 months. The hotel's location makes it the prime spot to explore the beautiful city of Lisbon after your day's work has ended. Walk to some of the most iconic tourist attractions in the city, such as Praça do Comércio, Chiado, Bairro Alto, the Santa Justa elevator, Lisbon Cathedral to name but a few. The Corpo Santo Lisbon packages start from €1000/month and include daily cleaning, free Wifi, gym access, 50% discount on laundry, 20% discount at the hotel's Porter Bistro restaurant as well as 24/7 hotel support
Other long term accommodation options for remote workers in Lisbon include:
Tivoli Avenida Liberdade Lisboa
Pestana Palace Lisboa
Atlis Prime Hotel Lisbon
StayUpon Hospitality Group
Aldeia dos Capuchos
Four Seasons Hotel Ritz Lisbon
Farol Hotel
InterContinental, Lisbon
The One Palácio da Anunciada
Turim Av Liberdade Hotel
BessaHotel, Liberdade
Hotel My Story, Figueira
Lisbon Heritage Hotels
Hotel Holiday Inn Lisbon – Continental
B&B Hotel Sado Setúbal
Hotel Star Inn, Lisboa
Melia, Setubal
Mercure Lisboa Almada
Four Points by Sheraton Sesimbra
Hotel Cascais Miragem
VIP Executive Arts Lisboa
VIP Executive Santa Iria
VIP Executive Zurique
Iberostar Selection Lisboa
Hotel Bairro Alto, Lisbon
Arribas Sintra Hotel
The Beautique Hotels
Planning your stay for Autumn? This is perfect season for golfing in Lisbon. After finishing your days work, pick up your clubs and put your game face on in a beautiful golf course at one of city's best golf hotels offering long stay packages, Choose from a number of accommodations including Montado Hotel & Golf Resort, Golf Aldeia dos Capuchos, Penha Longa Resort or Oitavos Dunes.
Other golf hotels in Lisbon offering long stay options for remote workers include Dolce CampoReal Lisboa, Guardian Bom Sucesso Golf, Quinta da Marinha Golf Club, Estoril Golf, Troia Golf and Orizonte Golf.
Work and surf in Santa Cruz
Noah Surf House, Portugal, is currently closed but it won't be forever! So, if you are a lover of surfing, this may be the perfect option for you…
Located in Santa Cruz, just outside of Lisbon, Noah Surf House is just a two-minute walk from a beautiful beach, Praia de Fisica! The property consists of 8 rooms and 13 bungalows, all of which are decorated in an unique way. It also boasts an on-site restaurant with flavours from all over the world, a snack and bar service, a rooftop with an outdoor Jacuzzi and sunset deck, an ocean store, a meeting/leisure room, an outdoor swimming pool, an organic vegetable garden, a sport centre, a gym, a skate park and a fully equipped kitchen to share with other guests!
Noah Beach House is the hotel's beach restaurant, located on Praia da Física in Santa Cruz. Separate to the on-site restaurant, the Beach House offers about 60 seats, a bar, beach concession and a surf school. It is also available to host private events. The restaurant's menu is based on traditional Portuguese cuisine and uses mainly local products. Food and beverage suppliers are mostly local as well, representing 75% of total suppliers.
Both Noah Surf House and Beach House were built on five distinct values; Sustainability – economic, social and environmental. Originality in every initiative. Accuracy on each activity. Trust between employees and guests. Joy to promote moments of relaxation and happiness. Here, digital nomads can combine work with activities like surfing, yoga, stand up paddle boarding, walking or hiking.