Picture postcard views are sometimes just that, and none more so than in Tenby. Quite fittingly in the 'jewel in the crown' of the Welsh Riviera, every day is like a holiday, where you can get lost in a daydream of panoramic views.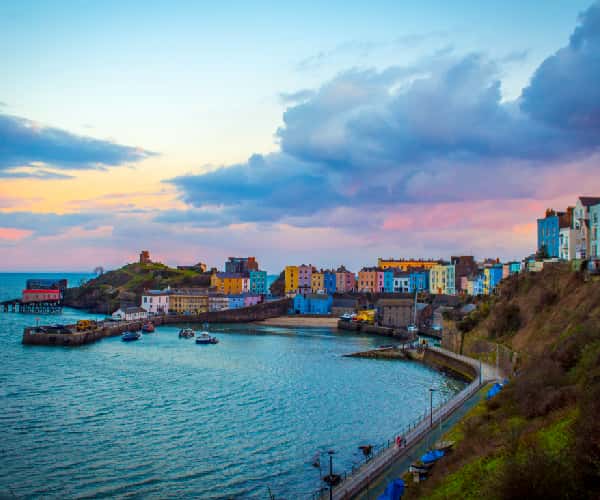 The town, which was originally a 13th Century fishing harbour, holds a special and dear place in the hearts of many who have visited, and who keep coming back time and time again. Known for its period town walls and famous stretches of sandy shorelines that dot around the outskirts of the land, the ruins of Tenby Castle are on a headland overlooking the harbour and out across Carmarthen Bay.
The sign that welcomes you into the town carries the Greek motto from Euripides, 'The sea washes away all the ills of men' and is set in both Welsh and English. The quotation from Euripides is also inscribed above the door of the old bathhouse built at Tenby harbour, Laston House, built by Sir William Paxton in 1810, and who contributed to the regeneration of the town.
Paxton's idea behind the baths and his philosophy was to provide wealthy and fashionable travellers who would come to Tenby with "every means of bathing, either for health or pleasure in all weathers and at all hours." Over 200 years have passed, and it seems like nothing has changed, but now Tenby is here for everyone to enjoy.
So here are 6 amazing things you can do in Tenby…
1. Visit four different beaches in 15 minutes
Wales, and Pembrokeshire in particular, is famed for its beaches. Every year, the Foundation for Environmental Education (FEE) designate the Blue Flag and Green Coast award statuses to beaches around the UK, and Wales is seldom off the top spot when it comes to the numbers of recognised bays. Pembrokeshire, usually always comes out on top of the Welsh beach count, as they did in the most recent round of awards, in 2019.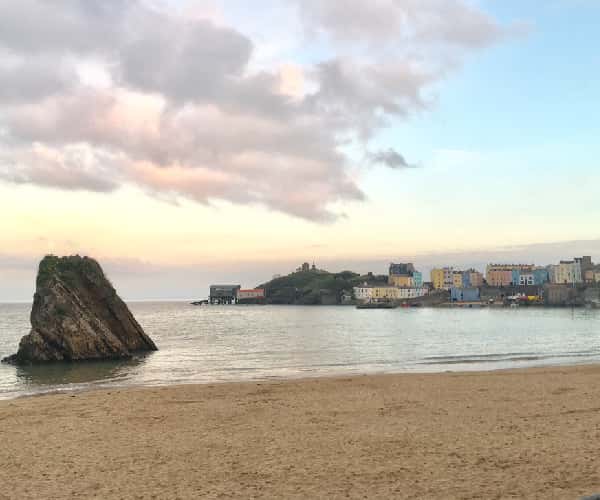 So it's fair to say, that when it comes to beaches, Pembrokeshire knows its stuff. And Tenby, well it's very special, as it has no less than four (4) beaches all within a half a mile of each other. In fact, 3 of them are so close, that you can measure the distances from them all in a matter of metres.
Tenby North Beach (pictured), Tenby Harbour Beach, Tenby Castle Beach (which actually won the Sunday Times 'Beach of the Year' in 2019) and finally, Tenby South Beach are all within a short span of each other, and in fact, most people can't even tell you where Tenby Castle beach stops, and Tenby South Beach starts, but one thing is for sure; you can feel the sand beneath your toes from all four of them with a brisk 10-15 minutes walk.
2. Take a guided 'ghost walk' and discover ancient Tenby
Step into ancient Tenby town and discover its dark and brooding past. Immerse yourself as Tenby's tales and horrible histories are laid out for you in spectacular detail and fashion on one of the many regular themed and guided walks that depart from Tudor Square.
If ghosts are not your thing, then there is also 'The Story of Tenby' which covers the town's fascinating history in a more lighthearted way. For those who want a bit more bite to the tale, and the 'Ghost Walk of Tenby' offers a little more detail into how things worked in medieval Tenby. And whilst the stories are often ghoulish, the seasoned guide, Marion still delivers the walk in a light-hearted, family-friendly tour that includes stories not just about ghosts, but also pirates, fairies, witches, statesmen, and dignitaries of the time. The tales and traditions on offer here also famously were included in the Sunday Times, as one of the 'top 5 ghost walks' in all of Great Britain, and they have been featured on several TV and radio programmes.
3. Walk to an island
St Catherine's Island, or Ynys Catrin, to give it its Welsh name, is a small tidal island, set upon the sloping bay of Tenby Castle Beach. Often referred to as St Catherine's Rock, it is the location of the St Catherine's Fort, which has been many things over the years. Before the building of the fort, the island had been home to some sheep and also a very small church that was demolished in 1867 to build the fort building as it is now.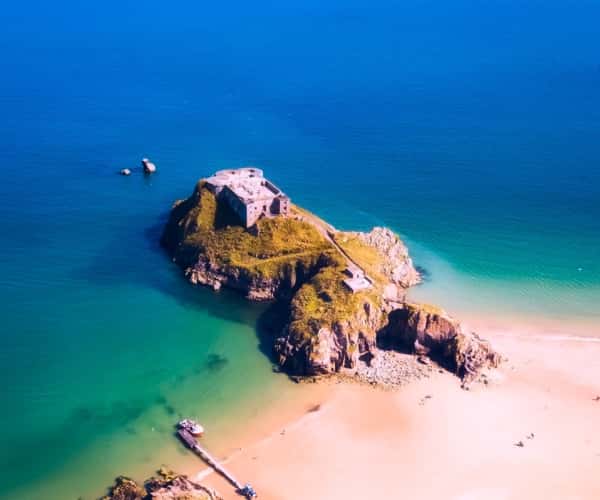 The island, being of a tidal nature, means that it is accessible by foot at low tide but cut off from the mainland when the tides are high. So, if you pick your tides correctly, you can visit the island, accessed by a set of stairs on its northwest approach.
The fort itself has gone through many different incarnations. After the government purchased the island in 1866, construction on the fort began a year later and completed in 1870. Arms were added after this date, and gun shields were installed in 1886. The purpose of the fort was established further back in 1859 in response by the Royal Commission of the Defence of the United Kingdom to what they felt was the possibility of attack by Napoleon III.
In 1985, control passed to the Royal Naval Reserve and used for many military purposes through both World Wars, until it was privately purchased after it's decommissioned. From 1969 until 1979 it became a zoo and menagerie but was left empty upon its closure, until 2015 when it was deemed the site could re-open to the public as a museum, to showcase its past. Since then the fortune of the fort as a commercial enterprise has wavered, with closures in 2017 and re-opening in 2018 and it remains open now.
It was also picked to stand as the island location of 'Sherrinford', an off-shore island fortress, in the series finale in the fourth, and currently final, series of Sherlock, which aired in 2017.
It is said that the island stronghold building is open to the public to scale and enter on any days where the Welsh flag is flown, and during periods of low-tide, so for it to be accessible by foot. How many places can say that this is how you get to their door?
4. Escape to a monastery
If you're visiting Tenby from Easter to around October, you can walk to a boat that will literally let you escape the mainland, to the monostatic island of Caldey. Situated just off the southwest of Tenby.
As depicted in the image above, boats leave from next to St.Catherine's Island on Tenby Castle Beach and make the roughly 2-mile crossing in around half an hour.
As far back as the 6th century AD, Caldey island was known by the Welsh name Ynys Bŷr or Pyro's Island, after the first known, sixth-century Abbot, who later became a saint, to inhabit the land. By the 10th century, the Celtic settlement was said to have been abandoned, it is believed, as a result of Viking raids, as the present name of 'Caldey' is of Norse origin, meaning either 'Island of the Spring' or more prominently thought, 'Kald ey' which means 'cold island'. The island's fortunes over the years have always been a matter of subjectivity, but one order or another, has typically always occupied the island, creating a very spiritual place to visit, as well as a holy one for many to make regular pilgrimages.
The island's population consists of approximately 40 permanent residents and a varying number of Cistercian monks, also known as 'Trappists'. The monks' origins there come from the migration of monks from Belgium in the early 20th century, and who took over from Anglican Benedictines who had taken over the island in 1906. They had built the monastery and abbey but later got into financial trouble. Today, the monks of Caldey Abbey rely on tourism and making perfumes and chocolate to sell, and they also keep a seasonal shop just off Tudor Square where you can purchase these and other items.
And around 100 years ago, without the modern conveniences of regular boats to and from the island, local farmers were forced to swim their herds of cattle across the short stretch of water and land them on Castle Beach in Tenby, and then drive them up into the town to the local market. Don't believe us? Well, we don't blame you, but there is a mural in Tenby Market which depicts this. And the history of swimming on the island doesn't stop there. The local youngsters of Tenby spent their summers swimming back and forth to the island during hot summer days, and these feats of athleticism are now commemorated by the annual Caldey to Tenby Swim, held by the local TSSA (Tenby Sea Swimmers Association).
So, go, and spend your time on one of the holy islands of the UK. It's escapism, at its very finest.
5. Find out first hand why Wales is considered to be the 'Castle Capital' of the world
Wales had about 600 castles, of which there are over 100 that are still standing, either as ruins or as restored buildings. Some are even still lived in, and some you can rent and stay in. The rest have returned to nature, and today consist of ditches, mounds, and earthworks, but even so, if they are often in commanding positions that would have given them great majesty, had they remained standing.
Pembrokeshire has around 21 castle sites in varying degrees of disrepair. Tenby's castle is one that fits the bill of the above representation; one of a commanding position but not much of the actual castle remains. Still, if you scale Castle Hill, and round the headland past the museum entrance, the bandstand, and up the short descent, you will find the remains of the tower of Tenby castle that was built in the 12th Century by the Normans. The remains of the castle gateway cross the very path that you climb up to Castle Hill from the harbour. There are records of its capture by the Welsh in 1153. And Tenby was also attacked in 1187 and again in 1260, when Llywelyn ap Gruffudd, better know as Llywelyn the Last, sacked the town during his round of rebellious campaigns.
Tenby's contribution can be seen most vividly when taking in the old town walls. Considering the state of repair of many Welsh castles, the walls, however, are remarkably complete, and so often overlooked as a source of just how much of a fortress Tenby used to be considered. If you think about it, the town walls themselves are a castle, concealing and protecting everything inside it and containing a maze of narrow streets that make up the picturesque old town of Tenby. A moat even ran outside of the walls. In 1457, the moat by what is now St Florence Parade was widened to 30ft, the walls were heightened and a second, higher series of arrow slits were built into them. Access into the town was by the D-shaped barbican that was added in 1328 to protect the gate, and this main entrance on this side is what is now referred to as the 'Five Arches'. So, thinking about it again, Tenby really is one big castle, with so many treasures to explore.
6. Become an 'Ironman' (or woman) in the town transformed by a race
In 2018, the New York Times ran a September article, which featured a large editorial on the Ironman Wales event that had taken place just a few weeks prior, entitled 'Iron Town' in reference to Tenby's ferocious support of this Welsh leg of a global sporting event. Just 7 years prior to this piece running in the NYT, in 2011, Ironman Wales landed in the seaside resort of Tenby for the first time.
Ironman Wales is one of a number of triathlon events staged across the globe in a series, which qualifies athletes for the Ford Ironman World Championship held every October in Kona, Hawaii. But calling it simply a triathlon does not do justice to the sheer feats of endurance of the event, or the competitors that line-up on Tenby's North Beach early on a Tenby Sunday morning in September. It is a hellish, endurance event consisting of a 2.4-mile swim, 112-mile cycle ride before a gruelling 26.2-mile marathon – all without a break.
The population of Tenby is just under 5,000, but on Ironman Wales weekend, that number swells to well over double, with over 2,500 athletes and competitors, their families, and in some cases, support crews all jammed into the small town and dotted around the routes out towards neighbouring Saundersfoot and Pembroke, where the cycle routes branch off to.
Tenby has gained international acclaim within the Ironman fraternity for two reasons. Firstly, given that the feat of completing this exhausting tri distance is hard enough anyway, the Wales event is deemed as one of the toughest courses on the series tour, in no small part thanks to the hills found on both the cycle and spring legs of the overall event. Secondly, the world is in awe of Tenby and the surrounding towns and villages that play host to the event each year. The streets are packed with well-wishers and supporters at every stop, and they are there from 5am in the morning until midnight the same day, singing, cheering on strangers, and giving high-fives to competitors. It is a town truly transformed for this event each year, and because Tenby gives itself up willingly for this event, competitors love coming back to this special piece of the Wales coastline.
So hopefully here you have something to whet your appetite, but the truth is there are so many reasons to visit Tenby. It's the jewel in the crown of South Wales, with its seasoned tourist lifestyle and famous harbour, which is probably the most photographed place in all of Wales. We hope you will be able to visit one day and take it all in for yourself.
Gareth Robinson is General Manager at Quality Cottages. Quality Cottages is a leading Wales-based holiday lettings agency established in 1961.
If you would like to be a guest blogger on A Luxury Travel Blog in order to raise your profile, please contact us.