Croatia offers an abundance of spectacular cruising grounds, perfect to explore on a summer yacht charter. Boasting exceptional marine life, fascinating culture and a truly captivating coastline, there is something for everyone in this region of the Adriatic. Soak up the delights  on board 54m beautifully restored classic motor yacht SEAGULL II, packed with allure and exclusive style. It is fair to say that from her graceful exterior lines to her inimitable wood carvings, everything about this superyacht exudes timeless elegance. Take advantage of vast deck spaces, fabulous water sports equipment and a dedicated crew providing unrivalled service while soaking up the scenery and sights, cruising from Rijeka to Ŝibenik. A charming and relaxed itinerary, explore this array of breath-taking islands, each with their very own personality to discover.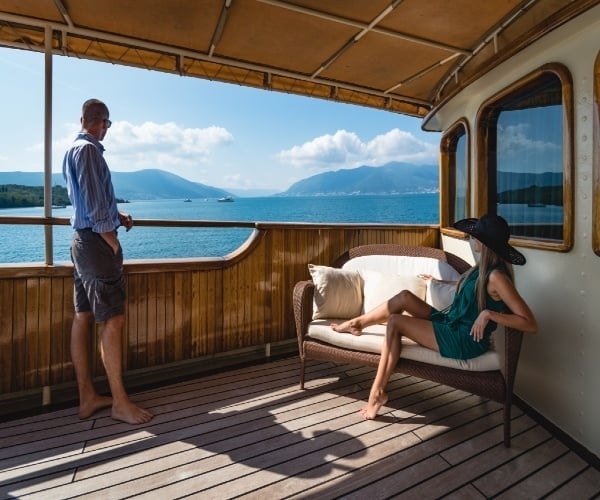 Rijeka
Named European Capital of Culture 2020, and as the main port city on Kvarner Bay, Rijeka acts as a gateway to the islands of Croatia. An abundance of cultural festivals, culinary experiences and activities take place amidst the melting-pot of Italian, Austrian and Croatian lifestyles found in this cosmopolitan setting. Stroll the pedestrian walkway of Korzo, lined with majestic Habsburg-style buildings and its imposing clock tower, while the grand hillside fortress of Trsat Castle sits proudly outside the main town. With a wide choice of nightlife, Rijeka has become popular for its variety of lively bars and restaurants found along the bustling waterfront.
Cres and Lošinj
A yachting paradise, Cres is scattered with charming coastal villages, picturesque bays and secluded beaches fringed by crystal waters. A number of walking tracks populate the hillsides, leading to isolated bays and ancient villages. Mali Bok bay, ideally accessed by yacht and located by the attractive village of Orlec, has a wide pebbled beach surrounded by high cliffs offering shade. Recognized for deserted bays and heavily wooded landscape, Lošinj has a fascinating coastline, dotted with sandy beaches. The most beautiful, Veli Žal, rightly claiming blue flag status, is located in the bay of Suncana Uvala (Sunny Bay) with a promenade above the beach leading to shaded areas strewn with pine trees and ideal for relaxation. The historic main towns of Mali Lošinj and Veli Lošinj, lined with colourful houses, are persistently lively with an array of local restaurants and bustling markets.
Krk
The largest and most populated Adriatic island, Krk is connected by bridge to the mainland. Immersed in rich cultural heritage, the town is steeped in medieval history complemented by displays of intricate architecture. The beautiful beaches of Krk are generally pebbled and shallow, with the most notable being the popular blue- flagged Porporela. Renowned for excellent vineyards yielding high quality grapes, it is no wonder that Krk celebrates numerous wine events, with winery tours offering an authentic view into this centuries-old tradition. Take the opportunity to visit the truly spectacular Krka Waterfalls and National Park; this vast and pristine area of exceptional natural beauty is simply breath-taking.
Rab and Pag
A magical isle, Rab is covered with pine forests and a choice of memorable sandy beaches, with a mild climate afforded by protection from the Velebit mountains. Rab Town, surrounded by high walls, is filled with medieval buildings, an impressive bell tower and numerous churches. Outside the town, beautiful Kalifront Forest is the largest on the island and has protected status, while the famous sands at Paradise Beach are ideal for families with children. Displaying eccentric beauty in an otherworldly landscape, where salt marshes are dotted by the sheep population, Pag is one of Croatia's most unusual islands. A land of two cultures, the north is renowned for sizzling nightlife and hedonistic festivals, while Pag Town in the south is a quiet and traditional affair. Neighbouring Preuda Island, boasting its celebrated cathedral site, is a popular spot for keen divers.
Zadar
A thriving city on the Dalmatian coast, Zadar is famed for its rich heritage. With stunning old town ramparts displaying both Roman and Venetian ruins, cobblestone streets and many theatres, museums and exhibitions, it is no wonder it is considered of cultural world importance. Zadar is also known for its pristine waters and naturally sandy beaches. Borik Beach with shallow water is ideal for families, while Kolovare is the traditional town beach, always popular with locals. Pine-fringed coves at Petrčane and sandy bays at Zaton are ideal for both secluded swimming and water toy fun. It is easy to find a little slice of paradise cruising amongst the small tranquil islands neighbouring Zadar.
The Kornati Islands
The Kornati Islands are an out-and-out nautical paradise where yachts gently weave amongst 140 karst isles within an unspoiled natural environment. Rugged cliffs tower high above sea level, concealing secluded coves teeming with lively marine life. Between the main coast and the long and wild island of Kornat, discover a beautifully protected stretch of water where picture-perfect anchorages are strewn amongst an array of idyllic bays. This incredible archipelago was awarded National Park status in 1980 and visitors to this eco-oasis can soak up the relaxed atmosphere whilst taking the opportunity to catch one of the best sunsets in the Adriatic.
Ŝibenik
Positioned on a deep and sapphire blue bay, the yachting haven of Ŝibenik is host to one of the most naturally protected harbours on the Adriatic coast. Gateway to the Kornati Islands, it is less tourist-influenced than some spots, with a youthful, energetic atmosphere and personality to match. Diminutive streets wind their way to attractive squares where modern boutiques sit harmoniously alongside the stylish architecture of a bygone era. The UNESCO World Heritage listed Cathedral of St James is well worth a visit, whilst the open-air theatre of St Michael's fortress offers some incredible views over the bay.
A charter in Croatia on board SEAGULL II is an exceptional experience – wake up to a new view every day and visit secluded bays and private beaches that are exclusively accessible from the water. Enjoy privacy and relaxation in a safe environment with an exceptional captain and crew who will make sure every moment of Croatian discovery is unforgettable.
Nicholas Dean is Managing Partner of Ocean Independence. Ocean Independence is a global leader in luxury yachting, providing a bespoke experience across yacht charter, sales and management.
If you would like to be a guest blogger on A Luxury Travel Blog in order to raise your profile, please contact us.