For golfers and non-golfers alike, these three southern golf resorts provide a perfect luxury getaway.
I must begin by stating that I'm not a golfer. I love looking at golf courses, and I'm a fan of the stylish outfits all the golfers wear these days, but a golfer, I am not. That said, golf resorts have so much to offer each of us, and we might not tee it up with the others, but we can certainly find plenty to keep us busy while on these expansive and luxurious resorts. There is no shortage of amazing golf destinations around the world, but I want to feature several resorts in the American south where southern hospitality and all-around good manners make for an enjoyable travel experience at these three southern golf resort getaways.
1. Kiawah Island Golf Resort, Charleston, South Carolina
Just 30 minutes outside of Charleston, South Carolina, Kiawah Island Golf Resort is the perfect combination of escaping to a more relaxed environment while also having all the elements of luxury we want when enjoying a vacation with friends and family. The drive through Johns Island sets the tone for the getaway as you travel underneath the massive and iconic oak trees with Spanish moss clinging to their branches that line the road. You know this ride is leading to somewhere very special!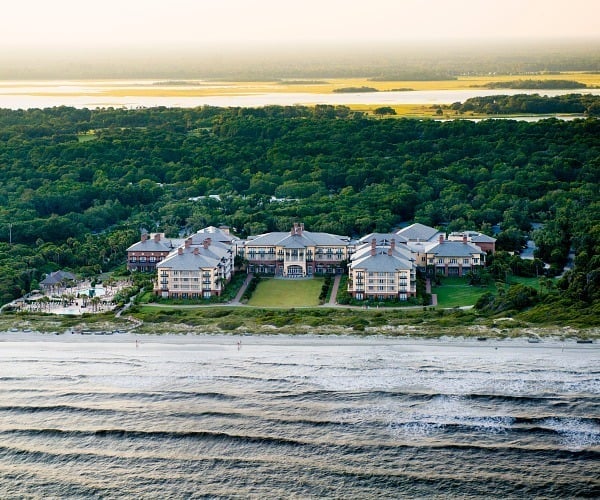 Where to Stay: This is an island filled with villa and home rentals, but I tend to lean toward all the pampering you get while staying at The Sanctuary, Kiawah's award-winning hotel situated directly on the beach. This is Southern opulence at its best, and I love it. The suites are spacious with spectacular views, and the service at the private pools and beach are world-class. The Oceanfront Suite is larger than most New York apartments, and situated on the corner so large French doors open to multiple balconies, and always my first choice for anyone I know planning to stay at The Sanctuary.
Where to Eat: Unique to Kiawah Island Golf Resort, each of the golf courses have a great dining option at the Clubhouse. Casual Pub food at Cougar Point, Southern BBQ at Osprey Point, Italian at Turtle Point and local fish and seafood at The Ocean Course; but there are also several delicious options on-property at The Sanctuary. Enjoy local favorites at Jasmine Porch or choose an elevated dining experience with steaks and seafood at The Ocean Room. In short, you will definitely not go hungry while vacationing down at Kiawah!
Where to Golf: You golfers have no shortage of marvelous golf to enjoy while on the island. Just off the island is Oak Point by Clyde Johnston, which is more of an open links style course, but then ends on 18 that looks out over Haulover Creek and The Kiawah River. Cougar Point by Gary Player meanders through the creeks and marshes, and forces players to be strategic in their shots, but most importantly, it's just beautiful. Turtle Point by Jack Nicklaus is true Nicklaus at every turn, but it's holes 14 through 16 that will leave you breathless as you're teeing it up along the ocean dunes. Osprey Point by Tom Fazio provides a challenge to players with water on nearly every hole that keeps you on your toes. Finally, The Ocean Course by Pete Dye has been made famous by the Ryder Cup, Players Championship, World Golf and many other tournaments; and it will humble any golfer in the best way possible. Fore!
What to Do: For those of us not golfing, there is still plenty to do around the island. Relax and unwind by the pools or on the beach; rent a bicycle to enjoy miles of trails around the island; visit the world-class tennis facilities, get adventurous on a paddleboard or kayak; check out one of the many nature walks and adventures; setup a fishing trip or inquire about the yoga classes and other wellness options. Or just follow my lead and book an afternoon in the expansive Spa at The Sanctuary!
2. Pinehurst Resort, Pinehurst, North Carolina
Meandering through the countryside (and the numerous traffic circles), it becomes very obvious once you arrive to Pinehurst that the residents, staff and many guests shuffling around the property have one thing on their minds – golf. All you golfers will feel right at home while the rest of us seek out what else there is to do among this golfer's paradise. Pinehurst is a destination that is as timeless as the game itself, and they encourage you to create your own history during your visit. So, let's make some history then…
Where to Stay: For family gatherings and golf buddy trips, I know that the Carolina Villas are the perfect solution to have plenty of space to come together at the end of a strenuous day of vacationing. The Manor and Holly Inn are both charming options that have been recently renovated and close to everything. Or you can stick with me and opt for the Queen of the South, the Carolina Hotel. Be sure to inquire about the Carolina Suite for my choice at this property, as well as their numerous package offers for golf, dining and more.
Where to Eat: There is something for everyone's tastes at the properties and throughout the village. One of the newer options is Pinehurst Brewing Company that serves Southern BBQ and the locals' favorite craft beers. In addition to other taverns and bars, for quick bites and cocktails, 1895 Grille at Holly Inn serves farm to table cuisine and a chocolate soufflé that will keep you coming back! The Carolina Dining Room has a localized fine dining menu that changes by the season, and it's definitely worth at least one visit while you're in town.
Where to Golf: Known as "The Cradle of American Golf," Pinehurst offers nine courses that are all unique, and sure to challenge golfers of every level. No.1 by Donald Ross began it all in 1898 with this course; and was then followed by Ross with No. 2 in 1907 and No. 3 in 1910. To this day, No. 2 is the most recognized as home to multiple U.S. Opens and other tournaments… and one that must be on your to-play list while at Pinehurst. No. 4 by Gil Hanse arrived in 2018 and impressed everyone with the natural topography. Between 1966 and 1988, Pinehurst added No. 5 by Ellis Maples, No. 6 by George and Tom Fazio, No. 7 by Rees Jones, No. 8 by Tom Fazio, No. 9 by Jack Nicklaus. Finally, in 2017, The Cradle by Gil Hanse was added, a 9-hole short course that everyone is loving. You golfers can play until your heart's content, but if you need me, I'll be over mastering my fierce game of putt-putt at Thistle Dhu!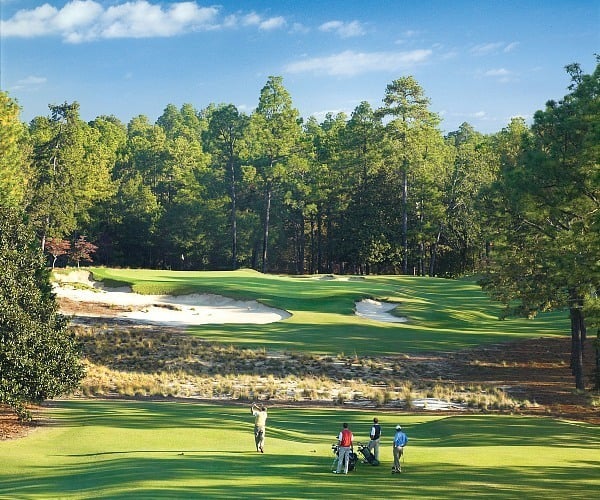 What to Do: There's always a strong theme at these golf resorts with a love for lots of golf, great places to eat and drink, and then a spa to unwind from too much vacationing. This rings true at Pinehurst with a lovely spa for all the pampering you desire. Looking for a unique local offering? Try their watermelon basil scrub that is infused with organic vodka and includes a light massage with their signature ginger sorbet body milk lotion. Yes, please! Pinehurst is a great place to simply relax and enjoy walks, jogs and bike rides around the resort or simply a walk through the endearing village. They can also shuttle you over to their 200-acre lake for boating, fishing or just reading your book among complete tranquility. Either way, enjoy your stay at Pinehurst, and with so much love for golf here, you might be like me and consider picking up the game for yourself.
3. The Sea Pines Resort, Hilton Head Island, South Carolina
Yet another destination where the staff bends over backwards to cater to you while providing outstanding service with their very own touch of southern charm is the Sea Pines Resort in Hilton Head, South Carolina. The iconic red and white lighthouse towers above the resort, reminding guests of the rich history found here, as well as serving as the landmark of one of the most recognizable marinas in the boating world. There are a ton of activities to keep even me from being bored with miles of beaches, tennis courts, the marina with a number of boating offerings, and a massive 605-acre Forest Preserve. Also, a personal favorite and one that is loved by all equestrian aficionados or novice horse lovers that visit, Lawton Stables has multiple programs for riders of all skill levels.
Where to Stay: The Inn & Club at Harbour Town is essentially the little sister to The Sanctuary Hotel at Kiawah Island Golf Resort. This boutique option still screams opulent luxury with the charms of yesteryear. The common areas and rooms/suites are beautiful, but for the best Sea Pines experience, I suggest the two-bedroom Fairway Suite for lots of space to relax and enjoy the breathtaking views out over the golf course and towering oak trees. The other options on the island are all the homes, villas and condos available for vacation rentals – including some over-the-top luxury homes for larger groups.
Where to Eat: The Sea Pines Resort loves that they have more than 20 dining options to accommodate all their guests, and I tend to agree that there's certainly something for everyone. A few suggestions would be Coast Oceanfront Dining for an exceptional level of seafood you would expect here in Hilton Head; Links An American Grill at the Harbour Town Clubhouse with great views of the golf course… and the perfect wine and steak pairings; and Harbour Town Bakery and Café for a great breakfast, but don't forget to also try their blueberry biscuits!
Where to Golf: At a destination where golf is king, these legendary Hilton Head golf courses are true royalty, so play all three for an unforgettable golf experience. An exciting development for the resort was the reconstruction of the historic Ocean Course to now be an amazing test of golf as Atlantic Dunes by Davis Love III. Heron Point by Pete Dye has been designed to provide every level of golfer a challenge thanks to seven different tee boxes, while also being simply a beautiful experience among the natural environments that make The Sea Pines Resort so special. And then, of course, there is Harbour Town Golf Links that is most widely known as the home of the RBC Heritage Presented by Boeing since 1969. With Pete Dye and Jack Nicklaus both working on this golf course, you know it's truly spectacular!
What to Do: You can't go wrong with time at the beach or a visit to the Spa. There are also 20 miles of paths spread across the resort ideal for a bike ride or jog; or venture out with a kayak or paddleboard for a workout. Fishing, nature walks, and dolphin tours are always other great options, but as I mentioned before, Lawton Stables is what attracts so many of us while at The Sea Pines Resort. Plan a time to visit for the kids to enjoy a pony ride or an adventure at the Animal Farm; and then carve out time to saddle up for a trail ride through their more than 600 acres of the Sea Pines Resort Forest Preserve.
Eric Hrubant is Owner and President of CIRE Travel. CIRE Travel is a concierge style travel agency specializing in luxury vacations and honeymoons, once-in-a-lifetime bucket-list journeys as well as group and corporate travel.
If you would like to be a guest blogger on A Luxury Travel Blog in order to raise your profile, please contact us.