Ask any global explorer what the world's sexiest city is and the likelihood is that Rio de Janeiro is near the top of the list. Its radiant beaches are a social gathering of all classes drawing in visiting sun-worshipers who ascend upon Cidade Maravilhosa, aptly named Marvelous City. The locals are known as cariocas which is also synonymous with all things Rio.
The cities pulse begins on its golden sand beaches. Rio oozes a sexy vibe dating back to the 1960s when bossa nova artists Tom Jobim and Vinicius de Moraes introduced the world to the alluring "Girl from Ipanema." Hardly a single day passes when beachcombers are not forming a volleyball game or gathering a group for a football match. While surfers ride neatly formed swells, or others glide along the promenade by bike, stopping off at the small food shacks to grab a bite or drink while soaking in the assembly of all humanity is the liberated seafront metropolis.
Music is Rio's vital spark. Amid all of the cacophony of sounds of its vibrant music scene, from old-schoolbossa nova to hip hop and rock to immerse into the marvellous city and discover the city's pulse, one must unite with the seductive African-influenced quick-fire Samba dancing.
Rio knows how to party like no other city on the planet. Its music-buzz and joie de vivre leads to the world's largest outdoor party held each year before lent the all-inclusive Rio Carnival; the city embraces all takers who grace its presence. As in all of Rio, football (soccer) looms large into the cultural landscape.
The cosmopolitan metropolis boasts the world's largest urban jungle. The Tijuca Forest covers over 12 miles of tropical rainforest. Within the cinematic backdrop's lush confines lies the cities crown jewel Corcovado (Christ the Redemer), a statue perched high above Rio with sweeping Sugarloaf Mountain views radiant beaches and tiny dotted islands off the coastline.
Don't miss these highlights of Rio de Janeiro.
Rio by Bike
I'm fond of mentioning that the best way to see a city is by bicycle, and Rio de Janeiro is an easy to maneuver urban area. Having a bike to ride around town gives you the flexibility to explore off the beaten areas and sets up serendipitous encounters with locals and new venues that you probably might have missed. You'll find Tembici bike stations scattered throughout Rio where you can grab a bike or drop one-off.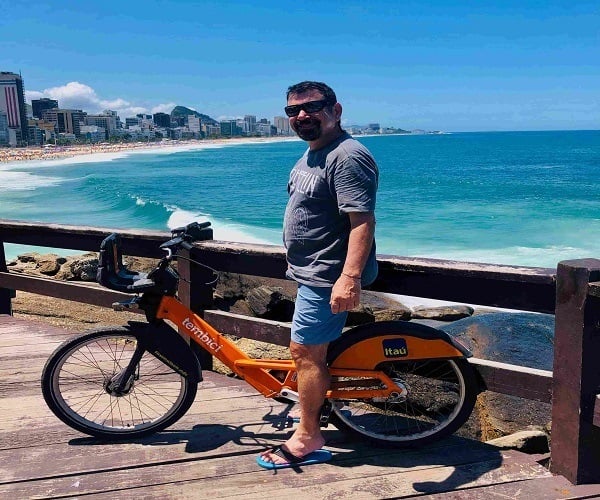 If you prefer to ride on a guided tour with experts and fellow enthusiasts, Rio by bike offers three-hour rides along the beaches to a seven-hour time that showcases most of the Carioca city's highlights. Along the routes, there are plenty of excellent vantage points for photos.
See www.riobybike.com for more details.
Free walking tour of downtown Rio and Lapa
Walking tours are a stellar way to get acquainted with your new surroundings and tips on other things to do in a city. Take a step back in time, discovering Rio's cultural city centre downtown and colonial  Lapa district. Led by passionate storytellers, you'll experience its fascinating history along with Brazilian culture brought to life through the eyes of a local.
After you've completed the downtown sights, you'll visit Rio's most dynamic neighbourhood with its bohemian feel. The highlight being the Selaron Stairs and painted murals. The steps 200 steps contain ceramic tiles sent to Rio from 60 countries around the world.
Best of all, this is a free walking tour with no set price. Each participant pays the value that they deem the tour to be worth or what they can afford.
See www.freewalkingtours.com for more details.
Hiking and adventure tours
Rio is a city within a tropical rainforest and one of the world's most spellbinding urban landscapes. See nature up close. The Tijuca forested hills of Rio are a must-visit to the Carioca city. Climbing near Rio's grand dame, Corcovado, is an unforgettable experience. Since 1999, the adventure travel company Rio Hiking offers has been offering multi-day hiking, backpacking, and private tours in and around the city.
Beyond hiking, the company adds adventure to any trip to Rio, specializing in multi-sport outdoor activities, including biking, ocean kayaking, surfing, scuba diving, hang-gliding, rafting, and cultural attractions. We operate in the city of Rio and nearby destinations: Ilha Grande, Paraty, Serra dos Órgãos, Bocaina, Itatiaia, Buzios, Arraial do Cabo, Minas Gerais and othe National and State Parks. Purposeful tours, creating unforgettable connections with nature, local people, and culture.
See www.riohiking.com.br for more details.
Carnival Experience (behind the scenes)
What is linked more to Rio more than Carnival? Suppose you miss immersing with the crowds of two million revelers per day, walking and partying in the streets, and entering the Sambadrome.  In that case, you can take a glimpse behind the scenes of the biggest show on earth by spending an afternoon with the passionate Carnival and Samba school authority at Carnival Experience.
Preparation for Rio's main event is an arduous task, including thousands of people behind the scenes beginning up to a year in advance. You'll delve right into the creation of floats, costumes, dance troops, musicians, and choreographers. You'll be fitted and dress in costume for the ultimate photoshoot at the end of the tour.
See www.canivalexperience.com for more details.
Cooking in Rio (prepare a meal with a local chef)
Learn the intricacies of the Brazilian kitchen with passionate, joyful, and witty star-chef Simone Almeida. Begin your culinary journey with a quintessential sugar cane Caipirinha cocktail. You'll feel right at home assisting Chef Almeida, preparing Brazilian culinary comforting meals in small groups in the cozy Copacobana kitchen created for intimate guest gatherings.
Taking the trip upon arrival or early in your holiday allows you to delve into Carioca culture with a greater understanding of the melting pot of cultures in this incredible seaside metropolis. Simone's passion for her environment is a highlight of any trip to Rio. You enter the class with a group of strangers before the cooking course, and as the lesson culminates, you'll depart, having made friends for life.
See www.cookinginrio.com for more details.
Discover Urca and Sugarloaf Mountain
Escape the fast pace of Rio for a tranquil visit to Rio's founding neighborhood. On the hump of Pao de Azucar or Sugarloaf Mountain is Rio's oldest settlement of Urca. The community consists of less than 20 streets and is amidst sweeping Guanabara Bay.
Urban Adventures offers a four-hour journey that included a taste of Rio's famous empadinhas (savory and sweet stuffed turnovers) and quench your thirst with a cold beer while blending into Carioca-life at "mureta da Urca."
From the base of Urca, Praia Vermelha on the fast-moving cable car is making the stratospheric ascent from the bottom of the Urca Sugarloaf summit. The mesmerizing far-reaching views from the top of the rock engulfs Guanabara Bay,  Copacabana, and downtown Rio. Savor Embrace the laid-back Carioca lifestyle.
See www.urbanadventures.com for more details.
Corcovado by train and the Maracana stadium
Take a four tour of two of Rio's unmissable attractions Corcovado, Christ the Redeemer statue hovering over the city, in the dense Tijuca National Park. The group tour begins at the cogwheel railway for a stairway to heaven journey through the thick forest. Upon reaching the summit, you'll be mesmerized by the 2,329 feet (710-meter) granite giant statue of Jesus.
Later the tour heads back downtown to one of the most famous stadiums in the world. Passionate futebol fanatics know that soccer is a way of life in Brazil, and in the Marvelous City, matches are held at its crown jewel Maracana Stadium. You'll receive a behind-the-scenes glance of where some of the world's greatest matches transpired. You'll sit on the team bench imagining Pele's 1,000th career goal and World Cup moments.
See www.aventuradobrazil.com for more details.
Visit Rio's favelas
To immerse Rio's heart and soul, one must visit Rio's low-income shantytowns located high above the city in the mountains known as favelas. The colourful buildings are a patchwork of the cities low-income communities. The hillside communities date back to the 19th century, occupied by fugitives and later slaves who were set free. Rocinha Favela is the largest in Latin America.
While many times affiliated with the drug trade and violence, nearly a quarter of Rio's inhabitants live in favelas. Samba, Rio's native dance, is a product of the favela lifestyle. Favelas come with a wealth of art and culture. Contrary to the myths created by the media, favelas are not constant warzones, and the proper guidance is an essential glimpse into understanding economic and political factors.
See www.nowinrio.com for more details.
Soar high above Rio on a tandem hang glider
Rio is one of the top destinations for adventure sports. If your a thrill seeker and hang gliding have eluded you but remains high on your adrenaline bucket list, few backdrops are as astonishing as Rio's verdant mountain cliffs. On the southside of Sao Conrado Beach, you can't miss the soaring pterodactyl-like giant gliders who gracefully land in the golden sand.
As Fabio, my instructor, mentioned, almost anyone can tandem hang glide. There is no unique skill set involved. You have to be able to run about 20 feet off the mountain then settle in as your instructor takes over. Wind determines the length of the flight, but 10 to 20 minutes is the average time. The journey begins as you soar over rainforest-clad mountains.  Photographers meet you at the beach landing, flight school office hut on Sao Conrado to preserve a most likely once-in-a-lifetime experience in photos.
See www.rioasadelta.com.br for more details.
Stay on a plantation farm (fazendas)
A bit of a stretch from the big city, but well worth the visit. The Vale do Cafe is an agri-tourism region located three hours north of the Rio city centre, most noted for its wealthy restored plantation houses known as fazendas. You can book a room in a handful of grand farmsteads, which date back to the colonial period of the 18th and 19th centuries—the decorated estates akin to the American south showcase an era when coffee and sugar cane fields were the main crops.
Sao Luiz de Boa Sorte and Fazenda Las Palmas are two of the fazendas where guests can spend the night. Most include breakfast, and some also serve dinner. These renovated manor houses are a step back in time and mix styles of stately decor—an educational journey into the lives of the Portuguese aristocrats who settled on these massive homesteads.
See www.valedocafeturismo.br for more details.