The Algarve is an area on the southernmost tip of Portugal, blessed with a warm and sunny climate, fine white sandy beaches, and glorious scenery.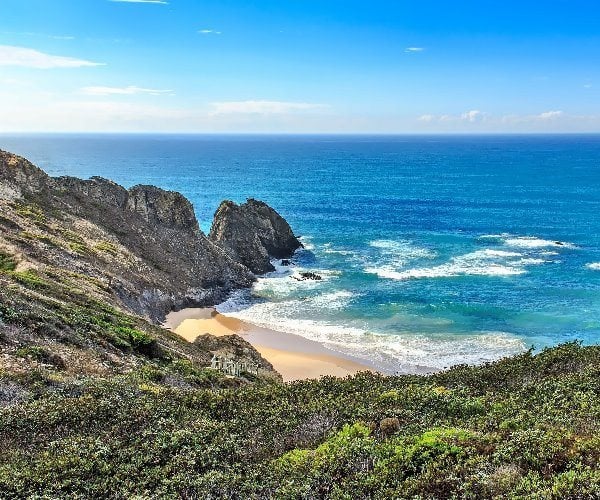 A redeveloped area, the Algarve retains the charm of quaint fishing villages. It also boasts a coastline lined with fine restaurants, bars, and villas. The Algarve is famous for its championship golf courses and many luxury hotels.
Here are five of the best resorts in the region.
Conrad Algarve
Built-in the style of an 18th-century Portuguese palace, the Conrad Hotel is an extravagantly beautiful resort in the gated community of Quinta do Lago. The area is part of the Golden Triangle, a prime tourist destination just outside Faro, the capital of the Algarve.
The area is something of a golfer's paradise with several world-class courses to enjoy where the Portuguese Open Championship and PGA European tours have been held. Additionally, the resort has much else to offer, including a Michelin-starred restaurant, lavish spa, infinity pool, private beachside facilities, a children's club, and gorgeous gardens.
Moreover, the décor, with Moorish references, maximizes the sunny natural light-filled spaces, striking marbled floors, and the color of contemporary art pieces.
There are 154 spacious luxury guest rooms and suites with every modern amenity. These include TV and entertainment systems, mini-bars, Nespresso coffee machines, air-conditioning, and Wi-Fi. Besides, wide windows let in light, and balconies enjoy fine views. The bathrooms are also lavish.
Furthermore, the suites add even more living space and luxuries.
The region offers many sporting activities, high-end shops, and classy restaurants in an area of outstanding natural beauty. Additionally, the resort is easily reached from Faro International Airport.
Anantara Vilamoura Algarve Resort
The Anantara Vilamoura Algarve Resort ideally sits close to the Vilamoura beaches. Stretching out under red cliffs, the Falesia beach offers visitors golden sands washed by the azure blue waters of the Atlantic.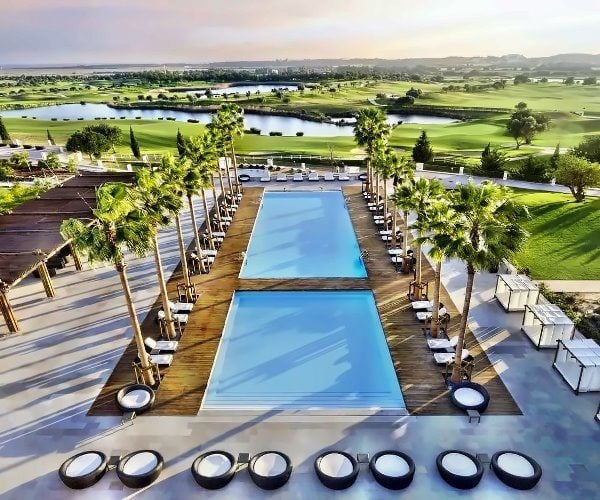 Additionally, the fabulous Purobeach nestles in a marina reached by a courtesy shuttle from the hotel. More sunny beaches also gild the coastline overlooked by Roman antiquities, picturesque fishermen's nooks, and the magnificent Victoria championship golf course – home to the Portuguese Masters.
The stunning palatial hotel is surrounded by lapis blue pools, palms, and fronds of greenery enjoyed in beautiful walkways or luxurious poolside sun loungers. Champagne in a private cabana is another poolside option.
Anantara's glamorous interior features a gallery of fine art, a sleek lounge, and a raft of upscale restaurants/bars. There is also an award-winning spa and exceptional kid's club activities.
The 280 opulent and spacious rooms and suites in contemporary style feature balconies and fine views over gardens, golf course, and the ocean. In-room amenities include Wi-Fi, a TV with video channels, and a bar. There is also a Nespresso machine and luxurious bedding with a pillow menu for comfort.
Additionally, the bathrooms have rain showers, tubs, and luxury bath toiletries. Besides, the suites add more rooms and extra amenities.
Pine Cliffs Ocean Suites, a Luxury Collection Resort, and Spa
Pine Cliffs Ocean Suites is an award-winning collection of expansive suites and apartments overlooking Falesia beach on the sun-drenched Albufeira coastline.
Perfect for golfers, the resort stretches out over the 168 acres of Pine Cliffs Golf Course with great facilities, gorgeous views, and gourmet dining. Accommodations are also beautifully designed with traditional Portuguese architecture, well-appointed, stylish in a fresh pastel colors cape featuring Luxury Collection signature beds and sumptuous sofa seating.
Additionally, floor-to-ceiling windows allow natural light to fill rooms, and balconies offer fine views. Some suites also have full kitchen and dining facilities for up to 8 guests. In-room amenities feature state-of-the-art technologies, and overlarge en-suite bathrooms have rainfall showers, tubs, and custom-blended deluxe toiletries.
Pine Cliffs also offers an exceptional steakhouse and seafood restaurant with an upscale vegetarian and other dining options indoors or out with fabulous coastal views.
Furthermore, the Serenity Spa is a vast oasis. It includes pools and luxury treatment facilities, wellness therapies, a fitness club, and exercise programs. For active guests, there are outdoor pools (one for children). There are also tennis courts and a host of recreational facilities nearby. Besides, Faro International Airport is only a short taxi ride away.
Vila Vita Parc Resort and Spa
VILA VITA Parc is one of the most exclusive and stunning resorts in the Algarve. Set on a clifftop above sugar-white sands, this 5-star ultra-luxe hotel resort is near the traditional village of Porches overlooking the sparkling Atlantic Ocean.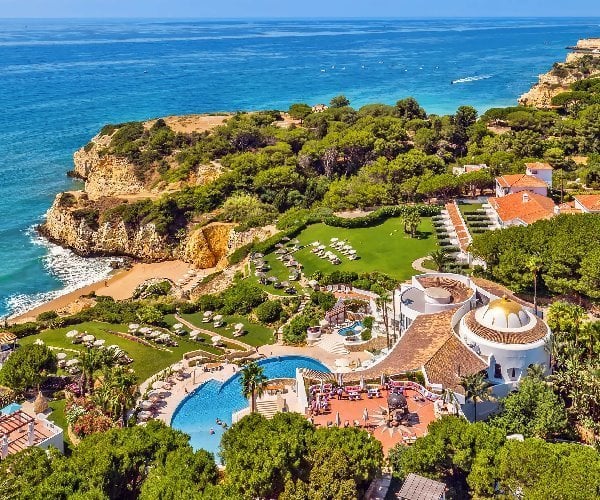 Lush blooming subtropical gardens surround the hotel's striking Moorish architecture. There are also numerous beautiful pools and a beach club in a charming secluded sandy cove. Additionally, the resort offers superlative accommodation, multiple dining options from casual to gourmet, and fabulous terraces with cerulean-blue ocean views.
There are also outstanding spa facilities and wellness therapies by French luxury brand Sisley. 180 lavishly appointed rooms/suites continue the Moorish themes in refined décor with floor-to-ceiling windows, balconies, and terraces enjoying gorgeous views over the gardens and Atlantic coast.
Furthermore, polished wood floors, ivory tonal colors with marine blue accents echo the scenic views. In-room amenities have everything guests could need or desire. Bathrooms are also deluxe with rain showers, tubs, and complimentary bath accessories. Moreover, the suites and villas add kitchens, dining rooms, extra bedrooms, and bathrooms as they scale up.
Bela Vista Hotel and Spa
Bela vista was originally built as a lavish private home in a dream elevated position on Praia da Rocha's clifftop. It had direct beach access and was renovated in 1918; it opened its doors as a fashionable hotel. Again recently refurbished, the modern hotel is even more prestigious, comprising the main house and 2 adjoining properties.
The facades and interiors feature stunning traditional Portuguese vivid blue/white and gold patterned tiling. Palacete also displays gorgeous wall panels, dark wood, and chandeliers. Modern rooms are original, contemporary light, bright, and pretty in the sky and sea blues. They also have jaunty yellow stripes and pink dots here and there. Besides, most enjoy ocean views.
Amenities include Wi-Fi, a TV with cable channels, air conditioning, and a mini-bar. There is also a coffee machine with luxury bathrooms and complementary l'Occitane toiletries.
This boutique hotel also offers a Michelin-starred restaurant, spa with hammam, sauna, and treatment rooms. There are also deluxe face/body therapies, children's activities, and a tranquil outdoor pool/bar.
Takeaway
The Algarve coastline offers miles of stunning Atlantic coastal scenery. Stunning beach resorts, prime golfing, water sports, historic towns and villages, and lively nightlife make this area one of the finest tourist destinations.
Guido Graf is Founder of Privateupgrades. Privateupgrades is a global luxury travel club with over 20 years of experience in luxury hotels, ensuring exclusive VIP privileges like upgrades, free breakfast, free nights, rate discounts, free airport transfers, free massages and much more.
If you would like to be a guest blogger on A Luxury Travel Blog in order to raise your profile, please contact us.