Though Hakuba is a well known international ski destination, and recreational mountain town in the green season, it also serves very well as a base from which to explore some of Honshu's best destinations. In no particular order, here are five of the best day trips from Hakuba.
1. Matsumoto Castle
As one of Japan's more impressive and complete castles, it's long history stretches back some 500 years before stability was established in the region, evident in its defensive features such as murder holes and arrow slits. The castle itself has been well preserved, and restorations have used timber instead of concrete (a fate that other Japanese castles have succumbed to). The castle walls, moat, grounds and garden are immaculately kept, and so a visit to Matsumoto castle is a great day out – any time during the year.
The Ice Sculpture Festival that takes place every winter is an incredible display of creativity and craftsmanship, uniting sculptors from around the world. As the temperatures climb, spring time sees the cherry blossoms frame the castle, as coy carp lazily meander the moat in the foreground – drawing together all of the elements that make for a quintessential view of Japan. Summer seems numerous festivals held at the castle, including Taiko Drumming and an Illumination, while autumn will produce crisp, anticyclone blue skies, punctuated with dramatic bursts of fall foliage; the Japanese red maples contrast strikingly against a blue sky.
Not only known for the castle, the Matsumoto City Museum of Art is another popular draw to the city, and as the home of internationally renown contemporary artist Kusama Yayoi, it stands to reasons that her work is a permanent exhibition. The recently built Aeon Mall will win the heart of any shopper, while the quirky handful of river side shops and stalls that comprise "frog street" offer a feel of the Japan gone by.
Mastumoto is 1.5 hours due south of Hakuba by car, though it can also be reached by train and bus. Golden Week (early May) and Obon (mid-August) can see it very busy, so it is advisable to avoid those times if possible.
2. Narai-juku
If you continue south from Matsumoto for one hour by car – though it would perhaps make more sense to do it as a separate day trip or stop overnight – you will reach the spectacularly underrated postal town of Narai-juku. In centuries gone by, The Nakasendo Way served as an ancient highway that connected the two major cities of Kyoto and Edo (modern day Tokyo). Busy with weary travellers moving in both directions, postal towns emerged at intermitted points along the way, providing inns, rest houses, eating establishments and small shops. As an especially well preserved section, the postal towns along the Kiso Valley are nothing short of remarkable.
Narai was said to be at one time the wealthiest of them all, evident by the number of houses and shops that have found their place in history on the 3 meter wide street. In spite of the devastating fires that have consumed so much of Japan's timber framed history, significant efforts have been made to preserve this notch in time, and you cannot help but be wholly transported to the Edo era. With no two alike in size, shape or design, the wooden buildings are squashed together – each making it's own bid to draw visitors inside. Whether you gripped by history or not, a visit to one of Japan's postal towns will be unlike any other experience on your trip.
You will also be unlikely to encounter other western tourists there, as almost no one that visits Hakuba – either as a one off or on a regular basis – has yet discovered the allure of Narai as a day trip.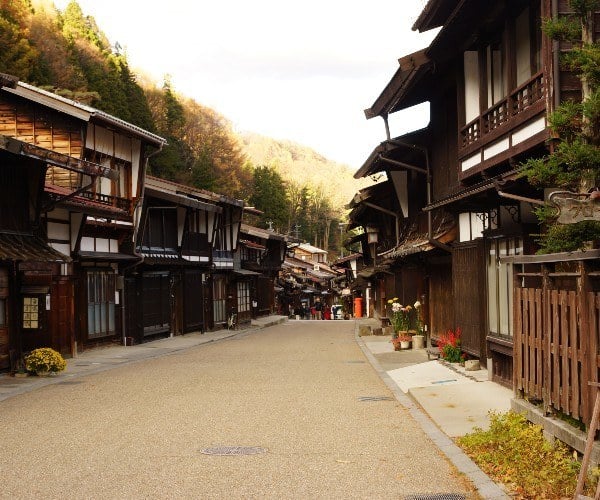 3. Kanazawa
Combining history, culture and contemporary points of interest, Kanazawa has long since been coined a "mini Kyoto". One of the main draws is the Kenroku-en Garden, considered to be one of the three best landscape gardens in all of Japan. Impressive in every season, it seamlessly balances the six characteristics essential in making the perfect garden – in accordance with ancient Chinese garden design. As cherry blossoms are so iconic in Japan, a spring time visit will never disappoint, especially as the blossoms that surround the castle and many of the walking streets are so dense and vibrant. The castle has been another casualty of fire in recent centuries, though once again, considerable efforts have been made to rebuild it as true to history as possible.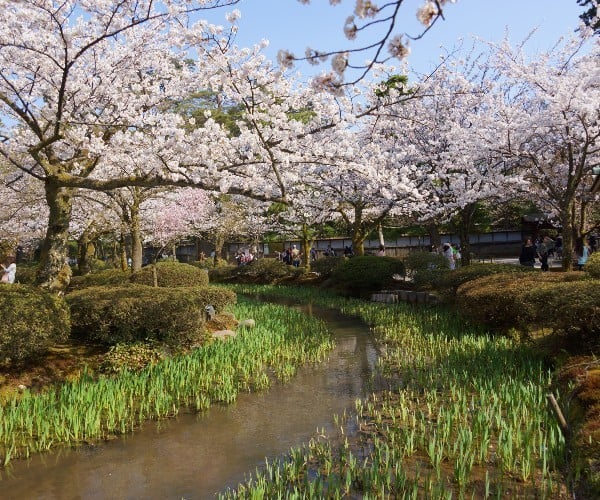 A short distance away from Kenrokuen and the castle grounds is the Higashi Chaya District – a small area of traditional tea houses where visitors can be entertained by Geisha. As one of just a few places in all of Japan where Geisha remain, three establishments in particular have been well protected throughout their centuries old history.
Contrasting old Japan entirely, Kanazawa is also home to the 21st Century Museum of Contemporary Art, frequently changing its exhibits to showcase some of the most influential artist at this time. The city's location on the Sea of Japan (south west of Hakuba, but with the spine of Japan's Northern Alps running north to south in between), means that the sea food is fresh and not short in supply, with some of the region's most celebrated sushi chefs established in the city. The fish market is an experience in itself, and as the area is also known for it's high quality sake, a brewery tour is always on the cards. Kanazawa is unique – bringing together the best of Japan, and enabling them to be enjoyed in one place.
4. Togakushi
Heading deep into the mountains due east of Hakuba Village, an hour in the car will place you in the high mountain village of Togakushi. As a notorious ninja stronghold, Japan's foregone assassins were housed and trained here. Fully embracing this unique history, there are museums full of ninja paraphernalia, and information plaques regaling stories of the regions most notable ninjas. And for kids, (and adults too, as it is surprisingly fun) there is a "ninja" or "trick house", from which you must find your way out of through one seemingly impossible room after another.
The true intrigue of Togakushi however lies with the four hundred year old cedar trees that line the approach to the Okusha Shrine, some two kilometres on foot from the trail head to the shrine itself. Designated a Natural Monument, more than 300 hundred trees stand tall like majestic sentinels, guarding the mystery beyond as you draw closer to the sheer rock wall of Mount Togakushi – telling of your arrival at the shrine. The transportive power of this walk is remarkable; the history, religion, superstition and mystique that shrouds it is almost tangible.
5. Joetsu Aquarium
Finished in 2018, this modern and thoughtfully designed aquarium replicates the very Sea Of Japan upon which coast line it is located. Starting on the open air top floor, you can look down onto the main tank, distinguishing the to scale features that define this section of the Nihon Kai (that is, Sea of Japan); such as Sado Island and Toyama Bay. As you work your way down the inside of the building, marine life that would be found in the sea beyond the aquarium walls can be observed, and as you descend lower into the building, you encounter the deeper sea creatures – such as Japanese Spider Crabs, octopus and squid.
There is excellent information in English, and considerable effort has gone into making it an informative and education experience, whilst remaining true in reflecting the ocean life that exists just meters from the building, and surrounds a large part of this island nation. A highlight is the dolphin show, and if you observe them on the open air top floor, their infinity tank seamlessly meets the Nihon Kai beyond. Joetsu Aquarium is 1.5 hours north of Hakuba, and the drive along the coastal road – instead of the expressway – is picturesque, as you work your way through forgotten fishing villages.
It is all too easy to miss the magic that surrounds resort towns, especially when the focus – and therefore the associated marketing – is so heavily tilted towards one thing, i.e snow sports. Hakuba is multidimensional, and as well deserving as it is for it's winter renown, it is also an excellent year round base from which to explore some of the region's best day trips.
Nadine Robb is Owner and Instructor at Hakuba Ski Concierge. Hakuba Ski Concierge is a boutique ski school in Hakuba, Japan.
If you would like to be a guest blogger on A Luxury Travel Blog in order to raise your profile, please contact us.