Western Tanzania is often overlooked as a destination. It is an area that receives very few visitors in comparison to the rest of the country which consists of the renowned Serengeti and Ngorongoro Crater. Made up of Mahale and Katavi, the remote location of these two wilderness destinations, coupled with incredible wildlife and beautiful accommodation makes it the perfect combination for anyone looking for an unforgettable, adventurous experience. For couples or honeymooners, the destinations are also the perfect setting for a romantic getaway.  Although flight logistics are not the easiest (only twice a week!), this helps add to the remote and true wilderness feel.
Primates
Mahale is famed for its primate trekking. Here you can go in search of the famous Mahale chimps that have been the focus of research for over thirty years. Sharing around ninety-eight percent of our DNA, being amongst the chimps is an experience like no other. Unlike gorilla trekking in other parts of East Africa, the chimps are constantly on the move so having a good level of fitness is a real benefit and seeing how the political and family structures playout over the hour is remarkable.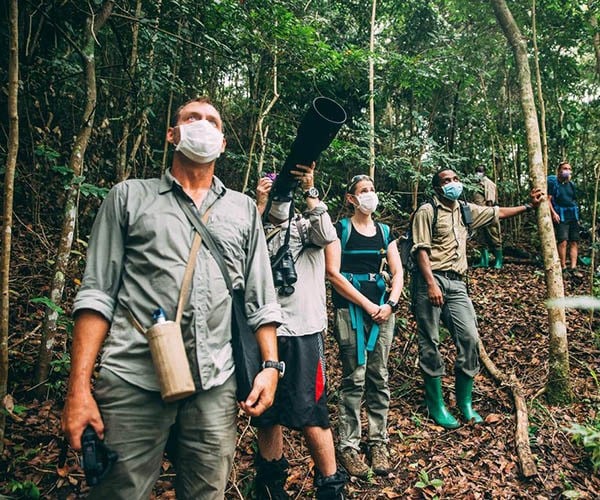 These chimps have been subject to habituation for over thirty years when Japanese scientists started to study their behaviour up close. The habituation has now allowed us to gain an incredible insight into the chimps' lives. With Covid-19 ever present in our current lives, you will be pleased to know there has been no impact on the chimp trekking experience. Treks are still occurring daily, and a face mask must be worn when with the chimps. Interestingly, a face mask has always been required when trekking with chimps. Due to their almost identical DNA, they have always been susceptible to human colds and diseases, so the face masks have and continue to prevent any cross contamination.
Although the chimps are the main draw factor of Mahale, there is plenty of other wildlife in the Mahale Mountains National Park. From hundreds of species of birds, other primates and a whole host of mammals, a hike in the forest is certainly never dull.
Iconic African animals
Whilst Mahale specialises in chimp trekking, Katavi is a park that showcases some of the biggest congregations of iconic Africa animals seen in Tanzania.
As the dry season progresses, water sources become extremely limited and as the heat of the day takes grip, animals struggle to find shade to cool off. Hippo pods in their hundreds jostle and shove their way into the last remaining mud pools and crocodiles in their desperation, seek out caves for relief from the heat. These cave dwelling reptiles are a sight to behold as they too fight for the best spot.
It is not just the animals whom are water bound that congregate in their hundreds. Buffalo herds larger than anywhere else in Africa graze their way through the last remaining grasslands and lion prides take advantage of the weakened herbivores, taking down hippos and buffaloes and feasting for days.
Although the overall animal density is not as high as that of the famous Serengeti or Ngorongoro Crater, with so few visitors in Katavi, you can be assured that each sighting will be a private and almost exclusive experience.
Incredible lodges
Almost as important as the incredible wildlife are the accommodation options in these two remote wilderness areas.
Greystoke Mahale is the flagship property of Mahale run by Nomad Tanzania. Accessible by boat, the barefoot luxury lodge sits along the shore of Lake Tanganyika. With six thatched bandas, all complete with an en-suite, an upstairs relaxation deck is the perfect sundowner spot with stunning views across the lake. The main area comprises of a large communal dining area, a library and an open-air bar, all adding to the desert island feel. Behind the lodge sits the forest of Mahale where birds can be heard singing and chimps calling.
Just like Mahale, Nomad Tanzania have established an incredible lodge in Katavi. Chada Camp is one of the more authentic and rustic bush camps you will find in Tanzania. Following Nomad's style of simplistic luxury, Chada offers a true safari experience. Six canvas tents are equipped with en-suites and beautiful views across Katavi's endless wilderness. The outdoor bucket showers also offer the chance to feel even closer to nature. The main area comprises of indoor and outdoor dining areas and the campfire is the pick of the spots in the evening. Sit and swap stories with other travellers about an enthralling day on safari.
Fly camping
Only available in a handful of destinations across Tanzania, fly camping is an activity for the adventurous guest. The beauty of Katavi's vastness allows many days of fly camping without ever treading on the same spot of ground.
Fly camping only adds to the thrill of safari. Spending the night in a dome tent under the stars of Africa is certainly an experience never to be forgotten. With the sounds of the bush feeling ever closer and the luminance of the campfire, fly camping enables you to experience what it was like for our ancestors who roamed the African plains by day and night.
Accompanying the fly camping experience is a walking safari. Here you can explore the smaller (but no less important) aspects of safari such as tracks, dung and arthropods. If you do happen to come across big game, the thrill is like no other. Being on foot with wildlife reiterates how incredibly powerful mother nature truly is.
Idyllic settings
What makes Western Tanzania such a draw however is the peaceful and isolated experience one can achieve here. The landscape is breath-taking in both areas. The vibrant green forests of Mahale and the turquoise blue water of Lake Tanganyika contrasts to open acacia studded bushveld of Katavi.
With so few visitors, and little to no internet connection in the camps, the West is arguably the destination in Tanzania to escape the hustle and bustle of everyday life and enjoy nature in a pure and simple way that is becoming ever-increasingly difficult in today's world.
Marc Harris is Managing Director of Tanzania Odyssey. Tanzania Odyssey is a leading tour operator that has specialised in Tanzania since 1998.
If you would like to be a guest blogger on A Luxury Travel Blog in order to raise your profile, please contact us.