The opportunity to experience authentic Ibiza is something that relatively few take the time to do. A yacht charter discovering this island's hidden treasures is the ultimate way to travel whilst affording a chance to create unique and unforgettable memories. Explore isolated coves, spot wild orchids in almond groves and stroll through whitewashed hamlets exuding peaceful allure. This is Ibiza beyond the crowds.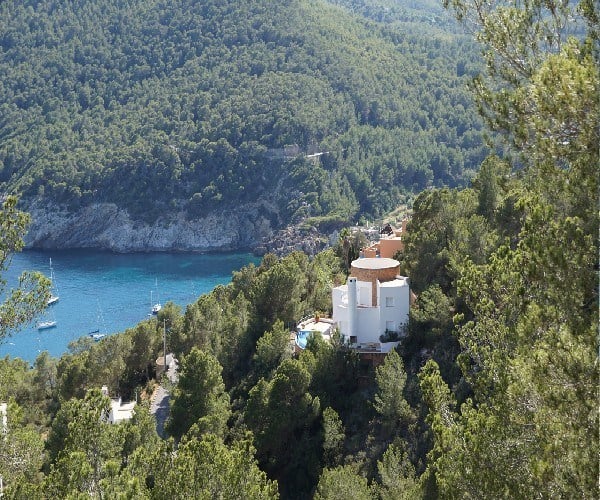 Having earned the moniker of European party capital, where world-famous clubs welcome those who sleep all morning, siesta in the sun then dance the night away, it must be stressed that Ibiza is certainly no one-trick pony. Much more than just a party location, this island ranks as having some of the most popular sailing grounds, thanks to consistent easterly winds plus a superb selection of marinas and anchorages available to visiting yachts.
With a coastline of more than 200km, countless wide, golden beaches with shallow water beckon, and it is no wonder this is a great destination for young families. From a yacht it is easy to access tiny bays, often completely deserted, that would otherwise be inaccessible or unseen from the winding country roads. Anchor off the more popular beaches to take a fun windsurfing, kayaking or paddle boarding lesson; activities done, kick back and take a well-earned siesta in seclusion on your yacht. Inland cycling tracks and hiking paths tour the numerous olive and carob plantations, fringed by ancient stone walls. Natural beauty abounds alongside rich heritage, much of which is still resident in the quiet cobblestone streets of Eivissa, where the long-reaching views from the medieval castle at the top of Dalt Vila are quite remarkable.
One of Ibiza's most magical sights is sunrise over Es Vedra, the iconic 400m high rock soaring up from the sea that dominates the west coast. Prime viewing spot is at Torre des Savinar, the 18th century defence tower directly overlooking Es Vedra and its little sister, Es Vedranell – said to resemble the pointed backbone of a dragon asleep! Surrounded by an undeniable air of mystery, tales of strange flying objects and unexplained magnetic fields have unnerved the local fishermen, who continue to give the rock a wide berth.
The southern region holds great ecological significance, with Las Salinas National Park protected reserve stretching 6km over to the neighbouring island of Formentera. A haven for divers, lured by the exceptionally rich marine life, the park also offers shimmering salt flats and silky lakes where peregrine falcons and flamingos stop en route to Africa. Leaving from the yacht at anchor in Es Torrent, the calm, clear waters are perfect for a leisurely kayak adventure. Paddling east, the ochre-hued cliffs are topped with sparkling glass-fronted mansions and around the peninsula in Porroig is a hotspot for yachts to moor in the sheltered bay. A well-kept local secret, this is a quiet location even in the height of summer, where rickety wooden fishermen's huts line the end of the deserted beach. Es Torrent Restaurant tucked away here is one of the best in Ibiza – try the islands' speciality, 'Bullit de Peix'
If you are looking for paradise, the magical cove of Sol d'en Serra comes pretty close. Located in the north west region with incredible views of the surrounding cliffs that tumble to meet the Mediterranean Sea, the pebbly beach here is simply beautiful. Anchor offshore to wake up to a breath-taking sunrise where early morning yoga enthusiasts' practice on the beach and snorkelers spend hours exploring the crystalline waters. Feeling very much like an out-of-place millionaire's private beachfront, the stunning backdrop and intimate size make this a very special location indeed. It's a place you need to see to believe. Leave your yacht for the evening to discover the culinary delights of Amante Beach Club with sensational lighting showcasing the setting in spectacular style.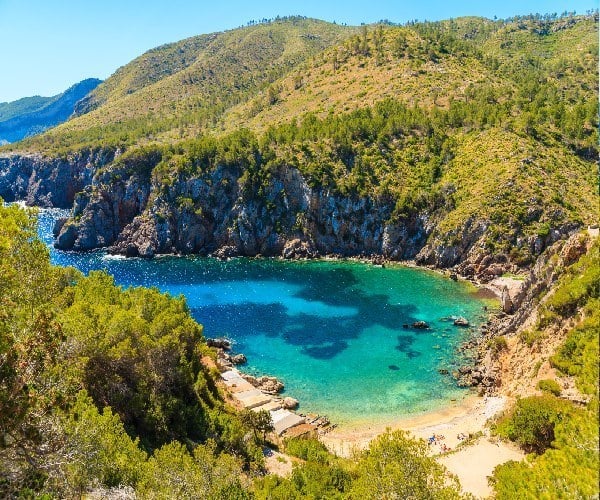 Dating back to the early 1960's, Ibiza has strong artistic roots, when painters and designers flocked to the island for its unique atmosphere, fantastic light, and freedom of expression. Today, the hippy markets are a colourful remnant of this era, providing the opportunity to buy handicrafts or souvenirs, enjoy a local meal and listen to live music. The night market of Las Dalias is filled with hustle and bustle, where specialities including hand-made jewellery are a big feature. During the day the oldest and largest market of Punta Arabi is full of atmosphere, set amongst pine trees and whitewashed houses. For a genuine experience, to the north, the charming San Miguel artisan evening market is a family affair, filled with products unavailable elsewhere and always with a presentation of ball pagès, the traditional Ibizan folk dance.
Each of the Balearic Islands has an individual style and character-packed Ibiza is most definitely the island of choices. If you are seeking seclusion in an away-from-it-all escape, the bustle of superb waterfront restaurants serving local fayre, or wide, velvet beaches for family fun, the white isle certainly hits the mark. It is no wonder this extraordinary island is a favourite with yacht charter guests year after year.
Nicholas Dean is Managing Partner of Ocean Independence. Ocean Independence is a global leader in luxury yachting, providing a bespoke experience across yacht charter, sales and management.
If you would like to be a guest blogger on A Luxury Travel Blog in order to raise your profile, please contact us.