It has been some journey. Shire Hall for the County of Berkshire, completed in 1911, has become Reading's only five star hotel, recently described as "the UK's sexiest townhouse".
Boldly built in Queen Anne symmetrical style, facing onto Forbury Gardens and its bandstand, with a central three bay portico framed by Doric order columns, today The Roseate Reading is a sophisticated retreat from the 21st century.
Councillor's minutes and alderman's budgets were swept away in 1981. Nowadays, the Grade 2 listed building is artfully, opulently, sumptuously plush.
The welcome
We are warmly welcomed, relieved of our luggage, and taken to the lift – opposite the original lift-shaft which now houses an 86,000 Italian bead chandelier. Chocolates await us in our room.
The room
In the main house, each one of the 23 walnut-floored rooms and suites is a tranquil mini-art gallery featuring a sinuous wrought-metal animal sculpture by Claire Norrington.
Lavish soft-furnishings, sensuous female nudes by "Painter of Venus" Alain Bonnefoit, an impressionist landscape by Isabelle de Ganay, decadent sawn oak William Yeoward furniture, deeply sumptuous four poster beds, gentle pools of teardrop-table-lamp light seeping away into darkness, rugs by Diane Von Furstenberg – all these contribute to the "UK's sexiest townhouse" accolade.
In our classic room, sash-windowed Room 16, a white fringed fire-place, taller than the tallest of chambermaids, contrasts against a feature wall of dark cerise wall-paper overlaid with muted lilac fern fronds.
An Nespresso coffee-machine with a wide range of capsules, a kettle and a mini-fridge – cooling a flask of fresh milk – are all discretely hidden away in a cavernous, mirrored wardrobe.
The bathroom
In a high-ceilinged building, originally planned with grand Edwardian proportions by architects Herbert Austen Hall and Septimus Warwick, the spot-lit bathroom is larger than some U.K. hotel bedrooms.
The walk-in rainfall shower is approaching wet-room proportions and as well as the gleaming heated towel rail there is plenty of space and hooks to hang-up used fluffy white towels.
Facilities
Discretely distanced from The Reading Room Restaurant by shimmering translucent curtains, the Reading Room Bar takes cocktails very, very seriously with a menu that is a literary publication in its own right.
Pride of place on the list must go to Oscar's Enigma – rum, maraschino, lime and grapefruit – a tribute to Oscar Wilde who was imprisoned in nearby Reading Gaol. Similarly, the 1984 cocktail, recalls George Orwell's days living locally downstream at Shiplake.
Moving through to the restaurant, Executive Chef Rajesh Maharjan, has created an eclectic menu from influences gathered on his culinary journey across continents: roasted butternut squash soup is topped with an ethereal coconut foam. Minimalist chorizo cubes perfectly compliment succulent Orkney scallops. While salt aged sirloin of beef with king oyster is a regal combination. A fenugreek sauce is a spicy take on an aromatic duo of lamb: rack and fillet. Of course, presentation is as colourfully elegant as the interior design.
Derived from the Sanskrit word for pure and translating from the Hebrew as a feeling of purity, grace and elegance, the Aheli Spa promises rejuvenating escapes. The Aheli Journey is 300 minutes of bliss composed of steam, body scrub, body wrap, massage and bespoke facial for either individuals or a couple.
Within the spa there is a small gym offering ninth-floor views over Reading to pass the time on the bikes and running machines.
Location
The Roseate Reading is a short walk from The Thames. From there you can meander along a section of the Thames Path that is quintessential England, straight out of The Wind in the Willows or Jerome K Jerome's Three Men in a Boat. An afternoon stroll could take you to Sonning and back, a full day's walk, perhaps with lunch at the River and Rowing Museum, would feature Henley-on-Thames as its furthest point.
For urban pleasures, The Oracle, is a vast shopping mall with dozens of retail options, riverside cafes and restaurants. As the hotel is a mere five-minutes walk from Reading Station, many guests arrive by train.
Other nice touches
A private cinema, with 30 Italian leather covered seats, can be booked for a film of your choice.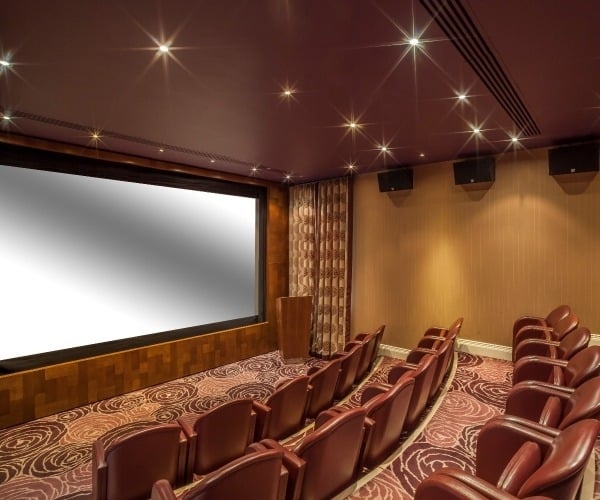 Families use the cinema for special celebrations and reunions. At other times, couples book it for a decadent just-for-two date night.
The cost
Rooms begin from around £120.
The best bit
As well as rooms and suites in the main house featuring three especially commissioned pieces of art there is exquisite craftsmanship and art displayed in the public areas too.
Sculptor Simon Allen's work features in both the library and the lounge. His sculptural reliefs are inspired by Cornwall's landscape and light.
The final verdict
A hidden gem in a quiet leafy and historic corner of Reading. Superb value rooms and fine dining but there is so much more to The Roseate Reading with its cinema, spa and glorious art.
Disclosure: Our stay was courtesy of The Roseate Reading.