By
Christian Larss Kreković
on May 24, 2021 in
Attractions
,
Croatia
,
Cruises & Boat Travel
,
Eastern Europe
,
Europe
,
Food and Drink
,
Going Out
,
Honeymoons
,
Regions
,
Spas & Pampering
,
Speciality Travel
,
Travel Miscellany
Whether you like to celebrate an anniversary, engagement, wedding or any other occasion or simply spend some quality time with your significant other, Dubrovnik is your ideal choice. With its UNESCO-listed Old Town, dreamy coastline, and lively social scene, it's no surprise that Dubrovnik is regarded as one of the most romantic destinations for couples.
A session with a local photographer
Instead of relying on selfies or strangers catching memories with your camera or tablet, employ a local photographer to catch your favourite Dubrovnik moments. You'll be spoilt for options for spectacular places in the Old Town, which looks like it's straight out of a fairytale. A talented local photographer can make the most of the sunshine, weather, and landscape while keeping your couple's vibe and personality in mind. As an added bonus, you can get insider advice about what to see and do in Dubrovnik during your vacation.
While city walls, fortresses, medieval bridges, cobble streets with renaissance-baroque or beaches with Old Town in the background make obvious locations, why not consider some lesser-known spots like summer residences of Rijeka Dubrovačka, open-air park Orsula, recently renovated Park Gradac, or padlocks of love at Boninovo? In either case, the moment and emotions captured will last a lifetime.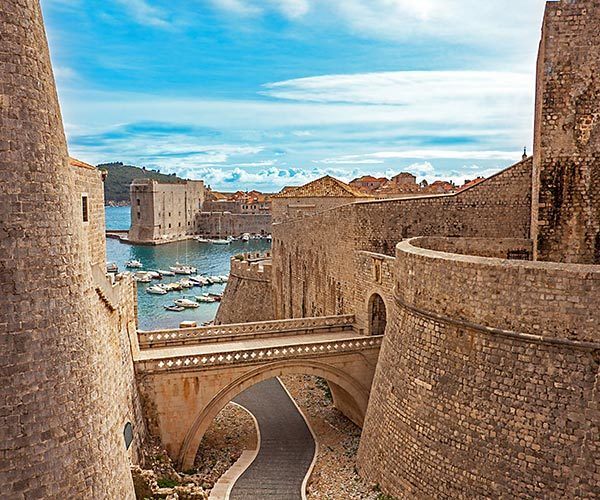 Dubrovnik locks of love
Dubrovnik, like Rome's Ponte Milvio and Paris's Pont de l'Archaveche and Pont des Arts, has its own special place for the celebration of love. It is located on 'Boninovo,' a popular Dubrovnik neighbourhood with the blue sea on the horizon, only a 10-minute easy walk from the Old Town. Couples from all over the world travel to Dubrovnik to lock their love; if you want to do the same, bring your lock, inscribe a romantic pledge, and find your spot on the Boninovo fence.
Discover Dubrovnik culture
Usually, a vibrant town with year-round festivals and cultural events attracting locals and tourists alike, the last year in Dubrovnik has had a slower, quieter pace due to the unprecedented situation…Just perfect to rediscover the centuries-old heritage and culture from a completely different perspective. From a selection of museums and exhibitions in galleries to theatre and musical performances on the baroque stage of the Marin Držić Theatre or the city's palaces, atriums and churches, Dubrovnik has something for everyone.
Dubrovnik Museum scene offers historical Cultural History Museum in the Rector's Palace, Maritime Museum in Fort St John, Ethnographic Museum Rupe, and Archaeological exhibitions in Revelin Fort, but also features recent additions like The Red History Museum, Homeland War Museum and Love Stories Museum. This is the place to go if you want to find true love stories 'spoken' through nostalgic pieces.
When it comes to arts and culture, nothing says romance like Dubrovnik Summer Festival. For more than 70 years, the Old Town transforms into the open-air stage for theatre, dance, art, classical and contemporary music from July 10 to August 25. Opening and closing ceremonies are amazing events featuring special performances and VIP appearances. Find your spot under the starry sky to watch the fireworks hand in hand in the old port or from a cosy little restaurant.
Private sailing (or yacht) experience
In the mood for a romantic experience at sea? Rent a yacht with a skipper and sail away to beautiful south Dalmatia's archipelago, equally magical at daytime sea at sunset. Explore secluded bays, sandy beaches, hidden coves or vibrant lifestyle of nearby charming Elaphite islands – Kalamota, Lopud or Šipan. If you are looking for utmost privacy, some of the most enchanting places include the small island Jakljan, Sikirica Bay or Divna beach on Pelješac peninsula.
True sailing lovers should take the time to visit island and islets scattered along the coast, all the way to Marco Polo's birthplace, Korčula island or even National Park Mljet on Mljet island. When it comes to sea cleanliness, the crystal blue Adriatic sea is second to none! This is not only a great opportunity to swim, snorkel and soak up the sun, but also try some authentic cuisine and live the island life in Dalmatia.
Sit back, relax, feel the breeze in your hair, and enjoying amazing Croatia's coastline!
Wine tasting on the Pelješac
Croatian wine and its cultivation on the Southern Dalmatian coast can be traced back to the ancient Greek settlements on the islands of Vis, Hvar, and Korčula over 2,500 years. Many early grape varieties, including those used by many other old world wineries, are still in use today.
Vineyards in the area, especially those on the rural Pelješac Peninsula, produce excellent local wine and provide unforgettable wine tasting experiences. Look for the red wines 'Dingač' and 'Postup,' which are both made from the 'Plavac Mali' grape, which is similar to Zinfandel and is grown on the steep sun-kissed vineyards sloping downwards to the sea. Some of the best wineries include Matuško Winery, Miloš Winery, Korta Katarina Winery, and Saint Hills Winery.
If you get hungry after the wine tour stop in Mali Ston to try the local speciality – raw oysters, or other seafood dishes on offer. Mali Ston Bay is known for cultivating some of the best clams in the country, thanks to the Pelješac's salt beds and very clean water. A day driving along the Pelješac is a day you'll remember for the rest of your life.
Spa time for couples
End your stay in Dubrovnik with a luxury spa experience for couples, or look for a resort day available, typically in luxury hotels and resorts. Take your time to unwind in the pool, jacuzzi and saunas, and then enjoy a soothing spa couple massage with a relaxing private time in a spa suite with a glass of champagne.
For a unique wellness experience at the Adriatic Sea, reserve your spot in the VIP beach area and pamper yourself with the massage treatment directly at the beach. Relax and reconnect in the privacy of your baldachin lounge, sipping drinks or champagne while soaking up the vitamin "sea." Enhance your stay with the lavish, customized services that Dubrovnik is known for.
Christian Larss Kreković is a General Manager at Sun Gardens Dubrovnik. Sun Gardens Dubrovnik is a luxury resort on the Adriatic coast in Croatia offering bespoke guest experiences.
If you would like to be a guest blogger on A Luxury Travel Blog in order to raise your profile, please contact us.