With so much uncertainty surrounding international travel, whether or not we will be able to interact with those outside of our "bubble", and our employment arrangements – it in unsurprising that sales in the home fitness and outdoor sport industries have soared during the pandemic. With less attention placed upon travelling away from home, the focus has sharpened on the actives available on our "doorstep", and what new, health enhancing experiences can be enjoyed in nature. He are five outdoor pursuits that to try this spring, summer and autumn as a family.
1. Hiking
The benefits are bountiful, from physical exercise to mental health advantages, and a great way for kids to burn off energy, use their imagination and engage with their surroundings. Hikes with young children can be slow initially, but it is an investment worth making as they grow to be adventurous, problem solving, resilient and connected with nature adults. A lot of the challenge for young people is motivation, and playing hide and seek an eye spy along the trail can go a long way in making it more appealing for younger children, while doing riddles or exchanging stories are ways to keep the interest alive in older ones.
If you are new to hiking, the key is to start off with smaller, easy to approach hikes, and then gradually increase the distances involves and difficulty as your comfort and skill levels – and that of your family – increase. However long or short your hike is, be sure that everyone has terrain appropriate footwear. Few things dampen a hike like blisters or twisted ankles, so choose shoes or boots that have good ankle support, good grip, are weather resistant and have been broken in prior to any larger adventures. New shoes have a tendency to rub with the first few wears, so it is best to hold off tackling any larger hikes in brand new shoes. Wearing them around the house, while doing errands, or for smaller excursions first is preferable, and will allow you to identify and potential problematic areas, such a sore heels or squished toes.
Smaller children tend to be less vocal about sore ankles or feet, so do frequently check these areas at skin level during and after the hike. Always bring a first aid kits – containing bandaids, antiseptic wipes/spray, gauze and a bandages. Be sure to bring plenty of water, snacks, and an extra layer. If it is hot, then sunscreen and a hat also need to be brought.
2. Paddle a lake, a river or the ocean
Getting on the water in a boat is great for team work, learning new hand/eye movement patterns, better understanding waterways – their ecosystems and hydraulics – anticipating what lies ahead and decision making skills. As a family, a waterway can be navigated with each family member having an opportunity to take the lead and "captain" the vessel. At entry level, a canoe or paddle boat on flat water, that is, a place where there is no current, is a great way to start by mastering the strokes necessary for paddling through moving water. Learning a "forward paddle", "backward paddle" and a "J stroke" in a canoe will allow you to move at ease, and even relatively young children, from around 8 years old, can master these. Younger children can practise holding a paddle correctly and the forward paddle movement.
Depending on where you live, river floats – which will be very slow moving, gentle water ways with no strong currents, obstacles or sections of white water – are a great way to graduate from lakes. Rivers suitable for a "float" are often well known within an area, and local paddle enthusiasts will be the best sources of information on these, and where to put in and put out. It is absolutely essential that you never run a river float or paddle unless you are 100% of its course and all sections that you will be passing. You may be able to conduct a visual assessment before hand via car or on foot, and if you are renting a canoe or paddle boat, the business renting to you will be able to advise on your proposed route. Never paddle blind – without knowing exactly what is to come.
Life jackets are essential for everybody, no matter who you are or what your personal swimming competency is. Be sure that lifejackets on children are size appropriate – not too big – and that for children 12 and under there is a clip between the legs, connecting the front and back. This prevents a lifejacket from slipping over their head, and allows adults to grab them by their lifejacket – without pulling it off – if need be. Water, sunscreen, hats and a first-aid kit are important to bring, and a dry bag or ziplock is a good idea if you're planning to bring electronics on the water.
3. Mountain biking
Even from the age of 2, Strider bikes are an excellent way to develop balance and coordination, allowing for the sensations of forward travel and steering to be mastered without demanding the strength and timing needed for peddling. As they improve and get older, peddle bikes can be introduced around 4 or 5, by which time training wheels may not be necessary at all if they have spent time on the Strider. Pump tracks are an excellent way to further develop skills in young people, whilst providing ample fun and challenges. Even small scale pump tracks can be easily created around the perimeter of a garden or open space, and navigating the features will equip both kids and adults with the necessary tools to manage uneven, up and down terrain that may be encountered on bigger trails.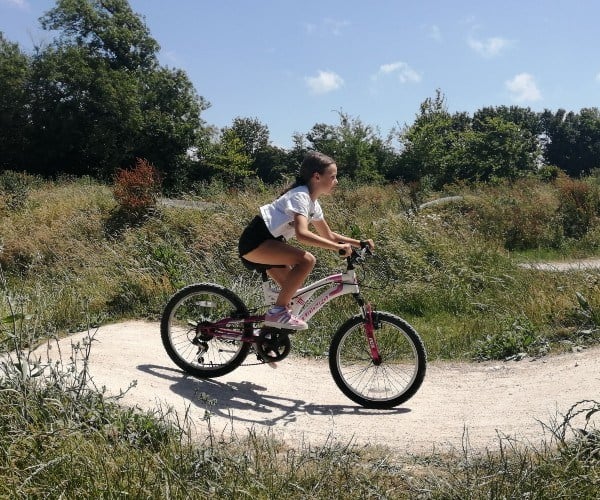 For adults, getting enthusiastic about biking will allow for more areas to be explored that may not be accessible by car, and present new challenges through skill acquisition. If you are new to mountain biking, then finding a relatively flat yet unpaved trail will provide the best environment to learn the "neutral" and "downhill" positions, and as you become comfortable standing up off of the seat and managing uneven surfaces, a pump track will further progress your riding.
Helmets are essential at all ages and skill levels, and always bring water, a first aid kit and means to contact people should you be biking in remote areas. If you are in bear country then attaching a device to sound your approach and carrying bear spray in a holster is advised.
4. Climbing
This could be up a tree, or a rocky cliff face. Whatever the level, climbing is an excellent way to stimulate critical thinking, problem solving and overcoming challenges. Not to mention the physical advantages of muscular endurance, flexibility and strength. Young children learn basic climbing skills from a few months old as they learn to use their upper body to pull themselves up to steady themselves, and continue unwittingly harnessing these skills throughout either toddler years. As they grow, treehouses, climbing frames, climbing walls and bouldering on rocks are approachable ways for them to continue progressing these skills, and require no specialist equipment to do so. That said, helmets are always advisable when heights are involved, and constant supervision is essential.
For adults, learning some rope-work and basic bouldering techniques are great ways to start, and as you add to your climbing equipment inventory, seek out some good top roping spots in your area. This is the best way for adults and kid to get a feel for climbing on real rock, and even smaller children can use the safety of a harness to scramble smaller sections.
Safety is paramount, and helmets are essential when in or around rock. If you are in anyway unsure of your rope work, equipment or intending climbing route – don't do it. As with all of these sports, professionals in this sport will be your best source of information and assistance.
5. Golf
Where there are mountains or wide open spaces, there are golf courses. Perhaps not the place that our mind immediately goes to when we think about engaging in family sports, but perhaps it should be. With all of the benefits of being outdoors, golf is a great way to improve focus, concentration, patience and frustration management – all of which the average child (and adult?) could benefit from. Demanding calculated, controlled movements, golf is as much of a mental game as it is a physical one, and that is particularly true for children. It is also one that produces a measurable outcome (a score) and so a level of maturity is necessary in dealing with disappointing results.
The easiest and most enjoyable way for children to enter the golfing world is through mini golf or putting games. Fun, creative courses to navigate provide playful environments for kids to hone the necessary hand/eye coordination skills, without making it too serious or difficult. Putting greens, or even creating a putting course in your back yard, are more ways to make it fun and to get them involved, and as they get older, visiting your local driving range provides a smooth progression to more powered shots.
It is hard to tell if more patience is required from the parents or the kids, as much is required from both. Approaching it with a relaxed, family fun attitude will help to preempt (though not avoid) frustration. Family golfing can be a lot of fun, and a sport that can be enjoyed in most places around the world. As always, drinking water and sun protection is necessary in hot weather, and practising proper etiquette on golf courses is important; each course will also have its own rules and guidelines, so it is worth doing some research first to find a suitable establishment to bring the family to.
This summer will surely be different from those that we are used to, but in the event that we find ourselves with some extra time at home, it may just be the perfect time to try some new outdoor sports as a family.
Nadine Robb is Owner and Instructor at Hakuba Ski Concierge. Hakuba Ski Concierge is a boutique ski school in Hakuba, Japan.
If you would like to be a guest blogger on A Luxury Travel Blog in order to raise your profile, please contact us.