Many travelers are beginning to plan their post-pandemic getaways. Many also realize that a tailor-made adventure tour to the Galapagos Islands is an absolute must for satisfying their scientific curiosity or their nature-loving passion.
Located in the eastern Pacific Ocean, 620 mi. (1000 km) off the west coast of mainland Ecuador (the country to which the Galapagos Islands belong), this spell-binding archipelago is famous for its totally unique endemic species that were paramount in the development of Charles Darwin's groundbreaking theory of evolution.
While the archipelago is made up of 13 main islands, 9 smaller islands, and 107 cays and islets, we have selected our top-ten, each of which is encircled by swathes of azure sea – and today more enticing than ever.
Note: After having carefully and continuously maintained its borders open to tourism for the past eight months, Ecuador has again surprised observers by confirming that by the end of May 2021, the entire adult population of the Galapagos Islands will have been vaccinated against Covid-19, giving yet another nod to the Ecuadorian tourism industry.
1. Bartolome Island
Probably one of the better-known uninhabited islands in the archipelago, Bartolome flaunts one of the most iconic sights in the Galapagos: Pinnacle Rock, an immense spearheaded obelisk rising from out of the sea. When ready, be sure to grab your snorkeling gear and jump into the sea in and around Pinnacle Rock, which is known as one of the best areas in the Galapagos for ducking below the waves. The beach here is a snorkeling hotspot thanks to the plethora of marine life that congregate here. The penguins, sea lions, majestic rays, colorful tropical fish, and even the odd octopus all provide a real feast for the eyes. Alternatively, you can simply relax on the sandy beaches of Bartolome, which provide welcome resting places. So close your eyes and listen to the waves gently lap at the shores of this island paradise.
Later, climb to the island's summit for rewarding views across the bay. The stretches of glistening ocean, rugged volcanic land, sand dunes, and Pinnacle Rock itself are all visible from this elevated spot. During the climb, you'll likely pass a Lava Lizard or two on the way, and you may want to do a little impromptu birdwatching, as Blue-footed boobies and Galapagos Hawks are both known to make appearances here.
2. Española Island
Wild and rugged, the island of Española plays a key role in the preservation of some of the world's most endangered species, making it a jewel of utmost importance in the Galapagos crown.
Because there are no townships on Española, this south-eastern island is teeming with life. Marine mammals, reptiles of all shapes and sizes, and a host of avian species all call Española home. At the ripe age of roughly four million years old, this is one of the elders within the archipelago, low-lying and covered in volcanic rock formations.
Española is a popular destination for day-trippers, particularly due to the large amount of endemic wildlife here, including a colony of endangered Waved Albatrosses. With the numbers of these incredible birds decreasing, conservationists are doing everything they can to protect them. Each year for several months, the Waved Albatross can be found nesting on Española, its jagged rock faces providing prime real estate for all 30,000 of them. A privileged site to behold.
Being more remote and somewhat eroded, Española is a delight to explore. Galapagos sea lions lounging on the beach will barely bat an eyelid at your arrival, while the Española Lava Lizard can be seen scuttling about the rocks, and they are just the tip of the iceberg. Friendly Española Mockingbirds, Darwin's Finches, and both Blue-footed and Nazca Boobies are all flourishing here, despite some having a vulnerable status. Careful conservation measures together with Española's isolated location mean that these animals are left in relative peace. Española really is an animal lover's paradise.
3. Floreana Island
Floreana could be seen as an island of firsts; named after the first president of Ecuador, it was also home to the first full-time resident of the Galapagos, Patrick Watkins. Furthermore, it was the site of the archipelago's first post office – although not in a form that we would recognize today! Floreana tells the tale of early settlers in this region while also being home to a number of coastal birds. In the sea that surrounds it, Hammerhead sharks, turtles, and Galapagos sea lions can all be seen regularly.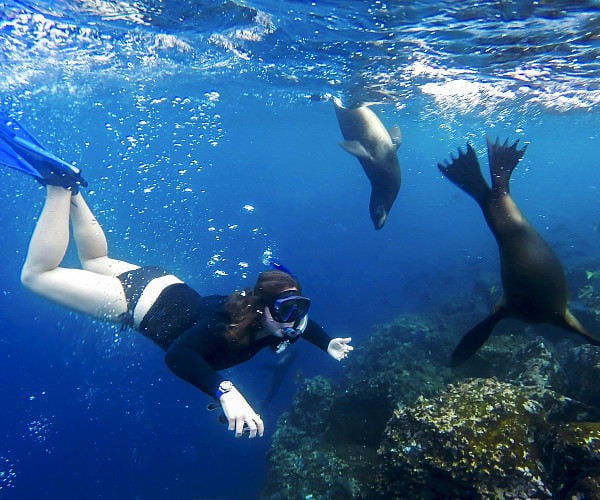 Elsewhere on the island wildlife is thriving, with Galapagos Flamingos populating lagoons and Sea Turtles nesting on the beach, while the iconic Tortoises peacefully reside in the highlands. With around 100 people living here, some of whom are descendants of the first settlers, Floreana gives a fascinating insight into life on these islands over the last 200 years. Long before there was any kind of settlement here, pirates are known to have used the island for freshwater; travel up to the highlands and you will be able to explore the caves that they created during their time here. In fact, the first baby on the island was born in these very caves, sometime after the pirates abandoned them.
The waters of Floreana are havens for a multitude of animal life. From marine mammals such as Galapagos sea lions and adorable Fur seals to benign White-tipped reef sharks, starfish, and rays, the island offers the opportunity to really get amongst some of the most extraordinary creatures beneath the waves.
Just off the coast of Floreana, you'll come upon the "Devil's Crown," a sunken volcanic crater that's now home to a plethora of sea life. Above the water, watch patient pelicans eye up their lunch, while below the waves, beautiful coral reefs play host to countless rainbow-colored fish, eels, sharks, sea lions, and rays, to name a few. This ring of volcanic rock creates a dramatic backdrop to admire, however it should be noted there is a strong current so is best suited to confident swimmers.
4. Fernandina Island
Fernandina may be one of the largest islands in the archipelago but — at less than only a million years old — it's also the youngest.
As you explore Fernandina and come face to face with its inhabitants it becomes apparent that this island is something quite special. Its wildlife untouched by outside forces, it may be one of the most unique of all the Galapagos Islands. The variety of all creatures living alongside each other in the bay, carefree, is outstanding.

One of the largest colonies of Galapagos Penguins can be found on Fernandina. If you are a fan of these birds, then Penguin-watching at Fernandina is a must. With the island being home to a huge percentage of this endangered species, you really can spend hours watching them hop from rock to rock, going about their business. A one-of-a-kind experience.
Other avian species include the Flightless Cormorant, which is rarely seen elsewhere on the archipelago, and the majestic Galapagos Hawk, often spotted soaring in the sky, looking for its next meal. Land Iguanas are plentiful on Fernandina, nesting in and around the caldera. Meanwhile, if you head to the beach, Marine Iguanas and Lava Lizards are here in abundance. One of the best spots to get amongst the wildlife is Punta Espinosa where lazy Sea Lions can be found sunbathing and Sally Lightfoot Crabs hurry in and out of the volcanic rocks.
5. San Cristóbal Island
San Cristóbal is one of the earliest formed islands of the archipelago, comprising no less than four extinct volcanoes, and is also one of the largest. This makes it an excellent choice for a land-based Galapagos tour, with so much flora and fauna to discover while keeping the same base throughout your trip. Some of the more famous inhabitants of this eastern island include Sea Lions and Giant Tortoises, though there's myriad birdlife too and it's also the only Galapagos island that sees three different species of Boobies and the Frigatebird nesting in the same place.
San Cristóbal is in fact a pilgrimage for birdwatchers, thanks to hordes of the Chatham Mockingbirds, Frigatebirds, and all three varieties of Galapagos Boobies a common sight throughout the island. These can be admired while on a nature walk to any of the top locations across San Cristóbal: with Tijeretas Hill and Brujo Hill being among the very best of them. Expect captivating views of the bays, red mangroves, and pristine sandy beaches, peppered with birdlife, of course.
The beaches of San Cristóbal are particularly delightful, many of them flaunting milky-white sand and fantastic snorkeling opportunities too. These include Ochoa, Puerto Chino, La Loberia, and Punta Carola Beaches, where you can delve into the sea to snorkel alongside Sea Lions or perhaps have a go at surfing the waves. The latter, Punta Carola, is an easy stroll from the island's main town and capital of the Galapagos, Puerto Baquerizo Moreno, where you'll find a clutch of restaurants, the Interpretation Center, and Natural History Museum, plus San Cristóbal Airport which is close by.
Just off San Cristóbal's coast is "Sea Lion Island," so you can only imagine what to expect here! Swarming with playful Sea Lions, at Lobos you can don a snorkel and marvel at the huge colony that calls the islet home, while also looking out for Nazca and Blue-footed Boobies above water.
In addition to the fantastic birdwatching, beaches, beautiful walks, and abundant wildlife, another San Cristóbal Island highlight is found just off the island's western coast. This is Kicker Rock, or León Dormido as this formation is also known (since it resembles a sleeping lion). What is left of a long extinguished volcanic cone, now heavily eroded by the sea, Kicker Rock is as fascinating above the ocean as it is below. The visible clifftops are home to numerous families of coast-dwelling birds, such as the famous Blue-footed booby, though underwater the unique geology of the giant rock and its opposing facade have created an ideal environment for all manner of marine life. While here, enjoy watersports like kayaking and diving in order to take a closer look at the resident sea turtles, octopus, reef sharks, and tropical fish.
6. Genovesa Island
As soon as you arrive on Genovesa Island it will become clear why it is also known as "Bird Island" by the locals. A tiny island full of exotic birds, surrounded by waters that are a hive of activity, Genovesa is a sanctuary for air-born and water-based animals alike. Genovesa Island is, in short, a bird lover's paradise. Its craggy cliffs make the perfect homes for many of the local avian species, while the lack of human beings living here has also allowed our feathered friends to flourish.
Make your way up Prince Phillip's steps, through the rock face and get up close and personal with a wide range of birds as you go. Several types of Boobies live here, along with Short-eared owls, Great frigates, Lava herons, and Noddy terns; just to name a few. Once at the top of the steps, not only will you be treated to fantastic views across the ocean but also more birds, the Palo Santo trees providing perfect perches for many of them.
Making your way back down the steps, which at times can be slightly uneven, you will find yourself back in the sheltered cove, a haven for sea lions. Thanks to the towering cliffs protecting the area from the elements, it's a great place for those who are perhaps a little less confident in the water to give snorkeling a try as the waters are calm, and full of life.
7. Isabela Island
The biggest of all the Galapagos Islands, Isabela possesses a surface area larger than all the others combined. The island was formed one million years ago as five volcanoes joined together, many of them still active today. Indeed, the island is one of the most volcanically active places on earth, which means that much of the land is carpeted in lava fields.
Indeed, one of the highlights on Isabela is hiking through the vast lave field of the Sierra Negra Volcano, which is the second widest volcano anywhere in the world. Its black-lava crater extends more than six miles across (10km), making for a truly spectacular sight and one well worth the trek across the color-filled volcanic terrain. Hiking up the volcano's slopes to the dramatic edge of its vast crater, you'll reach a tranquil resting place along the cone's rim at an altitude of almost 5,000 feet (1,500m). From here, the views of the surrounding archipelago and the volcano's giant opening are simply not to be missed.
Due to the layout and geology of Isabela, it is also one of the best places to witness a vast spectrum of local wildlife while staying at one of the island's fantastic lodges. The island's Southern Highlands provide a lush habitat for a wealth of creatures, including the Giant Tortoise. In fact, there's a breeding center here especially for these treasured animals, showcasing the conservation efforts and progress of the Giant tortoise after having been under threat for so long. Then too, you can explore the islet of Las Tintoreras just offshore and its huge range of wildlife; walk over the rocky formations of Los Tuneles, and visit the Muro de las Lagrimas for an insight into the island's tragic past as a penal colony.
8. Santa Fe Island
Santa Fe Island is a delight to discover, a place where giant cacti, large Land iguanas, and a noisy group of sea lions await you.
Nestled at the heart of the Galapagos Islands, Santa Fe is one of the older landmasses in the archipelago at just under four million years old. The island is a relatively flat island due to the fact it was created by a geological uplift in the earth's crust rather than a volcanic eruption, like many of its neighbors.
The Land iguana has now become extinct across some of the Galapagos Islands, but Santa Fe is not one of them. These endemic reptiles can grow up to one meter in length, and they go crazy for the fruits and leaves from the local Prickly Pear Cacti. Follow one of the island's trails and you will no doubt find them having a bite to eat beneath one of the giant plants.
Perhaps one of the most unique features of Santa Fe is the forest of giant cacti. Known to grow over 10 meters tall at times, these huge plants are not easy to miss and manage to dwarf their surroundings with ease.
9. Santa Cruz Island
Geographically speaking, Santa Cruz sits in the heart of the Galapagos archipelago, undoubtedly one of the reasons why it is the most popular island base for travelers. Its popularity is also owed to the rocky outcrops, sandy beaches, resident Iguanas and Blue-Footed Boobies, verdant Highlands, Charles Darwin Research Centre, a busy port town, and a slew of luxury eco-lodges to call home for a few days, taking tours to explore the rest of Santa Cruz and nearby islands too.
On this island, you'll find one of the unmissable centers of the Galapagos. Dedicated to the conservation of protected species such as Giant Galapagos Tortoises, the Fausto Llerena breeding center is both an information center and a facility where tortoises are bred and later reintroduced into the wild after a few years, when it is safe to do so. During your visit, you can see these humongous tortoises as well as resident Land iguanas. In short, a visit here is a must whether staying close by or simply passing through to another island.
10. Santiago Island
Santiago is an uninhabited landmass of reasonable size to the east of Isabela Island. Popular with tourists, wildlife is abundant here: Fur seals and Marine iguanas can be found lazing on beaches while Sally Lightfoot crabs amuse themselves in volcanic rock pools. Santiago is a real treat boasting beautiful bays, flourishing birdlife, and fascinating evidence of lava flow, all making it well worth a visit.
Santiago Island is a prime example of how careful conservation is helping these islands thrive. Sadly, Santiago's ecosystem was badly damaged many years ago due to the introduction of goats, donkeys, and some very destructive Pigs. However, in recent years much work has been put into the island's native plants and important residents such as Galapagos Tortoises have been reintroduced to the land. In the last decade, in particular, endemic flora is making a real comeback attracting more and more birdlife to Santiago's shores. Blue-footed boobies, Lava herons, Yellow warblers, and finches are all known to live on this island.
At the island's Sullivan Bay, lava flow provides a reminder of the volcanic activity that these islands are so well known for. With some vegetation peeking through the cracks, this mesmerizing natural wonder is quite the sight to behold. While here, you'll find what some say is some of the best snorkeling the Galapagos has to offer. Along with sea lions, turtles, and the numbers of rays, visitors can sometimes catch sight of seahorses and even the odd Hammerhead Shark.
As you can see, this cluster of volcanic outcrops strewn off the coast of Ecuador is home to some of the most extraordinary flora and fauna in the world. Due to their general isolation up until the mid-20th century, this has allowed an astonishing array of creatures and plant life to evolve according to the unique geography of these far-flung islands. Traveling here, you can expect the unexpected on a wildlife tour in the Galapagos, with the chance to encounter everything from languid Giant tortoises to playful sea lions, loved-up Frigatebirds to brightly-footed Boobies; and much more in between.
[As the Galapagos Islands are Ecuadorian, the fastest way to reach the archipelago is by flying from the mainland cities of Quito or Guayaquil, with flight times of no more than 2.5 hours. Therefore, a great option is to explore more of the country's highlights on a multi-destination mainland Ecuador and Galapagos trip. Why not stay a few days here in Quito to discover its beautiful colonial Old Town? Or, hot-foot it to the nearby Amazon rainforest for more nature and wildlife experiences, after all, it's is one of the world's last great wildernesses!]
Alfonso Tandazo is President and CEO at Surtrek Tour Operator. Surtrek Tour Operator is a well-established firm, specializing in custom-designed luxury tours in Ecuador, the Galapagos and throughout the rest of South America.
If you would like to be a guest blogger on A Luxury Travel Blog in order to raise your profile, please contact us.