By
Kristof Eyckmans
on Jun 03, 2021 in
Accommodation
,
Africa
,
Asia
,
Featured
,
Fiji
,
Hotels
,
Indonesia
,
Madagascar
,
Middle East
,
Oceania
,
Pacific Islands
,
Regions
,
Resorts
,
United Arab Emirates
What could be better than an island retreat to ease back into the rhythm of traveling? It's certainly one of the best solutions if you want to avoid the crowds, but equally a reward towards yourself for the tough times we've all had to face recently. In case you don't know where to start looking, it's worth noting that you can find luxury retreats worldwide, so you might be able to shorten the list if you have a preferred destination in mind. Below are 5 of the most luxurious ones you'll ever find and while they might come at a premium compared to many others, the experience you'll have will pay you back tenfold.
The Brando, French Polynesia
Let's start with one of the most iconic destinations when it comes to island retreats in the vast water mass called the Pacific. The Brando is the result of Marlon Brando's dream to preserve this little slice of heaven on earth in a sustainable and environmentally friendly way. He first visited the islands during the making of 'Mutiny on the Bounty' and instantly fell in love. The rest is history, but these days the guests visiting this paradise often experience the same feelings Marlon had all those years ago. And who can blame them? Turquoise water, white sandy beaches, palmtrees,….all the right ingredients for the perfect luxury getaway, and the Brando combines all of it in its own unique way. Villas either have 1, 2 or 3 bedrooms and all of them offer amazing privacy, something which is certainly appreciated by the many celebs that come over here to escape the rat race we're all living in.
Activities are in line with the eco-friendly ethos of the resort and mostly non-motorised so if you are looking to hop on the jetski to cruise around the island you might want to look elsewhere. However nothing stops you from putting some effort and exercise into it and the paddle board or kayak will give you the same incredible views, yet without the added noise. With only 35 villas you wouldn't expect a vast array of restaurants yet don't be fooled as The Brando has no less than 3 different restaurants and 2 different bars, and that's doesn't even include the in-villa dining. It's one thing to have a great career in the film industry, but achieving the same success in hospitality is just a testimony of Marlon's efforts and passion he puts into everything he does.
Miavana, Madagascar
Most among us would think that Madagascar is nothing but a massive island off the coast of Africa, offering little more than vanilla, coffee and a former pirates safe haven. However, you couldn't be more wrong when you visit Miavana, a stunning ultra-luxurious island retreat that is so remote most of you haven't even heard of it, yet that is the whole purpose of being exclusive, isn't it? Part of the Time + Tide portfolio which has some of the most amazing luxury safari lodges on the African continent, it can't come as a surprise to know that service is second to none in this world class island sanctuary. But it doesn't stop there.
Take for example the 14 villas on the island. You might need the gps coordinates of your partner if you like to meet up as there is simply so much space. Make it easy on yourself, just agree to meet at your private pool, it will save you lots of time which can be spent on fun activities like a lemur trekking for example. Lemurs are those funny animals which you might know from the movie Madagascar and as they are endemic you really don't want to miss a chance to see them in the wild. Rather take the heli from the resort and fly to a remote island where Miavana has organised a beautiful picnic for you? Just an everyday adventure at this exclusive paradise. Of course, world class cuisine with a local twist is the least you would expect but by using only the finest ingredients they elevate the culinary journey on the island to a new level. Malagasy style coconut seafood curry is a must-try and before you do head to the wine cellar with the sommelier to pick one of the many quality wines to make sure your tastebuds are on an equally luxurious holiday, just like you. As you can see, sometimes the most unexpected destinations can offer the most incredible experiences.
Bawah Reserve, Indonesia
This beautiful retreat is ideally located in between Singapore, Malaysia and Indonesia. The tone is set from the moment you step outside your hotel in Singapore where your private chauffeur will pick you up and a Bawah representative will escort you until you reach Batam Airport where you take the resorts seaplane for a scenic flight towards this island paradise. Upon arrival you'll see from the sky that Bawah reserve comprises of 6 islands, 3 lagoons and no less that 13 beaches. Knowing there are only 35 villas you can quickly do the math and realise you're almost going to have a beach all for yourself. Indeed, that's the level of luxury you'll find over here.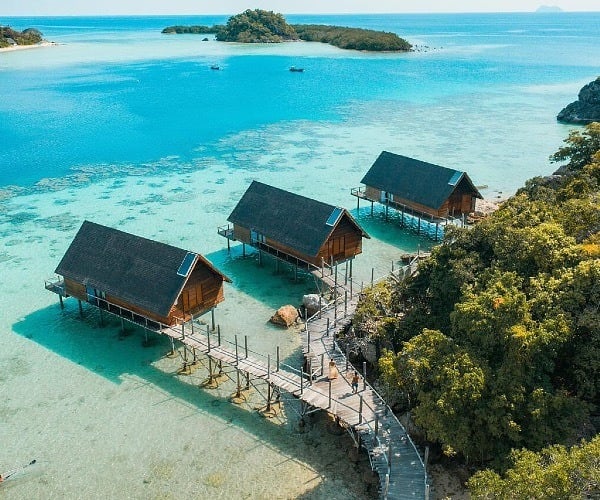 Of course, there's more than just some stunning scenery and instagrammable hotspots around every corner. One of the main reasons to come here is to treat your body and soul to a journey of wellbeing. Tailor made experiences to reach the goals you've set will make you leave this reserve more connected, energised and balanced. Not only is there a focus on the health of their guests, also the sustainability and wellbeing of the surrounding nature is one of their top priorities. The ecological importance of the islands can't be denied, with trees older than 2000 years and many endangered and rare species of fauna and flora. Within a radius of over 50km's there is no other island or landmass to be found and as a result Bawah has its own independent ecosystem which is truly unique in every aspect. Being able to experience it all in ultimate luxury is something truly special.
Kokomo, Fiji
Fiji is one of those destinations that oozes thoughts of palmtrees, crystal clear water and luxurious tropical holidays. And while that's absolutely true, it's good to know that even in such an ideal destination, you still get to experience different levels of luxury. And at the very top you'll find Kokomo, a private island that is ideally located near the Great Astrolabe reef which is the fourth largest in the world. So it can't come as a big surprise that the resort has an endless list of water activities, going from the regular fishing, snorkelling and diving to the more unique coral gardens which is a project they've started a few years ago to restore and sustain these delicate eco-systems.
On land you'll be equally spoiled for choice and the accommodation fits perfectly into the whole concept of Kokomo. All villas and residences are oversized cause space means luxury and one can never get enough of that. The Fijian accents, however small they might be, create a relaxed opulence which is hard to ignore, resulting in guests being instantly at ease when they enter their own private oasis in this tropical paradise. The 'farm to table' concept at their restaurants enhances the exclusive feeling as the island has a 5.5 acre farm producing everything from rock melon and beetroot all the way to honey, Thai basil and vanilla. And while their wellness sanctuary is overly inviting and certainly worth a visit (ok, I admit…several visits) it's their private yacht S/Y Kokomo that is the pinnacle of this unique resort. As you can see, there's a wide variety of options to keep you occupied and the single hardest part of staying here is to decide what you'll fit into your day.
Zaya Nurai Island, United Arab Emirates
The United Arab Emirates have become one of the biggest tourist hotspots and as we all know they offer some great options to have an unforgettable holiday. But what if you are looking to have the benefits of the great weather and warm hospitality but not the hustle and bustle of the main cities like Dubai and Abu Dhabi? Well, Zaya Nurai Island will fit that bill perfectly as it is located a mere 15 min boat ride off the coast of Abu Dhabi on a private island. All the villas have a sleek and contemporary design that works perfectly with the sun-kissed environment while offering ample space to enjoy both the indoors and outdoors without having to hide from the heat all the time. Wide open spaces, a light breeze, colour patterns that are easy on the eye…..it all blends in perfectly and sets the tone for a relaxed stay.
Food-wise there's all kid of vibes to be found, going from Mexican and Asian inspired all the way to Western and Middle-Eastern dishes, all of which are packed with flavour, colour and texture. Families are certainly going to have loads of fun and parents don't need to worry about keeping their little ones busy thanks to the Petite Z kids-club and a full size water park. Meanwhile the adults can enjoy a sumptuous champagne brunch, have a nice workout at the beautiful gym, indulge in a relaxing massage or have a yoga class in the specially dedicated pavilion. There's just no way you can't enjoy your time on this Arabian fairytale island.
Have you been to any of these ultra-luxurious destinations or would you add another from your own personal list?