By
Michael Edwards
on Jun 04, 2021 in
Accommodation
,
Europe
,
Featured
,
Food and Drink
,
Going Out
,
Hotels
,
Regions
,
Restaurants
,
Travel Miscellany
,
United Kingdom
,
Western Europe
It is a journey that has brought a Japanese Thinking Bath, kokedama mossball rooted plants and potent wasabi vodka to small-town Cumbria. Nina Matsunaga, born of Japanese parents in Düsseldorf, and James Ratcliffe, born just down the dry-stone-wall-bordered road, have put Sedbergh on the foodies' global map. Guests travel from afar for East / West fusion cuisine in a black-timbered, whitewashed pub that has received international acclaim.
The Black Bull is an 18 room, 17th century labyrinthine coaching inn, that sits on Main Street at the heart of quaint Sedbergh.
The welcome
Reception is discretely slotted into the large coaching house bar. Formalities are few as we are welcomed and guided up some creakingly historic stairs to our room. There are two complimentary postcards to post home to tell family and friends that we have discovered a real gem.
The room
Rambling Cumbrian architecture coalesces with the clean lines of a cool Japanese aesthetic. Light from exposed modernist raw filaments highlights a matt black wood-panelled wall, contrasting with cream paintwork. A six-feet wide bed promises deep restorative sleep after biking, hiking, twitching or gourmet activities.
There are pull-down taupe blinds but before dusk it seems churlish to blot out epic views of the Howgill Fells: looking "like a herd of sleeping elephants" as Wainwright, the Dales and Lakes celebrated cartographer, once described them.
Out on our terrace, with two strategically placed chairs and table, we see sheep clinging to the fells and hear them bleating.
The bathroom
In the spirit of a Japanese onsen, the en-suite white tiled bathrooms have glass panel walls to allow maximum light. Beige drapes can be pulled to satisfy prudish British reserve.
Japanese culture values bathing for both physical and spiritual cleanliness, deep soak baths are described by the Japanese as "thinking baths."
Facilities
A renowned restaurant, a trio of landscape etched mirrors reflecting light from the large windows, is why most guests are here.
As "the nibbles" are irresistible, such as crispy Thai spiced cauliflower with a creme fraiche dip or crispy Hereford short rib beef with an amiably gentle garlic mayo, most guests make it a four course menu. Well, five if they leave room for a very local cheeseboard.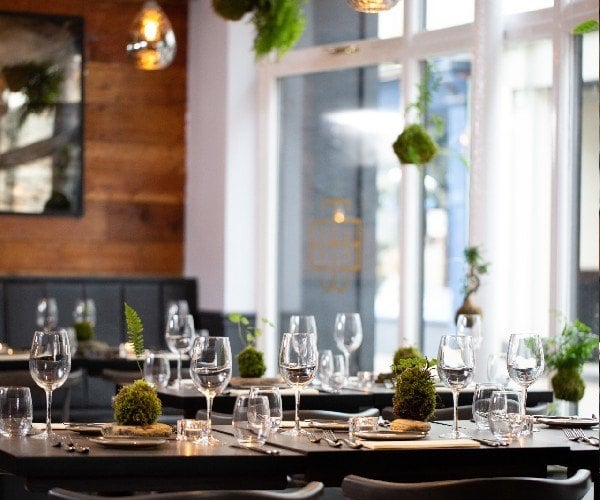 Nina's field-to-fork, nose-to-tail philosophy produces a gamey menu lightened by Central European innovation, spiced with Asian heat. Lakeland venison tartar is accompanied by a cured egg yolk and kohlrabi. Her light local take on turf n'surf is roasted lozenges of rabbit given salty sweetness by cockles and crisp sweetness by cicely.
Creamy, dreamy Mansergh Hall pork loin with spicy kimchi – fragments of darkly fermented vegetables cradled by a charred lettuce leaf – epitomise bold Anglo / Asian fusion.
Desserts are just as creative. A translucent rhubarb jelly regally crowns panna cotta. Though textural surprise comes from crushed pistachios and the occasional crunch of a coffee crisp.
If you fall in love with the kimchi, the pickled walnut chutney or the highly original wine list, head across the road to the Three Hares, a cafe / deli packed with take-home treats for foodies: also curated by Nina and James.
Location
Sat amongst fells, rivers, valleys and waterfalls, Sedbergh is a magnet for weary cyclists and walkers seeking a cafe or pub.
Small-town Sedbergh with its Norman church, burbage plots, crofts and weavers' cottages retains the charm of a bygone sleepy era. It's a place for a bookish search for musty first editions and an overlooked opus magnum among the numerous bookshops at the heart of the Lakes and Dales Book Trail. Some Saturdays, the artisan market comes to Main Street with art, beeswax, cheeses, jewellery and much, much more.
See a loom in action at a Main Street shop or visit the restored Victorian Fairfield Mill to watch a Dobcross power loom creating blankets and rugs.
Other nice touches
Almost everything at the Black Bull is sourced locally. Mellow misty Dales scenes or dramatic brooding landscapes  hang in every bedroom from local photographer Rob Whitrow.
Laura's Looms of Sedbergh take wool from local Herdwick sheep for the blankets. On the tea tray, chunky cookies are home-made in the kitchen below.
Petrichor toiletries, evoking the pleasant smell of rain after a dry spell, are handmade by the Sedbergh Soap Company – think of fresh lemon juice lingering on leather.
The cost
Rooms usually begin from around £139 per night but look out for seasonal variations.
The best bit
The Black Bull is a rising gourmet star set amongst the Yorkshire Dales National Park's beautiful landscapes.
Pre-pandemic the Black Bull was the runner-up in the Gourmet Getaway category of National Geographic's Big Sleep Awards. After the judges had ate and slept their way round the planet, they decided that you could only find a better place in distant Madrid.
The final verdict
Nina Matsunaga's cross-cultural daring slashed at culinary stereotypes and reinvents Cumbrian cuisine. Immaculate local sourcing, German influences and Asian spicing is a heavenly creation.
A growing reputation and just 18 rooms means that guests often have to search hard to find availability.
Disclosure: Our stay was courtesy of The Black Bull.