Siem Reap with no tourists is providing a unique experience for the locals and expats who call Siem Reap or Cambodia home. During the month of June, there were only 500 tickets sold to visit Angkor Wat and the surrounding temples, in previous years, monthly visitor numbers would have been in excess of 200,000. Understandably, the tourism industry is struggling to survive leaving many hotels, resorts and restaurants no option but to close their doors. The economic impact is far reaching, and everyone involved is hoping that the much talked about Q4 re-opening becomes a reality.
Despite COVID numbers still rising, the vaccination drive has been impressive. Phnom Penh is now one of the most vaccinated cities in the region, and we are now seeing the vaccine reach other provinces, this approach gives us all hope that the return of tourists could become a reality later this year.
Whilst we all wait patiently, the once in a lifetime opportunity to explore Angkor Wat without the crowds is something not to be missed. There are a number of luxury resorts that remain open, so if you are looking for a luxury Siem Reap staycation, look no further. These resorts are currently welcoming guests and each of them have some very enticing offers for locals and expats. Visiting the below luxury resorts during these times, provide an excellent opportunity to enjoy Khmer hospitality that is even more attentive and personal than you would usually expect. With reduced occupancies, the staff teams can go above and beyond to make your stay memorable, whilst at the same time you can enjoy extra space and social distancing, perfectly in line with the current situation.
Phum Baitang
On the outskirts of Siem Reap, within 8 hectares of verdant gardens and flourishing rice fields is a unique, luxury resort where your staycation dreams will come true. Phum Baitang means 'green garden' in Khmer, and if a resort was ever named perfectly, this is it. Blessed with so much space, living amongst nature and featuring buildings that fuse into their surroundings this is one seriously cool resort. The 45 villas are inspired by traditional Khmer wooden houses, with the authentic design and luxurious furnishings combining to create perfection, meaning you will never want to step outside.
However, rest assured that when you do venture outside of your impeccable villa you will be equally as impressed. The expansive grounds are linked by a series of boardwalks, so whether you choose to explore on two feet or two wheels, you will enjoy your natural surroundings. And when you discover the pool you will know that your wildest dreams have been realised. This oversized infinity pool has to be seen to be believed, but presents you with a dilemma. How are you going to divide your time between the sumptuous villa and the unique swimming pool? First world problems at their very finest…
Navutu Dreams
Navutu Dreams Resort & Wellness Retreat is an eco conscious resort where guests can enjoy the expansive gardens, refreshing swimming pools (yes, there are 3 swimming pools to choose from), yoga classes and spa treaments during their staycation or retreat. Being a plastic free resort, whilst staying at Navutu you can expect your UV filtered water to be served in glass bottles (or from the complimentary refill stations), your drinking straws to be made from sustainable bamboo, and your bathroom amenities to be in refillable ceramic dispensers.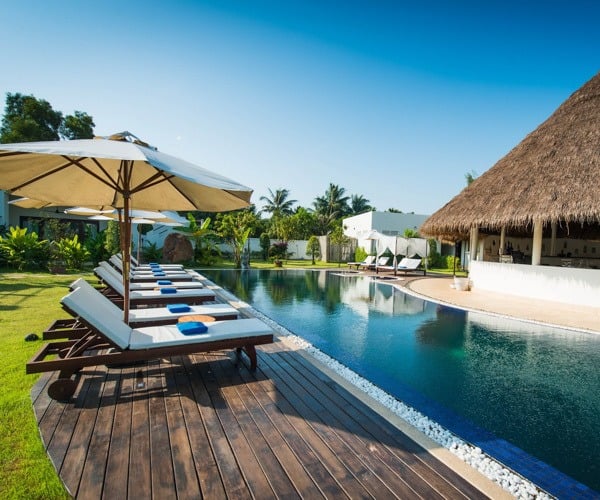 Choose from a selection of rooms and suites that take their design inspiration from Southeast Asia and the Mediterranean, a fusion that respects the resort location, and home of the family who own this chic Siem Reap resort. On the menus you will find plenty of locally sourced or organic produce, whilst vegetarians and vegans will be very well catered for with clearly marked options available. Detox juices and smoothies are plentiful and the chef has even crafted a wellness menu for guests to enjoy, creating the perfect match for your programme of yoga, spa and wellness activities at Navutu Dreams.
Anantara Angkor Resort
This small but perfectly formed all-suite hotel is an excellent 'escape from it all' option in Siem Reap. Anantara Angkor Resort boasts 39 suites situated around a courtyard pool which are presented in a classic Khmer style, yet feature the modern amenities that you would expect from this luxury hotel and resort brand. Each of the suites feature either a private courtyard or terrace, with some including private plunge pools and expansive living rooms. A dedicated butler is on hand throughout your time at Anantara Angkor Resort, ensuring you stay is stress free and relaxing.
The courtyard pool is perfect for swimming laps, but is equally suited to relaxing on one of the sun loungers, sipping your favourite ice cold drink. After an exhausting day, exploring the breathtaking Temples of Angkor, returning to Anantara Angkor Resort will be very welcome. After your time by the pool, why not book a massage at Anantara Spa where the skilled therapists leave you feeling rejuvenated and ready for dinner. Chi serves 'progressive Khmer cuisine' where you can expect a selection of local classics and upon request, a vegan menu was available with a selection of creative options.
All of these resorts currently have rates and offers that will never be seen again. They are working tirelessly to remain open during COVID and ensure their staff teams remain employed. There has never been a better time to enjoy a staycation in Siem Reap, spend your weekend at a luxury resort, whilst at the same time support them in their efforts to survive these unprecedented times.
Paul Eyers is Founder of Vegan Food Quest. Vegan Food Quest have become luxury vegan travel specialists as they continue to find, eat and write about the best vegan food in the world.
If you would like to be a guest blogger on A Luxury Travel Blog in order to raise your profile, please contact us.