By
Kristof Eyckmans
on Aug 06, 2021 in
Accommodation
,
Asia
,
China
,
Europe
,
France
,
Hong Kong
,
Hotels
,
Italy
,
New York
,
North America
,
Regions
,
Singapore
,
USA
,
Western Europe
We all travel for different reasons. Some are looking for those unique locations, others want to travel back in time. And then there's those who travel for a particular hotel, just because it's unique or iconic….or possibly even both. Below is my favourite top 5 when it comes to hotels which I like to categorise as "must-visit", not only because of their great locations or historical status, but more because of the fact that they have everything you could wish for (and much more) but most importantly that little drizzle of "je ne said quoi"! These are places which still make your journey worth while even when everything else fails to amuse you.
The Plaza, New York
Yes, it's the one from the movies. No, you'll not be able to re-enact the scenes from Kevin as that will inevitably shorten your stay with immediate effect. And trust me when I say that's really something you'll regret as this historical hotel, which has been in existence for over 100 years, is truly something to experience. Its location next to the famous Central Park not only allows the guest to have a massive outdoor space right at their doorstep (and we all know how rare that is in Manhattan) but equally provides stunning views from the rooms. And let's be honest, how many of you have enjoyed views of a green oasis when staying in New York?
But let's take it back inside and talk about the different reasons why your eyes won't even notice the outside views. Entering the spa for example is like stepping into a French boutique and as it is a Guerlain spa that shouldn't come as a real surprise of course. And what about the Oak room? I still have fond memories of this wood panelled room where you used get the best (and most sumptuous) brunch in the city. Nowadays it's one of the most sought-after venues for weddings and corporate parties. But The Plaza is such a class act that you still have half a dozen of dining venues to chose from. My personal favourite….The Palm Court. There's just something about the grandeur and opulence that is hard to beat.
Belmond the Cipriani, Venice
La bella Italia, Europe's beauty queen and arguably home to one of the best cuisines in the world. While there are many cities to explore, the one that truly stands out is without a doubt Venice. Often copied, yet never did anyone even come close to the beauty and cultural heritage this city displays. Now…imagine this beautiful destination combined with one of the most iconic brands in the world, namely Belmond, and you instantly know where to stay during your next visit. The Cipriani has a guest list which many properties could only dream of, and it all comes down to the fact there's no better place to be centrally located, yet still have the luxury to walk in immaculately maintained gardens, swim in an Olympic size pool, be away from the crowds, enjoy the most amazing service,.. and so on.
The rooms and suites are beautifully decorated with Venetian details which enhance the overall experience even more. Superlatives are tough to find but when you can swim and relax in an Olympic-sized pool just a stones throw away from St, Mark's square you know this hotel is on another level. Even covid can't break the magic they have to offer. Their Michelin star restaurant Oro is the perfect example as these days it only serves one table to make sure you feel safe and can fully focus on the masterpieces that are served to you throughout the whole experience. That's elevating luxury to a whole new level! And don't forget to have a Bellini (the world famous cocktail made out of peaches and Prosecco) as an aperitif as it was originally created by Cipriani. Venice might capture your attention but Cipriani will capture your heart.
The Peninsula, Hong Kong
The Peninsula is a brand that has a large amount of loyal customers, and with very good reasons. Their property in Hong Kong is among the most famous in a city that has its fair share of luxury hotels. From the moment you arrive at the airport you'll be whisked away in a Rolls Royce which will transfer you in all luxury. And that same sentiment just continues when you walk into your room or suite. As some of the other hotels in this list, the Peninsula has a Michelin-starred restaurant named Gaddi's together with a handful of other dining venues available.
The word that comes to mind when I think about the hotel is "choice" because it literally offers an endless array of room and suite options, next to the different cuisines that can be found all across the property. It does silence even the most demanding clients which is probably one of the reasons of its success. Another feature is the Peninsula Academy which gives guests the ability to enjoy bespoke and very exclusive experiences all across the city. Being located in Asia it shouldn't come as a surprise to find an amazing spa inside the hotel with some blissful treatments. Top tip; end your spa session at the pool which offers amazing views over the Hong Kong skyline.
The Ritz, Paris
A brandname that needs no introduction, and the Ritz Paris is among its finest properties. For those interested in history, it was the first Ritz in the world founded back in 1898 by Swiss hotelier César Ritz. Since then, it attracted the beau monde from all around the world (many suite names refer to these famous guest) and till today it's still one of those iconic hotels that serves the A-listers whenever they visit the city of lights. The interior takes you right back to the imperial times but mostly in a toned down and more modern version, unless you go for the… wait for it… the Imperial Suite.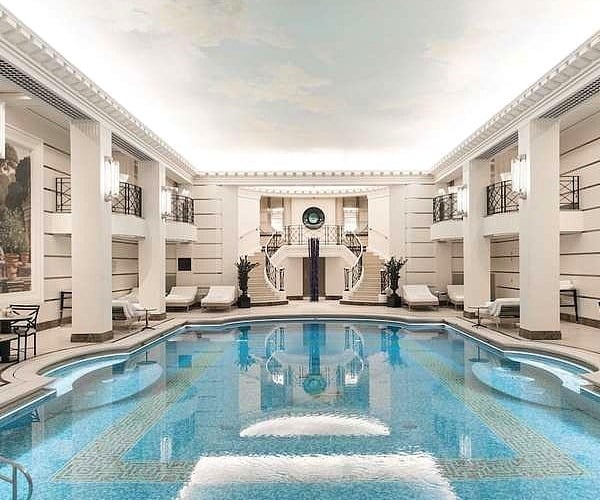 Gastronomy is part of the overall French experience and La Table de L'espadon is without a doubt a must-visit when staying here. The two Michelin stars are certainly not overrated but if you don't feel like going all out you might want to try the uber-French brasserie Bar Vendôme. Don't let the name fool you cause I can assure you there's much more to satisfy than just liquid diets. With a massive refurb completed a mere 5 years ago, they didn't hold back when it comes to the Ritz Club. Besides being one of the most prestigious clubs in the city, it offers so much that it becomes a destination in its own right. And while the possibilities to explore the city are when it's good weather, it's nice to know there's no day waisted when it rains and you spend a day at the club. For all I know you might not even leave the hotel if this happens upon arrival.
Raffles, Singapore
Aaaah, good old Singapore. Always a winner when you're looking for a bustling city full of culinary treats, luxury hotels, shopping malls,… The most notable among those luxury hotels is the Raffles hotel, which has been a beacon for travellers since 1887 and it was even declared a national monument in 1987. After a 2 year renovation it became once again the "grande dame" of Singapore in 2019. Due to its historical background, the hotel even has its own resident historian who will gladly talk and walk you through the 130 years of existence.
All the suites are amazingly decorated and transport you back in time thanks to the colonial ceiling fans, dark wood floors, Delft blue bedside lamps,…. It doesn't take much imagination to feel the atmosphere that was going around in this iconic hotel back in the days when flying was only reserved for birds and kites. Dining options are abundant and will pleasure everyone, even the most discerning guests, but the one thing everyone needs to try is to drink a Singapore Sling. The world renowned cocktail was born here inside the hotel, more specifically at the Long Bar, and the only thing better than exploring Singapore is to drink this city through the gin-based rosy nectar.
There you have it – five of my favourite hotels that I suggest you place on your "must-visit" list.