East Africa is home to an exceptional array of wildlife and different landscapes. From immensely dense jungles to wide-open sweeping grass expanses, no matter what you are searching for, there is a wildlife answer in East Africa.
Through exceptional conservation work, both on the ground and behind-the-scenes, East Africa's National Parks are heralded as some of the most successful on the continent, in both wildlife sightings and its management. For example, take the recent rhino poaching war that is currently raging across the continent; Kenya reported zero rhino poaching deaths compared to South Africa's four hundred in 2020. Although this is a very basic look at one of the continent's most complex wildlife atrocities, it does highlight how well the Kenyan authorities are doing.
Below you will find an insight into some of the best National Parks in East Africa, and what they can offer for visitors.
Kenya
The most famous National Park in Kenya is without doubt the Maasai Mara. Forming part of the Greater Mara/Serengeti eco-system, the Mara is arguably the most sought-after destination for safari-lovers. Filled with copious amounts of predators, not to mention a large portion of the Great Migration from July-September, it is no wonder why people flock here.
Its fame does come at a cost though, being held in such high esteem, the park does become busy during the peak seasons, so if you are looking to avoid the crowds heading to the Serengeti in Tanzania would be more preferable.
Like a still from the Lion King, Amboseli National Park is the ideal place for photographers wishing to capture wildlife, especially big-tusked elephants in front of this incredible mountain. Whilst most people head straight to the Mara, Amboseli receives far fewer visitors which makes it a paradise for photographers and those wishing for a quieter, but just as beautiful, wildlife experience.
Tanzania
Home to the incredible Great Migration all year round, it is no doubt that the Serengeti National Park is arguably the finest National Park on the continent. It's vast area comprises of contrasting landscapes that are filled with not only millions of wildebeest, but every other creature one could imagine.
The Ndutu Plains are home to the calving season during February and March whilst the Kogatende region sees the migration reach its climax as the herds risk life and limb crossing the Mara River in search of pastures greener.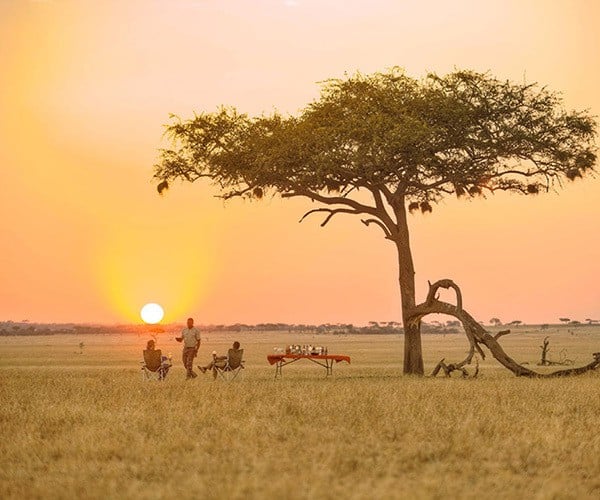 Unlike the Serengeti and the Ngorongoro Crater which steal the limelight in Northern Tanzania, there is a charming National Park that largely goes unmentioned. Tarangire National Park, tucked away to the South East of Lake Manyara is an incredible destination and perfect for those wishing for a peaceful and tranquil safari experience in between its Northern counterparts.
From an incredible array of birdlife to the exceptional mammal species, Tarangire is best visited during the latter part of the dry season when elephants and buffalos congregate in their hundreds as water and food sources slowly diminish.
Aside from Northern Tanzania, the Southern part of the country is also home to some incredible National Parks, Ruaha where huge prides of lion do battle with cantankerous buffalo herds and Nyerere National Park (previously the Selous Game Reserve) which is a vast watery landscape that not only offers boating, walking and vehicle safaris, but it is also the best place in Tanzania to find wild dogs.
Rwanda
Rwanda is another example of a country that has dedicated a lot of resources to its wildlife and has thus ensured it has become a conservation success story. Akagera National Park being the prime example of this.
Now home to all members of the 'Big 5' plus so much more, Akagera has demonstrated that with the correct management and logistics, areas can recover and provide the ultimate safari destination.
However it is not Akagera that Rwanda has become famous for, Volcanoes National Park is the main reason why people travel to Rwanda. Nestled in the West of the country, on the borders of the DRC and Uganda, it forms part of the Greater Virunga conservation area. Within these forests lie one of our closest relatives: gorillas. Here is one of the very few places where you can trek and spend time with these incredible creatures. Rwanda has specialised in the very high-end accommodation options which offer an extremely luxurious and opulent stay.
Uganda
Unlike Rwanda which focuses on very luxurious, high end tourism, Uganda delivers with a more adventurous style that makes trips to this country truly unforgettable.
For gorilla trekking, Bwindi Impenetrable Forest offers this incredible experience for half the price of Rwanda, and the encounters are exactly the same. No words can quite comprehend how special it is to spend time with gorillas, the only way to find out, is to head there yourself!
Queen Elizabeth National Park is Uganda's most famous safari destination. Split in two by the Kazinga Channel, Queen Elizabeth is a must visit. Famous for its tree climbing lions, the park can offer fantastic game drives where you could easily see four of the big five. Boating on the Kazinga channel is without doubt the activity to do in this area though, marvelling at the array of birdlife as well as coming face to face with wallowing hippos, basking crocodiles as well as elephant herds that come to the water to drink, it makes for a beautiful afternoon and sundowner option.
Due to Uganda's large size and internal logistics, a Southern circuit is the preferred route by most, visiting both Bwindi, Queen Elizabeth and then KIbale National Park. This third area is arguably the best place in East Africa to trek and spend time with chimpanzees. Although there are multiple areas where this is possible, Nyungwe Forest in Rwanda or Kyambura Gorge near Queen Elizabeth, Kibale remains the most successful area where time can be spent with these fascinating creatures.
Marc Harris is Managing Director of Africa Odyssey. Africa Oydssey is run by a team of award-winning experts offering tailor-made African safari holidays.
If you would like to be a guest blogger on A Luxury Travel Blog in order to raise your profile, please contact us.