Spain has an enviable reputation when it comes to art and architecture, and the added natural beauty of the Balearic Islands has made it attractive to celebrities, culture seekers and party-goers who want to have it all – and can- on a luxury yacht charter.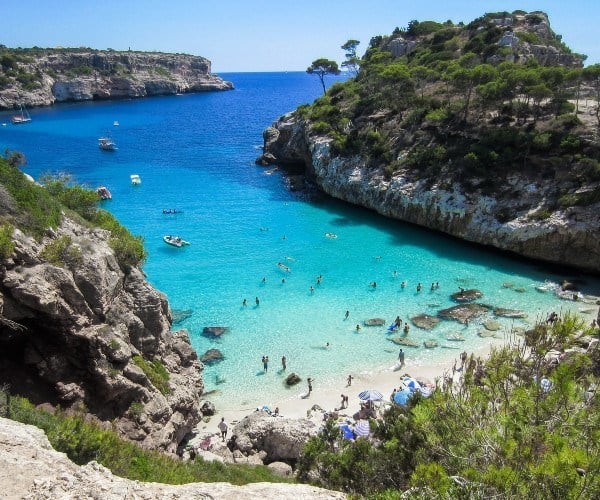 Far from being limited to a couple of destinations accessible by road, a luxury yacht has the benefit of always taking your accommodation with you as you cruise to remote bays and enjoy serenity and starlight after partying it up in Ibiza. On-hand will be a talented crew to prepare all meals according to dietary requirements, have the water toys at the ready, and even provide instruction in fitness, yoga or to earn a jet ski or Scuba diving license while on your week-long break.
Spa amenities might also be an option aboard certain motor yachts and sailing yachts, so you're never trading off the finer things in life for the convenience of greater mobility. And even if the best beaches are packed, there will be plenty of sunbeds on board so you can still enjoy the perfect anchorages without the stress of crowds.
The main islands offer wildly differing experiences for nightlife, culture and unwinding: Read on for itinerary inspiration that will make your holiday charter a success as a family event, honeymooning couple or among revelling friends.
Ibiza & Formentera
Ibiza Town is the party capital of the Balearic Islands (and, arguably, the Western Mediterranean as a whole): DJs the world over, come to play at exclusive parties and large-scale beach festivals that last through to dawn. The party lifestyle is not the only attraction in town, however, and culture seekers should take the time to visit Museu d'art Contemporani, Museu Puget and the archaeological site Puig des Molins.
Health and wellbeing are also of top priority on Ibiza, and there is a selection of indulgent spas for serenity and absolute luxury where couples and girlfriends can engage in some pampering.
Dine on Michelin-star fare at Sublimotion in Ibiza Town, or take a trip to the western side of the island to discover ancient forts and beautiful coastline hideaways on a stroll around Punta de sa Pedrera before satisfying your appetite at Es Tragón in Sant Antoni de Portmany.
Formentera to the south of Ibiza is best known for its long stretches of white sand beaches fringed by an inviting bright blue sea. A luxury yacht charter gives you the chance to wake up in this paradise before anyone else arrives, giving you time to have breakfast alfresco and snorkel along the shores before cruising off to more remote destinations for Scuba diving, playing on the water toys and sunbathing without any other souls in sight.
Mallorca is the middle island and a balance between the hedonism and serenity of the other two. It has plenty of architectural wonders to satisfy those who want to delve into the archipelago's past and have some incredible shots for social media. A visit to Palma should be high on your list for the Catedral-Basilica Santa-Maria de Mallorca, Llotja de Palma and the Castell de Bellver set within Parc de Bellver. When you're ready for a rest, the beautiful cafes lining the streets of Palma make the perfect place to sit and watch the world go by over a delectable lunch, followed up by a rewarding shopping trip through unique boutiques and high-end international stores.
You're never far away from fine dining on Mallorca and Palma offers several Michelin-starred restaurants, including Adrián Quetglas and Marc Fosh as well as Es Fum farther along the coast, nestled between golden sand beaches.
Quiet and reserved Deia to the northwest has been a favourite with celebrities for decades. Today, visitors come to take in the atmosphere, visit the home-turned-museum of artist and poet Robert Graves, and peruse the art galleries and gift shops for unique mementos of Mallorca.
Port de Sóller and Sóller offer an elegant and entertaining day on land with a tram to transport you around town, taking in the citrus-filled gardens and Modernist houses on the 30-minute journey. Sóller also features an enchanting Botanical Garden and the Museum Can Prunera, which hosts permanent works from famed artists Picasso, Warhol and Kandinsky.
Away from the shores, the UNESCO World Heritage Site of Serra de Tramuntana is more than just a visually stunning mountain range: Visit the lavishly decorated Royal Charterhouse in Valldemossa, which was the winter residence of Chopin, then go for a bike ride or hire a car to see the historic villages concealed among verdant forests and terraced hills.
Menorca
Topaz blue seas and white cliffs grant Menorca a dream-like quality stronger than the other islands and further enhanced by a laid-back pace of life. So beautiful is Menorca that the whole island is protected as a UNESCO Biosphere Reserve: Sandy beaches such as Cala Mitjana and Cala Macarella are myriad along the southwestern coast, and the sea is teeming with life as snorkellers, divers and fishing enthusiasts will discover. The north coast has attractive golden sand beaches, while Ciutadella de Menorca is a gem for cultural attractions including lighthouses, forts and its most notable feature, the cathedral by the same name.
At the other end of Menorca, the Nature Parc of S'Albufera des Grau is idyllic for walks and kayaking nearby, and you can rest back on board while cruising to Mahon for its charming cobblestone streets, castles, forts and museums. There is also a choice selection of ambient bars and restaurants to stay and enjoy the area after sundown. An alternative is to cruise south to the quirky cliffside bar Cova d'en Xoroi for live music, stunning views at sunset and enough drinks to match your thirst as you dance the night away.
Barcelona awaits across the sea
The Balearic Islands also have the benefit of being close to Barcelona, across the Balearic Sea. The city is a hub for culture and cuisine, boasting numerous Michelin-starred restaurants for an unforgettable dining experience. Modernisme – the Catalan version of art deco – is a decadent indulgence of shape and colour, and the Picasso Museum within the medieval is an adventure just by itself. Parc Guell and La Sagrada Familia will bring a satisfying conclusion to any Balearic Islands luxury yacht charter before you fly back to the familiar surroundings of home.
Tour the Balearic Islands effortlessly and in style on a luxury yacht charter and dedicate more time to making memories with loved ones among these beguiling isles.
Trina Howes is a Director of CharterWorld America. CharterWorld is a luxury private yacht charter company that creates outstanding vacations with excellent yachts at amazing prices – worldwide.
If you would like to be a guest blogger on A Luxury Travel Blog in order to raise your profile, please contact us.