Many things may spring to mind when someone says "Japan", but it is likely that white sand beaches and turquoise waters are not among them. Best known perhaps for a richness of culture, a deep rooted history, or even as the country that offers arguably the worlds best powder skiing, its merits as a beach destination are often overlooked.
The most southerly prefecture of Okinawa spans a huge area, with hundreds of kilometres between each island cluster. Those further south are closes to Tawain and even the Philippines, and so it is unsurprisingly to find many pristine pockets of paradise at this latitude. While the main island of Okinawa – and Ishigaki to the far south – may be better known for sun holidays, Miyakojima may well be home to the best beaches in all of Japan. And fortunately, it is yet to be over run with international tourists. Here to wet your appetite are our 5 best beaches on Miyakojima.
1.Sunayama Beach
Straight out of a luxury travel brochure, Sunayama Beach is your ultimate desert island paradise. Turquoise water laps the fine white sands, and at mid to low tide it stays shallow for a long time, making it a great spot to take the kids as well. The beach is small and entirely un-commercial, tucked in a small natural bay. Erosion has left a free standing rock archway, and dense greenery sprawls to meet the sand. The car park is a 5 minute walk away, and so access to the beach is through a narrow sandy trail, thick with vegetation on both sides. Finally it opens up, and reveals the most remarkable tropical beach. The snorkelling here is mediocre, but the atmosphere and beauty is second to none.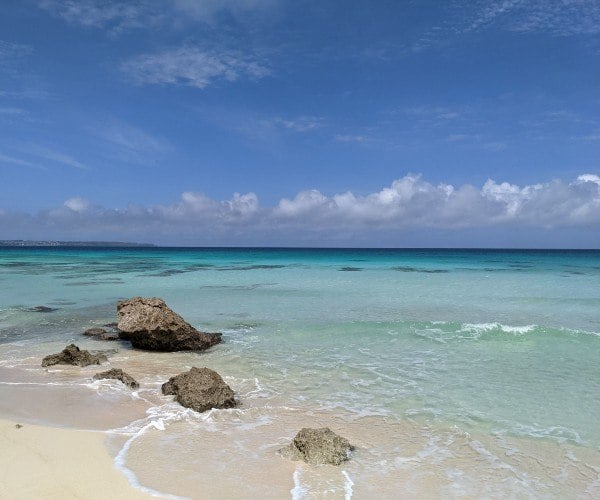 2. Yonaha Beach
Perhaps a more conventional style of beach, this wide sand strip extends for kilometres on end, enabling groups or individuals to find their own space away from others and settle in for a half day or so. As this stretch of coast line is more exposed, it can be windier and experience higher waves, so it is well suited to wind sports and older families/groups. The car park is a few meters from the beach itself, so access is easy for most people and you can make several trips if you're brining a lot of beach toys with you. There are very few rocks in the sand or shallows, making it a great choice for clocking swimming miles and/or playing games in the water.
3. Shigira Beach
Heading south on Miyakojima's main island you will come across a sprawl of Shigira Resorts owned and operated properties, golf courses, and beaches. Geared towards the discerning traveller – though with some options for the more budget conscious – the beaches are for public use as well as hotel guests. Shigira Beach is another white sand, turquoise water bay that becomes a separate body of water at low tide. The rock formations scattered throughout make for interesting snorkelling, with more impressive marine life to be found further towards the reef. Many of the shallow rocks and coral make for great training ground for those new to snorkelling, or kids that are getting the hang of it. The proximity to the car park and hotel's facilities makes it easy for most people to access, and as a set back bay it is somewhat protected from bigger waves and wind.
4. Imgya Coral Beach
Another beach situated in-front of a Shigira Resorts property, this tiny, underrated beach offers excellent snorkelling, rock pooling and white sand to stretch out on. It would be very easy to to pass by it without knowing that it exists, and as such it stays relatively quiet. The water does deepen quite early at high tide, offering a spectacular show of sea life for those with a mask and snorkel and strong swimming skills. If you have kids in tow, plenty of large rock pools form as the tide recedes, each teaming with marine creatures. The water itself is blue and beautiful, and the views back to the coast line are rugged and dramatic. Kids could enjoy a swim in the shallows at lower tide, but smaller children would be better suited to one of the other beaches on this list.
5. Aragusuku Beach
Differing once more from the others in this list, Aragasuku beach is on the east of the island, and as such is often sheltered from larger waves and wind. It stays shallow for a long time, has very few rocks, and many kilometres of sand to stroll along. It is great for families with the shallow, sheltered water, or the more adventurous traveller as there are various water crafts available for rent on the beach front. It is slightly more developed than some of the beaches on the islands, but still very low key, laid back and authentic. There are facilities at the car park, which is a few meters from the sand, so access is very easy. There are basic food and drink options on the beach itself, so you don't need to bring quite as much with you.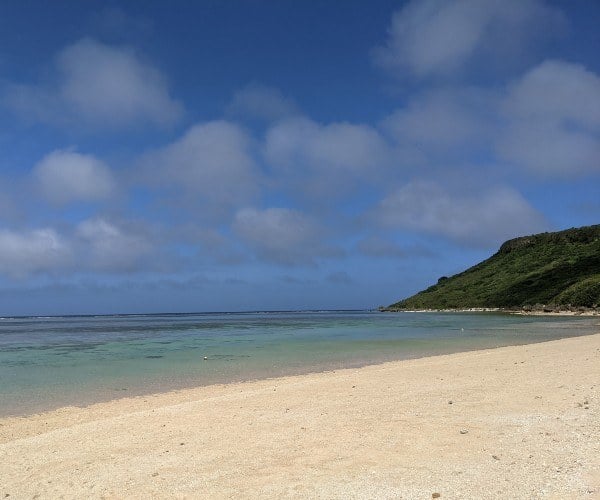 These are just five of many, many incredible beaches located on the islands of Miyakojima. The Japanese border may be closed for now, but when it does re-open, Japan offers the chance to enjoy a ski trip, a beach holiday and thousands of years of nuanced history to be enjoyed in one vacation. A visit between mid-April to mid-May will allow you to combine skiing and sunbathing, and even some of the world famous cherry blossoms. Maybe for now, pop a bookmark in this page and start planning your next Japan adventure.
Nadine Robb is Owner and Instructor at Hakuba Ski Concierge. Hakuba Ski Concierge is a boutique ski school in Hakuba, Japan.
If you would like to be a guest blogger on A Luxury Travel Blog in order to raise your profile, please contact us.