Dubrovnik… a city steeped in history, culture, and timeless beauty… and recently, one of the five best little towns in the world according to the Conde Nast Traveller. With several attractive locations and renowned venues, it is no surprise that it is one of the top places in the Mediterranean for meetings and events, not just individual luxury travel. This segment has been consistently growing from the beginning of tourism in Dubrovnik at the end of the nineteenth century, but significant growth of the MICE business did not occur until the 1970s.
For small and big events
According to the Dubrovnik Convention Bureau, there are over 8000 conference seats, mostly in five- and four-star hotels, but also in other cultural or historic venues. You'll be spoilt for choice with Fort Revelin, Rector's Palace, Sponza Palace, the Marin Drzic Theatre, the International Centre of Croatian Universities, the former monastery of St. Clare, Fort Lovrijenac, Park Orsula, Park Višnjica, and much more to choose from, depending on the size of the events and other specifics. There are numerous DMCs available to help with planning and production, as well as high-quality AV and translation services. Dubrovnik has always taken pride in delivering exceptional hospitality, and the meetings and events sector is no exception.
One thing Dubrovnik currently lacks is a large polyvalent conference centre capable of hosting larger crowds in a single location. However, the city has plans to create such a facility in the future.
Unique incentive ideas
If we've learnt anything from the past two pandemic years, it's that employees are essential to any successful business, and there's no better way to enhance productivity or just reward exceptional work and devotion than by planning a memorable incentive trip. DMCs and luxury hotels can build custom programs to meet the demands of each client. When it comes to experiences and activities in Dubrovnik, the world is your oyster.
Tours of the old town of Dubrovnik are inevitable. You should not miss experiencing the riches within the historic city walls, whether you are travelling alone or as part of a corporate group. Cobblestone streets, steep stairwells, lovely shops, and diverse cultural jewels on every corner may all serve as a wonderful backdrop for exciting treasure hunt programs.
Sailing on historical galleons Tirena or Karaka is also a must, offering you the option to cruise among the picturesque Elafiti Islands or the city's green oasis Lokrum, especially with the convenience of boarding directly at the resort.
Why not enjoy an authentic Dalmatian evening with a Croatian culinary experience – from authentic national dishes to tastings of high-quality local wines?
If you prefer high-adrenaline activities, you can select from off-road buggy rides in the countryside, jet ski safari rides to nearby Kalamota island or a variety of team games at the sports centre. Wellness retreats are also popular incentive choices, so if you choose one, make sure the hotel has extensive spa facilities and programs available.
Film industry
Although Dubrovnik's love affair with Hollywood began in the 1960s, when it was a popular vacation spot for big-screen A-listers such as Elizabeth Taylor, Richard Burton, Sophia Loren, and Yul Brynner, it came to a global spotlight when HBO used Dubrovnik as a filming backdrop for the capital of "King's Landing." The overall effects have been extremely positive on both tourist arrivals and the image of the destination and Croatia in general.
Some of the other recent projects include Star Wars: The Last Jedi who had to do a complete makeover of the Dubrovnik's most popular street Stradun and even managed to have a spaceship scene over the Old Town Dubrovnik, the third season of 16th-century drama Borgia, blockbuster Robin Hood: Origins featuring Jamie Fox and an Emmy Award-winning series Succession. The popularity was not limited only to Hollywood; Dubrovnik was also a filming set for the popular Bollywood movie Fan starring Shah Rukh Khan.
Dubrovnik is a favourite vacation spot for a growing number of wealthy and well-known people, including business people such as Roman Abramovich, Bernie Ecclestone, and Bill Gates, as well as Hollywood A-listers such as Tom Cruise, Morgan Freeman, Gerard Butler, Brad Pitt and Angelina Jolie, John Malkovich, Steven Spielberg, and others.
Automotive events
Dubrovnik, other than being one of Europe's leading tourist destinations, has recently also become a world-famous stage for the presentation of various products, including the attractive automotive industry. In addition to its general appeal, Dubrovnik is an excellent base for exploring the region's numerous scenic rides. One of them is Napoleon Road, which dates back to the 19th century and offers thrilling winding roads with breath-taking views of the coastline, Elaphite Island, and the wind farms in the distance.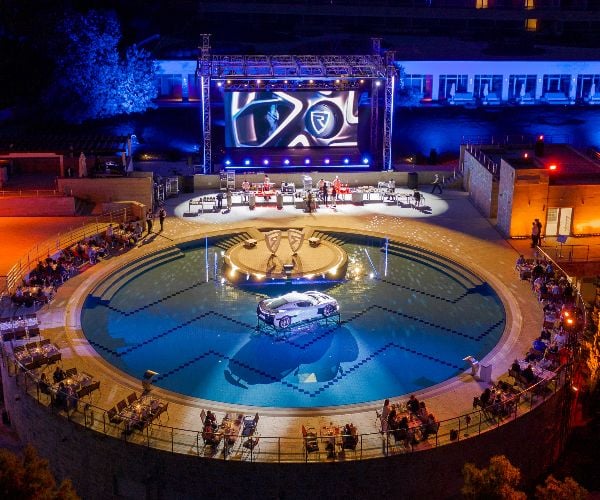 Several major automotive events have been hosted in Dubrovnik – Rimac Nevera Dealer's Sales Conference, Nissan Micra Global event, Škoda Scala global product presentation, a three-month global Mercedes event "Mercedes Benz – Global Training Experience 2016", Hyundai CIS & Eastern European Dealers Convention, just to name a few.
The luxury small groups of Supercar owners, including limited collections such as Ferrari 458 Speciale, McLaren P1, Lamborghini Aventador SV, Porsche 911 GT2 RS and Porsche 911 GT3, also organized exclusive and extraordinary European driving tours featuring exciting routes, breath-taking scenery, first-class hotels and fine-dining establishments.
Weddings from heaven
Many romantics would say that Dubrovnik is second to none when it comes to luxury weddings. Enjoy spectacular locations, striking views, and top-notch service in everything from quaint chapels and churches to landmark historical places and luxury hotels. Sponza Palace, Fort Lovrjenac, and Lokrum Island are among the best wedding venues, while the actual wedding ceremony is St. Blaise Church in the heart of the old town. Most foreign wedding ceremonies are organised between May and September, while local ones extend through wintertime as well.
Christian Larss Kreković is a General Manager at Sun Gardens Dubrovnik. Sun Gardens Dubrovnik is a luxury resort on the Adriatic coast in Croatia offering bespoke guest experiences.
If you would like to be a guest blogger on A Luxury Travel Blog in order to raise your profile, please contact us.