Siem Reap, home to the remarkable Angkor Wat, is once again open to vaccinated international visitors, with no need to quarantine upon arrival. Since the Cambodian borders closed in March 2020 the 'tourist tap' has well and truly been turned off, but with impressive vaccination rates, overseas guests are now welcome back to the 'Kingdom of Wonder'.
During 2019, visitor numbers to Angkor Archeological Park were in excess of 2.2 million, but the COVID pandemic has seen these numbers reduce dramatically. The first 9 months of 2021 has seen only 6167 foreign visitors enjoy the breathtaking UNESCO World Heritage Site, quite simply, unless you're Cambodian or you live here, it just hasn't been possible.
We've been blessed to spend this unique time exploring the vast jungle temple complex and words cannot describe just how incredible this has been. Angkor Wat with zero tourists has usually been reserved for royalty, VIP guests and visiting dignitaries but that once in a lifetime chance to experience Angkor Wat like you've never seen it before is now a reality.
The trail blazing travellers who are first to book their trips to Cambodia post-COVID are in for a treat as the reduced numbers are likely to continue for some time. This means that the iconic sunrise at Angkor Wat with just a handful of others is possible and an opportunity not to be missed. Our good friends (and fellow Siem Reap expats) from Angkor Photography Tours have been documenting this unique time with a collection of enchanting images that they were kind enough to share with us for this article.
Venus rising over Angkor Wat
Angkor Wat was built in the early 12th century by King Suryavarman II and is often considered to be the 'eighth wonder of the world'. Visitors have continued to be amazed by this religious monument, which is quite simply breathtaking. The iconic sunrise over Angkor is a 'bucket list' item for sure, but there are other times when with a little planning and foresight you can be blessed with a memorable and unique vista. The below image shows Venus rising over Angkor Wat, just after the autumnal equinox during September, with the solitude and peace perfectly captured in still form.
The deserted roads of Angkor Archeological Park
The early morning light reflects upon the northern gate at Banteay Kdei, a temple which even during busy times provided the opportunity to escape the crowds. Village life continues within Angkor Archeological Park and here you can see a local villager on his motorbike WITH trailer, heading east towards Sras Srang, one of the vast manmade barays or reservoirs that provide vital irrigation throughout the park.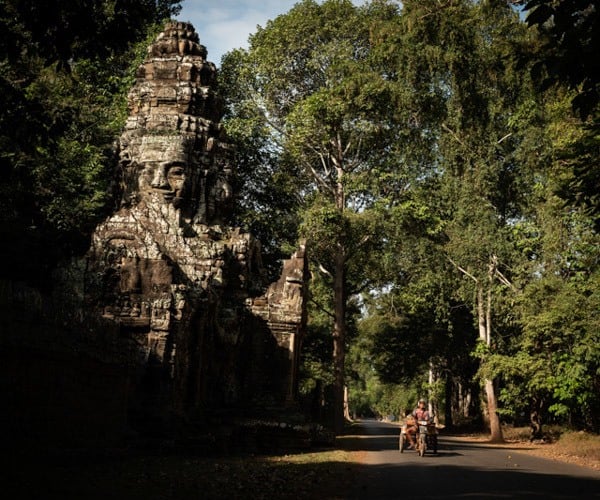 'Green Season' at Ta Nei Temple
Starting in June with the arrival of the monsoon rains, the temples within the complex take on a whole new appearance. The moss and lichen enjoy their time to thrive as they create a carpet over each and every surface, a natural transformation that is both impressive and dramatic. Shown below is Ta Nei temple which was built in the late 12th century by King Jayavarman VII, the devata in the background watching on as her surroundings are slowly transformed.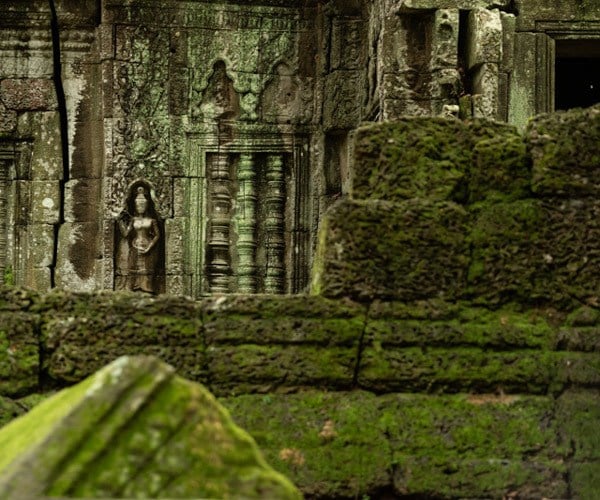 Local life at Angkor Thom
The 12th century gated city of Angkor Thom, the last capital of the Khmer empire, measures 9 square kilometres and is accessed by 5 majestic gates. Home to the iconic Bayon Temple, you could spend a whole day or more exploring the multiple temples within the ancient gated city. Tourists or no tourists, local life continues, as this image of two local women on their bicycles about to exit the north gate depicts.
Welcome to Preah Khan
One thing you can be sure of when exploring the temples of Angkor, is that you will be greeted with an infectious smile on multiple occasions. When this photo was taken at Preah Khan temple in August 2021, Cambodian schools were still closed as they have been for the duration of the COVID pandemic. Government guidelines have just been issued to implement a much needed re-opening and we hope that by the time you read this, this young Khmer lad will still be smiling, and be back at school…
Leaving Angkor Wat
At the end of the evening on an empty walkway with the five iconic towers behind you, it's time to leave Angkor Wat and what better time to do that than just after the spring equinox in March. With the sun slowly sinking and the sky on fire, it's time to say goodbye to the eighth wonder of the world, with memories that you will cherish forever. Just you, your camera and the four other inquisitive souls who enjoyed this once in a lifetime experience.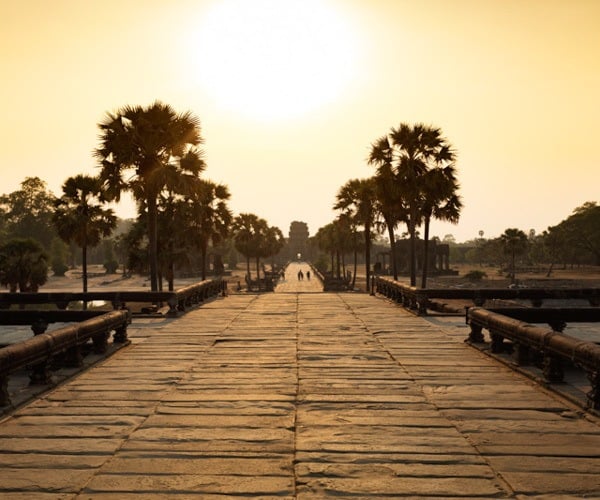 So for anyone who has Cambodia and the temples of Angkor on their radar, there's never been a better time to visit as you will be sure to enjoy Angkor Wat like you've never seen it before. And for those budding photographers amongst you, why not join one of the half day or full day photo tours with the excellent Angkor Photography Tours? Their popular Angkor Sunrise Tour is an action packed half day including luxury SUV transportation, breakfast and exploring the trio of temples which are all seen above, Angkor Wat, Ta Nei and Preah Khan. Along the way you will not only enjoy expert and knowledgable guidance to the temples, but photographically you will be assisted and guided to ensure you capture the best pictures possible.
Paul Eyers is Founder of Vegan Food Quest. Vegan Food Quest have become luxury vegan travel specialists as they continue to find, eat and write about the best vegan food in the world.
If you would like to be a guest blogger on A Luxury Travel Blog in order to raise your profile, please contact us.