7 beautiful ski chalets in Hakuba, Japan
"7", but technically 9,
Hakuba
White Fox is one of the newer and larger property portfolios in the Hakuba Valley, exuding comfort, style an sophistication throughout their collection. Easily recognisable in their bold and unique architecture – contemporary meets cosy in these luxury Hakuba ski chalets. Aside from the design, the concierge team live full time in the valley and are fluent in both English and Japanese – ensuring that you get the very most out of your visit.
1.The White Fox Chalets
As the flagship and namesake properties, The White Fox Chalets are in the heart of Echoland (the food and entertainment hub of Hakuba), offering 2 X 3 bedroom chalets under one roof. Each sleep up to 9 people, come with fully equipped kitchens in an open concept setting, underfloor heating (and heated parking – especially valuable on those snowy Hakuba mornings), and impressive mountain views which are best enjoyed through the floor to ceiling windows.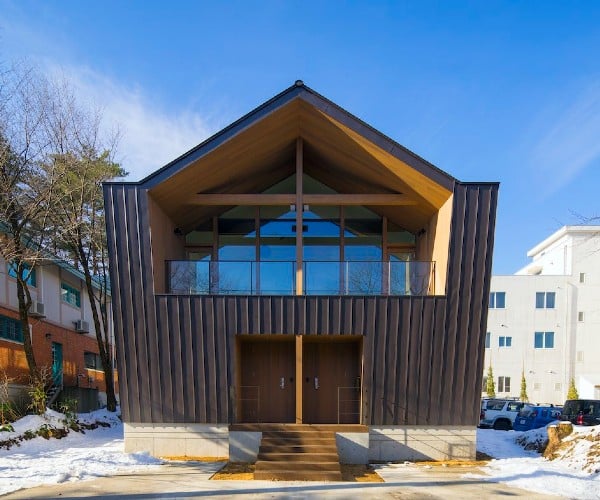 2. Alpinarc Chalet
Located on a quiet side street of Echoland, this brand new 6 bedroom luxury chalet offers everything you could need for the ultimate mountain retreat. Floor to ceiling windows offer unobstructed views of Japan's Northern Alps – with the famed three peaks standing sentinel behind the snowy slopes Happo One. Perhaps the best way to soak in this view is from the 4 person "onsen" bath on the ground floor – either as a pre-ski indulgence as you nurse a morning coffee, or at the end of the day with a glass a bubbly. Whatever your preference, few things say "alpine luxury" better. With a capacity of up to 16 guests, a fully equipped kitchen and underfloor heating – this would be the perfect choice for multiple families or friendship groups, or those travelling with non skiers. In every way possible, Alpinarc Chalet embodies all of the elements of high class alpine living.
3. Black Crane & Grey Wolf Chalets
As two separate stand alone chalets, these two have the advantage of being next door to one another – which is particular appealing if you are travelling as a part of a larger group. Both are just steps from away from the heart of Echoland, and thanks to the in-house car rental service, staying in Hakuba has never been easier. As a sprawling valley with ten different ski resorts, having your own wheels to navigate it in your own time, in your own way, is the surest way to capture Hakuba's highlights and hidden gems. Though entirely unique in their individual appointment and design, both of these 3 bedroom, 2.5 bathroom chalets boast contemporary, chic interiors with warm wooden finishes.
4. Cherrywoods Place
Located in the beautiful Misorano neighbourhood, Cherrywood Place has the peace and quiet of a rural setting, but is still a stones throw from Echoland and all of the choices that it offers. In addition to the underfloor heating, fully equipped kitchen and spacious dry room that all of the properties boast, Cherrywood comes complete with a second floor spacious outdoor deck and BBQ; the stoke the inner Aussie in you. The stone accent wall inside the chalet offsets the warmth of the timber with the ruggedness of the mountains, while the interior appointment is once again well thought out and tastefully executed.
5. BiKei Chalet
The ultimate chalet with a difference, BiKei has an interior climbing wall that spans the two stories (crash mat included!), alongside a contemporary Japanese feel with its elevated living room and Japanese styling. It's peaceful location offers unobstructed views of the slopes of Happo One and Hakuba47, and the closet resort shuttle is a 4 minute walk. Though this easily manageable without a vehicle, renting one is recommended order to fully explore and ski all that the valley has to offer.
6. Sanzan
Tucked away above the central area of Echoland, this property has the benefit of a peaceful setting with the convenience of being steps away from the main street of Echoland. One of the 4 bedrooms is a bunk room – making this property ideal for multiple families or friendship groups – while the outdoor terrace and fireplace offer the chance to breathe in the fresh, mountain air, before snuggling in for the night curled in front of the fire. Checking the location, amenities and style boxes once more – Sanzan is a one of kind custom build, and is not short of attention to detail throughout the interior.
7. Ahiru Chalet
With oversized floor to ceiling windows on almost every side, there is no shortage of Instagram opportunities at Ahiru Chalet. Watching snow peacefully falling from the comfort of a spacious second floor living room is a great way to truly immerse yourself in the spirit of a winter holiday. Situated away from the majority of tourist accommodations – yet still within striking distance of Echoland – Ahiru is another that is both peaceful and convenient. As one of the newest chalets in the collection, the architecture is dramatic and the interior finishes are reflective of the experience in property design and management that is attributed to the Hakuba White Fox team. With the fully equipped open concept kitchen, underfloor heating and second floor terrace, this 4 bedroom 3.5 bathroom chalet is built with larger groups in mind – but would also work beautifully as a luxurious ski chalet for anyone visiting Hakuba this winter.
Whichever one you opt for, you will be in excellent hands from the first point of contact until check out. Far from being a faceless company who run their bookings from half way around the world, the owners, bookings team and concierge staff are on the ground in Hakuba, providing accurate, real time information and assistance throughout the booking process and visit itself. After all, the perfect ski holiday starts with finding the perfect base for it.
Nadine Robb is Owner and Instructor at Hakuba Ski Concierge. Hakuba Ski Concierge is a boutique ski school in Hakuba, Japan.
If you would like to be a guest blogger on A Luxury Travel Blog in order to raise your profile, please contact us.
Did you enjoy this article?
Receive similar content direct to your inbox.