Devon isn't just known for its spectacular coastline and beautiful beaches. The county has also long had a superb reputation for its exceptional food and drink. As well as being home to three Michelin star restaurants and a number of celebrity-owned restaurants, it's of course also renowned for cream teas, fish and chips, cheese, cider, farmers markets and a number of niche food festivals.
But that's not where it ends. On our recent trip to Exmouth, we tried produce from a number of specialist producers. Here are four we sampled that we recommend you look out for…
Veyseys Butchers
Established more than a century ago in 1890, Veyseys Butchers is located on the high street in the quiet Devon town of Cullompton. Working closely with local farmers, Veyseys is at the forefront of true West Country provenance and is proud to know the origin of all of its meat; sourcing beef, pork, lamb and game within an astounding 20-mile radius of the shop. I'm not sure if I've ever come across a butchers with such a localised focus before yet, sourcing their meats in this way, means they can maintain the highest efficiency and expected standard, and all products can be traced from farm gate to dinner plate.
It's perhaps no wonder therefore that Veyseys was awarded Food Drink Devon's Best Retailer of the Year award in 2020, after demonstrating quality, sustainability and provenance and working hard to adapt during a challenging year. Since the pandemic began, Veyseys has developed the business to keep up with the high demand, adding nationwide delivery to their offering. Their extensive range of products and quality butcher boxes, including their 45-day dry aged steaks, Free Range box, the Family Loyalty box and the Ultimate Steak box, are available for delivery to your door in wool-insulated, eco-friendly packaging.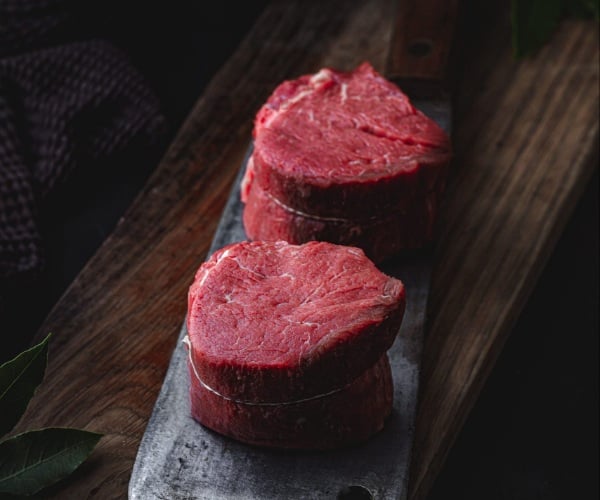 I can't recommend their fillet steaks enough – so succulent, tender and full of flavour. Cooked rare, they really were quite a treat. The black putdding is also a delight, enjoyed in a bap on several breakfasts with their sausage and bacon, and an egg to top it off. Look out also for their chicken kebabs. We tried both the Chinese Char Sui variety, as well as those simply marinaded in garlic and butter that were especially tasty.
Bar Buoy
Dreamt up during lockdown on a beach in Devon, Bar Buoy is an exciting range of 12 fresh pre-made sharing cocktails with delivery direct to your door. Each classic cocktail, which serves two, is mixed by the sea and contains only the finest premium spirits and high quality ingredients. Cocktails to choose from include Bloody Mary, Bramble, Cosmopolitan, Espresso Martini, Hemingway Daiquiri, Knickerbocker, Long Island Iced Tea, Margarita, Mojito, Negroni, Old Fashioned and Original Rum Punch.
Perfect for trips to the beach, garden parties, picnics and gifts, simply choose how many cocktails you'd like delivered (two, four, six or 12) and then select the cocktails which float your boat. A treat while on holiday, guests can pre-book their Bar Buoy delivery to arrive at their self catering holiday accommodation, cutting down on the holiday luggage and packing but allowing them to enjoy fresh cocktails during their stay. Whilst I'm not a big cocktail drinker myself, the Margaritas went down especially well. I also notice at least one bar in Exmouth with prominent Bar Buoy signage so it's clearly not taken long for the word to get out.
Rare & Pasture
An artisan, organic charcuterie and smokery making award-winning smoked and cured meat products, Rare & Pasture is located at Fowlescombe Farm between the foothills of Dartmoor and the South Devon coast. They produce a unique range of charcuterie and smoked meat products including beef frankfurters, smoked and shredded lamb and beef and charcuterie such as Fowlescombe Longhorn Beef Bresaola and Fowlescombe Mangalitsa Pancetta.
They pride themselves on using organic meat from slow growing, native breed animals, most of which are reared on their own farm. The combination of their organic and regenerative farming methods and native animal breeds, which they allow to grow slowly, results in meat of an exceptional quality. Rare & Pasture only use natural ingredients, all of their products are free from nitrates and other artificial ingredients such as fillers and flavour enhancers. Their aim is simple, to create meat products that are truly sustainable and healthy to eat.
Their shredded lamb – organic, hot smoked pure lamb – was a particular favourite of ours, moist and full of flavour. The frankfurters also were a very pleasant surprise – try the cheese variety for a little bit of extra indulgence.
Granny Gothards
Granny Gothards produce luxurious artisan restaurant standard ice cream and sorbets in small batches in the heart of Devon using only the very finest ingredients. Each batch starts with a homemade crème anglaise and they only use fresh, real and as local as possible ingredients, with absolutely no artificial ingredients, colourings and preservatives. Think milk from the first milking, lashings of cream, Clarence Court egg yolk – all the best things in life! Quality and creativity are the driving forces at Granny Gothards and they take great care to ensure the flavours in their range are deep and powerful, with eclectic flavours in their range including Salted Honey, White Chocolate and Raspberry, Double Espresso Coffee and Whiskey and Marmalade.
Exciting for 2021, their delicious artisan ice cream is now available in 500ml innovative wooden pots which are not only beautiful but also 100% compostable and sustainable. Think ice cream meets camembert! With a wealth of customers from farm shops and delis to Michelin / AA Rosette restaurants (not to mention their three ice cream parlours!), it's no wonder they won Best Artisan Ice Cream Producer in the Lux Awards 2020. The Lavender and the Salted Honey flavoured ice creams were firm favourites within our party.
Next time you're in Devon – or even in your local supermarket – look out for these four special local producers that are certainly leading the way for the county, and doing Devon's food and drink scene proud.
Disclosure: Thank you to Food Drink Devon for their support with this article.