As we slowly move away from discussions about Moderna and Pfizer, adventurous birdwatchers are again thinking more about Macaws and Finches. And one of the best areas for some serious birding is the pint-sized South American nation of Ecuador, which has the most bird species per acre of any country on the planet..!!
Boasting 1,638 species, this tiny country has a greater diversity of birds than China or India, and nearly twice as many bird species as the United States. All of this gives birders the possibility of spotting more different species in a week or two than you would have just about anywhere else
For birders, the country is a top destination not only thanks to this vast number of species, but also because Ecuador is safe and easy to visit and get around. For those birders ready to grab their bird list and head on down here to Ecuador, we've ID'd what we think are the best sites for your next trip.
The Amazon rainforest
The waters flowing down the eastern slopes of the Ecuadorian Andes eventually feed the mighty Amazon River. The mid-elevation cloud forests and lowland sub-tropical rainforests of the Ecuadorian Amazon are prime birdwatching areas. During stays at any of the many lodges in this region, you'll find on-site bird-species lists that number 400 or more. A few on the main Amazonian areas well worth visiting include the following:
1. Yasuni National Park
Located in the center-east of South America's Amazon region, Yasuni National Park covers more than a million hectares, making it the largest protected area in continental Ecuador. The avian diversity here is spectacular, with some 600 different species of birds present throughout the reserve.
Traveling by dugout-canoe or trekking through the jungle, the highlight of any trip into Yasuni is a visit to a parrot clay lick, one of the most striking experiences on any visit to the Ecuadorian Amazon. At these sites — where hundreds to thousands of parrots, parakeets and macaws go daily to feed on minerals found in the clay — the spectacle is stunning not only for the color diversity but for the incredible acoustic show of different sounds bids as they gather.
2. Tena, Ecuador
From the Ecuadorian capital of Quito, a morning's drive will take you to the town of Tena, known as the gateway to the Amazon rainforest. From here, the adventurous birder can quickly tally up a host of bird species on day excursions out on the river or by hiking through local secondary forests.

A birding highlight will likely be sightings of the beautiful and prehistoric-looking Hoatzin. With their crested heads looking like mohawked teenagers sitting in the low tree branches, their plumage and coloring work as excellent camouflage, so you may have to rely on your guide to position your canoe for the best views.
3. Cosanga, Ecuador
On the eastern slopes of the Ecuadorian Andes, just outside the small town of Cosanga, you can venture through mysterious cloud forests that are rich in avian diversity. During the rainy season, this region is great for sighting migrating species that visit on an almost daily basis. In fact, a team of bird counters recently identified close to 500 species in just a single day. Every year, such bird watchers venture to this area to participate in the Audubon Christmas Bird Count, where the "Cosanga-Narupa Count" has racked up world records several years in a row!
Ecuador's Pacific coast and plain
The water flowing down from the western slopes of the Andes heads across Ecuador's western plain and then down to the Pacific coast, a journey that passes through some of South America's most diverse but endangered habitats.
4. The Mindo & Bellavista Cloud Forests (The Choco Corridor)
The Choco Corridor is a birding hotspot that runs through Ecuador's Pacific plain from Colombia to the north and south to Peru. Within this stretch are the Mindo and Bellavista Cloud Forests, which are irresistible magnets for the bird-tourists that arrive in Ecuador.
Situated less than two hours north of Quito, these cloud forests have been declared as the main site in South America of global importance for birds such as the "Cock-of-the-rock," multicolored tanagers, Andean toucans, and the amazing Chotacabras Colilira, whose tail reaches up to a half meter in length. In fact, in a single day you can easily observe more than 150 species. What's more, this area also offers excellent tourist facilities and a good road network for exploring this scenic and paradisiacal setting.
5. Machalilla National Park
The only national park on Ecuador's Pacific coast, Machalilla National Park is located along the coast in the far western side of Ecuador and covers an area of 290 square miles (750.59 sq. km). The national park is comprised of forest diversity that includes both dry forest and cloud forests, as well as shoreline, beaches, some ocean waterways off the coast, and a handful of islands. The oceanic part of the park comprises two large islands, one of which is Isla de la Plata.
This island is also known as "Little Galapagos" because, much like the famed archipelago, it too has Blue-footed and Red-footed boobies, pelicans, two species of frigatebirds, Waved albatross, and frigatebirds in droves.
The Andes
Running from north to south down the spine of Ecuador are the Andes: High-altitude mountains, volcanoes, and valleys that are simply stunning. Their extreme habitats — which are alternately baked in the equatorial sunlight and then covered in low-lying clouds and mist — are home to a host of different bird species.
6. The Northern Andes (Around Quito)
The combination of great scenery, easy access, and easy birding make the northern Andes near Quito as one of the country's favorite touring sites. While birding, enjoy some of the most dramatic views in Ecuador in these high mountains that are home to many iconic species. In the shadow of the huge snow cone of the Antisana Volcano, for example, you can spot Ecuador's national bird (the majestic Andean Condor) or the tiny but colorful Hillstar Hummingbird.
7. The Southern Andes (Around Loja)
As the southern Andes area is not as heavily developed for international tourism, this area is not visited by birdwatchers as often as the north. Nonetheless, the remote Podocarpus National Park is home to more than 600 bird species. Containing ecosystems that range from high paramo to cloud forest and rainforest, in this park you can spot everything from hummingbirds in the higher altitudes to jewel-toned tanagers in the sub-tropical jungles.
The Galapagos Islands
For an up-close birdwatching experience that will rival anything you'll see in a NatGeo documentary, the Galapagos Islands offers itself as an unbelievable destination.
From the only subtropical penguin to the unique flightless cormorant, and colonies of giant Waved Albatross, the Galapagos is a great one-stop spot to check off a whole host of once-in-a-lifetime birds from your list. Keep in mind that about half of all the bird species here are endemic, which means you can only see them here. Though birds can be seen on every island in the archipelago, some locations are easier than others to see a certain species.
8. Fernandina and Isabela Islands
Fernandina and Isabela islands, which are the far western islands of the Galapagos archipelago, are home to 95% of all Galapagos penguins. What's particularly noteworthy about this tiny bird is that it's the only species of penguin found north of the equatorial line.
These are also the rarest and, unfortunately, the most endangered penguin species in the world, having experienced drastic reductions in their population over the past 40 years. Waddling in that cute penguin way on land, or swimming like torpedoes underwater, it's hard for travelers of any type to get enough of them.
9. Española Island
For travelers as a whole — whether birdwatchers or not — Espanola Island's biggest attraction is its birdlife – specifically the Galapagos Waved Albatross. The largest and most graceful of all Galapagos birds, every year an estimated 25,000 to 30,000 of these giant seabirds come home to Espanola between April and December to mate and nest on the cliffs. Indeed, Espanola is the only place on the planet where these enormous birds breed, which follows after a "romantic" mating dance where pairs rub their necks or hit their beaks against each other. So, whether you're a fixated birder or not, the Waved albatross is a Galapagos highlight that you won't want to miss!
10. San Cristobal Island
San Cristobal Island packs a powerful punch for birdwatchers and birders alike. The easternmost island of the Galapagos, San Cristobal offers a wonderful mixed bag of sites that its avian denizens call home. Pristine beaches and rocky islets combine with lush, fertile highlands to provide a diverse range of habitats for Galapagos birdlife.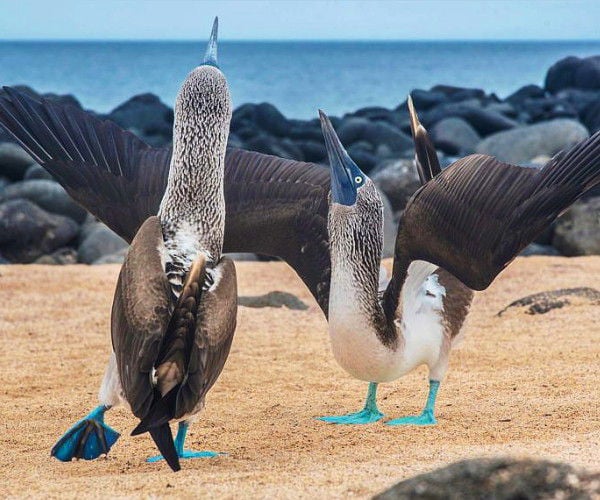 Here, you'll cross paths with curious Boobies with bright blue or red feet, dancing like clowns to attract their mates.
In short, as travel picks up and you become freer to pursue your birding wanderlust, be sure to keep Ecuador in mind..!!
Alfonso Tandazo is President and CEO at Surtrek Tour Operator. Surtrek Tour Operator is a well-established firm, specializing in custom-designed luxury tours in Ecuador, the Galapagos and throughout the rest of South America.
If you would like to be a guest blogger on A Luxury Travel Blog in order to raise your profile, please contact us.