By
Alfonso Tandazo
on Dec 20, 2021 in
Argentina
,
Brazil
,
Chile
,
Colombia
,
Ecuador
,
Health & Safety
,
Peru
,
Regions
,
South America
,
Travel Miscellany
,
Uruguay
Though underreported, the declining COVID case rates in Latin America are a small fraction of those currently experienced in Great Britain, the European Union and the US. What this means is that several of these southern nations have reopened for international tourism in a big way.
Foreign travelers are now welcome to experience adventure in all of these South American countries so long as they can meet the requirements for entry – which in most cases simply consist of a negative Covid test result and proof of vaccination.
While each country's situation is constantly evolving, we've pulled together the current travel requirements of seven of the most easily accessible South American nations that are now rolling out the red carpet to foreign travelers. Read on for these travel conditions before booking your trip through a reputable South American tour operator.
1. Colombia
From the golden sands of the Caribbean and Pacific coastlines, to the verdant hills of the Zona Cafetara coffee region, to the bustling urban centers of the Andean highlands, Colombia is a country with a surprising diversity of landscapes, climates, wildlife and people. Rainforest, savannah, steppes, deserts and mountains: Colombia has them all – not to mention the coffee.!
To experience these and more, Colombia has what is probably the most relaxed restrictions for entry into any South American country.
Travelers no longer need to show a negative PCR test and inbound international passengers no longer have to self-quarantine for fourteen days.
Instead, current requirements only call for all visitors to complete the online pre-travel registration form (called "Check-Mig") within one to 24 hours before their flight departure time and wear a mask at all times in public areas and on transport. In addition, evidence of travel insurance with Covid coverage is required.
While vaccines are not officially required to enter Colombia, in practice travel is very restricted for the non-vaccinated. Proof of being fully vaccinated is currently required to enter most restaurants, bars, museums, and national parks throughout the country (for people over 12 years of age).
2. Brazil 
With the rate of Covid cases having plummeted in Brazil since this past spring, the country is currently not requiring anyone flying into the country to present evidence of full vaccination, though many key venues and attractions require such proof as a condition of entry, especially in the states of Rio and Sao Paulo and some Amazon cruises. (Note one exception though: Visitors to the island of Fernando de Noronha must be fully vaccinated and take a PCR test before flying).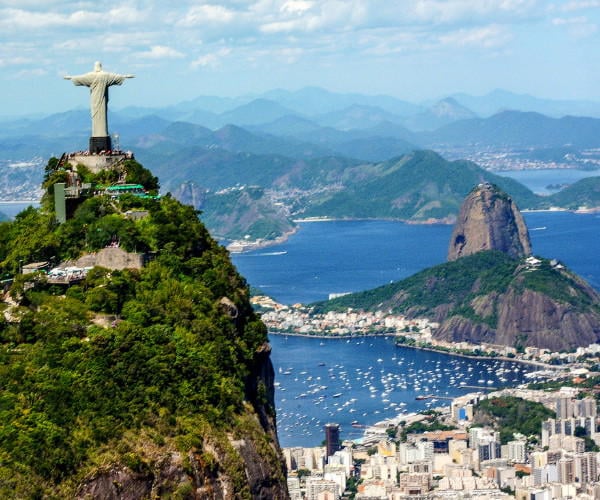 Despite not requiring proof of vaccination, the Brazilian government does require travelers complete a "Traveler's Health Declaration" (DSV) and they must present negative results of a Covid PCR test taken with 72 hours of boarding or an antigen test taken within 24 hours (results must be in English, Spanish, or Portuguese). Children under age 12 who are traveling with an adult companion are exempt from this requirement. In addition, evidence of travel insurance with Covid coverage is required and the use of face masks may be expected in some public areas and on transport.
3. Argentina
Becoming the most Covid-free country in South America, on November 1, 2021, Argentina's borders opened to all international travelers able to comply with current health and entry requirements.
Non-resident foreigners must provide negative results of PCR test taken within 72 hours (another PCR test is required for all travelers on their fifth day in the country) and they must present proof of having received a complete course of a vaccine at least 14 days before arrival in Argentina. Any unvaccinated traveler, including minor children, entering Argentina must quarantine for seven days.
In addition, everyone entering Argentina must also fill in an online "sworn statement" form and evidence of travel insurance with Covid coverage.
Though Argentina as a whole is now in a phase of mandatory social distancing, restrictions at the local level may vary. The situation continues to evolve and you should remain in close contact with your tour operator concerning what measures have been introduced in your location.
NOTE: Hydrofoil service from Buenos Aires to neighboring Montevideo, Uruguay has been reinstated. Several land borders are expected to reopen by early 2022, although not all have been confirmed.
4. Ecuador & its Galapagos Islands
Throughout the pandemic, Ecuador has been extremely proactive in preparing to offer enjoyable and safe Covid-conscious vacations.  The entire adult population of the Galapagos Islands, as well as everyone on the mainland working in tourism, were vaccinated as an initial priority, and the overall rate of full vaccination is over 60 percent of the population.
Ecuador is now open to all foreign tourists (except those from southern African countries affected by the Omicron variant). However, all foreign travelers over 16 will need to provide evidence of a vaccination having been received at least 14 days before entering Ecuador, a negative COVID-19 RT-PCR test (from age 2) taken within three days before their arrival, or proof of recovery from COVID-19 within the past 30 days.
In addition, a pre-arrival "Health Declaration Form" must also be presented on arrival (one per family group) as well as evidence of travel insurance with Covid coverage.
Younger travelers to the Galapagos Islands (between ages 2 and 16) do not require a vaccination card but must present a negative COVID-19 RT-PCR test (obtainable within Ecuador) a maximum of 72 hours before boarding an aircraft to the islands.
Regardless of whether a negative COVID test is provided, travelers who present symptoms of COVID-19 will be evaluated by Ministry of Health personnel.  Rapid antigen testing may also be conducted.  If the rapid antigen test is positive, the traveler must isolate for ten (10) days.  The isolation may take place at the traveler's accommodations at their personal expense. If the rapid antigen test is negative, no isolation is required. Such isolation is also required of those whose point of origin was India.
The use of face masks is required in all public areas and on transport.
NOTE: Also because of the Omicron variant, the Ecuadorian land border with Colombia that was supposed to open on 1st December will remain closed until at least the 15th December.
5. Uruguay 
Often overlooked by travelers in favor of its flashy and giant neighbors of Argentina and Brazil, tiny Uruguay is one of South America's enchanting countries. The coastal capital is ideal for strolling, while the chic Atlantic coast has some of South America's most stunning beaches. Then too, there's the wine, which has led to Uruguay swiftly becoming one of the trendiest wine regions in South America.
Though hit hard by Covid-19 over its winter (the northern hemisphere summer), case numbers have decreased substantially over the past several months, with nearly 77% of the population fully vaccinated as of December 2. Meanwhile, the country has purchased 500,000 Pfizer vaccines for tourists who want a third dose while on vacation.
Recovery progressed so much so that on November 1, 2021, Uruguay reopened its borders to international visitors for the first time since March 2020. Currently, hospitals, clinics, schools, universities, hotels, restaurants, bars, gyms, museums, and performance spaces are all open for in-person services – though masks are required in all indoor public spaces.
For a taste of its wine and all that Uruguay has to offer, foreign travelers may now enter Uruguay – all that's needed by those over six years old is a negative Covid test taken within 72 hours, as well as – for those over 18 – official certification of having been fully vaccinated within the past nine months, completing the cycle more than 14 days before arrival (alternatively, travelers must show proof of having recovered from Covid within the previous 90 days, but more than 20 days).
All arrivals over six years old must present a negative PCR test taken within 72 hours of departure. They must also have travel insurance to cover them for Covid-19, and must fill in a passenger locator form within 48 hours before travel. Also, a second PCR test is required on day seven in Uruguay. For travelers under 18, no proof of vaccination is needed, while children under six do not need to take any tests. Unvaccinated travelers may enter, but they will be required to self-quarantine for at least seven days.
Upon arrival, travelers will undergo a health screening and must present proof of health insurance in addition to completing the "Online Health Declaration Form."
NOTE: As most visitors to Uruguay arrive overland from Argentina, the hydrofoil service from Montevideo (Uruguay's capital) to Buenos Aires, Argentina has been reinstated. It's hoped that ferries to the laidback and charming Colonia will also follow soon.
6. Peru
Over the first half of 2021, Peru was slammed with the world's highest Covid rate relative to population. However, the Government of Peru ramped up its COVID-19 health emergency efforts and has reduced the impact of the contagion to one of the lowest levels in the region. These efforts at controlling the pandemic continue through late-night curfews (2 am to 4 am), requirements of proof of vaccination to travel or to enter closed spaces, mandatory use of KN95 masks or double masks, a new quarantine on those who have traveled to southern Africa, limitations on bus and taxi occupancy, and others.
As a result of such strong Covid-safety measures in place throughout the county, Peruvian airports have reopened for international travel and key destinations such as Machu Picchu and the Inca Trail have reopened, though with new rules and at reduced levels.
As all land borders to Peru are temporarily closed, flying into Peru is the sole viable option for most travelers to enter this country. Even before entering your plane, travelers are required to fill out a sworn online health declaration. Upon arriving in Peru by air, it is no longer necessary to go into a 14-day quarantine upon arrival. However, proof of having received a complete vaccination scheme is required for entry by those people 12 years of age and older. The last dose must have been received at least 14 days before boarding the plane to Lima. Children under the age of 12 are only required to be symptom-free for boarding the plane to Lima. Travelers without full vaccination must present a negative PCR-test result issued no more than 72 hours before boarding.
Once in Peru, proof of complete vaccination for everyone over the age of 18 is now required to enter any closed public space; this was made compulsory starting December 10, 2021. Furthermore, travelers over the age of 45 years are now only allowed to board domestic flights with proof of vaccination or a negative result to a PCR test (not older than 72 hours before boarding).
Currently, any non-Peruvian traveler arriving from or transiting through South Africa is not be allowed to enter Peru.
7. Chile
Mainland Chile reopened to foreign tourists in October (2021), while the reopening of Easter Island is planned for February 3rd, 2022.
However, while entry into the country is now possible, this comes with several hurdles. In addition to a "health affidavit" that must be submitted up to 48 hours prior to the estimated time of arrival in Chile (local time), all travelers from the age of two are required to present the following four documents upon arrival:
A negative result to a PCR test, no older than 72 hours
A completed "Affidavit of Travelers"
A "Mobility Pass" (proof of a full course of vaccinations). As it can take up to 4 weeks to get the mobility pass, which is only valid for entry 45 days from its receipt, we recommend that you apply for your mobility pass 4-5 weeks before your scheduled arrival. Earlier applications are not recommended as you may miss the 45-day validity arrival window of the mobility pass.
International insurance covering COVID-19 treatment, emergency medical expenses, and evacuation/repatriation. A minimum coverage of USD 30,000 is required.
On top of all this, upon arrival in Chile, travelers (six years old and above) must get tested for Covid. While waiting for the results (which takes on average a couple of hours …but may extend to 24 hours!), travelers must quarantine in a hotel room. Upon receiving a negative test result, travelers may then leave. Travelers arriving with children under the age of 6 who are unvaccinated will be required to submit to a 7-day quarantine with their child/children.
Exemptions for travelers with a booster dose have been lifted because of the Omicron variant. Also due to this variant, travelers who have been in or have made a stopover in southern Africa will not be allowed to enter Chile.
Finally, travelers will need to take a mandatory daily health survey from the Ministry of Health 10 days after arrival.
The use of face masks in Chile is expected in public areas and on transport.
Alfonso Tandazo is President and CEO at Surtrek Tour Operator. Surtrek Tour Operator is a well-established firm, specializing in custom-designed luxury tours in Ecuador, the Galapagos and throughout the rest of South America.
If you would like to be a guest blogger on A Luxury Travel Blog in order to raise your profile, please contact us.