De Hoop Nature Reserve, just three hour's drive from Cape Town, on the southernmost tip of Africa, is somewhere that should be on every nature lover's radar. This is a protected haven of sand dunes, long white beaches, beautiful mountains and 70km of spectacular, pristine coastline, where whales breach and play. Inland, away from the coast, this stunning 340 sq km reserve is a UNESCO Ramsar World Heritage Site, rich in biodiversity, home to an array of special and rare wildlife, and a favourite destination for hikers, cyclists, bird watchers, whale watchers alike.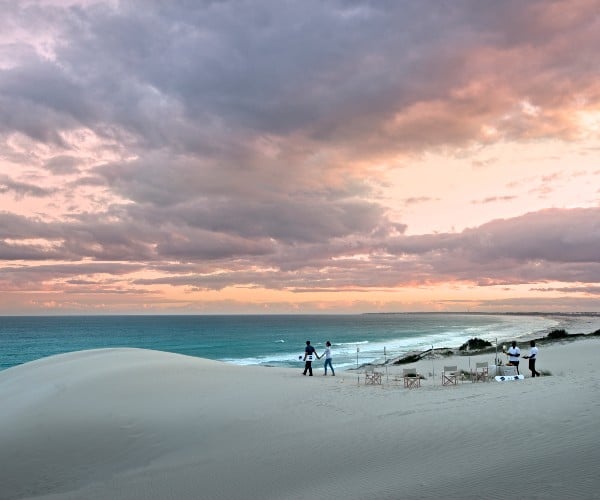 This is also the perfect stop over for people exploring South Africa's renowned Garden and Whale Routes, and the local area, outside the reserve, is characterised by quaint towns, a blossoming wine industry and some delightful places to sample delicious local cooking. Within the reserve there are a couple of really special places to stay, with some incredible design, breathtaking views, sensational food, fantastic experiences, and amazing service; everything you need for a truly memorable stay.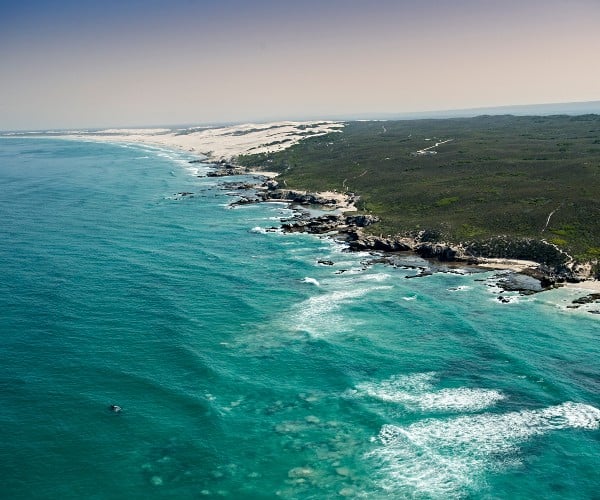 Things to do
Whale Watching
The protected waters off De Hoop are a haven for endangered Southern Right Whales. Some 40% of the world population of these gentle giants return to these waters annually, to mate, give birth and rear their calves. The De Hoop Nature Reserve is an important destination for these creatures and during the season around 120 whales will call De Hoop home.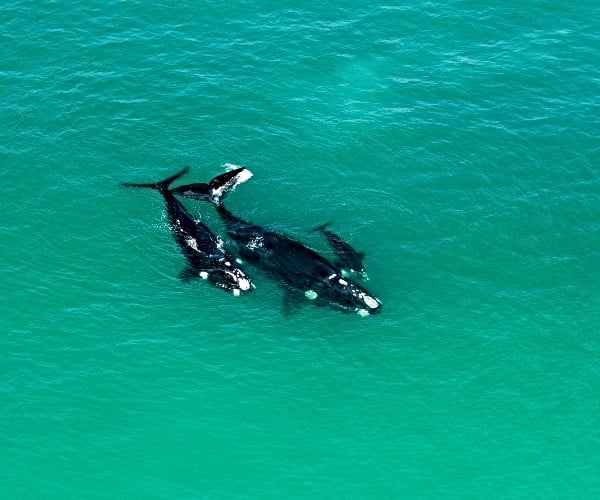 At the peak of the season (June and December) as many as fifty of these mammals can be spotted in a day, making the reserve one of the best spots for land based whale watching in the world. The whales come so close to shore that visitors can simply relax on the sand dunes and watch them as they breach, blow and belly-flop, or better still relax with a Gin & Tonic or local craft beer in hand, on the verandah of the beautiful Morukuru Beach House (more on that later).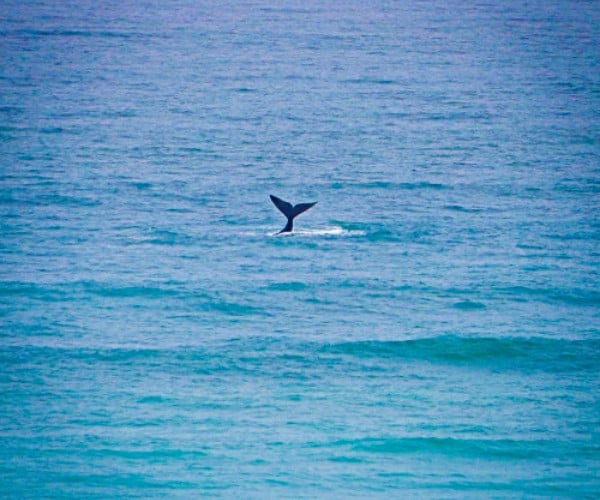 Marine reserve
The De Hoop Marine Protected Area, which extends three nautical miles out to sea, is one of the largest marine protected areas in Africa, providing a sanctuary for a vast and fascinating array of marine life. Aside from the whales, other marine mammals, like dolphins and seals, also occur in the waters off the coast here, as well as at least 250 species of fish.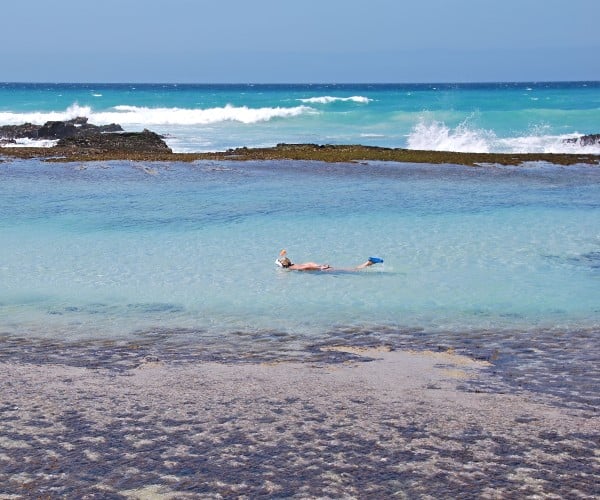 Join a guided marine walk during your stay and explore the coastal rock pools, fossilized sand dunes, sandy beaches and rocky shores. Your guide will show you an array of marine life from bright orange starfish, to purple sea urchins, limpets, barnacles, octopus, and some of the sea birds that call these shores home. And when you've had your fill looking down at the critters in the rock pools, you can grab a snorkel and join them. Snorkeling in the large, clear rock pools is one of the best ways to experience this magical marine world.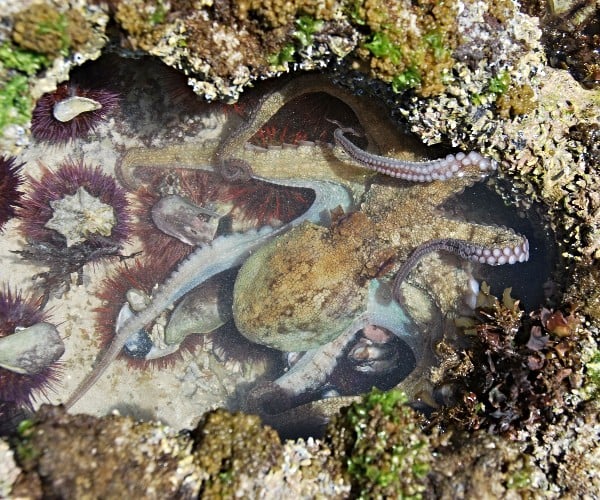 Wildlife
De Hoop's varied habitats support a diversity of wildlife. The De Hoop Nature Reserve reserve has 86 mammal species, including the rare bontebok and Cape mountain zebra, as well as elegant elands, grey rhebuck, baboons, mongoose, caracals and, if you're lucky, even the occasional leopard.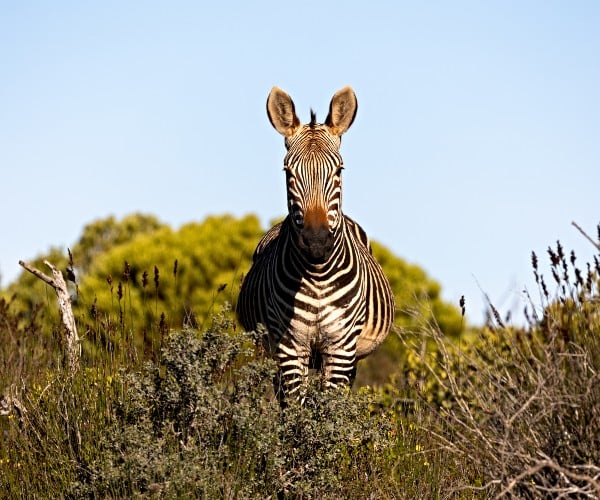 There are numerous ways you can get out and enjoy the wildlife. Take a game drive in an open vehicle, join a guided mountain bike ride or take a hike, either guided or on your own. With no large predators De Hoop offers gives you the opportunity to safely get up close and personal with the wildlife.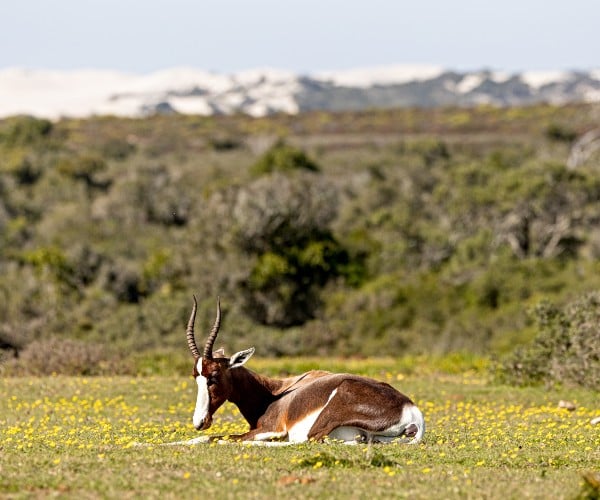 I was lucky enough to find myself surrounded by a family of ostrich when walking to breakfast at the De Hoop Collection one morning (more on the De Hoop Collection later). Male and female with 12 knee high chicks. They were calm enough to not run from me, but a little shy, and I could see both the parents keeping a watchful eye on me. I kept my distance. If cornered, an ostrich can deliver a kick capable of killing a lion, I didn't want to take any chances!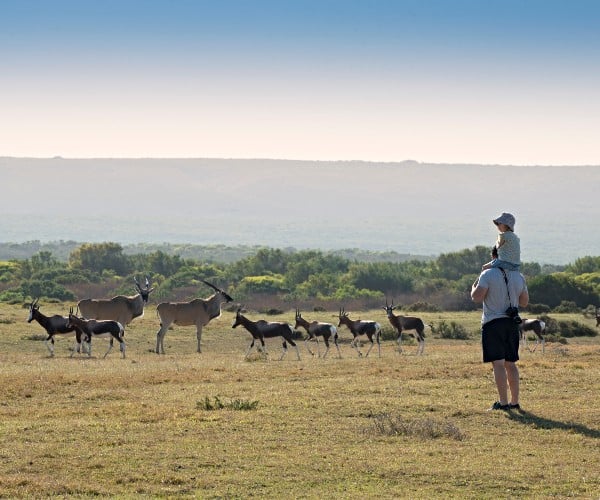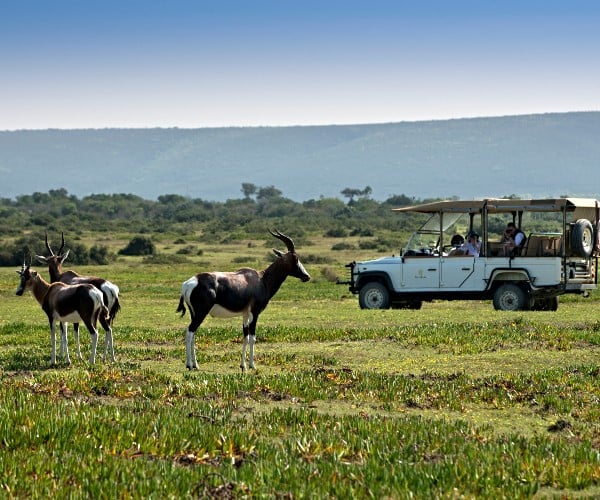 Plant life
De Hoop Nature Reserve is part of the world's smallest, most threatened plant kingdom, the Cape Floral Kingdom. Fynbos (which comes from the Afrikaans word meaning 'fine plants') is the dominant type of vegetation here. This is a special and unique type of vegetation that grows in nutrient-poor soils and is well adapted to fire and drought.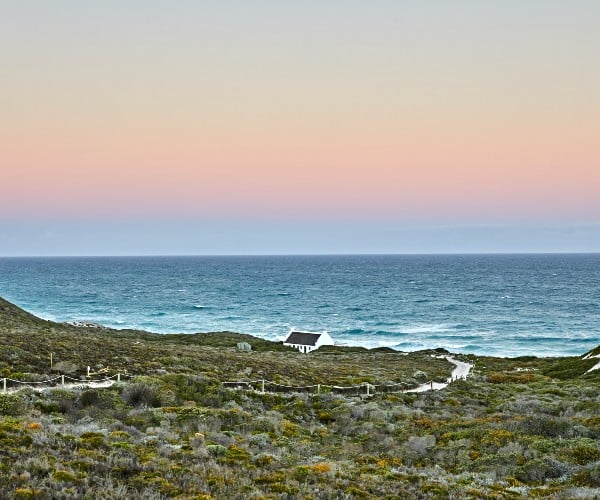 There are approximately 1,500 different varieties of plant species found here, and a large percentage of them are rare, threatened and endemic. If you take a guided hike on one of the inland trails you'll be knee-high in fynbos; yellow, coral, pink, purple and hundreds of shades of green, with the most incredible perfumes. You may even see some beautiful proteas (the national flower of South Africa) which flower here in numerous sizes and colours. Whilst on the topic of fynbos, let me mention here the deliciously fynbos infused gin, Inverroche, and let me tell you there is something rather special about drinking it here in De Hoop, surrounded by the plants from which its amazing scents and flavours have been derived.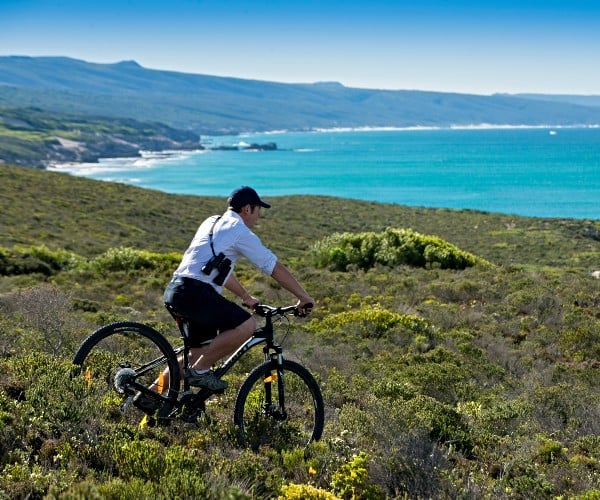 Birdwatching
The De Hoop wetlands are an internationally Important Bird and Biodiversity Area (IBA). Over 260 species of resident and migratory birds are found here. Keen birdwatchers should look out for the endemic Southern Boubou and the rare Malachite Sunbird, and even the least interested of birdwatchers amongst you will enjoy the sight of a flamingo or a fluffy baby ostrich fresh out of its egg.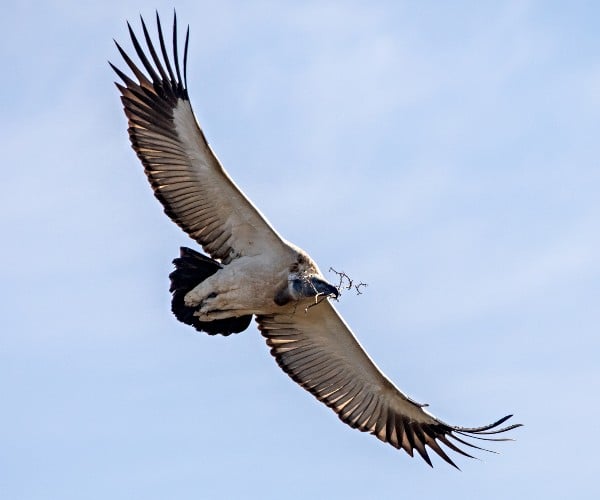 Keen birders can embark on a 2-hour walking experience with a qualified guide around the wetlands and nearby is the Western Cape's last remaining breeding colony of rare Cape Vultures. A short but steep hike, up the Klipspringer Trail, leads you to the lookout point over the colony, it's well worth the climb.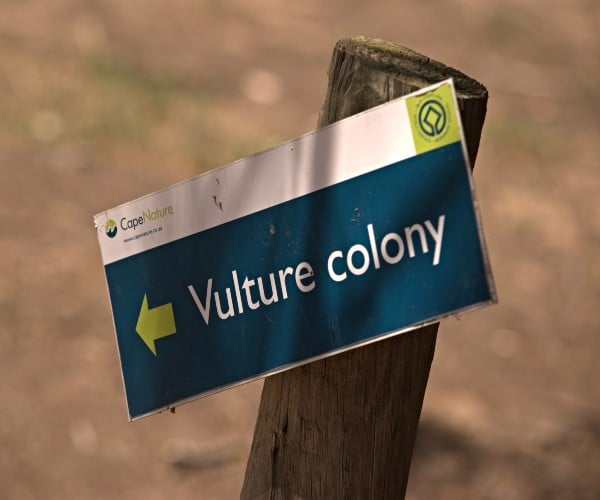 Boat cruise
Once you've had your fill hiking, cycling or walking, then relax on a boat cruise whilst exploring the De Hoop waterways and wetlands. Flamingos, pelicans, perhaps a fish eagle soaring overhead, or if you are lucky, a sleek Cape clawless otter cavorting at the water's edge. Go out in the morning and enjoy a cup of tea or coffee with refreshments, or head out in the afternoon with a glass of wine and some savoury snacks.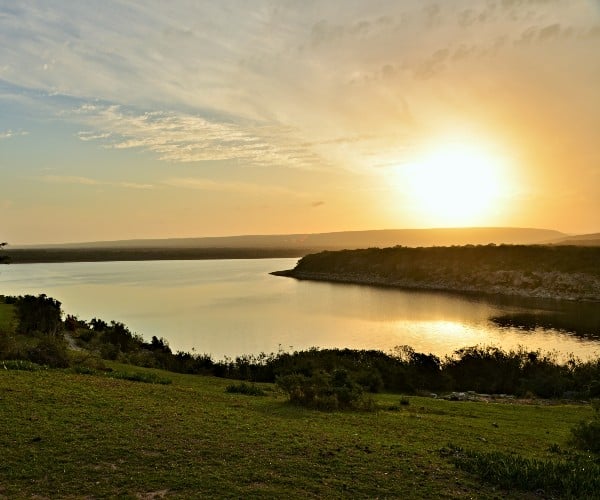 Hike the whale trail
For keen hikers De Hoop has one of the best hiking trails in South Africa, the Whale Trail. The 5 day, 55km route, through one of the Western Cape's most unique and diverse nature reserves is popular, and bookings are required well in advance.
Where to stay
And, now what you've all been waiting for. Where does one stay to experience De Hoop in all its glory?
Morukuru Beach Lodge
The luxurious 5 bedroomed Morukuru Beach Lodge is in a breath-taking location right on the coast, with panoramic views over the azure Indian Ocean. A bird's eye view of the continent's greatest whale nursery, pristine white beaches and dunes, limestone cliffs, crystal clear rock pools, and surrounded by coastal fynbos.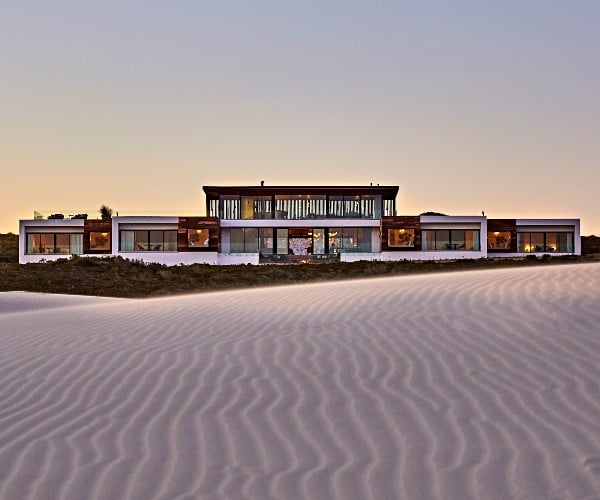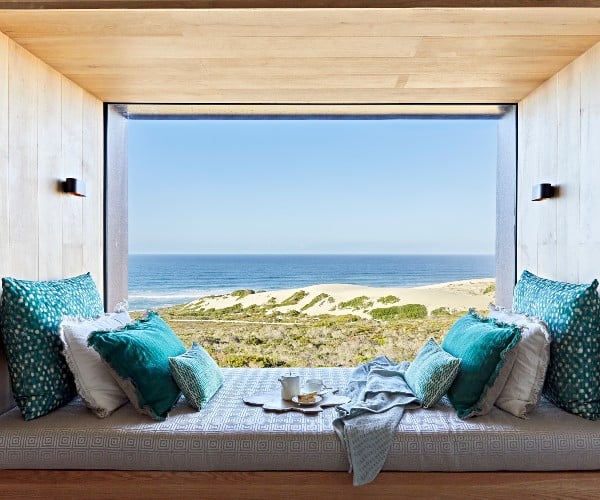 Beach Lodge is a 5 suite boutique eco lodge with stunning décor and outstanding food; the last word in luxury. Each spacious suite has a fireplace, ensuite bathroom, and floor to ceiling glass sliding doors that open onto a terrace or verandah. This is a really special place and it's no wonder Morukuru Beach House was voted "Best Resort in South Africa" by Condé Nast Traveler Readers' Choice Awards in 2020 and 2021.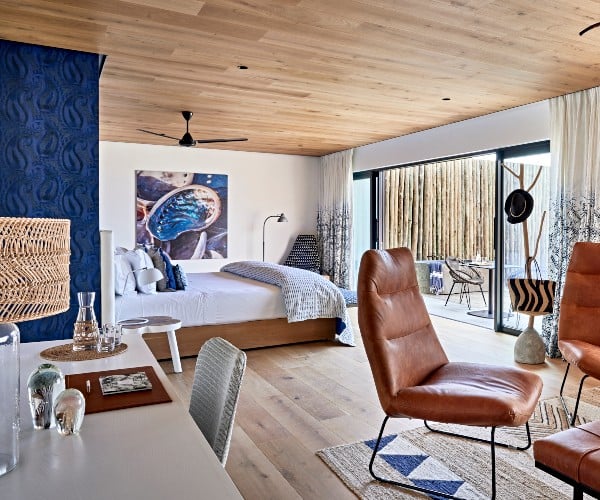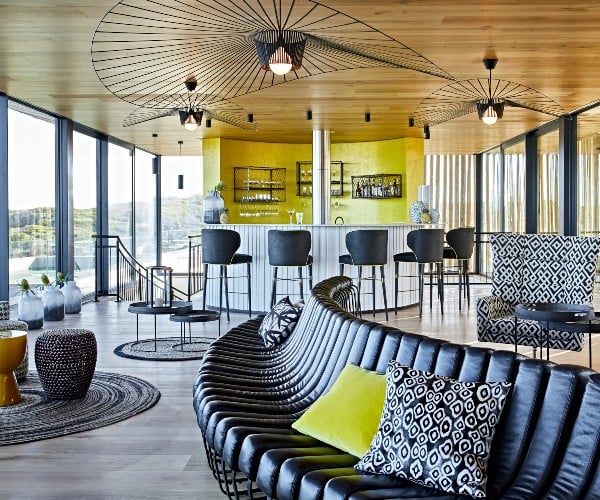 Nearby is Ocean House, sister to Beach Lodge, which is a private 4 bedroom oceanfront home, which comes with a private pool, personal butler, private kitchen with chef, as well as open plan lounge and dining areas, romantic fireplaces and, of course, breathtaking views. Ocean House functions completely off the grid, proving luxury needn't come at the expense of the environment.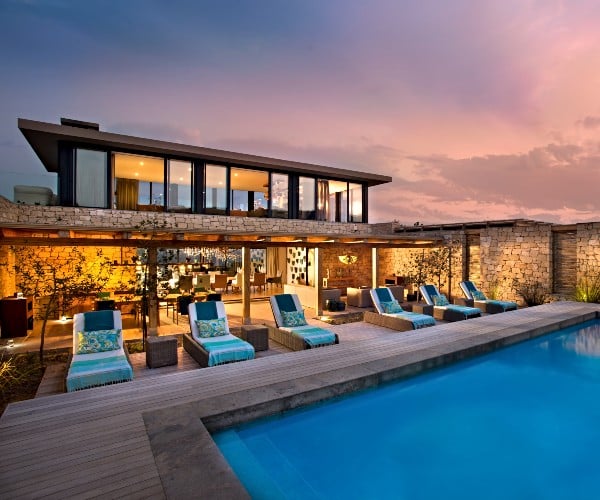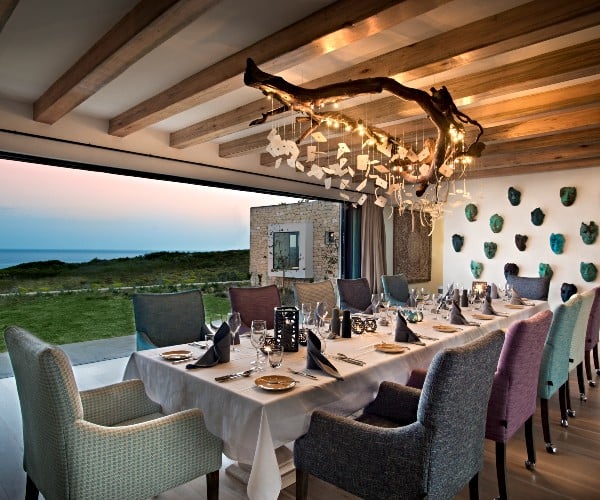 De Hoop Collection
The De Hoop Collection have accommodation and dining options to suit every budget. You can treat your partner to a romantic getaway in one of the tucked away suites overlooking the wetlands, families can enjoy a luxurious stay in one of the historic homesteads, the cosy cottages at De Hoop Village provide fully equipped kitchens for those who'd rather self-cater, and there are even camping sites for those who are that way inclined.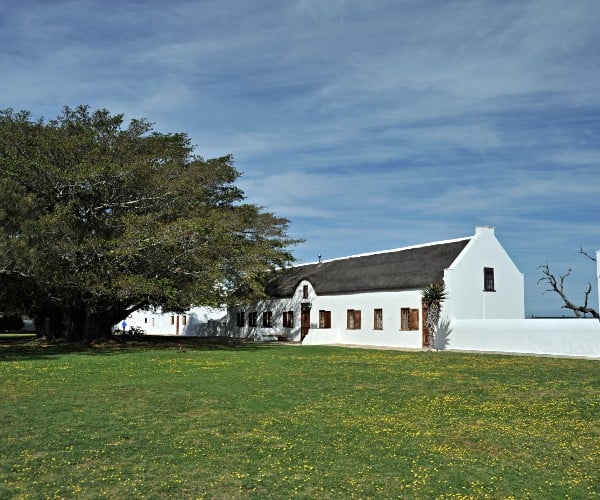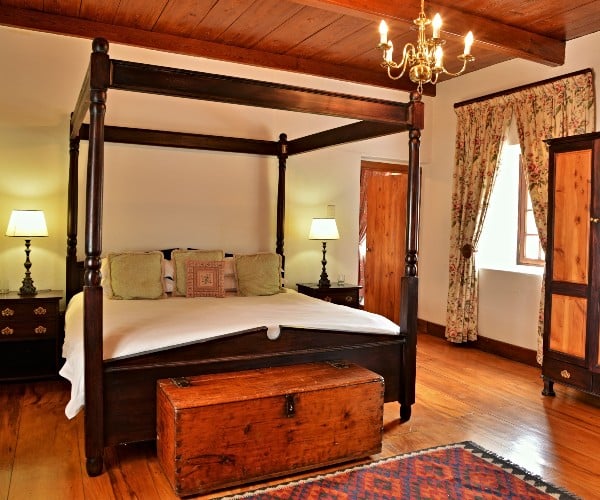 I stayed in the lovely Opstal Manor House, the original farmhouse from the 1800s, which has been restored to its former glory. With beautiful yellowwood floors and ceilings and antique wooden furniture, it feels, and is, authentically historic. The Opstal Manor House sleeps a maximum of six with three ensuite bedrooms, all reached from a beautiful paneled hallway. There is also a comfortable lounge filled with period pieces of furniture and the large original kitchen (now nonfunctioning) which all add a great deal of charm. For the more active there's a tennis court, swimming pool and boules courtyard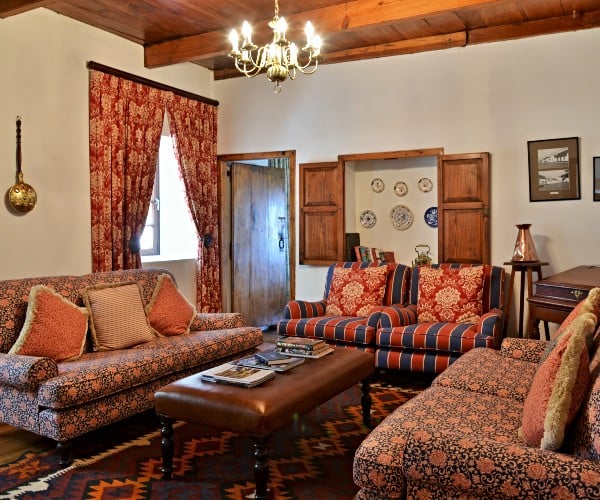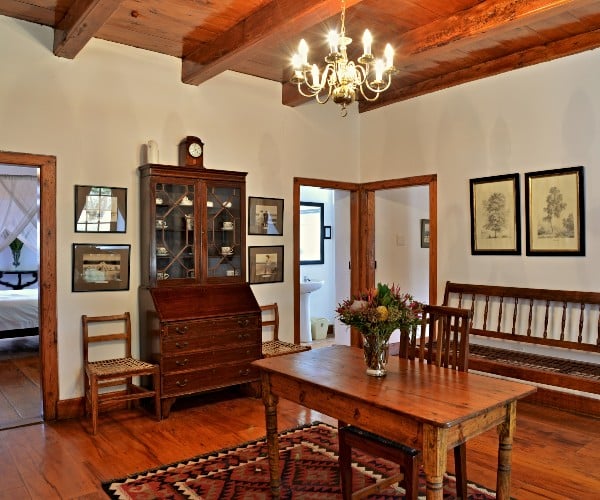 The De Hoop Nature Reserve offers the complete outdoor experience – sea, sand dunes, wetlands, rare plants, diverse animals, incredible bird life. Go walking, hiking, or bike riding, take a scenic game drive, snorkel in the turquoise tidal rock pools, or simply relax on the unspoiled beaches. There is something for everyone here. The best time to visit is August to November, during whale watching time, but honestly any season is good! Adventure, peace and tranquility, luxury and wilderness; De Hoop has it all.