Hotels and resorts in the Maldives provide the perfect tropical paradise retreat. The Maldives is often regarded as the world's most exclusive holiday destination for honeymooners, sun worshippers, discriminating tourists, scuba divers, and celebrities alike. Moreover, the islands north of Male are home to some of the country's top resorts, and they're only a short speedboat ride away from the international airport. This makes them the best of the best. Below we'll look at the top 5 finest hotels in North Male Atoll for a memorable vacation.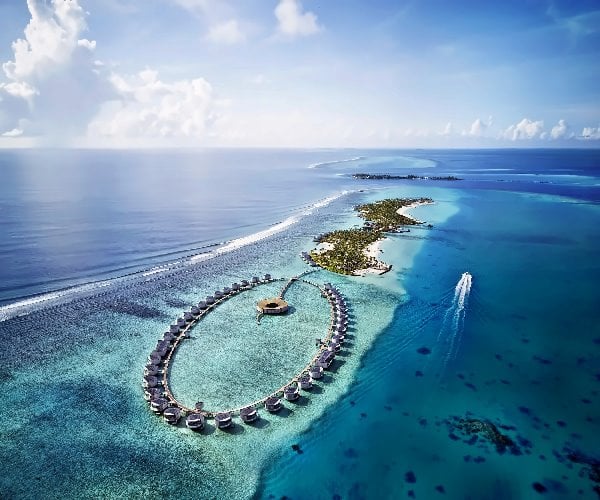 Gili Lankanfushi
There is a 20-minute boat journey from the Male International Airport to Gili Lankanfushi Maldives. For those who want to get away from it all and relax in the privacy of their own little island, this is it. While perched on a cliff over the Indian Ocean, Gili Lankanfushi's exquisite accommodations give close proximity to the sun and water. Moreover, you may find marine life practically anywhere. And the glittering waves beckon.
There are 45 villas. The modern concept of luxury links closely to one's standard of living. However, how one defines luxury is very subjective. Luxury is the ability to choose what you want. The guests' prerogative defines luxury at Gili Lankanfushi, and Gili Lankanfushi will do all in its power to live up to and surpass their expectations no matter what.
Each Eco-Friendly Apartment has a BOSE surround sound system, cable/satellite TV, DVD player, and a private sundeck. Also featured are an espresso machine and a minibar. In addition to complimentary Wi-Fi, the hotel has an outdoor pool with views of the seaside and a tranquil spa. Besides, this luxurious spa offers glass-paneled floors, traditional Ayurvedic treatments, and yoga classes. In addition to tennis and scuba diving, other leisure activities include island day tours and island explorations.
At The Wine Cellar and Underground Chocolate Cave, you may savor fine wine and fine chocolate. Fusion and Japanese dishes are also on the menu at By the Sea Restaurant. Furthermore, there is a wide variety of foreign buffets available at the main restaurant and bar.
One & Only Maldives at Reethi Rah
It's impossible to find a resort-like One & Only Maldives at Reethi Rah anywhere in the Maldives. All villas are located on one of the biggest islands in North Male Atoll, endowed with turquoise bays and infinite white sand coves. Guests who expect the best in everything from villas and service to meals will find it here. At Reethi Rah's One & Only Maldives, the 122 guest room resort is unique in that it's created in the shape of an octopus with an incredible six kilometers of coastline.
Consequently, villas are vast, and all guests have access to stunning ocean views. When you book a stay at One & Only Reethi Rah in the Maldives, you'll have the opportunity to experience the utmost in luxurious seclusion. Moreover, Male International Airport is just 35 kilometers away from the resort. Guests may spend as late as they like on the island before their flight because of the 45-minute luxury launch trip to and from the terminal.
A minimum of 135 square meters and high open ceilings make the 128 villas among the largest resort villas worldwide. There is also a vast external space. This ranges from private verandas and stretches of beach to private swimming pools with enormous decks. Air conditioning, wide-screen plasma TVs, DVD players, and surround sound systems are all on the villas' amenities list.
You'll also find stocked beverage cabinets, sunbeds and safes, double bathrooms, dressing facilities, and enormous soaking tubs with gigantic bathroom areas. Of course, there's a lot of fine dining as well to choose from at the property.
The Ritz Carlton Fari Island
The Ritz-Carlton Fari Island, a luxury resort in the Maldives, adopts a pared-down approach to luxury. Chefs and mixologists alter essential ingredients in waterfront villas, healing is driven by directional energy, and nature is explored with reverence and amazement in today's modern waterfront villas. It's easy to get out and explore this vast archipelago. Thanks to the resort's three islands and overwater quay.
Moreover, there are seven restaurants and bars with views of the Maldives and various cuisines worldwide. Villas with private infinity pools and butler service are also available on the water and above it. In addition, there are hotel activities, playgrounds, and a swimming pool in an indoor-outdoor Ritz Kids Club.
The hotel has a beach, a garden, and a villa for weddings and other events. Additionally, luxury shopping, eating, and entertainment are all within walking distance at the nearby Fari Marina in the Maldives. Each villa at Ritz-Carlton Maldives, Fari Islands, combines the best island life with cutting-edge design. Furthermore, the Aris Meeha personal butler serves as a butler for each villa, with water views, an infinity pool, and a sundeck.
Coco Bodu Hithi Resort
At Coco Bodu Hithi Resort, you'll feel like you've escaped the suffocating clutch of the metropolis. Finally, you've arrived at the place where you feel most at home. Atoll Bodu Hithi is a stunning Maldivian island getaway. Here, the pace of life is mellow. The unique ambiance of a tropical getaway is invigorating and rejuvenating for the body and mind. Moreover, the enigmatic House Reef contrasts sharply with the open grace of palm-fringed beaches.
Traditional Maldivian architecture, such as thatched roofs and outdoor showers, complements modern conveniences and furnishings. When you wake up in the Maldives, you will first see the breathtaking visual that tells you you're there. The four distinct private Maldivian villas provide visitors with an unforgettable vacation experience.
Additionally, there are many similarities between the Maldives' Coco Bodu Hithi villas and those at the Coco Bodu Hithi resort. Each of the Island Villas is on a private beach, surrounded by beautiful tropical foliage, and is just a few feet from the ocean. For this vision, there are five restaurants and two bars. These serve up the best of local food and worldwide favorites.
Furthermore, Michelin-starred chefs come to the Maldives to create one-of-a-kind experiences every year. This is a tribute to the country's well-deserved reputation as a hotbed of fine dining.
Patina Maldives
Fari Islands, Maldives' Archipelago of Artistry, delivers a spiritual experience to the Indian Ocean's waters. Located in the Fari Islands, Patina Maldives is a resort with a distinct cultural identity that combines the energy of two neighboring islands. Visitors who care about the environment and social justice will find a home away from home here.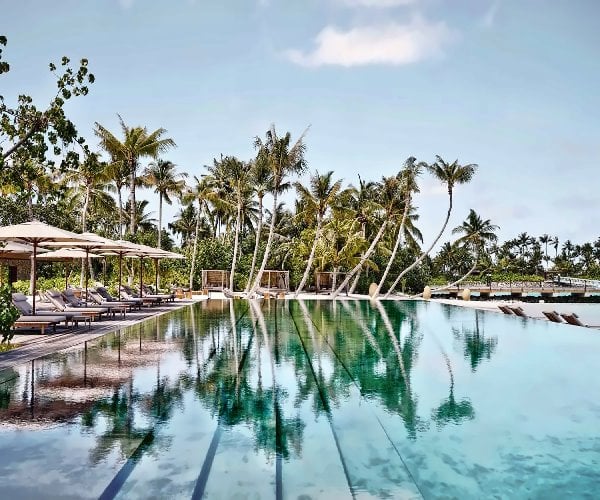 Moreover, space and light are the subject of James Turrell's most famous work, Skyspace. In the Maldives, the island home, there is an island-based resort. It is dedicated to creating a smooth transition between the interior and outer worlds so that your flow is uninterrupted.
You get to pick where you want to stay among the 90 villas and 20 apartments. Villas and studios have views of the bustling Fari Marina Village, while the former have views of the latter. Yet, despite their simplicity, they all emanate a sense of warmth and comfort.
Furthermore, every one of the 12 dining themes has been selected from the world's best cuisine, with the best ingredients and procedures at the forefront. The chefs use tried-and-true methods with a splash of creativity to build a sense of global community via the shared experience of eating.
The Maldives is the most popular location for romantics and honeymooners. Moreover, visiting the Maldives with children may be one of the most memorable experiences for both parents. Plus, there are many family hotels in the Maldives to choose from these days. There is something to suit everyone's needs, from the most exclusive overwater villas to environmentally friendly, back-to-nature type apartments with the finest access to the country's most abundant reefs.
Guido Graf is Founder of Privateupgrades. Privateupgrades is a global luxury travel club with over 20 years of experience in luxury hotels, ensuring exclusive VIP privileges like upgrades, free breakfast, free nights, rate discounts, free airport transfers, free massages and much more.
If you would like to be a guest blogger on A Luxury Travel Blog in order to raise your profile, please contact us.